Painting The Town Red | Talking Art With The Dynamic Founders Of St+Art India Community
St+art India is a group of creative souls who hold the belief dear that art should be out there for everyone to enjoy, it's not a guarded property of the elite. Democratising art, beautifying corners and bringing blind spots out in the spotlight, St+art has a made a mark in the heart of both Delhi (literally!) and Delhiites. Read on! 
We're most curious to know how you got started and what's been your guiding inspiration behind St+art!
'Art for Everyone' is the main drive behind the St+art India Foundation. The culture of art, in the past, has been restricted to the insides of galleries, museums and historical buildings. A worldwide movement has begun bringing art into the public realm and with this in mind, St+art India hopes to make art more accessible for the general public.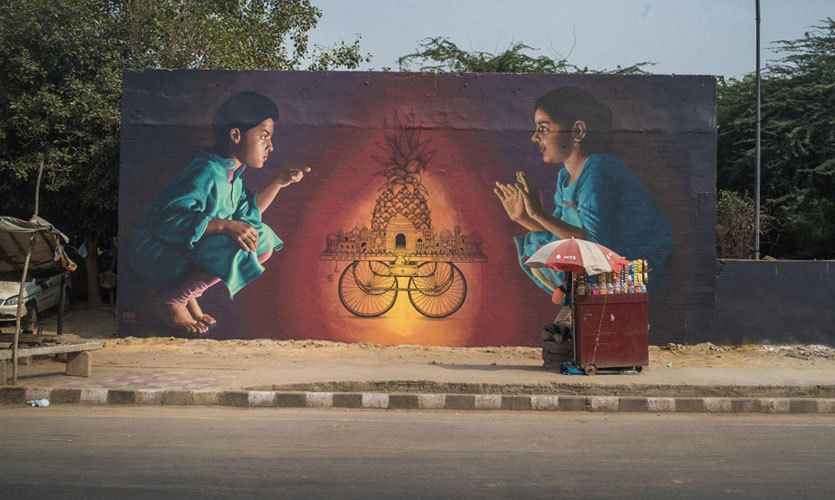 How difficult was it initially getting so many artists to work on this project? And how much freedom is given to them to express their art?
Artists do not need a reason to be creative - you just need to give them a canvas and their work speaks for them! Artists have always been great at joining in with all four editions. Naturally, the festival has gained momentum over the editions and artists have come in greater numbers, from India and further afield.
You've worked in Mumbai as well. What differences did you notice while working in the two metropolitan cities?
The urban landscape is very different between Delhi and Bombay. The roads in Mumbai have more pedestrian traffic which increases the interaction with art. Delhi is not as pedestrian-friendly, and therefore the response to street art is slightly less in comparison. Obviously both cities have their pros and cons with Bandra in Bombay definitely home to a more responsive and appreciative of art audience whereas Delhi is more spacious.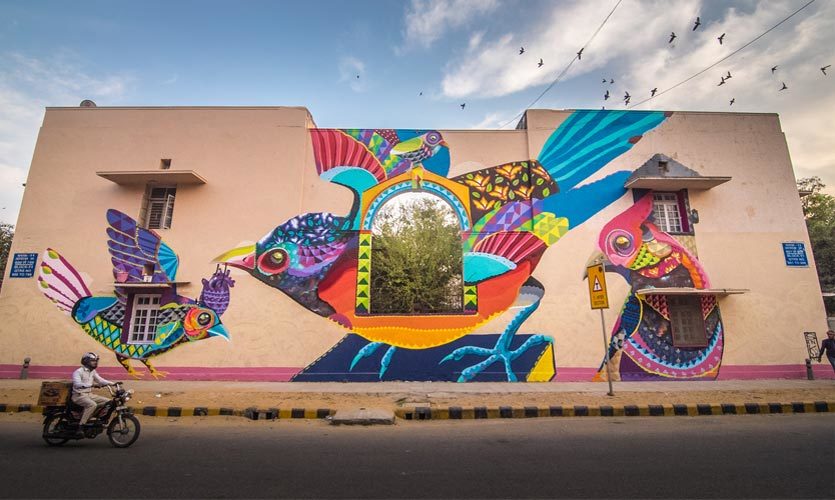 It's been awhile since your initiation. Have you seen any changes in terms of Delhi's reaction towards your art?
The journey from Shahpur Jat to Lodhi Colony has been an exciting and interesting one. Since the founding of St+art, there has been an increase in groups painting on the streets. Previously, graffiti artists were just tagging, but now New Delhi is home to legitimate street art. DSA and DelhiIlLoveYou have both been active and this kind of activity is only going to pick up momentum as more and more groups do projects on the streets.
What do you think makes Delhi, 'So Delhi'?
Delhi is a fast paced capital city with great diversity and huge expanses. This multicultural hub which we live in is the perfect place to accept the new approach to public spaces through art.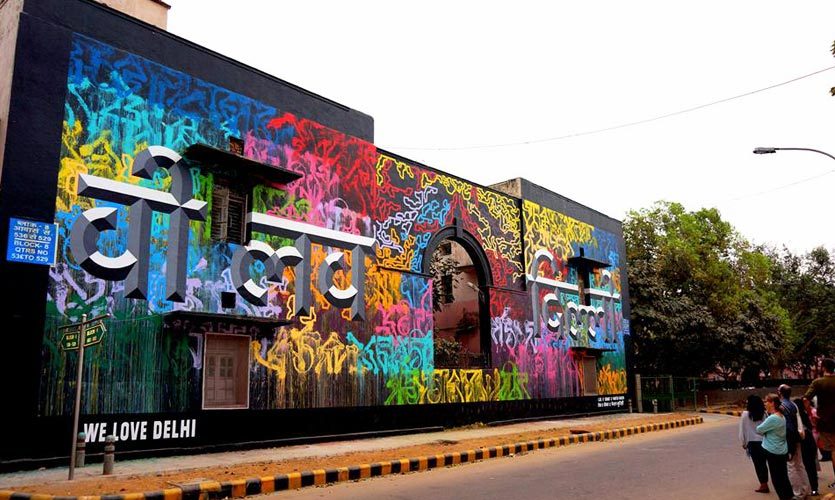 Name some of your favourite artists to have left their mark in Delhi (and where exactly)?
We couldn't possibly say we have any favourites, they are all brilliant and engaging in their own way. However a few have made left their mark within India:
Mahatma Gandhi, Delhi Police Headquarters in ITO by Hendrik Beikirch (Germany) - India's tallest mural.
Boundary wall of Tihar Jail by Hand Painted Type - India's longest mural.
Dadasaheb Phalke, MTNL Building Mumbai by Bollywood Art Project - India's largest mural.
Night Shelter, Delhi by Olek (Poland) - India's first crochet installation.
Share with us some projects that remain close to your heart.
The Swachh Bharat Mission is important to us and we are working in collaboration with them.
Gandhi at ITO - one of our first projects that changed the government's perspective towards street art. Tihar Jail, again an important project which broke the stigma of a jail and converted it into a 1-km-long piece of art.
Olek's crochet project transformed a night shelter into a colourful part of the city. Drawing attention to a part of Delhi that we so frequently overlook through art was a great opportunity.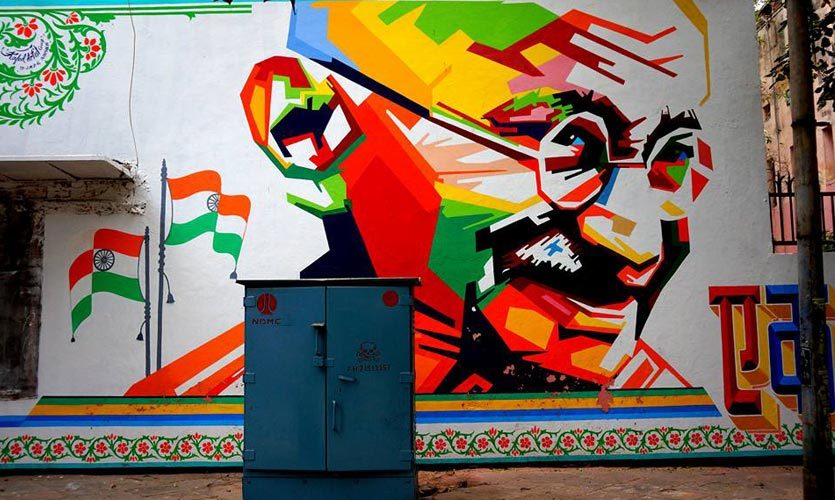 How often do you try to address the issues affecting Delhi or humanity through your work? 
Art is a very powerful medium. Through works such as Olek's crochet night shelter, art brought the audiences attention to the blind spots of the city. In this edition, St+art India Foundation is setting an example and achieving a sense of pride for the local community. Through these bigger-than-life murals, and the Lodhi Art District, people shall feel proud of their home and shall instinctively want be be part of the effort to clean up our city!
What lies ahead for St+Art?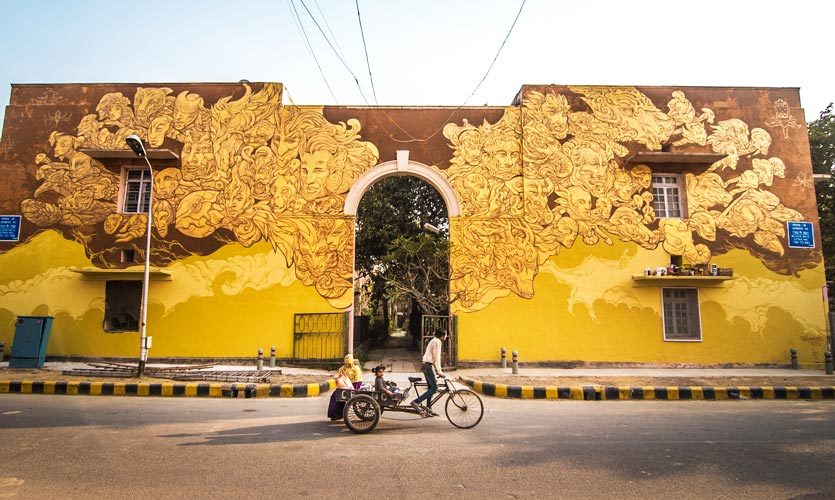 Opportunities for public art are always coming to our door and we hope to pursue this as long as there is a wall/container/space to work with. Art is for everyone and provokes a reaction as well as gives an area a further identity. Our aim is to continue in the same way!
Wow! These guys are really doing such inspirational work - hoping for more and more dazzling displays St+art! 
Check Out Their FB Page | https://www.facebook.com/startindiafoundation/
Here's Their Website | http://www.st-artindia.org/
Browse Through More Images:-