We've been wanting to try out the popular Nukkad Cafe & Bar for a while now and we finally did! This cutesy place has a bright and lovely outdoor seating as well as a cosy indoor seating. We thought we'll have to sit inside, considering how hot it has become already, but the amazing mist fans that are installed outside make sure you don't feel hot at all. 
After adoring this pretty place for quite some time, we decided to devour these 9 dishes and drinks from their unique menu, check it out! 
1. Aam Panna Madira Banta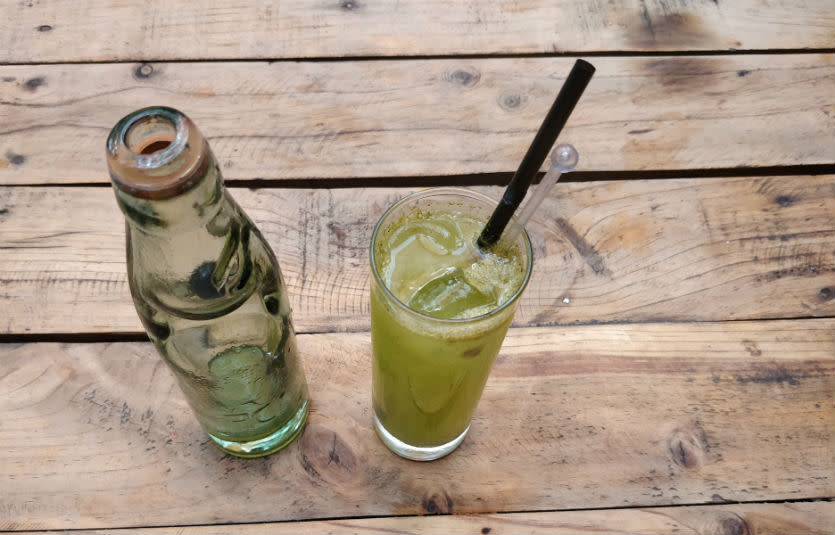 We decided to start with a refreshing Aam Panna that these guys serve with a twist! The boozy addition to our fave banta reminded us just how much we love this summer cooler. This raw mango flavoured Banta with alcohol was undoubtedly the best way to start our lazy afternoon at Nukkad, where we ended up spending much more time than we intended to, no regrets though!
Price | Rs 275
2. Gulabo UP and Laila Bihar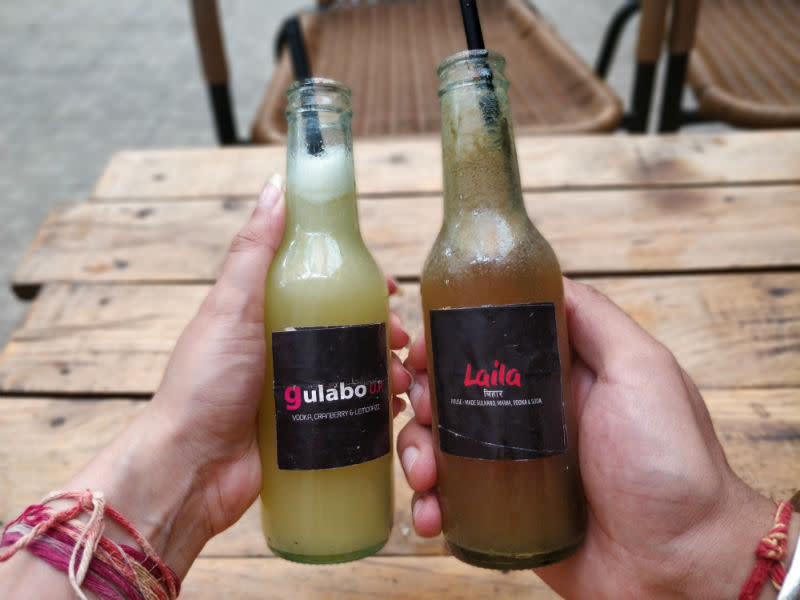 Since we were all too willing to experiment with our drinks here, it was difficult to miss these two very unique looking concoctions. While Gulabo UP was a lovely mix of coconut rum and pineapple juice, Laila was great blend of gulkand and vodka. Bringing their authentic regional tastes and highs along, these drinks were simply splendid!
Price | Rs 275 Each
3. Paan Mojito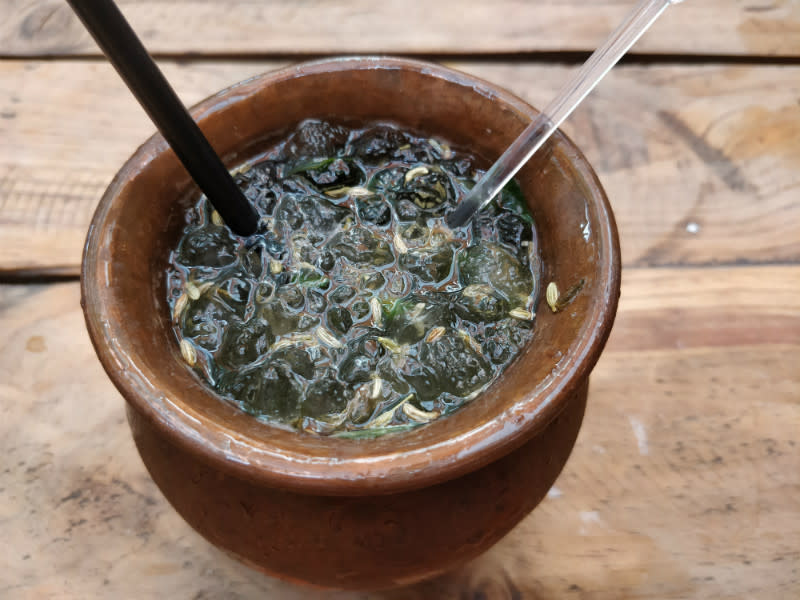 These guys were quite insistent that we try the Paan Mojito and right after the first sip we realized why exactly this is one of their most recommended drinks! This mouth-watering mojito comes in a copper lota to give you all the paan flavours and is literally a liquid version of meetha paan with saunf, gulkand and all that jazz!
Price | Rs 395
4. Kurkuri Idli Chaat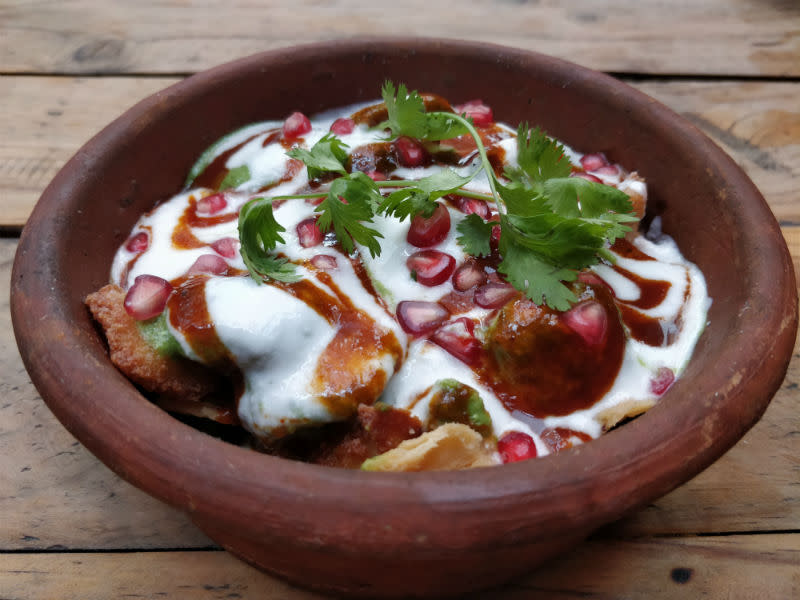 How can you mix south Indian food with chaat? Apparently, you can and it's quite yummylicious! Imagine a bowl of your favourite papdi chaat, except that most of the papdi has been replaced with crunchy, fried button idlis that are super crisp on the outside and soft on the inside to give you a dish that takes fusion food to a whole new level!
Price | Rs 245
5. Butter Chicken Maggi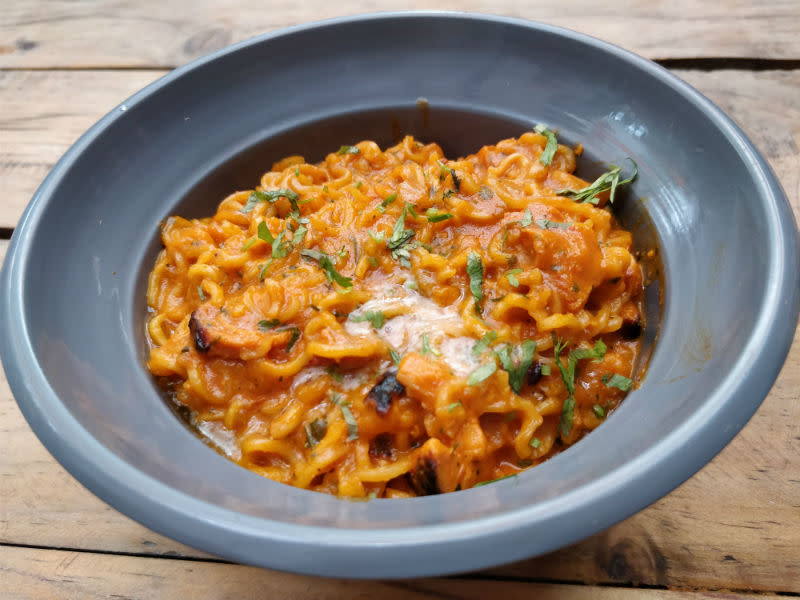 Combining our two absolute favourites, this bowl of deliciousness was nothing short of heavenly! With succulent chicken pieces, a slightly cheesy butter chicken gravy, and everyone's favourite – Maggi, this dish had us drooling since we laid eyes on it, till the moment we licked the bowl clean! It'll be a sin not to try this, seriously.
Price | Rs 215
6. Spicy Prawns Tandoori Momos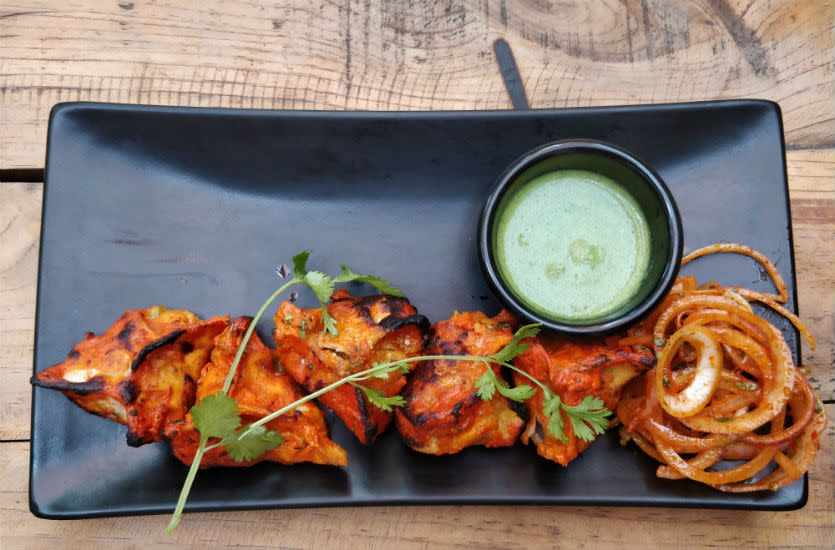 Not everyone around town is able to get prawn momos right but Nukkad Cafe surely nailed this dish! Their tandoori momos were smokey and crisp, indicating Nukkad's correct technique of tandoor cooking, and their prawns were perfectly seasoned and filled, making this dish great! The prawn meat was the hero of the dish, with no unnecessarily overpowering gravy trying to subdue it, and we really appreciated that.
Price | Rs 325
7. Palak Patta Chaat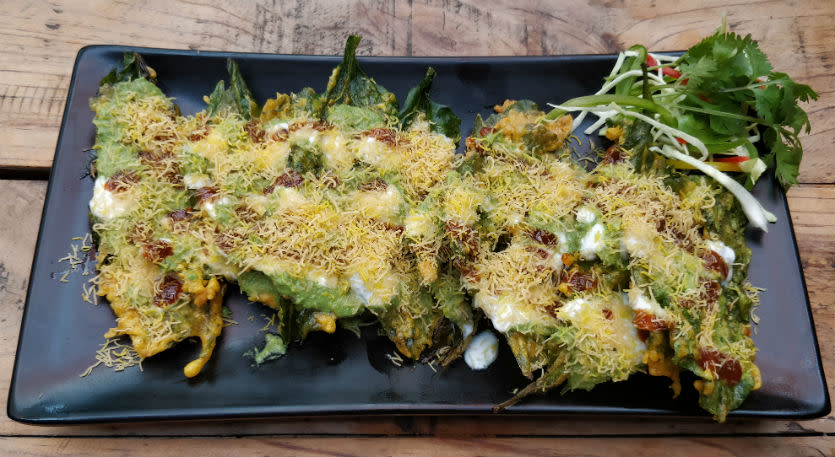 Big, crispy spinach leaves topped with sweet curd, tamarind and green chutneys and a generous sprinkle of sev, this dish was the light snack we needed in order to take a break from all the heavyweight hogging that we'd been doing. Light, yet fulfilling, this appetizer is another extremely popular dish here and is perfect for someone looking for a guilt-free, yet delicious indulgence.
Price | Rs 215
8. Chipotle Chicken Tikka Sloppy Joes With Tomato Fondue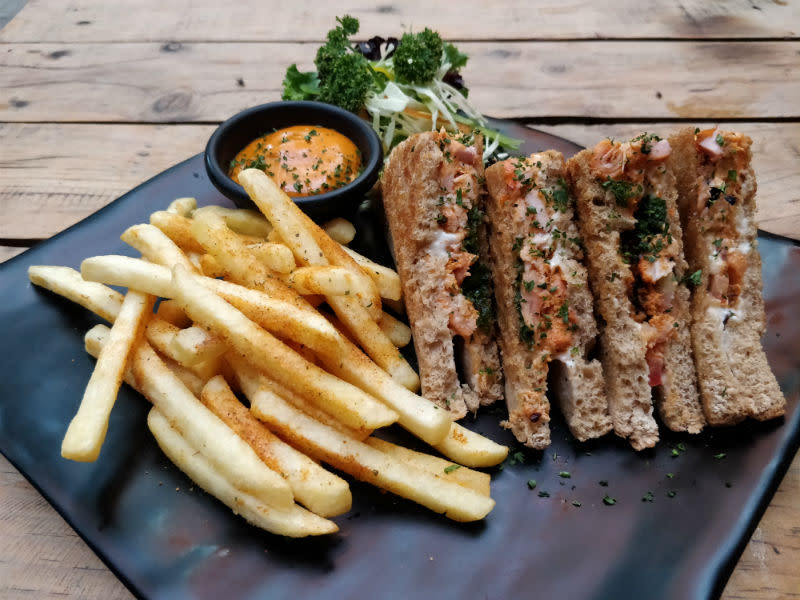 This is basically a stack of sandwiches stuffed with delectable chipotle chicken tikka that comes with a side of peri peri fries, salad and tomato dip. We were too full at this point but couldn't help devouring these sandwiches because the chicken tikka stuffing was so good that it made us forget all about counting calories!
Price | Rs 325
9. Hot Chocolate Fudge Sundae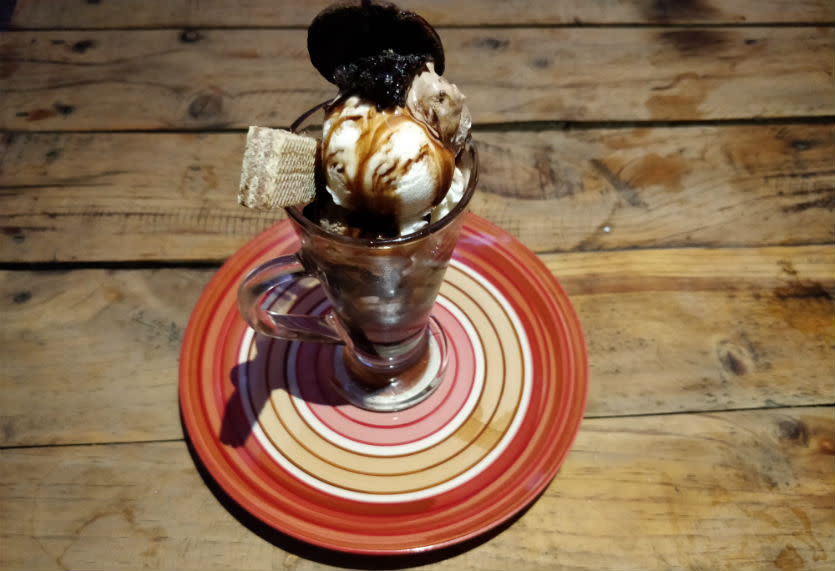 No matter how much we've stuffed ourselves, there's always space for dessert! So, we found ourselves staring at an impossible-to-finish but hard-to-resist Hot Chocolate Fudge Sundae that we dug into slowly, relishing each bite while ignoring our bloated tummies because dessert goes straight to the heart, does it not?
Price | Rs 245
All in all, we'd definitely recommend Nukkad to all you bhukkads who want to try some yummy street food sitting comfortably in a bright and clean place. Their drinks are pretty interesting, making them worth a shot. We're so coming back for the Paan Mojito!
Where | Nukkad Cafe & Bar - C-23-24, SDA Market, SDA
Here's Their FB Page | https://www.facebook.com/nukkadsda/