Eating out might imply eating fancy, but ordering in usually suggests keeping it casual - tucking into comfort food like pizzas & burgers but Boom Food is here to change that with its exquisite offerings, as they promise to deliver a niche experience in home-delivered food, and as fancy as you'd like! 
Guests suddenly came over and you don't have time to whip up something elegant? Throwing a brunch or a dinner party? Need catering for an event? Boom Food will rescue you with a menu that boasts of a wholesome Pan-Indian and Pan-Asian cuisine, from Shiitake Mushroom Baos and Wasabi Prawns to Crispy Lamb and even Rajasthani Laal Maas.
With their kitchens based out of Shahpur Jat, we decided to order up from them and here's our experience of it! 
Yum Woon Sen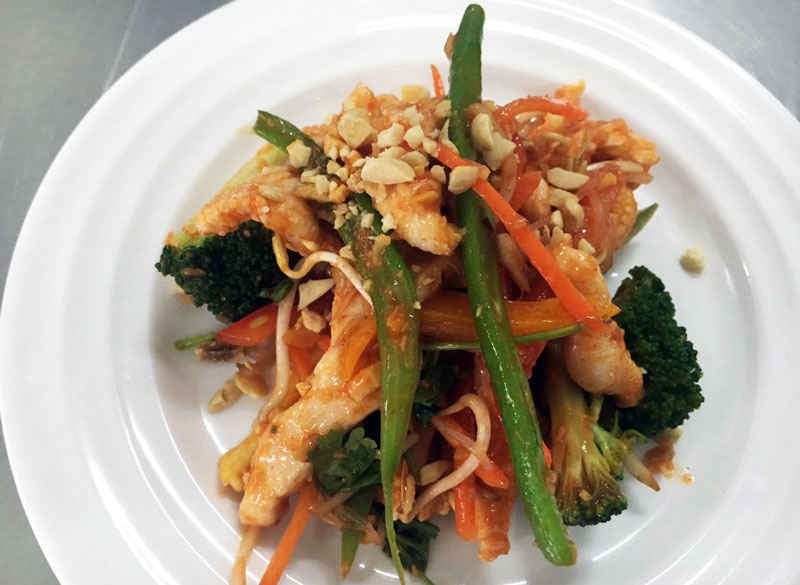 We started out with this salad which includes spicy glass noodles, shredded chicken and beans with the roasted peanuts providing for just the perfect crunch. The salad seriously was one of our favourite things on the menu: the chicken was succulent, the beans were juicy, the dressing was extremely flavourful and it really felt like this was one salad that would appeal to anyone, veggie-lovers or not - a must order!
Chicken Dim Sums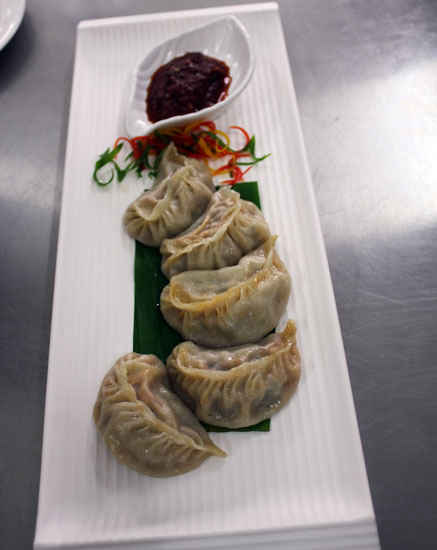 Next, we tried the dim sums filled with the juiciest chicken, smeared with a Japanese Tobanjan chili sauce which goes especially well with chicken! The dumpling was soft and delicious, not too sticky neither too hard - the perfect snack when you've got people coming over!
Panko Crusted Tofu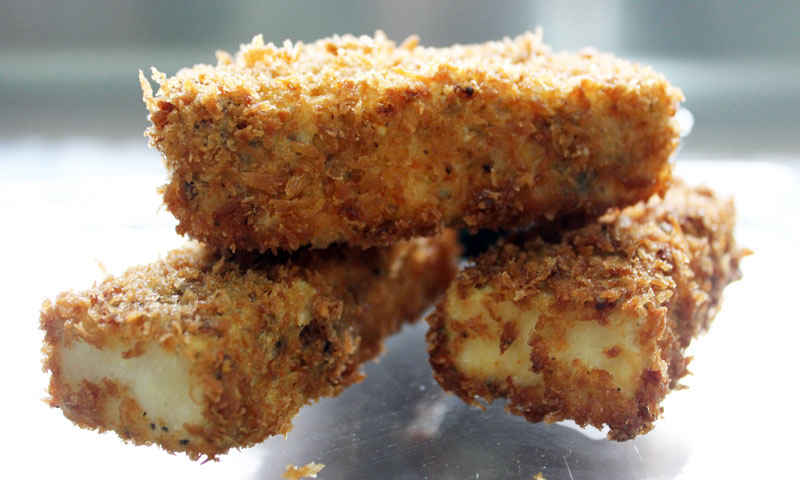 The panko crusted tofu was another amazing dish! The tofu was fried in panko crust (Japanese style breadcrumbs) for just ten seconds and it came out beautifully done to a crisp golden. The crust was crunchy and not at all oily, while the silken tofu was light (despite being fried). For any vegetarian, or otherwise actually, this is a winner!
Satay Kai with a Twist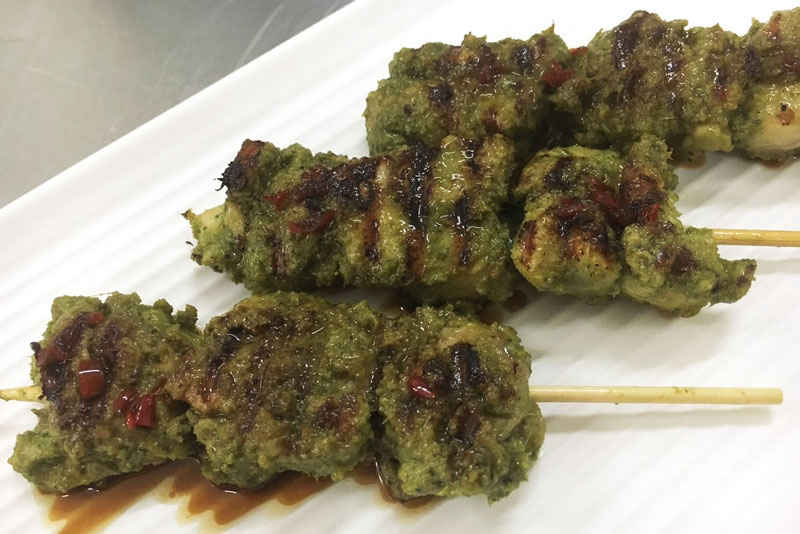 Following the tofu, we had the Satay Kai which was grilled chicken marinated in Thai green curry- the chicken again was well made and succulent, while the tanginess of the lemon chilly sauce and the green curry hit all the right notes, although in front of the other dishes, this one did pale a bit.
Japanese Style Braised Pork Belly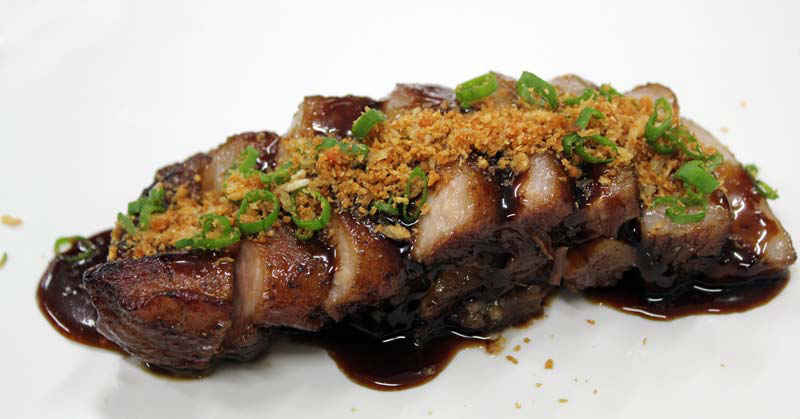 Finally, we got to the star of the menu! The Braised Pork Belly is the best selling item on their menu and we soon found out why! The pork is braised for eight hours, and according to us, it is well worth the effort. The pork was extremely tender and each bite reaffirmed that it was surely one of the best cooked meats in the city. The barbeque sauce on top was glazed beautifully and perfectly complemented the dish. Don't miss out on it!
Nasi Goreng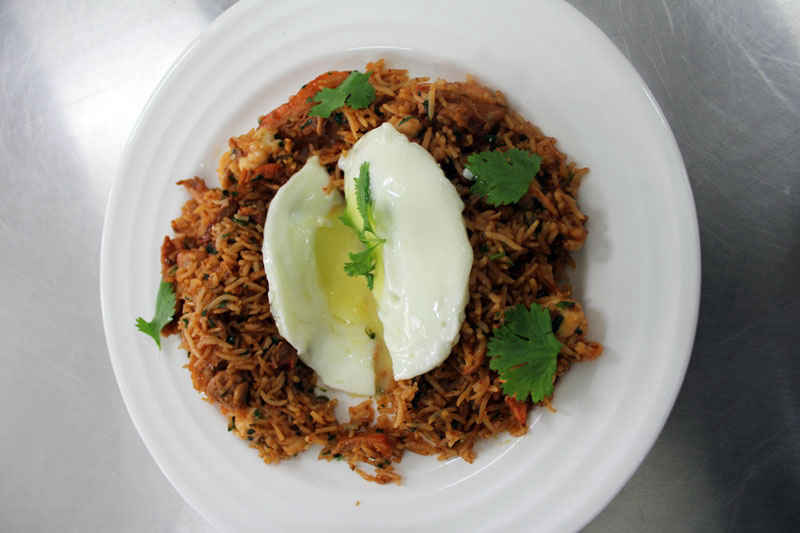 At last, we had the Nasi Goreng, an Indonesian style rice which has prawns, chicken, pork mixed with a shrimp paste with a fried egg on top. The rice was well cooked and spicy and a treat for any meat lover! The rice with the egg was especially delicious, the spices burning a little, but the flavour of the meat had swept through the rice, making it extremely flavorsome.
Eggless Chocolate Mousse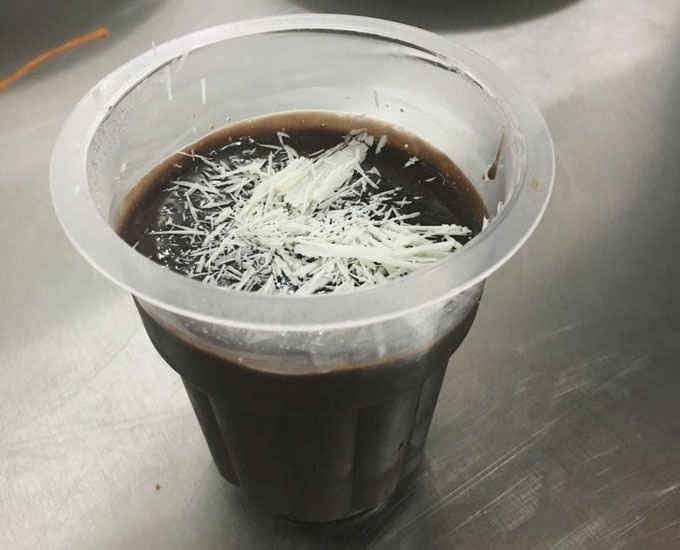 The Chocolate Mousse was literally little drops of heaven! The chocolate was perfectly whipped, the texture of the mousse was as smooth as could be, and it wasn't even extremely sweet, which happens to a lot of desserts! This really was great and we'd recommend you to order dozens of these if you've got a sweet palate like us!
For any type of gathering, or if in case you're in the mood to pamper yourself, Boom Food is a must try! They even customize the menu based on your requirements in case of larger gatherings. So pick up your phone and dial boom!
Where They Deliver | Up to a 5 Kms Radius from Shahpur Jat and for bigger orders they can also deliver across Delhi NCR
Call On | +91 11 3254 3578 or +91 9999 800 753/4
Meal for Two | Rs. 1200
Ratings | 9/10