Only The Very Best For Your Pets - These Are The Top Animal Shelters & Hospitals in Delhi
It is said that a dog is a man's best friend, however, we believe that this proverb extends to all animals! Everyone wants the very best for their beloved pets including top-notch medical care. In Delhi, one can come across so many animals (pets and stray animals) that need help and it's always best to know where to turn to in times of need. Here's a list of some of the best animal shelters / hospitals in Delhi. 
Sanjay Gandhi Animal Care Centre

This is the biggest and oldest animal shelter / animal hospital in Delhi. SGACC has an OPD, a clinical diagnostic laboratory, and a well-equipped dental care centre. Besides this, it also has a pre-operative room, two well-equipped operation theatres, and a post-operative room. Treatment is provided at very reasonable rates and those who cannot afford to pay for their pet's treatment are not charged by the SGACC.
Location | Near Shivaji College, Raja Garden
Jeevashram 

This animal hospital-cum-animal-shelter dedicates itself to prevent cruelty to animals and promote kindness. Jeevashram hospital has an OPD for small animals, a well-equipped operation theatre, diagnostic laboratory, and a fully equipped dental unit. Plus, they have ultrasound and digital X-ray facilities for cats and dogs. Jeevashram is perhaps the only animal hospital in Delhi that has blood transfusion facilities. 
Location | Rajokri Village (Near the Temple)
Pet Animal Welfare Society

PAWS has a well-equipped OPD and have 24 hours emergency facilities. X-ray, ultrasound, pathological, and dental facilities are also available at this clinic. Stray dogs and cats are treated for free. People with low income who cannot afford medical help for their pets can bring them to PAWS, where they will be treated free of cost. They also have boarding and lodging facilities for pets. 
Location | C-9/7, Masudpur Market, Vasant Kunj
Friendicoes- SECA

Friendicoes SECA was founded in 1979. Today it is a full-fledged animal shelter cum animal clinic in the heart of Delhi. It provides free medical help to stray animals. X-ray, pathological tests, ultrasound, and dental facilities are available at this small hospital. Treatment at this centre is not free of charge. Like other animal welfare organizations, Friendicoes also encourages adoption rather than buying breed dogs. 
Location | 271-273, Flyover Market, Defence Colony
People For Animals 

People For Animals is the country's largest animal shelter and animal rights organization. Their mission is to ultimately influence policy and protect animal rights, while promoting awareness about animal cruelty. They provide treatment centres, ambulance services, sterilization programmes and rescue and rehabilitation services. They have a wide network of treatment centres, hospitals and mobile care units.
Location | 14, Ashoka Road 
Jain Charity Bird Hospital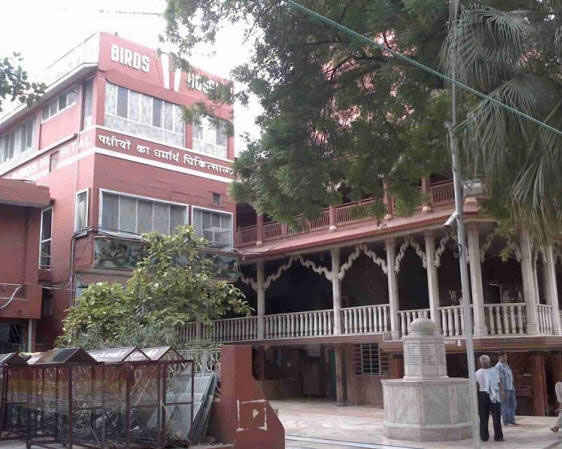 The Jain Bird Hospital is the only bird hospital in Delhi. This is a charitable hospital where all types of birds are treated for all types of diseases (injuries, cold, pneumonia, pigeon pox, and more) for free. The hospital consists of three storeys and vegetarian birds are kept separate from non-vegetarian birds. Once the bird has healed, it is released from the opening in the roof. It is a well-staffed and fully equipped hospital for birds. 
Location | Shri Digambar Jain Lal Mandir Ji, Opp Red Fort, Chandni Chowk