Disclaimer: Bearing in mind the current health crisis befalling the city and the world at large, we're tweaking our content policy and recommendations. Stay positive, keep hygiene levels up and don't fall prey to panic and misinformation.
Picture Credits: Mapio.net
There are two major lines of heritage that we find ourselves amidst these days, one that was conceived to be a grand creation, intended to speak to generations in times to come and the other a remnant of the utility architecture, serving a dutiful purpose - the Kos Minars belong to the latter category.
The Bare Bones Facts
Literally translating to a milestone, these pillars dotted the Grand Trunk (GT) Road during the Mughal era, especially from Delhi to Agra. A Kos roughly equals a distance of 3 kms. Unlike today's milestones, these milestones translated to towers as high as 10 metres, with intricate design patterns and holy verses from the Quran inscribed on top. There are almost 50 Kos Minars in Haryana and around 10 in Punjab. Delhi plays host to about 2-3 of these, the rest got lost in the obscurity of highways as they were developed over time.
Here's A Little Bit Of History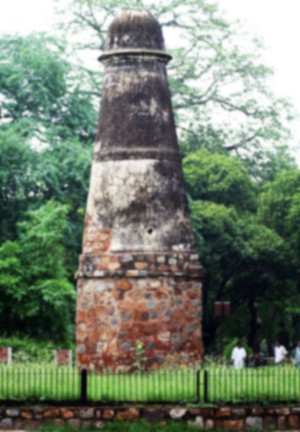 Built during the reign of Emperor Akbar, the Kos Minars were a spin-off of Sher Shah Suri's initiative to have caravan sarais (resting places) on GT Road for merchants and other travellers, the stretch from Agra to Ajmer having received special attention. However, apart from serving as a pit stop, the pillars also served a crucial role in the communication channel.
The pillars were equipped with a horse, rider and drummer to transmit messages between these pillars with speed and promptness. With the road covering a distance of almost 3,000 kms, it implies that almost 1,000 pillars were constructed, forming an extensive communication network, a predecessor to the postal systems that it would evolve to in the future.
As Of Today
Hardly any of these pillars remain, and only a few of the remaining are protected monuments, the rest were left to the vagaries of time. Though it's true that these structures are not of much architectural value, however, looking at the larger scheme of things, they provide a valuable insight into the socio-political structures of the times.
There are two major Kos Minars in Delhi present today, one at the National Zoological Park (Delhi Zoo) next to the Old Fort (Purana Qila) and the other one is at Lodhi Gardens, which even has a watch window at the top.
Though these constructions look plain compared to the intricate masonry and artwork surrounding them, as mentioned above, they do lend a nostalgic connect to one's daily life in this bustling metro city constantly bulging at the seams. The nearest metro station is JLN or even Old Fort which can be easily accessed through bus, metro or rail, as is the case with Lodhi Gardens.
Come on by sometime for a glimpse into how day-to-day Mughal communiques were sent and received!
Location | National Zoological Park, South District