Of Live Music and Delicious Tapas | Here's Our Experience of BandStand in Hauz Khas
Bandstand - upon hearing the name, any sea starved Delhiite may be reminded of the shore right outside Shahrukh's Mannat but Delhi's Bandstand is far beyond that. The place has been named keeping the original meaning of bandstands alive which are outdoor platforms for bands to perform and the place does just that with its regular gigs featuring budding artists, but only indoors. 
Everything about the place aims to visually entice and play with one's perception. The interiors are an eclectic mix of grunge with a warehouse type ceiling, cozy couches, an outstretched Geisha canvas on the wall and a patio that captures the very essence of a chilled out evening in Barcelona. 
The food at Bandstand is a different story altogether. We walked in thinking it's going to be one of those loud Hauz Khas bars with stereotypical music and casual nibbles but little did we know that we were in for a surprise! 
A Round of Cocktails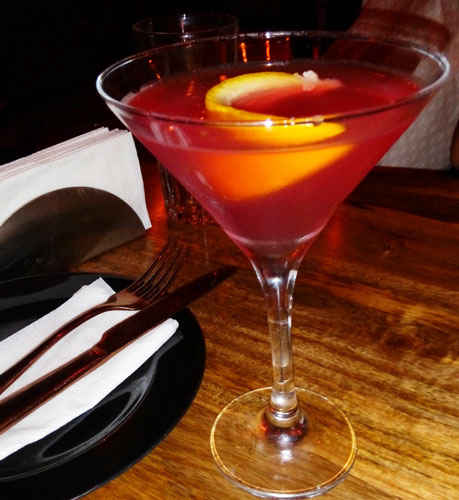 We started out with a very refreshing Mint Julep, a customised Orange Infused Cosmopolitan, a rather unique Watermelon based Bloody Mary, Vodka Sour and Pina Colada. Keeping our preferences in mind, all of our drinks were Vodka based instead of their regulars from the Bar menu and were just fantastic!
The Veg and Non Veg Mezze Platters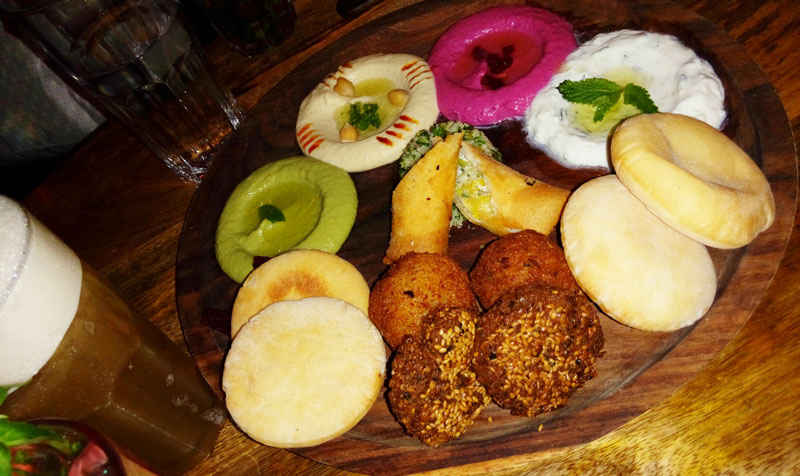 These consisted of crunchy Filo wraps, nutty Falafels, cheesy Arancini Balls along with their creamy Hummus, Babaganoush and Tabouleh were quite the delight. In the non-veg version, the Lamb Parcels, succulent Shish Taouk and Grilled Prawns were some of our favourites.
Classic Caprese Bruschetta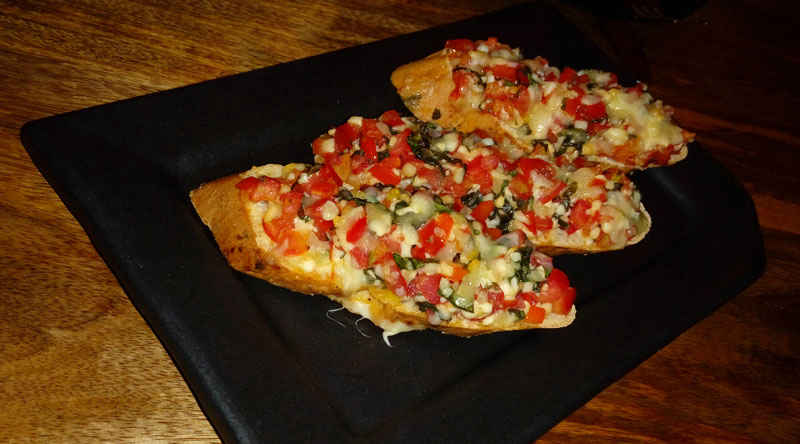 This one wasn't served the usual way. Instead of placing pesto, mozzarella and tomato slices atop each other, the entire mix was crushed and crumbled together, placed on warm crostinis, complete with olive oil drizzle - just perfect! 
Soy Glazed Chicken Yakitori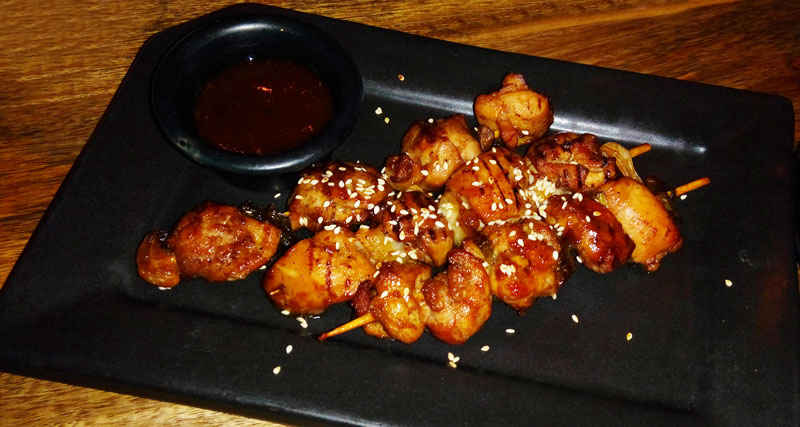 This dish blew our mind. The sweet and soft chicken cubes were a little too good to be satisfied with just one serving. Stacked in a skewer, the juicy chicken cubes were grilled the right amount and sprinkled with toasted sesame seeds. 
Nutty Brown Rice Salad with Red Beans & Vegetables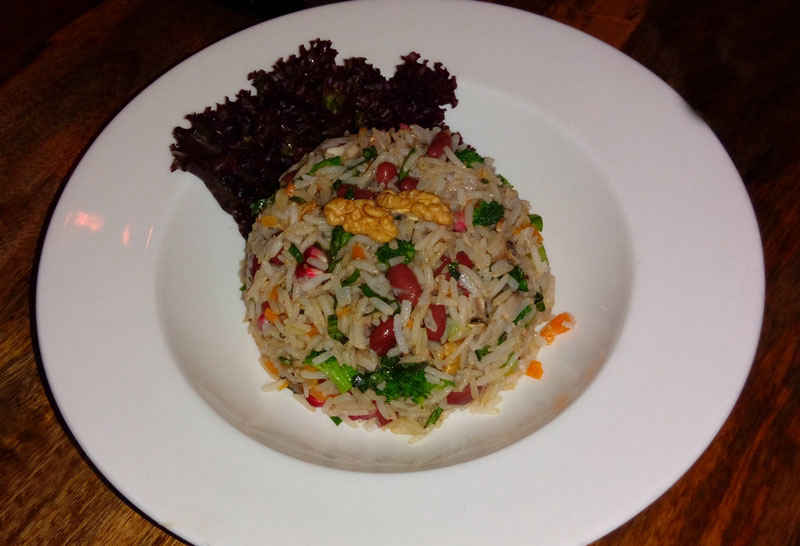 The dish looked really boring but one bite into it and we were happy that we tried it! If you are a calorie conscious vegetarian looking for some great salads, this one is a must have. The brown rice with shredded greens, walnuts, peppers and kidney beans were quite a great mix. 
Zucchini Parmesan Crisps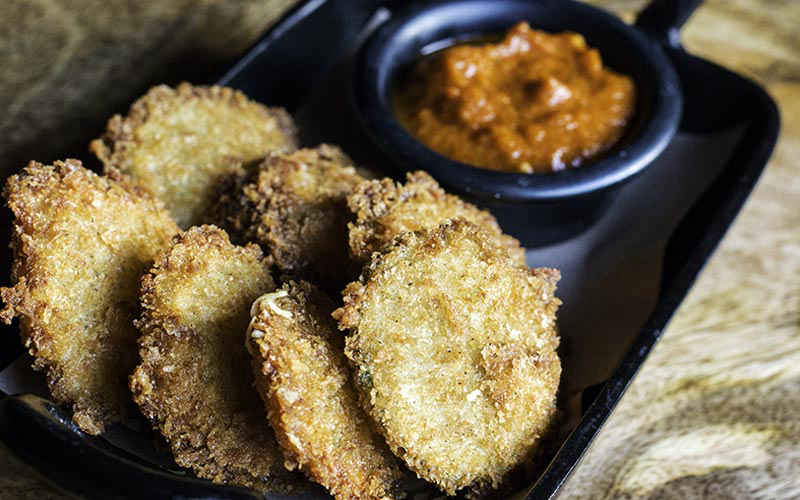 Small crisps of good cheese and flavour, the Zucchini Parmesan Crisps were a delight to devour. They were served with a chilli based dip which gave a spicy edge we North Indians openly obsess about.
Non-Veg Mini Pizzettes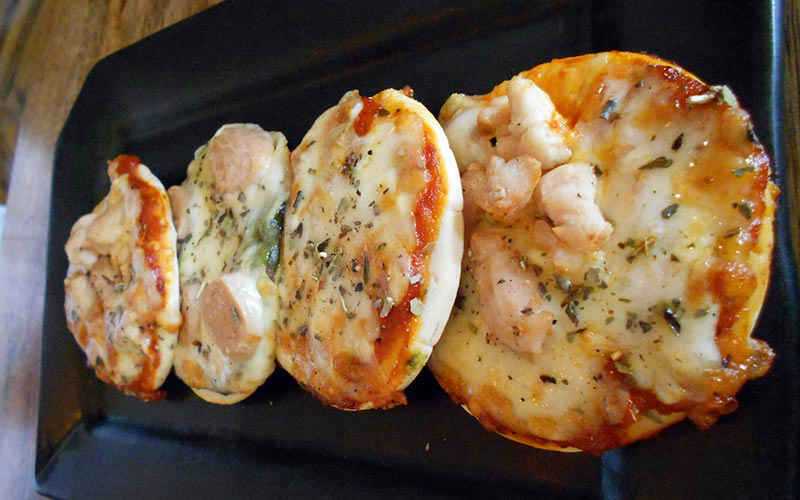 Four little pizza babies with multiple toppings - sausage, margherita and chicken. Layers of cheese and tomato on a soft yet slightly crispy base with toppings and oregano is totally a recommendable starter.
Baked Mini Lamb Mince Parcels 
The baked lamb parcels had a generous amount of filling within the thin sheets of refined flour. Like the rest of the starters, they too were a favourable experience. 
Spaghetti Bolognese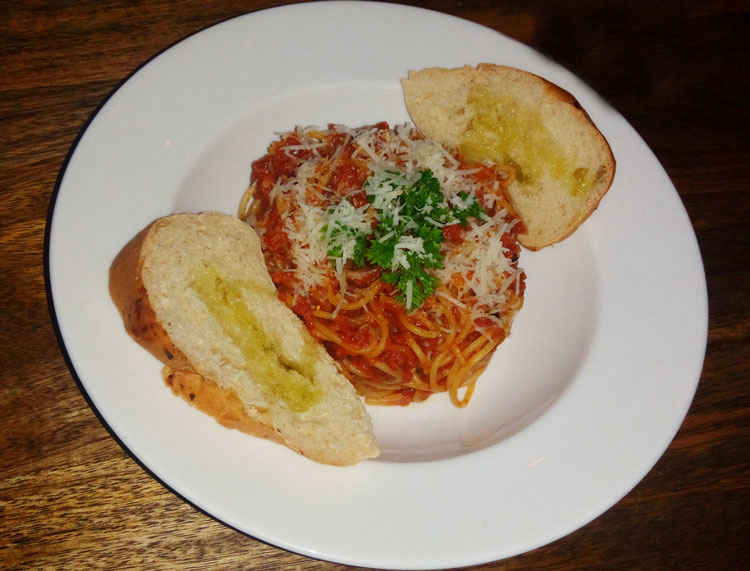 This  one used Capellini instead of Spaghetti and still made it taste pretty awesome, the minced meat in marinara sauce served with shaved parmesan on top was the best combination! 
The Banana Chocolate Tart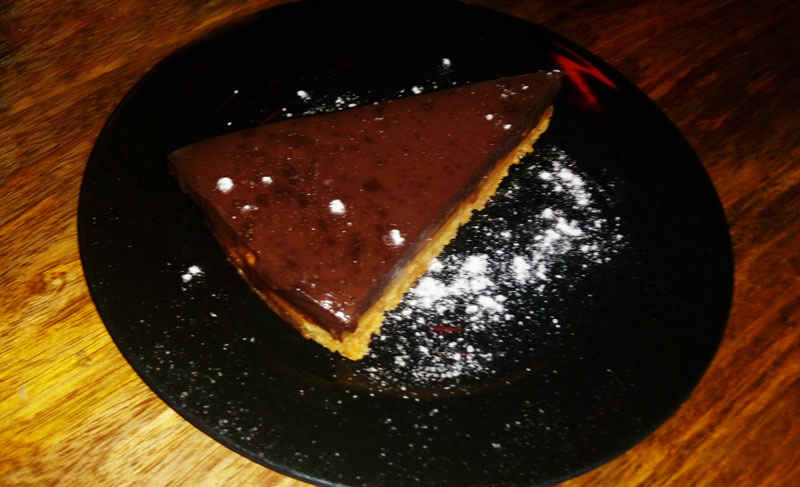 With its buttery crust and rich chocolate, this dessert was applause worthy. Digging every spoonful into it was worth the calories. It tasted a lot like a Banoffee Pie, only, with more chocolate. 
The Chocolate Lava Cake with Ice Cream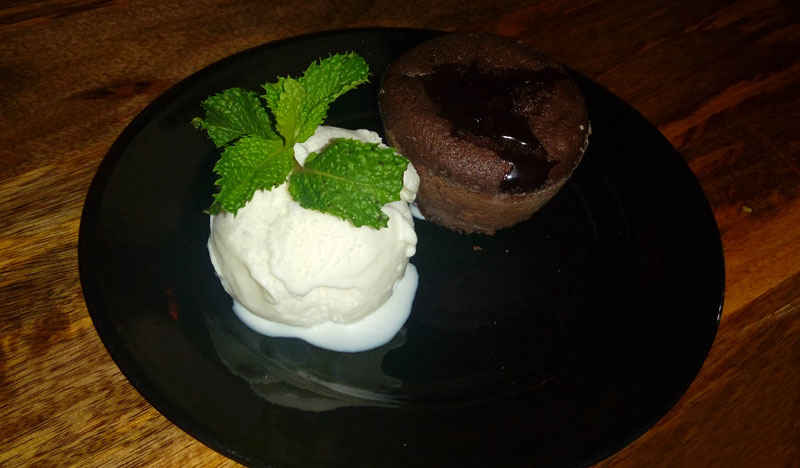 The rich chocolate oozing out  of a perfectly baked lava cake was addictively sinful. There are few things in life whose combination seems like ying and yang. Warm Chocolate Lava Cake and cold ice cream is one of them. 
Rosemary Chocolate Fondant 
Moving on to the desserts, we delved in this fondant which was one of the best decisions of the whole meal! The molten chocolate inside the relatively harder exterior that was exposed as we scooped it up was perfect on sugar content. The rosemary gave the cake a dark, rich chocolate flavour. We had a hard time resisting second helpings!
Bandstand's food and aura definitely looks like a glimpse into the world of a well travelled person who wants Delhi to experience the same. Their menu is a pleasant change from the pastas and pizzas that every other place offers and the vibe is thankfully still untouched by the brash party scene of HKV! 
Location | Aurobindo Market, Hauz Khas
Meal for Two | Rs 2000 (inclusive of drinks)
Ratings | 8/10