#NewInTown | Parisian Delicatessen Delifrance Has Arrived in India For The First Time & We're Lovin it!
The smell of yellow parchment from an old dog-eared book and the fragrance of freshly baked loaves of artisanal bread…ah, heaven! There are certain scents that just quench your soul and at Délifrance, we were greeted by the delicious, homely aroma of just-out-of-the-oven breads (they make 6 kinds) and freshly brewed coffee the moment we entered. A cursory glance at the food on display and we knew we had come to the right place for our mid-day munchies!
It's easy to see why this 30-year old enterprise with over 400 outlets globally has developed and sustained the legacy that it has achieved. Inspired by Parisian cafés, the well-lit and tastefully done up interiors with plush red and ivory wooden furniture, framed posters and tempting food shots adorning the walls and transparent doors lend an understated elegance synonymous with France while the grey, white and metallic tones in the décor provide a slick contemporary edge.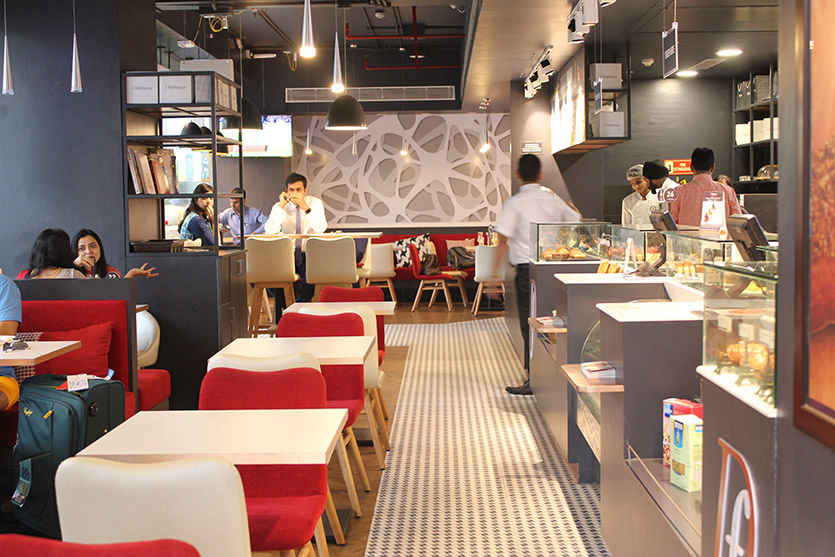 The cherry on the cake - the food at this café-cum-bakery truly embodies the essence of French bakery expertise with premium ingredients (and in some cases, entire dishes) flown in from France, high-quality breads, exquisite made-on-demand sandwiches, and highly-skilled bakers trained by their French counterparts. 
All that we dug into retained its authenticity but at the same time, certain dishes were glocalized to suit the Indian palate. Nevertheless, we had a meal truly par excellence - here's what made our tastebuds do joyous somersaults:
Quinoa Salad with Chicken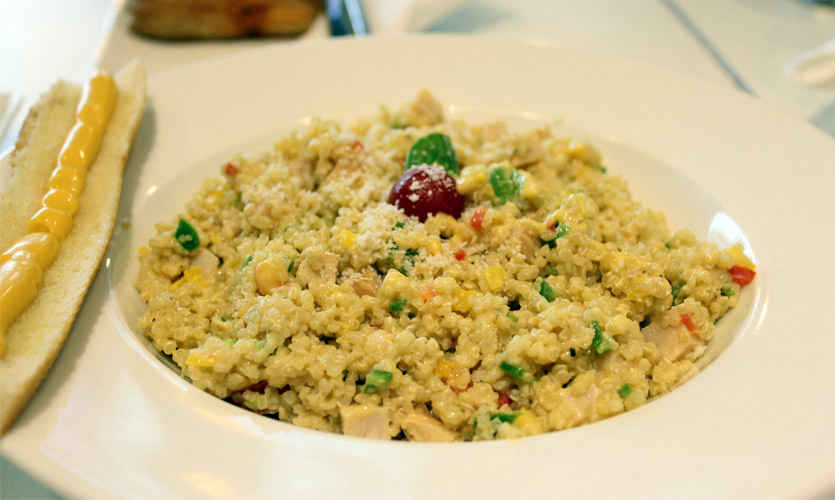 This unique and healthy dish has emerged as one of Délifrance's hottest-selling items, and with good reason. The freshness of the ingredients and the medley of flavours from the superfood quinoa, diced chicken and crunchy bell peppers sprinkled with grated cheese in a mustard dressing makes this dish the perfect pick-me-up after a stressful day. Served with a strip of buttered bread topped with mustard sauce, it was unbelievably light and we practiced immense self control to stop stuffing our faces with huge spoonfuls!
Tuna Mayonnaise Baguette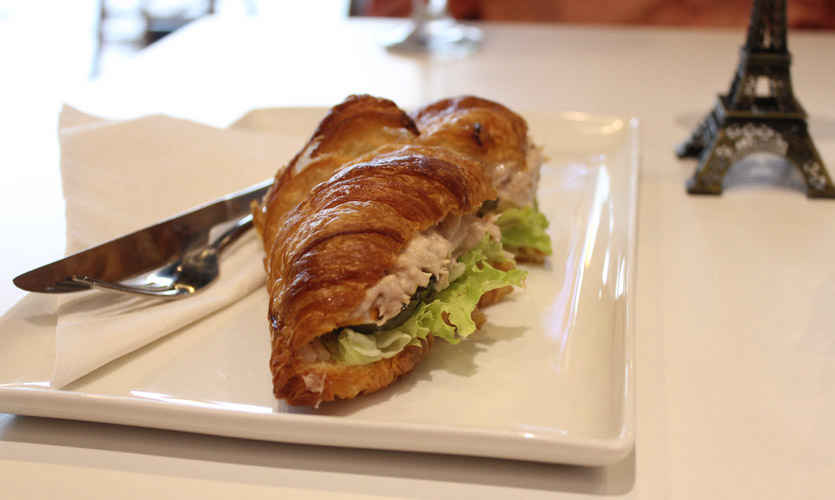 Mouth-watering to look at and scrumptious to taste, this dish was another winner! Yummy pieces of tuna steeped in mayonnaise with perfect consistency along with lettuce, cucumbers, tomatoes and jalapenos filled a golden brown, just-the-right-combo-of flaky and soft baguette. Délifrance uses fresh seafood delivered and prepared daily, which was evident from the very first bite!
Spicy Chicken Puff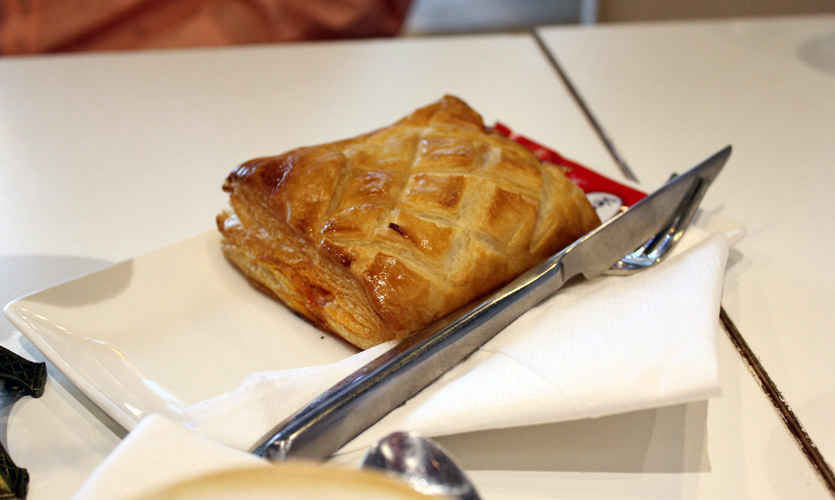 One of the items adapted for the local audience, their Spicy Chicken Puff was essentially the French version of what we'd call, at best, a 'sandwich'. Light and crunchy puff pastry brushed with butter was filled with roasted chicken, onions and tomatoes marinated in Indian spices with a rich orange colour. The outer layer had great texture with an interesting quilted pattern while the stuffing was tasty and spicy, but not too much of the latter. Not a bad dish at all!
Pineapple Juice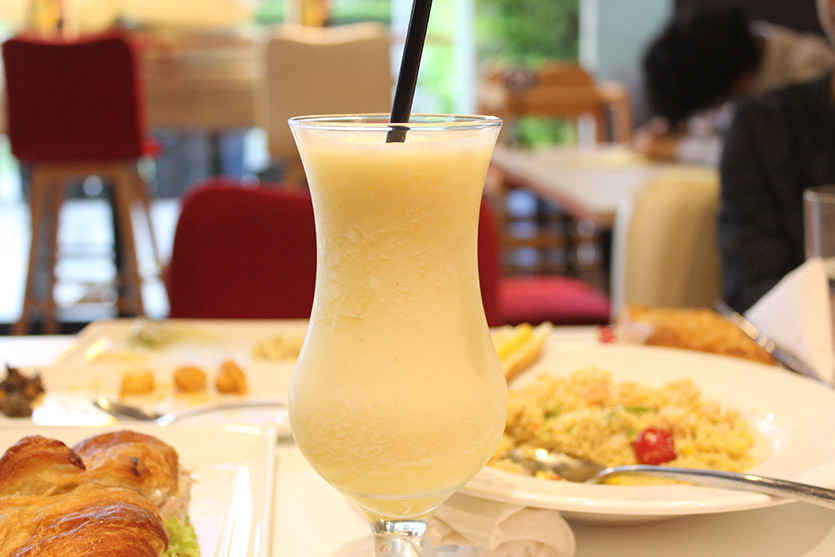 We heard that the fresh juices on the menu had also been getting some great feedback from Délifrance's regular clientele, and couldn't wait to try one ourselves. We opted for the Pineapple one, which was refreshing and quite filling. They do not add any sugar to their juices and rely on the natural sweetness of the fruit, which retains much of the original flavor. There was, however, also a strong zesty tinge which was not too pleasant.
Colombian Cappuccino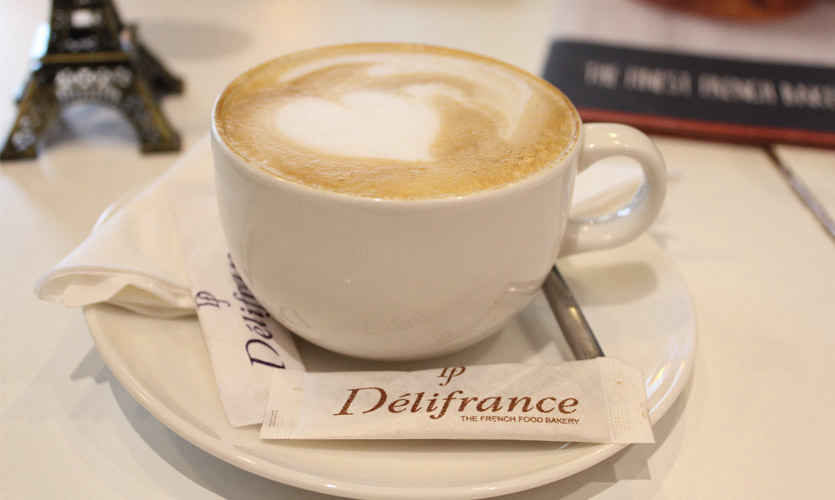 Although both the indoor and outdoor seating areas just make you want to curl up with a good book and a superior cup of coffee, the Colombian blend cappuccino that we tried was nothing special! It certainly looked pleasant with the heart-shaped froth on top and stayed true to its mild flavor, but wasn't anything that we hadn't tried before. It was pouring gloriously outside, so we proceeded to sip on the hot, comforting beverage anyway.
Flan Coco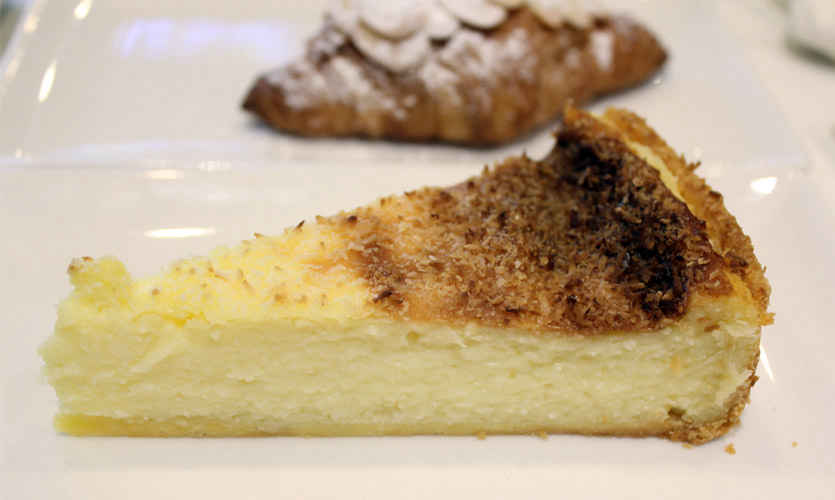 One of the deli's signature dishes, their Flan Coco is flown in directly from France and without a shred of doubt, it just blew us away! Can we just say - it was the best we have ever tasted and the star of our table! Everything from the caramelized coconutty topping to the moist melt-in-your-mouth custard filling and the crunchy pastry base was en pointe. A milk and coconut dessert that we could prolly eat for breakfast, lunch and dinner!
Almond Croissant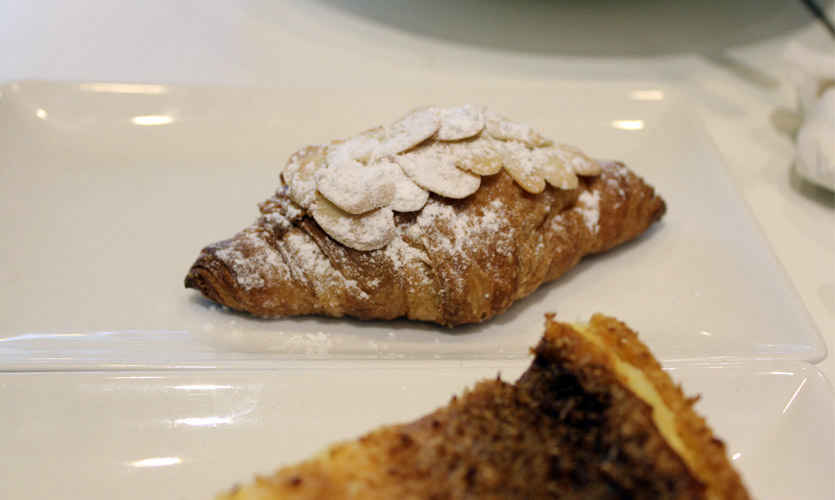 Délifrance refused to stop amazing us! Case in point - their Almond Croissant. For those who do not like their desserts overly sweet or sticky, this is a delightful option. A crackling baguette dusted with icing sugar and decorated with real almond flakes on top, it was filled with a creamy almond and butter paste - which was to die for!
Just three months old and already creating waves in Gurgaon's throbbing F&B hub (they've also got free WiFi btw!), Délifrance is also expected to open a branch in South Delhi in the near future (yay!) and will soon add a selection of wines to its appetizing menu; we can't wait to stop by for a drink with our gang! We'd recommend trying it out for a great dining experience and a good view.
Meal For Two | Rs 700
Location | Building 10, Tower B, DLF Cyber Hub, Gurgaon