Chennai's renowned premium pen destination Makoba's just opened its doors to patrons in Delhi, and we went for a look-see at their first store in GK I! Easy to spot, it's located right down the road from M Block Market and houses over 30 premium brands with a gapingly wide price range of Rs 500 - 5 Lakhs.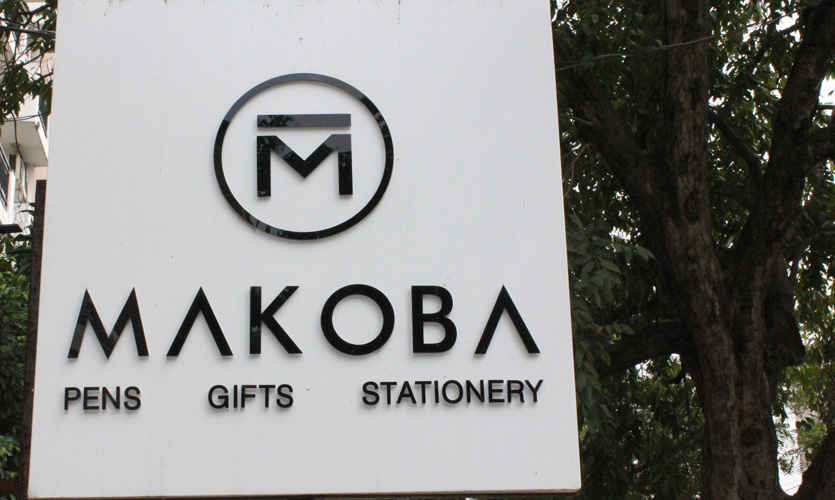 They also have a small section selling daily-use stationery as well as leather products for men, pocket watches and metallic desk accessories. While there are only two brick-and-mortar outlets in the country as of now (one each in Chennai and Delhi), you can order via their website for pan-Indian deliveries.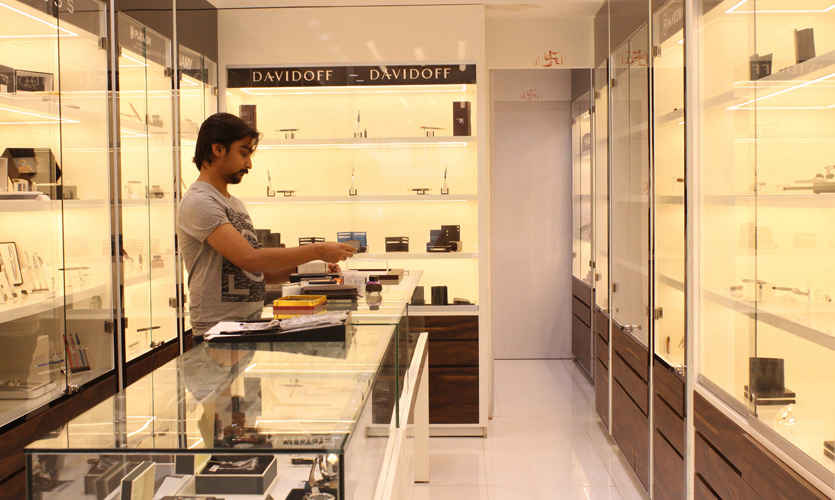 Upon entering, the first thing you'll notice is the minimalist, pristine white interiors which perfectly contrast with the elegant pens on display, while creating the illusion of space in the compact store. Beautiful fountain pens (their specialty), intricate nibs, pencils, ink pots and sophisticated pocket watches radiate an aura of opulence from glass displays of Waterman, Wörther, Davidoff, Sheaffer, Cross, Lamy, Dalvey, Platinum and Delta, among other glitzy names.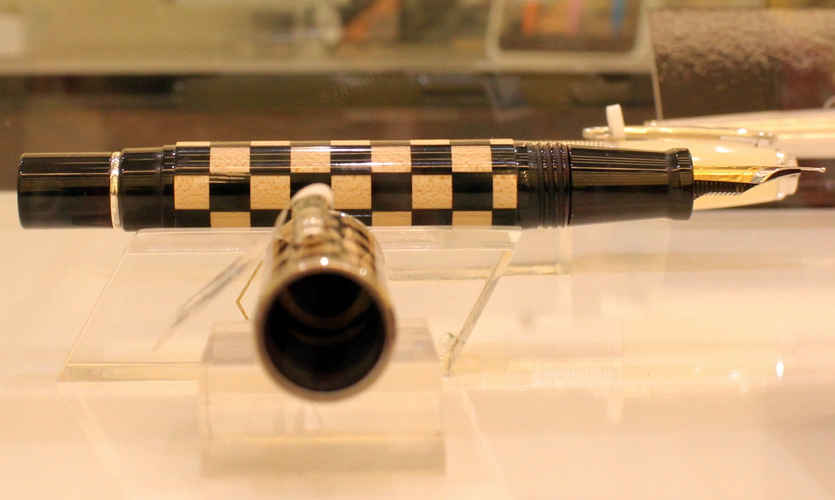 For premium pen collectors (or any gentleman with good taste), this is a virtual paradise. They also have ink pots and refills and are also happy to source and repair fountain pen nibs, so if you've got a family heirloom in need of an upgrade, then look no further (subject to availability). Mr. Donesh Jain, Partner-Makoba, also introduced us to some of the more unique products here:
Fisher Infinium Space Pen | Dependable enough to be used on American and Russian space flights, this pen can write on any surface, at any degree, temperature, or angle – even upside down! Also, Infinium apparently has enough ink to last an average user a lifetime. Woah!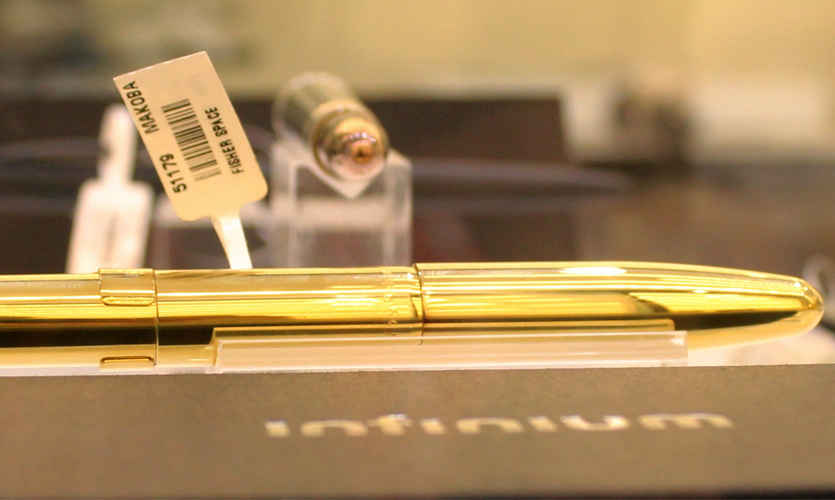 Rubinato Quill Pen | Reminiscent of 19th century Europe when rudimentary quills were used to express the written word, the Quill Pens by Francesco Rubinato are a true-blue vintage delight with their bright feathers and Italian sculpture stands.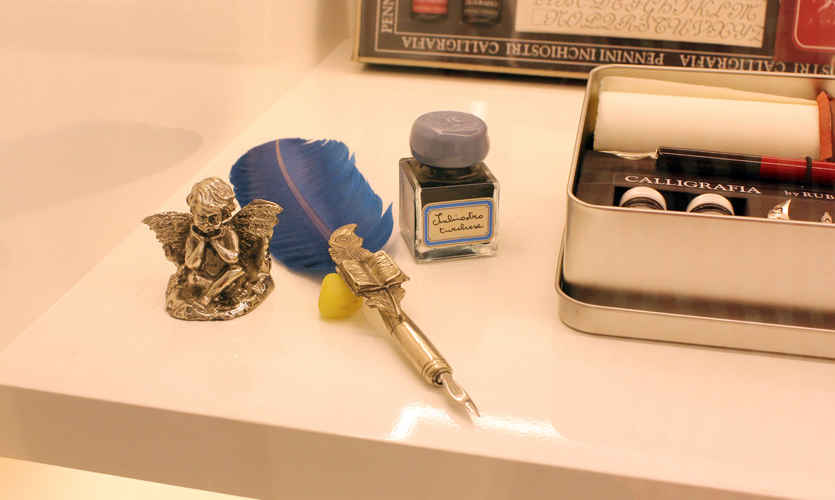 Calligraphy Sets | Makoba also has elaborate Calligraphy Sets by Rubinato at their Delhi branch featuring two bottles of ink, an assortment of different sized nibs, sheets of paper and a wooden nib holder. We'd definitely like to try our hand at this one!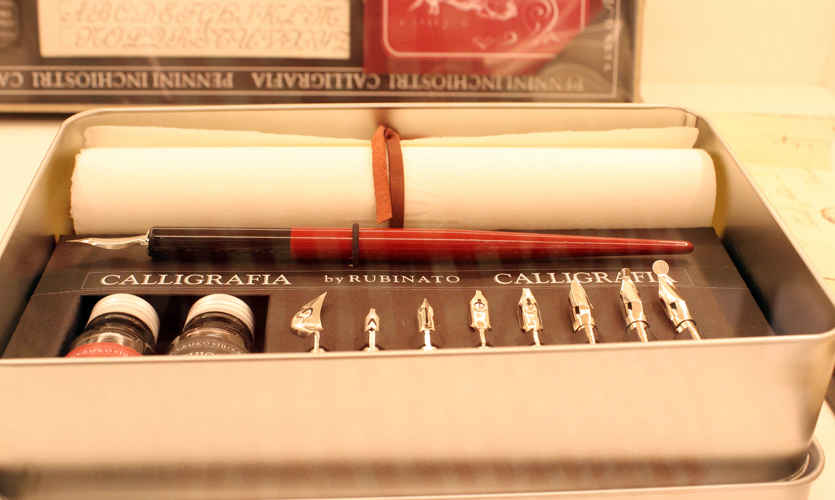 Mukul Goyal Products | You can choose from a unique range of exclusive hand-made products by designer Mukul Goyal including simplistic pen holders, paper weights, tape dispensers and the cutest wire managers we've ever laid eyes on!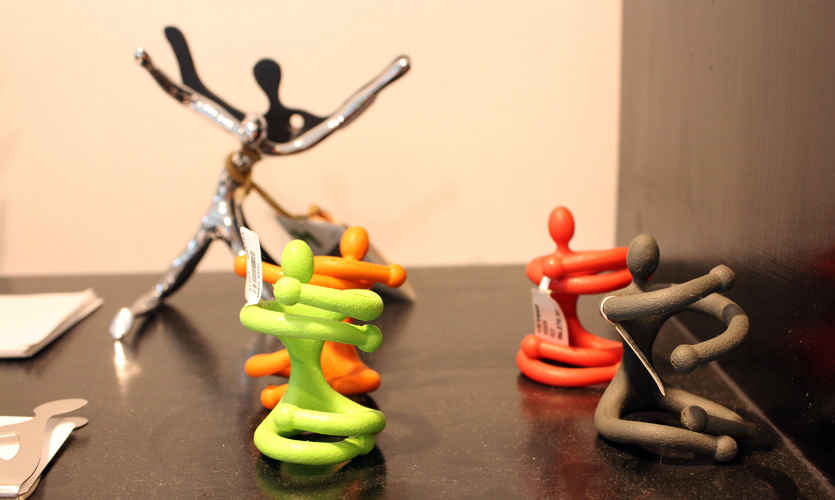 Makoba has been in business for over 8 years now, and not surprisingly, caters to a high-end clientele comprising the who's who of India. If you're a millennial looking for a luxurious yet thoughtful gift for your dad, then we'd recommend you check out their Lamy collection, one of their more affordable options.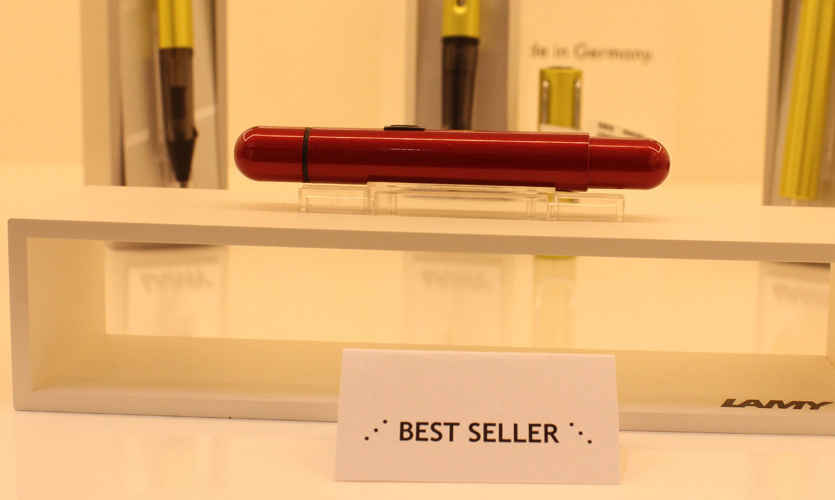 With Diwali around the corner, you could also take a look at their special gift packages from Cross and Sheaffer (two items per set) or the colourful quill pens with ornate Ganesha-shaped stands, exclusive to India, all of which make excellent corporate gifting ideas. Oh and did we mention they do customized engravings on pens and leather goods starting from 300 bucks! Nothing reads personal like your name on a Waterman (or well, your daily planner). You can also get your stationery fix here with products starting from a mere 55 bucks.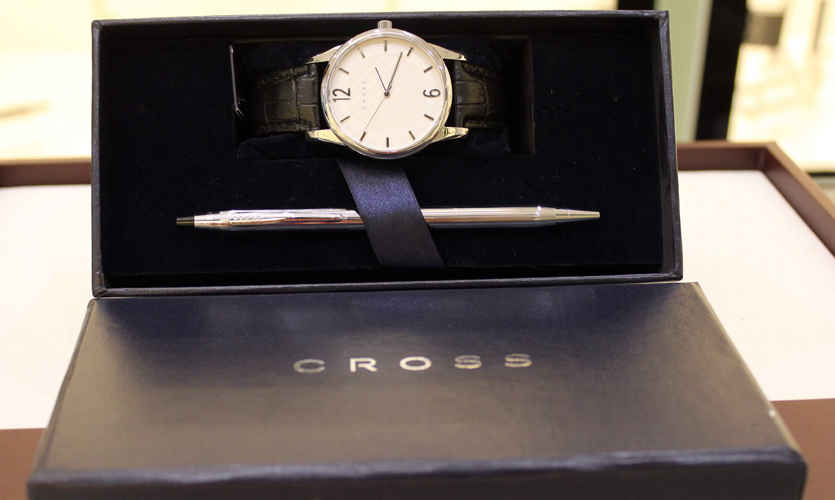 (This is the Cross Diwali gift pack)
So there you go folks, now that we've tempted the hidden pen and quill connoisseur and budding calligrapher in you, come on over!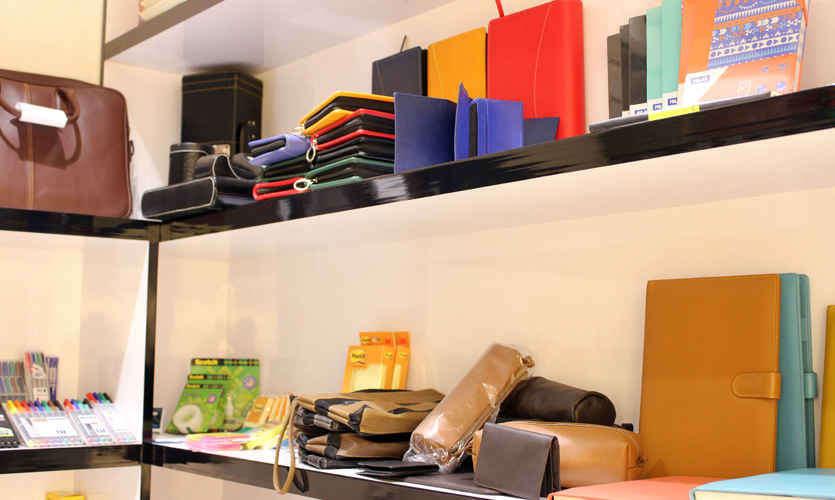 Timings | Monday - Sunday 10:30 AM - 8:30 PM
Location | M-24, Greater Kailash 1, Hansraj Gupta Marg, Main Road
Here's Their Website | http://www.makoba.com/