Nestled In The Middle Of Meena Bazaar, Take A Walk Through Maulana Azad's Mausoleum
Situated amidst the chaotic and bustling Meena Bazaar, Maulana Azad's Mausoleum remains tranquil & green and has stood the test of time. In 1958, however, it was renovated and restored in November 2005 on the orders of Delhi High Court. Azad's tomb is a major landmark and receives quite a number of visitors, with the silhouettes of the Red Fort and Jama Masjid surrounding the mausoleum on either side. 
It can be easily reached via rickshaw from the nearest metro station - Chawri Bazaar. The rickshaw ride is quite extraordinary especially for those visiting this area for the first time as each lane and nukkad leading to the mausoleum is filled with stalls selling a variety of meats, dry fruit, garments, ornamented jewellery, holy items and various other confectionary items. This stretch has a charisma of its own which separates it from other parts of Old Delhi and has a different character to it and welcomes one and all with open arms.
About The Indian Visionary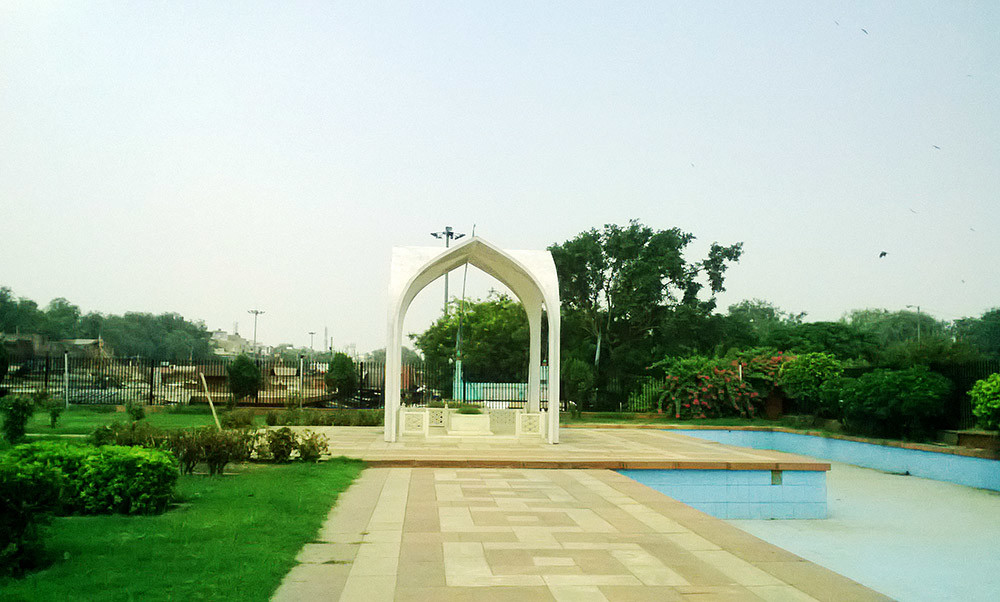 Abul Kalam Muhiyuddin Ahmed Azad who died on 22nd February, 1958 was an Indian scholar and a senior political leader of the Indian Independence movement who opposed the Partition of India because he thought Muslims would be more powerful and dominant in a united nation. He was a strong believer in secularism and continued to proclaim his faith in Hindu-Muslim unity.
A Marble Clad Aura
Designed by architect Habib Rahman, the mausoleum is constructed in white, untainted marble with a concrete canopy covering it. The canopy is a cross-barrel vault structure, which was derived from the central arch of the Jama Masjid. The vault depicts the rich Islamic style of architecture established in that period.
The Current Scenario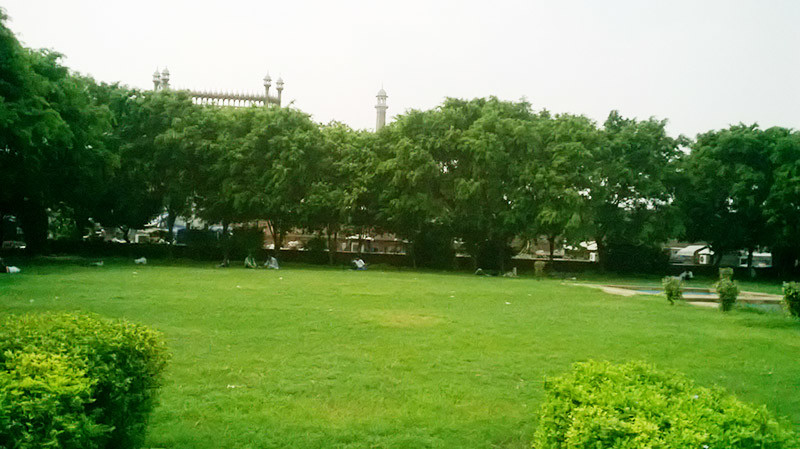 There are two dried up water bodies, differently shaped, stretching on either side of the garden tomb, while the clear-cut and organized placement of trees and hedges expresses uniformity in the landscape.
A mosque lying on the rear side of the tomb is clearly visible while facing the canopy. On most days, the mausoleum sky is filled with a zillion eagles, probably due to the empty plot lying next to the tomb where animal waste is disposed.
The voice of the Muzim fills the air with the sound of the adhan (prayer) which is recited day and night in the neighboring masjids. Situated in the center of the eventful Chhatta Chowk Bazaar, the garden tomb doesn't fail to surprise the locals with its serenity and calm environs. The tomb is open on all days & entry is free for all.
Come on by to pay your respects to this visionary to whom we all owe the freedoms we take for granted today!