Nachos Pizza, Noodle Sandwich & More: 6 Totes Crazy Dishes You Gotta Try In Satya
Well, we Dilliwalas are tagged as the crazy ones by almost everyone and why not?! The food, the lives we lead and everything else seems pretty crazy to others. But we know the worth of this crazy life! Satya Niketan is every college-goers adda - they've got super cool cafes and some hatke dishes to sample, and here we've hunted down the craziest ones to gorge at!
1. White Chocolate Sandwich @ Cad M Cad B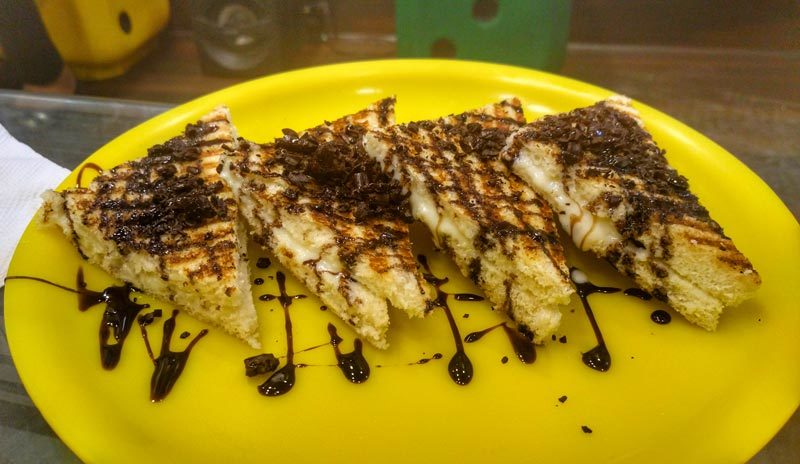 We've all had sandwiches stuffed with veggies, meat and maybe even momos, but did you know about the White Chocolate Sandwich? Well yes you hungry peeps out there - Cad M Cad B is serving delectable White Chocolate Sandwich with oozing white chocolate and loads of chocolate sauce drizzled on top! Drooling yet? The head over now!
Price | Rs 70
Check Out Their FB Page | https://www.facebook.com/cadmcadbdelhi/
2. Butter Chicken Bunny Chow @ Papa Buns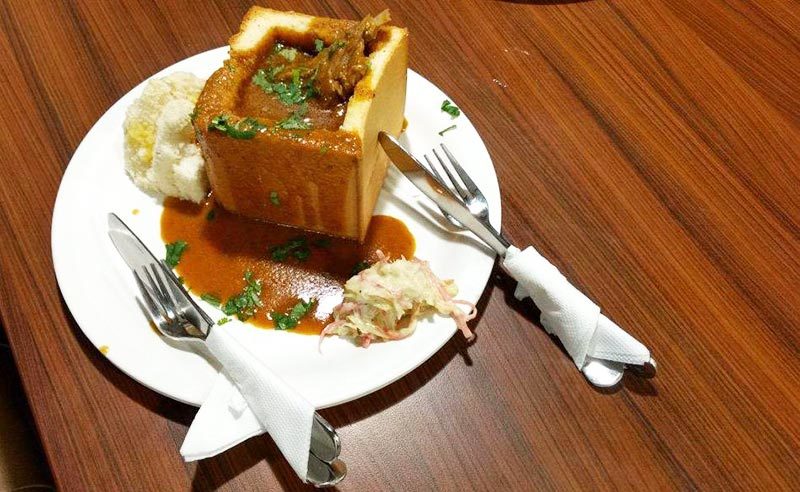 Butter chicken is the answer to everything for us Delhiites! Be it any time of the day, give us butter chicken and we're sorted. But this little place in Satya Niketan is giving it a twist. They're serving scrumptious butter chicken filled in a loaf of bread which sounds awesome! So the next time you're in Satya, do drop by Papa Buns! 
Price | Rs 239
Check Out Their FB Page | https://www.facebook.com/papabuns 
3. Veg Noodle Sandwich @ Kev's Cafe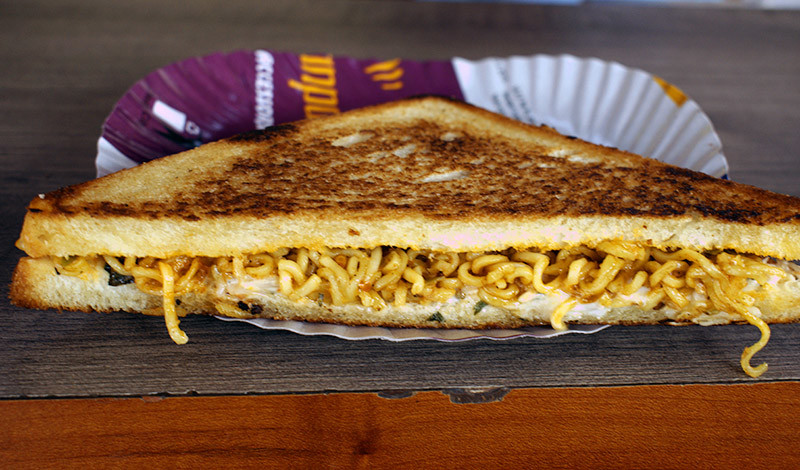 Did you ever think about your favourite Maggi stuffed in a sandwich? Well yes! This little place, going by the name Kev's is serving scrumptious Noodle Sandwiches with a layer of cheese and mayonnaise *drools*. So if you're craving noodles and sandwiches and can't decide on one then drop by Kev's!
Price | Rs 60
4. Espress-O-Spritzer @ Espresso-Ville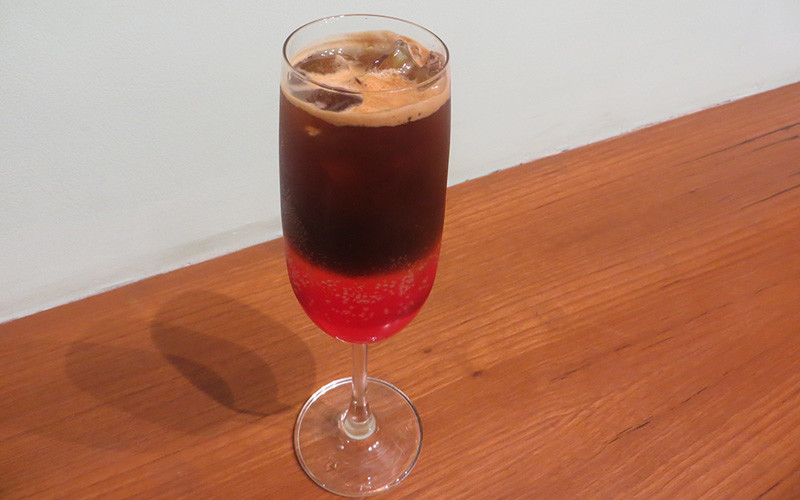 While restaurants are great at making cocktails but have you ever tried a watermelon, strawberry and espresso one? No? Then Espresso- Ville has got you sorted! This beverage is a treat to the eyes and of course the belly! Beat the heat with this delish and refreshing coffee drink in Satya y'all!
Price | Rs 135
Check Out Their FB Page | https://www.facebook.com/eov.coffeelove
5. Maggi Masala Pizza @ Woodbox Cafe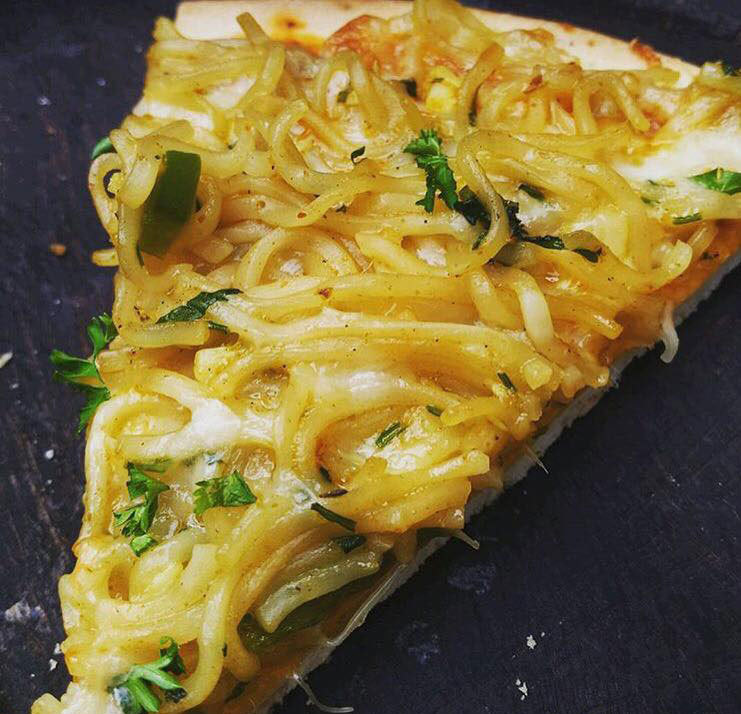 Picture Credits: @teekhi_mircheee
Since regular Maggi and pizza were not enough, Woodbox Cafe has turned them both into Maggi Masala Pizza and we couldn't be happier! Try out this quirky pizza and enjoy the taste of both, a scrumptious pizza and our beloved masala Maggi *already salivating at the thought*!
Price | Rs 199
Check Out Their FB Page | https://www.facebook.com/pg/woodboxcafe
6. Nachos Pizza @ Echoes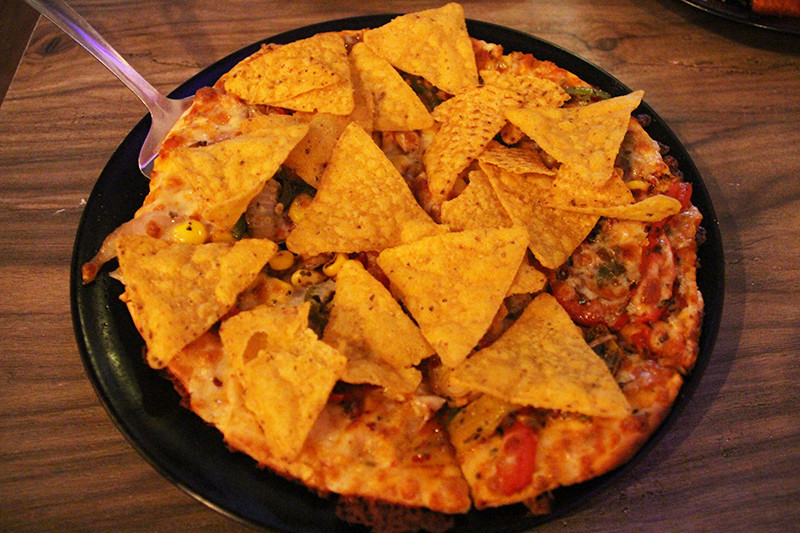 This restaurant has been wooing us every now and then with their delish food but today we're gushing about their Nachos Pizza! Yes, you guys! Echoes is serving a delectable fusion of nachos and pizza with their Nachos Pizza - we're already lovin' it, how about you?!
Check Out Their FB Page | https://www.facebook.com/echoessatyaniketan
So make sure to visit these restaurants and devour these crazy dishes while you're in Satya Niketan next!