Delhi
Nachos Maggi, Maggi Pasta & More - THESE NSP Haunts Have The Most Hatke Maggi Dishes
I am unconditionally and irrevocably in love with you. - Bella (Twilight)
If you can totally imagine yourself saying this to a steaming bowl of desi Maggi, then you're gonna love what we tell you next. Maggi maniacs, it's time to take your relationship to the next level and head to NSP already! We recently went on a Maggi march through the area and unearthed mind-boggling varieties that will make you fall in love all over again *googly eyed*. Here's what we found:
Nachos Corn Baked Cheese Maggi @ Chills N Grills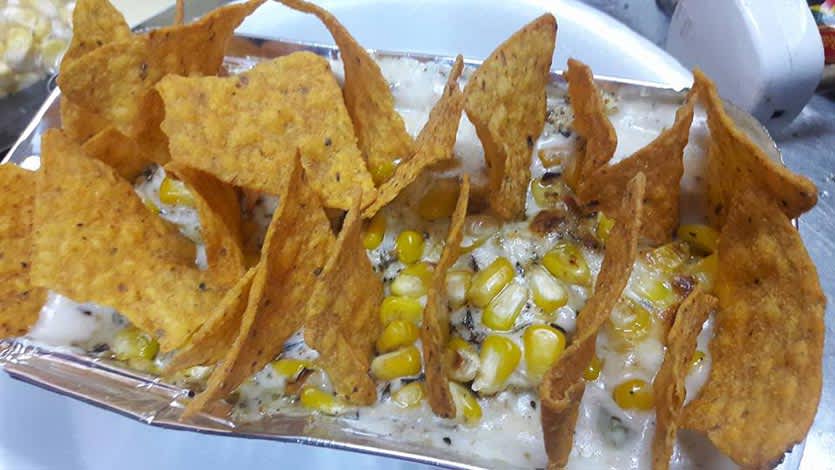 Paving the way for offbeat avatars of our fav noodles is this fast food joint called Chills n Grills. Ever thought you'd get to devour nachos, corn, cheese AND Maggi on one scrumptious plate? While these individual elements make great snacks on their own, bringing them together is nothing short of a culinary coup. Crisp tortilla chips to scoop up the cheesy noodles peppered with steamed corn kernels sounds amazing! 
Price | Rs 100 
Location | G-33, Aggarwal Millenium Tower 
Here's Their FB Page | https://www.facebook.com/chillsngrillss
Maggi Pasta & Chilly Chaap Maggi @ Billu's Hut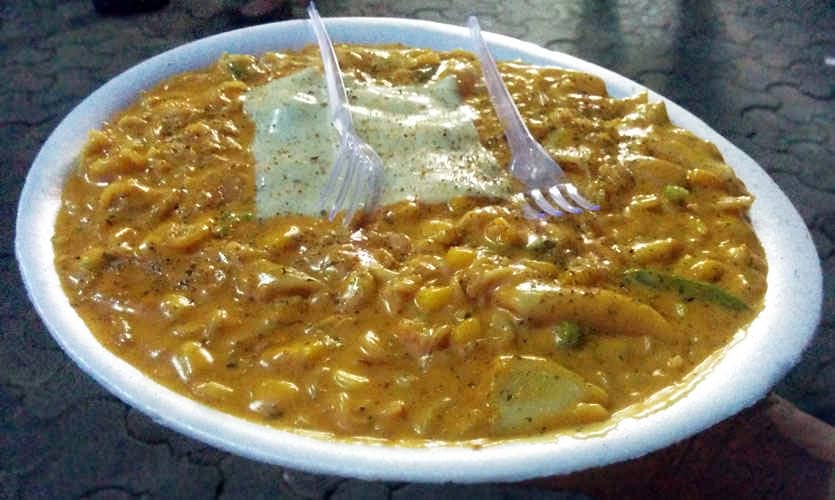 Can't choose between Maggi and pasta? Get the best of both worlds at Billu's Hut! Their Maggi Pasta is cooked in a rich, thick and creamy sauce (which also happens to be their specialty) and comes topped with a slice of cheese that is just on the brink of melting, yum! We've already decided on another oddball combo to go in for on our next visit here – Chilly Chaap Maggi. Tried it already? Tell us about it in the comments below! 
Price | Rs 100
Location |G-28, Aggarwal Millenium Tower
** P.S. : Did you know? You can now download the So Delhi App for iOS & Android. Click Here **
Chilli Paneer Maggi with Butter @ Hot Spot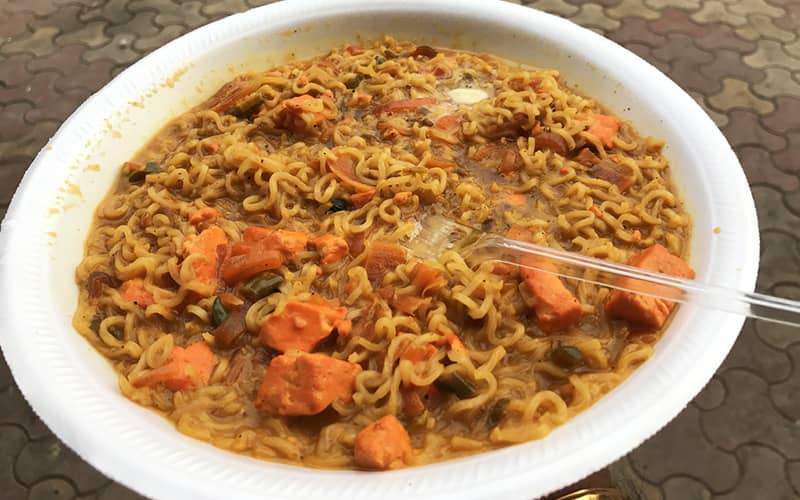 Upon trying this dish, we were happy to note that the tangy taste of chilli paneer stood its own amidst the familiar Maggi masala. The chunks of capsicum and onion thrown in turned it into a full-fledged meal bowl that we'd be happy to dig into at any time of day. Although the butter melted away, its taste lingered on in every bite! 
Price | Rs 80 
Location | G-49, Aggarwal Millenium, Tower 1
2 Minute Maggi Sandwich @ Chaayos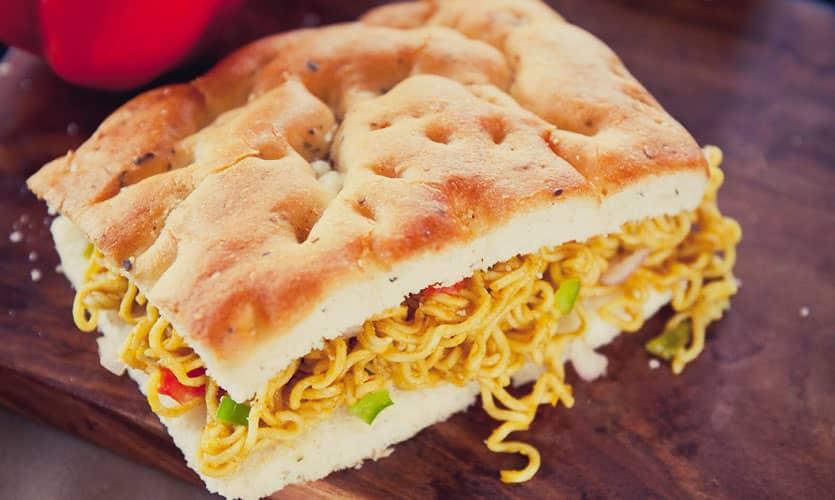 Operating from 9 in the morning till midnight, Chaayos is the perfect destination for night riders to get a steaming cup of chai and a quick bite. Their awesome 2 Minute Maggi Vegetable Sandwich is made using freshly cooked Maggi, which is seared in bread and then grilled. Time to vanquish those midnight munchies! 
Price | Rs 109 
Location | Ground Floor, PP Tower
Here's Their FB Page | https://www.facebook.com/Chaayos
Pizza Dip Double Masala Maggi @ Hashtag Foods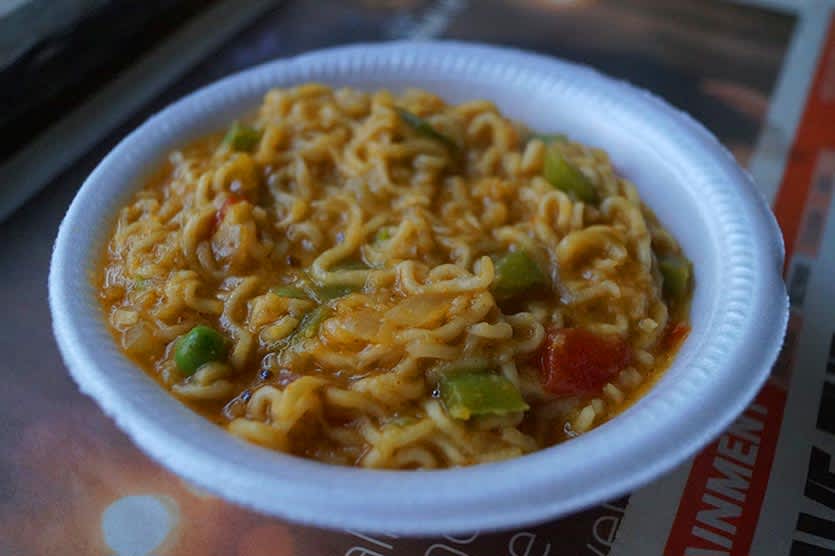 The stuff of dreams, right? Hashtag Foods has carved a niche for itself in the busy lanes of NSP riding high on shakes and sandwiches, but not many know that it also has 17 types of Maggi on the menu! These include Paneer Tikka Maggi, Green Chilli Onion Maggi, and Cheese and Cream Maggi among others. The Pizza Dip Double Masala Maggi sounds like an insane recipe for success and we're trying it out soon! 
Price | Rs 80
Location | G-89, Aggarwal Millenium, Tower 2
Here's Their FB Page | https://www.facebook.com/hashtagfoods/
Crispy Honey Chilli Maggi @ Sinciti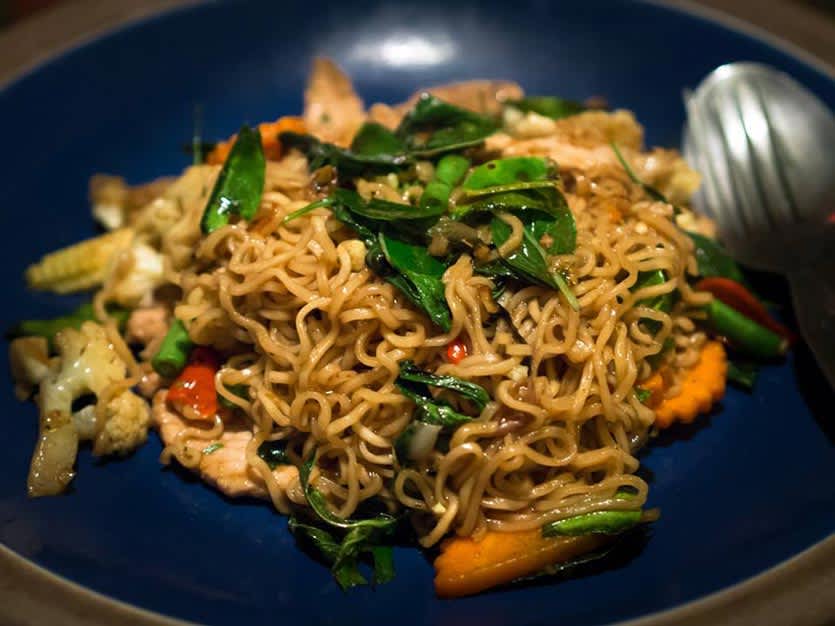 Considered one of the finer lounges in the area to hit up with large groups, Sinciti gives Maggi a (desi) Chinese twist by the addition of honey chilli! By fusing the two, Sinciti has elevated our humble comfort food to new heights. The price is high simply because it's a lounge, as opposed to the hole-in-the-wall joints on the list, but we hear it's absolutely worth it!
Price | Rs 225 
Location | 1st Floor, Gopal Heights, Plot D-9
Here's Their FB Page | https://www.facebook.com/Sincitiindia
With so many innovative creations out there, we just got a whole new set of #MaggiGoals! Which ones are you making a beeline for?