MyGreens Juicery | Cold-Pressed Freshness at Your Doorstep
With heaps of messages and glowing testimonials about the now-pretty-much-established cold-pressed juice craze, we declared ourselves intrigued and decided to give super-fast MyGreens Juicery a whirl! 
 
But before plunging into details about our juice cleanse (much-needed, btw), we'd like to unearth a bit of research we delved into for this newest health fad - cold-pressed juices. So how it works is this - 'cold pressing' is a technique that uses a hydraulic press to extract juice and nutrients from fruits and vegetables, thereby neatly sidestepping any need for pasteurization or preservatives, and with the added advantage of not losing out on any essential vitamins or minerals lost in the home juicing process which involves heat and oxidation. What you get is a sparkling little bottle of all the vital nutrients, neatly capped and customized as per your needs and convenience - pretty cool, huh!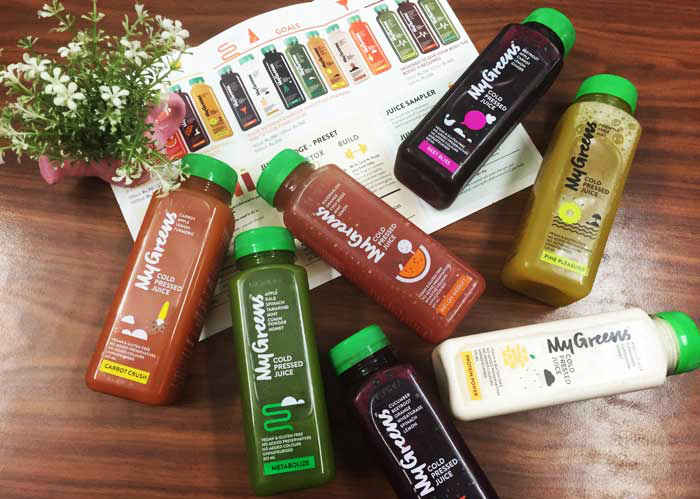 We came to know that MyGreens has come up with the largest range of pre-planned juice mixes in the country (15 variants in all) made by some of the biggest nutritionists and taste experts in the country. Their advisors include the likes of globally renowned Ishi Khosla and a culinary genius, Rinku Madan. 
 
MyGreens juices are spread out into categories based on your lifestyle needs:
 
Relish, which basically are delicious concoctions that are full of fruits and veggies, with an emphasis more on taste, making it ideal for first-timers to get hooked onto healthy juices. 
 
Then there's Goals - this range is specifically made up to help you reach your fitness goals - be it losing weight, or detoxification, or helping you with your daily protein requirements or just keeping that skin glowing like a diamond - they're pretty great at giving you that energy boost sorely needed during those gym sessions!
 
Finally, we've got Vitals, which are designed to help your body replenish all the vital nutrients and minerals you forget to include in your diet. The ingredients used in this particular line helps cope with certain lifestyle related issues like bad cholesterol, heart and dietary deficiencies.
 
We now decode MyGreens bottles of freshness for you - tread with caution - you might just end up getting more healthy! *tongue firmly in cheek*:
Carrot Crush | A mix of raw carrots, apples, dashes of turmeric and a few squeezes of lime, this one was delightfully tasty, with a firm flavour of carrots and we guarantee you'll gulp down the whole bottle without once scowling!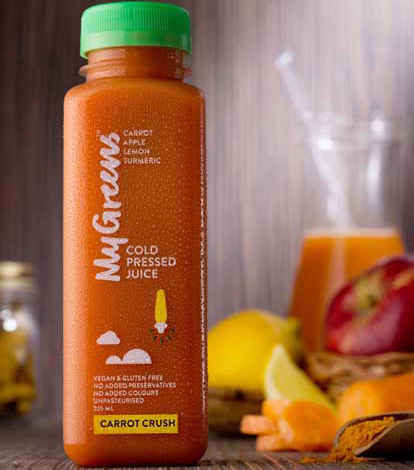 Beet Bliss | An iron-rich mix of beetroots, apples, carrots, ginger and lemons, this one tasted very earthy and the addition of apples and lemons added a fruity infusion to compensate for the beetroot and ginger flavouring. All in all - a pretty great drink.
Metabolize | With a pretty punchy name like Metabolize, this drink does just that - kick-starts your metabolism with a good dose of apples, green and leafy kale, lots of spinach, tamarind, and for some yumminess - mint, cumin powder and honey. Now this one is an unabashed super-drink of sorts, with pretty much all the vitamins and minerals you could possibly need - with good, earthy overlay of spinach and kale, you can just feel the green goodness seeping into you.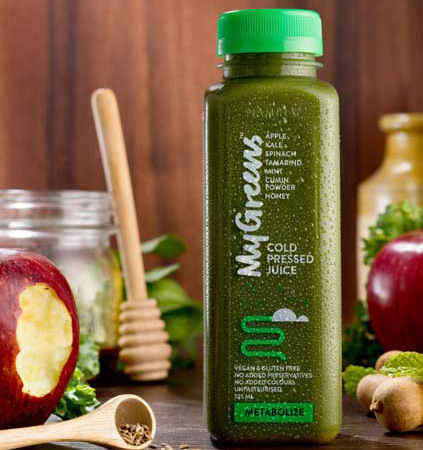 Protein Power | A shout-out to all you gym-denizens out there - this is a great way for you to load up on proteins before you do those crunches! Composed of almond milk and honey, and seasoned with cinnamon and cardamom, this one's the most delicious of them all. Creamy almond milk spiced with lots of cardamom makes you a great drink you can sip on while you're sitting at your desk! What's more, a 325 ml bottle of Protein Power contains as much as 10 gms of protein!
Melon Medley | Made up of nice, chopped up watermelon chunks, orange and chia seeds, it's got lemon and mint to give you that nice juicy taste. It pretty much tastes like a nice glass of watermelon juice, with lots of lemon and refreshing mint thrown in - not too bad for a whole bottle-ful of goodness is it?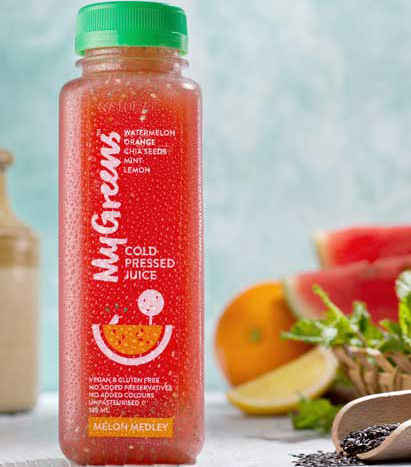 Purify | Now this one's soaked with all the best detoxifying agents known in nature - it's got beetroots, cucumbers, spinach, wheatgrass, oranges and lemons, making for a fresh, juicy flavour, despite the large number of greens.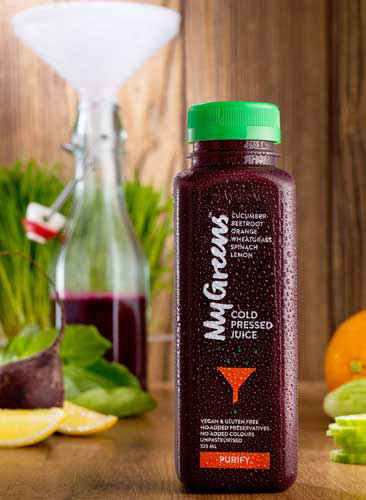 Pine Pleasure | This one's our absolute favorite! Composed of all the tasty fruits, it's a mix of pineapple, apples and mint. The most yummy juice we've tasted in a while, we were doubly happy that it's enriched with all the essentials we need!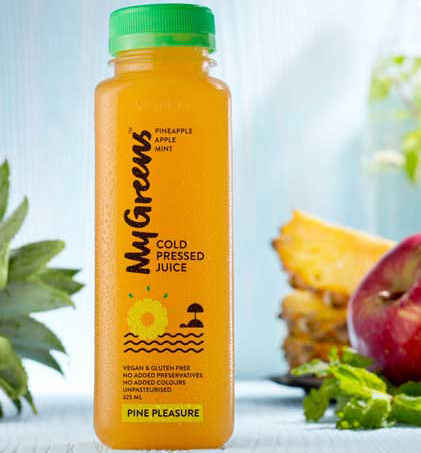 Let's sum it up the way MyGreens does - #Raw # Fresh #Natural! For more details on their monthly juice calendars and cleanses.
For more details: http://www.mygreens.com/