Mutton Seekh & Meaty Wings: 8 Yummy Dishes We Gobbled Up @ The Monarch, Indirapuram
We covet grilled food which takes us to unexplored places in and around Delhi and this time, we were headed towards Indirapuram, where this place going by the name of The Monarch was anxiously waiting for us to devour scrumptious food. Nestled in the heart of Indirapuram Habitat Centre, The Monarch stands tall and is located on the second floor of the arena. As the name suggests, the place is congruent to a lavish property possessing two elegant and beauteous banquets aptly titled 'King' and 'Queen' owing to their enormous sizes, a small party place under the sky owning a charm of its own. Apart from these divisions, a major part of the place is dedicated towards the restaurant going by the name of Barbeque Village.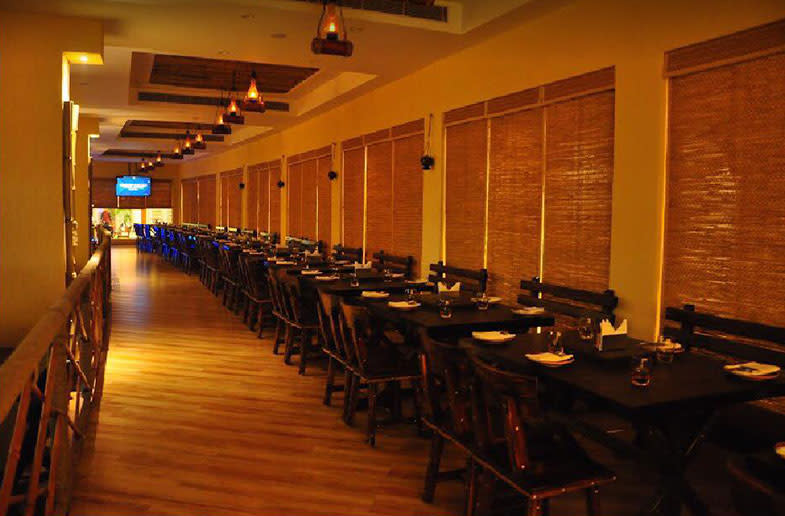 As you enter the restaurant, on the right side is the counter and a small portion committed to the drinks section serving some amazing mocktails. As you proceed, on the right is drool worthy food lined up along the wall from one end to the other. Be it a couple or small group of four or a larger group, this place can regale all. With a seating capacity of approx. 100 hungry souls, this place was strictly hygienic and ensured that the food was prepared and served in the most sanitized environment.
Still stupefied by the look of the place, we gorged upon the following:
1. Rainbow Mocktail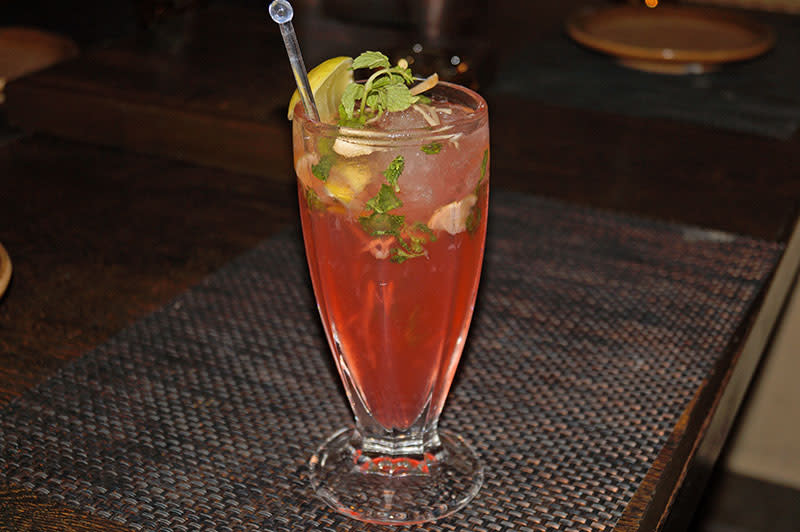 We loved their method of preparing this mocktail. Strawberry syrup formed the base of the drink with orange flavoured syrup mixed with water slowly poured so as to not mix with the syrup below. The whole liquid had to be stirred well before being gulped down. The sweet tanginess of the drink refreshed us to the core!
2. Chicken Lollipop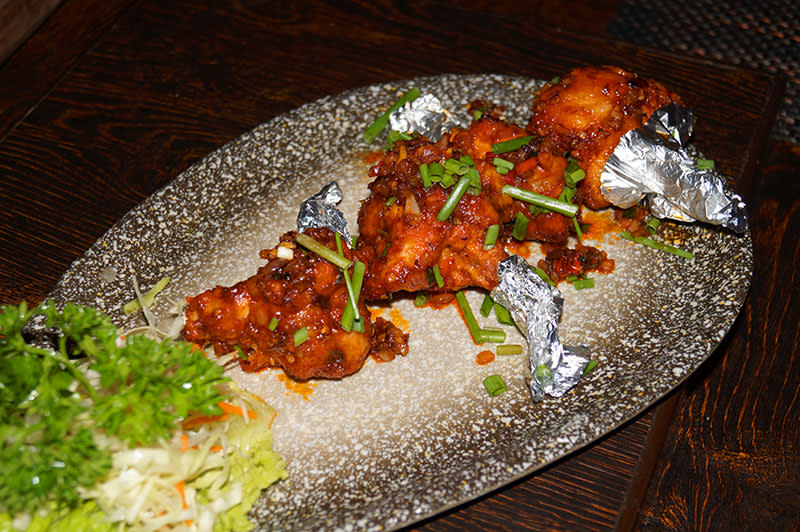 Four gigantic pieces of Chicken Lollipop garnished with spring onions were presented to us along with a portion of salad. The chicken was tender, juicy and had a medium spicy quotient with an even marination of spices before being cooked in the tandoor and stirred in red chili garlic sauce. Needless to say, our evening saw an amazing beginning!
3. Chicken Tikka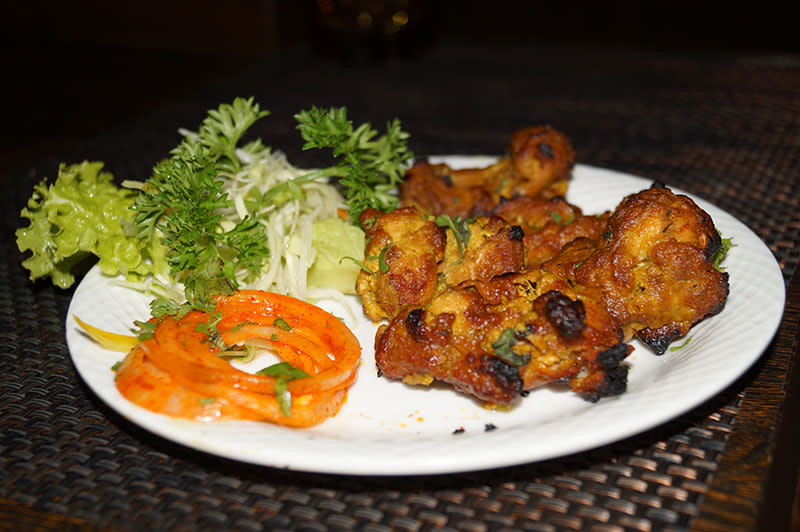 Famous for its chicken dishes, this item became our mandatory order. Succulent chicken pieces carried a unique aroma with an apt level of spiciness used in their marination, which could be easily felt while devouring them. The presence of pepper and salt in optimum levels enhanced the flavour of the dish. Served with a portion of salad and pickled onions, we now understand why this place is renowned for its chicken dishes!
4. Chicken Wings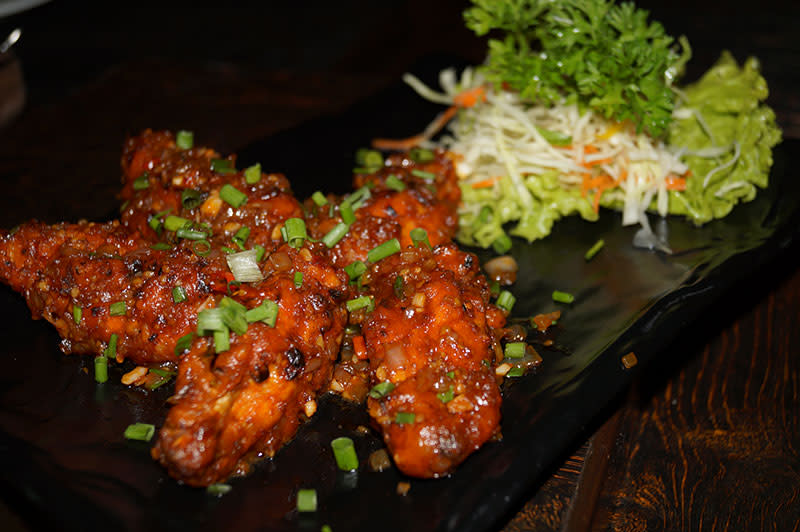 We were in love with this place post this dish! Six giant pieces of chicken wings were fried before stirring them in barbeque sauce along with finely diced onions, ginger and garlic. Despite being deep fried, the essence of oil was hardly felt. Being high in the spicy quotient, the spirit of spices had taken over and were complementing the overall flavour of the dish owing to the apt presence of pepper and dried coriander. Served with a portion of salad and garnished with spring onions, we went all gaga over this one!
5. Chili Chicken
We just couldn't get enough of the chicken dishes served here. This dish was the highlight of the evening with chicken chunks pan fried along with diced onions, red and yellow bell peppers, garlic before being stirred beautifully in red chili sauce and garnished with spring onions. The fact that this dish was presented to us like a sizzler made this one a special one and definitely not to be missed!
6. Mutton Seekh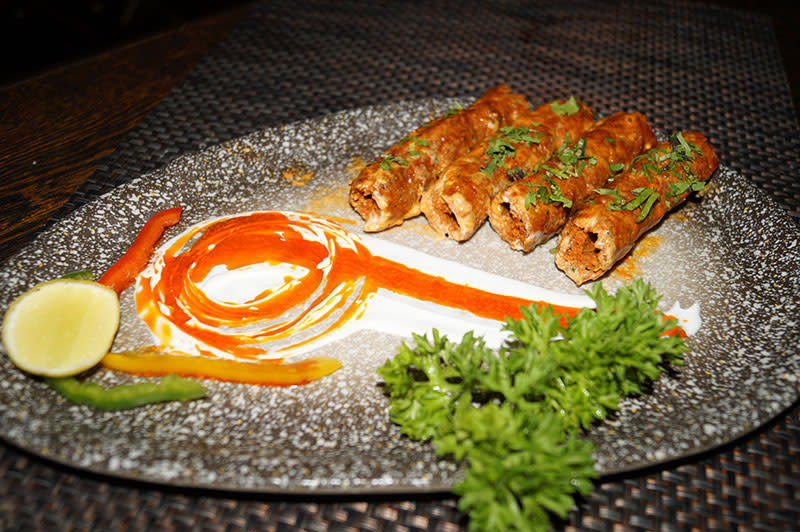 We finally shifted our focus from chicken and ordered this item. Four delectable and savoury seekhs made out of mutton were amazingly cooked in the tandoor before being served with a portion of salad and garnished with coriander. They were soft and squishy with a medium spicy level and melted the moment we plopped them in our mouths. Bliss just found a new meaning, y'all!
7. Paneer Tikka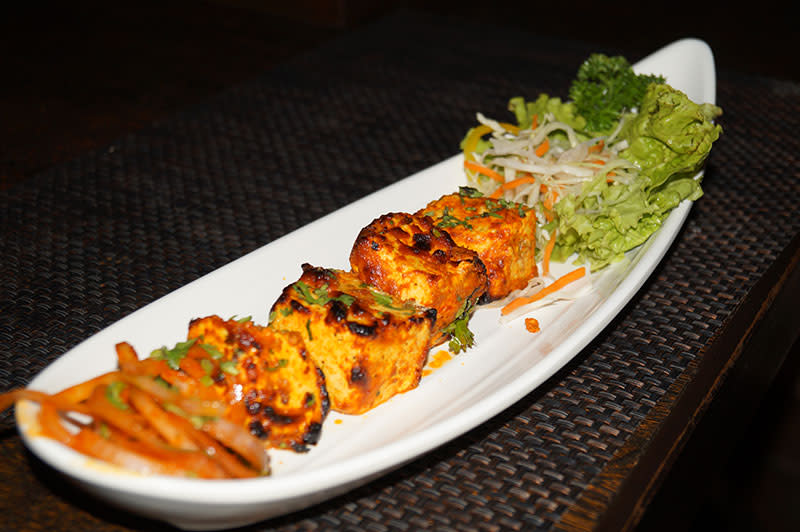 We decided to try out their veg options as well and ordered up some Paneer Tikka. Four sizeable mushy paneer pieces, evenly marinated in a unique blend of spices were served to us along with pickled onions and a portion of salad. Though the look of the dish was quite normal, the taste was out of the world with the essence of dried coriander and chilies playing their role in enhancing the overall flavour of the dish.
8. Tandoori Mushroom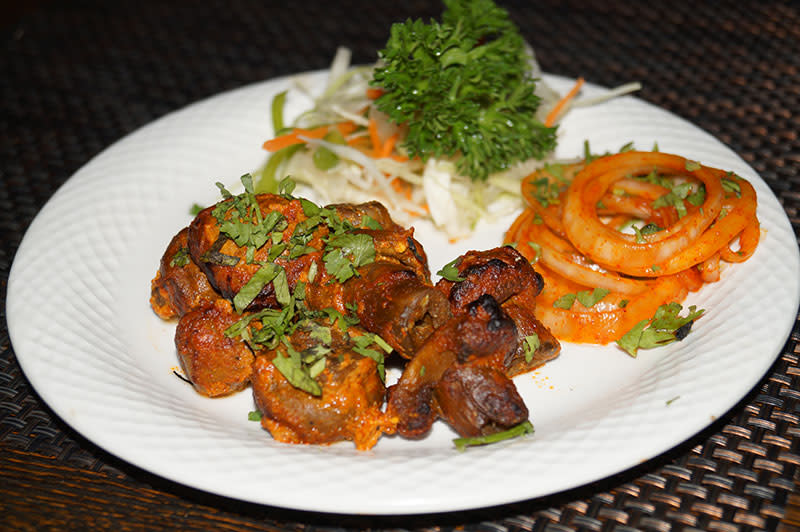 Being mushroom fanatics, we were coerced to order this item. Served with a portion of salad and pickled onions, we had a good volume of miniature mushrooms cooked amazingly well in the tandoor and stirred in red chili sauce whose flavour was deeply absorbed by them. They had a slight crisp on the outside and smoky flavour, thus making them a must try item off their menu. Garnished with coriander, missing this item would actually be a sin!
The place is decent for both a small get together and also for events like weddings. A one stop shop at a prime location in the heart of Indirapuram is what one can expect from The Monarch. All in all, the ambience of the place looks promising, the food is appetizing and palatable. We just got a location for our next party!
Meal For Two | Rs 1600
Location | The Monarch - A&B Block, 2nd Floor, Indirapuram Habitat Center, Indirapuram Ghaziabad