A small little rectangular shaped restaurant in the middle of the Sukhdev Vihar market, Chiang's is named after the owner and the head chef, Mr. Peter Chiang himself, and is the hangout place for students studying in Jamia University. Bustling with college crowds all the time, not many people living outside this area know about this not-so-typical Chinese joint. Launched four years ago, he started this little shop with the sole aim of serving people food of his region and birth place. And now we have this amazing, budget-friendly joint serving finger licking food!
Boasting of a menu filled with enticing dishes including lamb, fish and chicken, of course, this place also caters to the vegetarians as well because of its umpteen number of veggie dishes which are a must try too. We loved the place and would recommend you guys hustle on over soon!
Here's what we tried from the appetizer section:
Chicken Momos
These were probably the best chicken steam momos that we've ever tried! So juicy and mouth watering that as soon as you put these dumplings of joy in your mouth, you're in foodie heaven! Looking as delish as anything when they arrived, they were made up with the lightest and thinnest maida covering on the outside and absolutely scrumptious, juicy chicken filling on the inside. 
Well seasoned and well prepared, the delectable smell of these momos fill the whole place, making it even more inviting. The quantity and size of these momos is huge and perfect for their price. Don't forget to try it with the chili garlic sauce as it will leave you wanting more!
Price | Rs 60
Crispy Mushroom Paneer Potatoes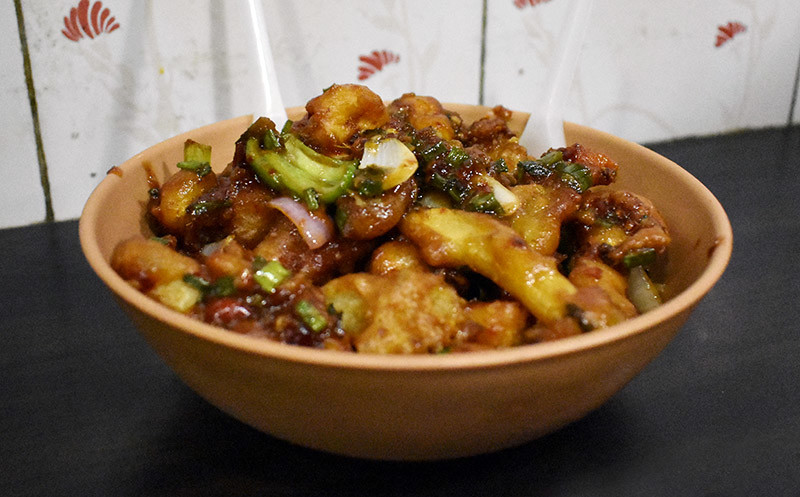 As the name suggests, this bowl of happiness had mushrooms, paneer, potatoes and was garnished with a whole lot of vegetables like bell peppers, spring onions, tomatoes and what not. A perfect lunch bowl for those days where you feel like eating all sorts of crispy and crunchy things, we loved every bite. A modern Chinese take on vegetable pakoras, fried to perfection. A must try for peeps who adore mushrooms!
Price | Rs 100
And this was our choice of mains:
Chicken Chilli Garlic Noodles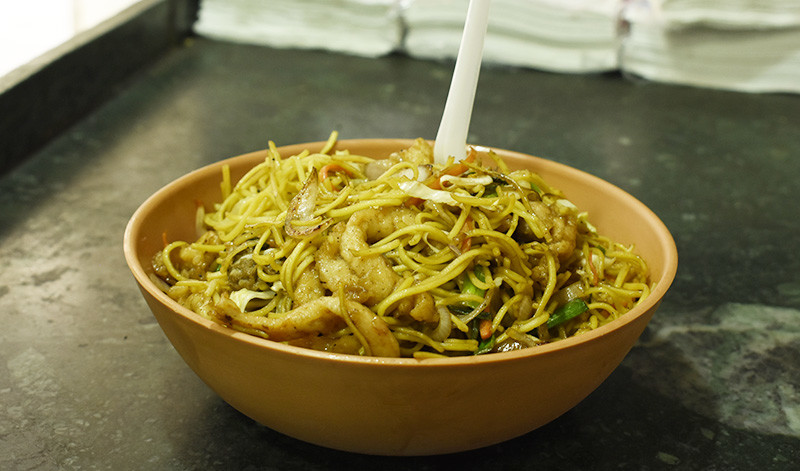 Being lovers of Chinese food, noodles is the one thing which never fails to impress us! This one was served with so many big hunks of chicken that you'll get one piece in almost every bite. The quantity is more than enough for one person, and the taste for this price is perfect too. A little spicy but defo worth a try!
Price | Rs 100
Chicken Chilli Boneless (Gravy)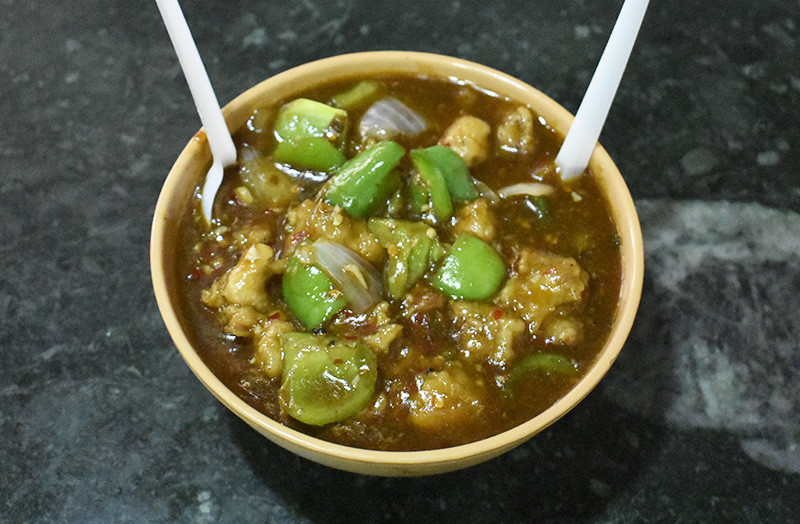 This bowl comes with large and chunky pieces of boneless chicken which are so juicy and tempting that you'll want to eat it all by yourself! It came piping hot and tasted really good with the noodles and fried rice. This, too, was served with lots of veggies like capsicum, onion and spring onion and was seasoned perfectly well keeping our Indian taste buds in consideration.
Price | Rs 150
In a nutshell, we'll say that this is the perfect place to head to if you're hungry AF and craving some good food at prices that won't make you cry! See you here, hungry forks in hand folks!
Meal For Two | Rs 300
Location | Sukhdev Vihar, Community Centre