Mister Chai | Where Street Food Meets a Luxurious Lifestyle
We were always of the opinion that street food can only taste its best when eaten on the streets, but Shangri-La's recently launched Mister Chai has not only changed our opinion, but has also set the benchmark so high that we doubt it can be overtaken anytime soon.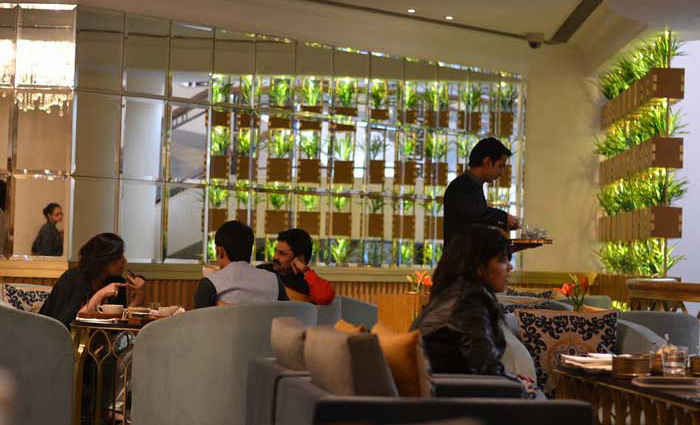 A regular lobby tea lounge earlier, the space has not been renovated but has been re-created. With a seating of approximately 50 people, Mister Chai promises to provide a typical chai-chakna like setting for its guests. Their underlying notion was not to follow the trend, but to set the trend. Neeraj Tyagi , their executive chef, and the brainchild behind the entire menu was of the opinion that they should provide an authentic but at the same time hygienic and delectable street food experience to both their domestic and international guests. They draw inspiration from regions of India and have tried incorporating the flavours and essence of as many states as they could. However, keeping up with the reputation of a business hotel, they have also added continental sandwiches, desserts, and other food items to keep everyone content.
What's commendable is their hospitality and the pleasing atmosphere and vibe that the staff emits, making the experience one of its kind. Our every need was taken care of and nothing but the best was offered.
Their menu is pretty interesting with little stories about food that they serve; an addition which could easily keep you preoccupied! We started out with Cutting Chai which is their speciality.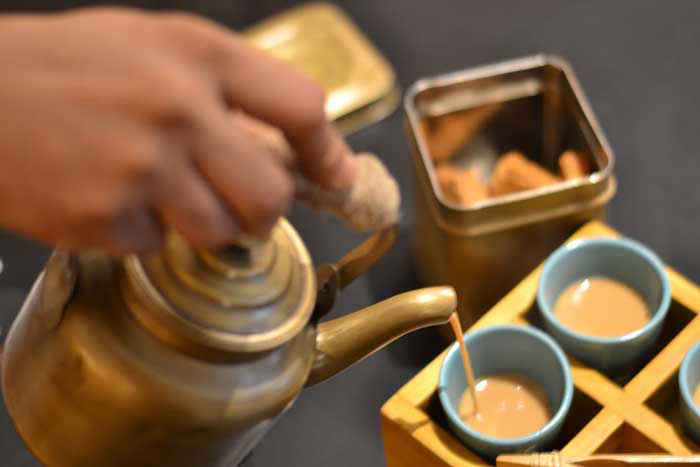 This brew is exactly the kind every tea connoisseur craves with ginger, cinnamon et al. Note: more than the chai, the way they serve it will win you over - a small house like box which comes with a kettle, a box of rusks and tiny blue colour cups.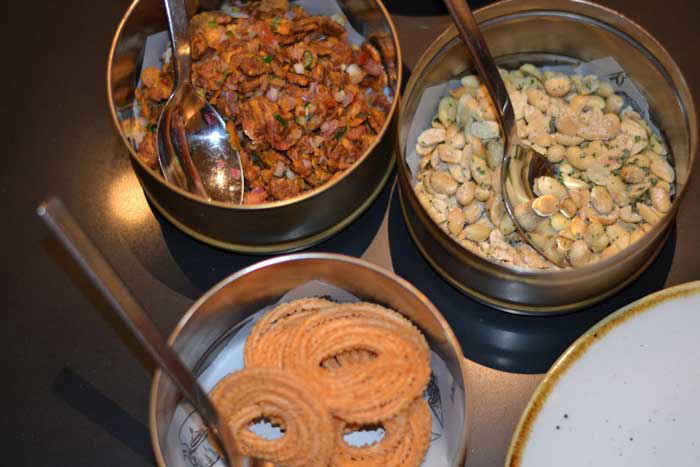 Immediately after, we were served with their special "Namkeen Ka Dabba" with Channa Jor Garam, Curry Patta Peanuts & Chakli aur Chutney.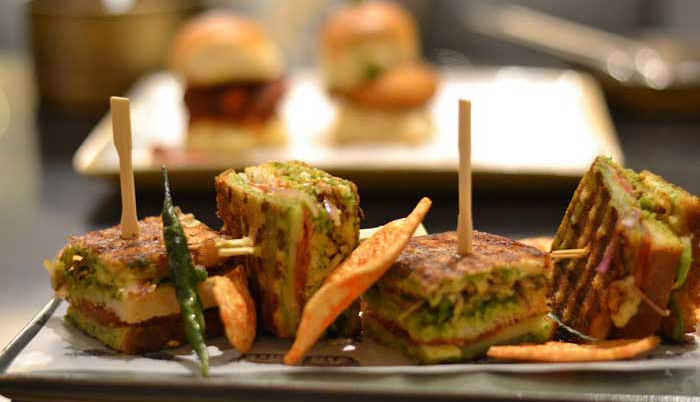 The next thing to hit our table was their "Wao Pao" and we couldn't agree with their name any more! Guests have the option to choose from lamb, pork or the typical spiced potato. The best part was even though their non vegetarian versions were more like fusions from the west, it kept up with the authenticity of its Mumbai version. Their tikki was crisp and succulent and it comes with a tiny syringe with green chutney which makes it all the more better!
We were served two different kinds of samosas next, now this came as a surprise, for what was served to us was Butter Chicken Samosa and Chilly Cheese Samosa.  Sinking our teeth in these hot samosas with our tongues sizzling was probably the best thing that happened to us that evening. We personally vouch for them!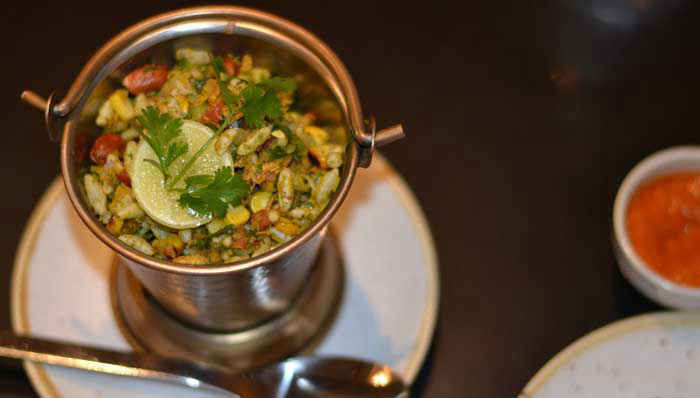 We also tried their Corn Bhel which comes with torched corn, cucumber, cilantro, tomatoes, onions, rice puff, and tangy tamarind sauce so incase you're looking for something healthy, you know what to gorge on.
Then came SPDP : Semolina puffs with dahi and papdi, in short, Gol-Gappas. It came with mashed potatoes, yogurt and white peas. If you too, like us, had always related gol gappas to being somewhat unhygienic, you can always come here for your fill! They presented it to us in the most fashionable manner which made it all the more difficult to resist.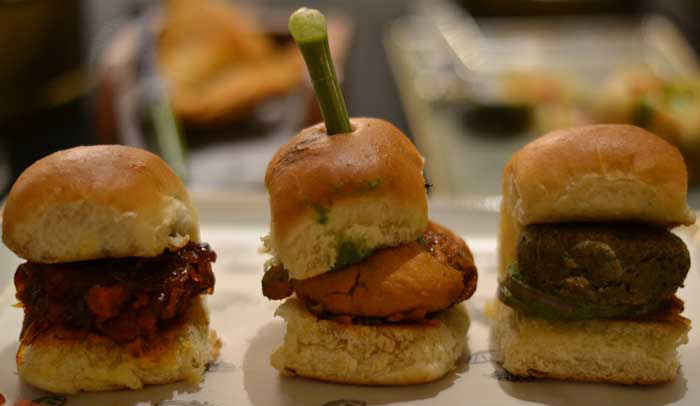 We also tried and absolutely relished their MTDC, Triple decker Toastie which came with potatoes, onions, tomatoes, capsicum, cheese, coriander and mint chutney. The breads were soft and their stuffing was pretty decent in taste.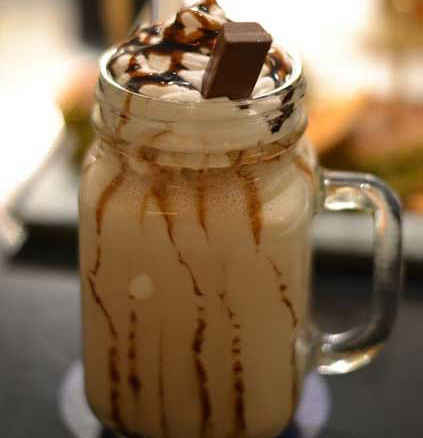 To quench our thirst, we went in for the Chocolate Shake with vanilla ice cream and a little kitkat on top and Teekha Lemonade - orange juice with green chilli, roohafza and black salt.  While the former would appease to those with a sweet tooth, the latter would be enjoyed by everyone!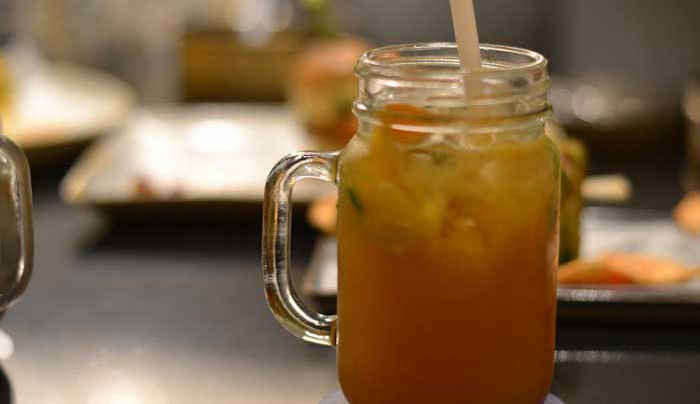 We also tried their Orange Ginger Punch which again came with orange juice and fresh ginger, a perfect fit for summers!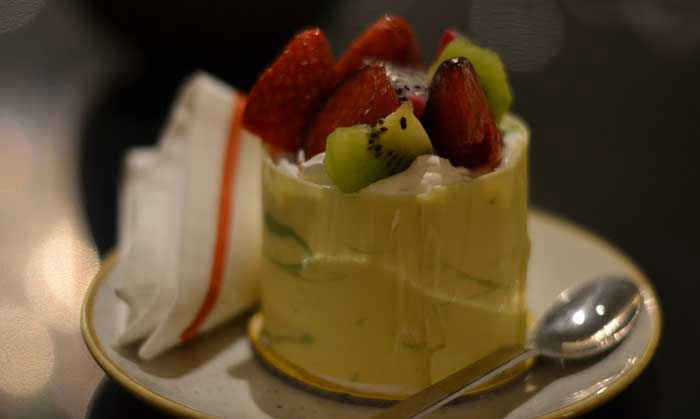 And since no meal is complete without desserts, we tried their range of Assorted Chocolates with an Indian twist. They had Paan, Aam-Papad, Orange Candy Flavoured Chocolates which would make anybody nostalgic! 
Also, they have Happy Hours until 7:30PM in case you wish to enjoy 50% off on their astounding Macarons & Cakes.
A tea addict is likely to linger around this place very often. Go try! 
Must Haves : Cutting Chai , Butter Chicken Samosa & SPDP
Address : Shangri-La's Eros Hotel, 19, Ashoka Road, Connaught Place, New Delhi-01
Ph: +91 11 4119 1020
Meal for 2 : Rs 2000