Disclaimer: Bearing in mind the current health crisis befalling the city and the world at large, we're tweaking our content policy and recommendations. Stay positive, keep hygiene levels up and don't fall prey to panic and misinformation.
Every Dilliwala is a parantha lover at heart. Despite the abundant presence of pizzas, pastas, burgers and other fast food, no other dish can replace the feel and satisfaction we get upon gobbling up paranthas. And what do we do when we crave scrumptious paranthas - head to Murthal or Moolchand of course! Well, we have a surprise for you. We've explored another place which serves sumptuous paranthas!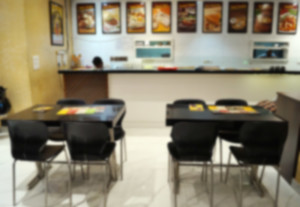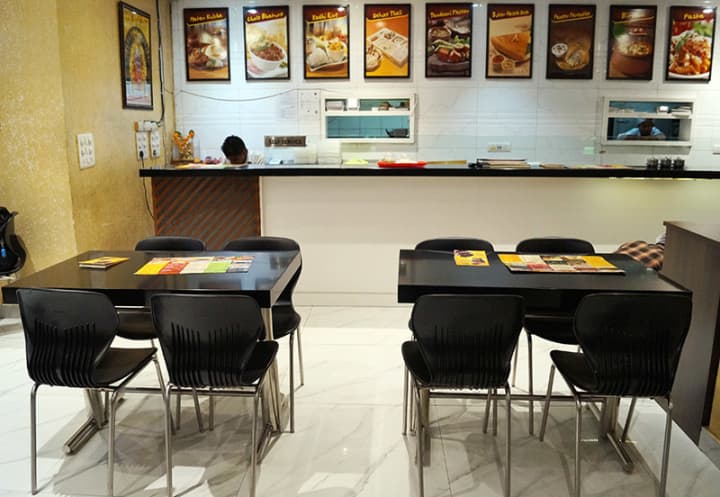 Nestled in the IT market in Nehru Place is this popular eatery simply called Sona Sweets. Though the outlet is known mainly for its South Indian delicacies, but wait till you try out their North Indian food! Earlier, it was just a take-away outlet which they have now converted into a full fledged restaurant with a decent capacity of around 70-80 hungry souls at a time. Situated on the first floor, as you enter on the left you'll find a seating area dedicated to large groups and on the right, there's lots of space for smaller groups. Hygiene seems to be their utmost priority and we're glad! Without further ado, here's the 5 best dishes we devoured here!
1. Chocolate Hazelnut Shake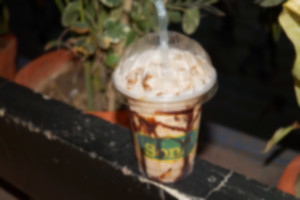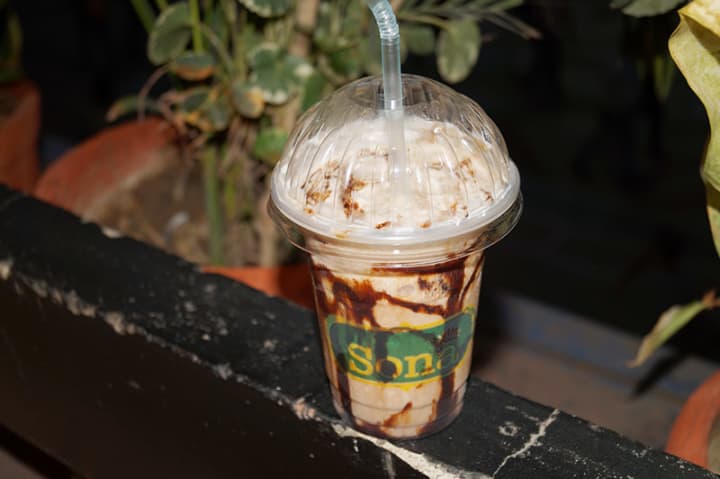 There are some things which cannot go wrong and this was one of them. Hazelnut blended with chocolate in cold milk along with chocolate syrup and a dash of sugar syrup would best describe this drink. The flavour of hazelnut was clearly tasteable with chocolate syrup complementing it to the optimum. The sweetness level was a bit on the higher side but we still loved the drink!
Price | Rs 135
2. Aloo Parantha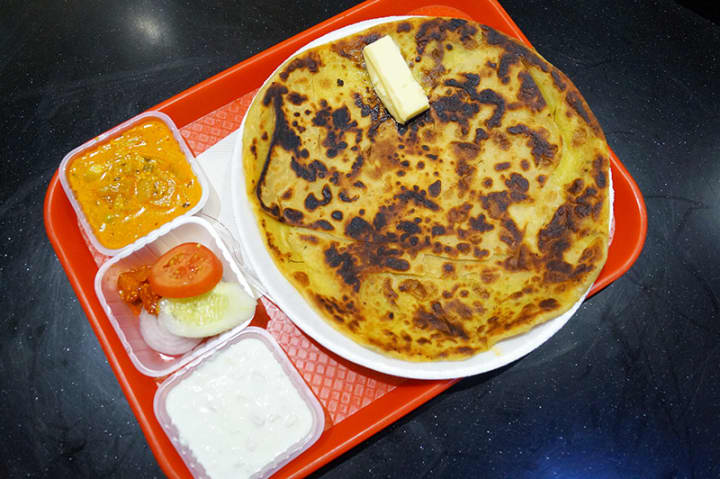 After being made aware of the fact that the paranthas served here were 11 inches in breadth, we were super psyched to see what was in store for us! With lightening quick service, we were presented with a humongous parantha, with a heavy filling of mashed potatoes, pan fried with dices onions in apt amount of spices and topped with a big piece of butter.
It was served with a portion of rasam, raita AND salad. What's more, you could get your rasam and raita refilled as many times as you want! Needless to say, a searing hot 11" parantha was perfectly crispy on the outside and utterly squishy on the inside. We forgot Murthal for a second there - it was that good!
Price | Rs 135
3. Paneer (Cottage Cheese) Parantha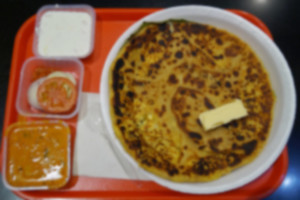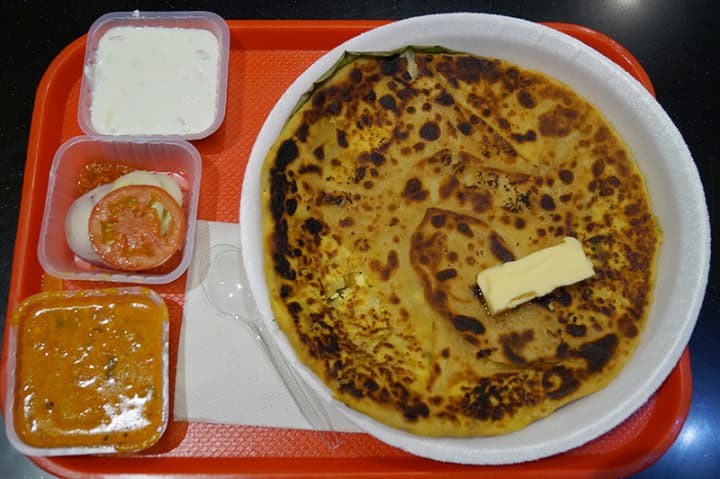 We were addicted to the paranthas here and hence went for the other variant, the paneer version. We were surprised how they were able to maintain the exact same size of every single parantha *wide eyed*! This version also came with the same portion of rasam, raita and salad with a dollop of butter on the top melting away on the parantha. The paneer in the filling, unlike others, was not crushed but instead pan fried chunks of it were present which were then rolled into the dough. We liked this version better than the aloo one TBH!
Price | Rs 162
4. South Indian Platter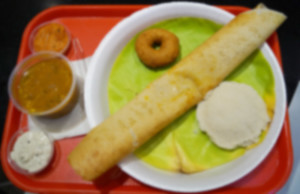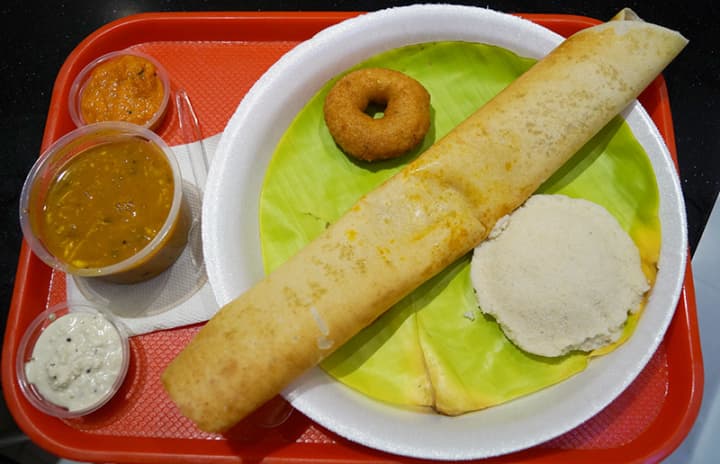 Since this place was famous for its South Indian, we had to try this one out! So we could sample all their most sought-after dishes in one go, we went in for their South Indian Platter. We were served one idli, one vada and were given a choice between a masala dosa and uttapam and chose the dosa.
The idli was of an enormous size and steamed to perfection, making it amazingly soft. The vada, despite being deep fried, hardly left any traces of oil and was nice and crispy on the outside while being soft on the inside. The dosa came with a good amount of mashed potatoes forming the inner core. Served with a portion of sambar and tomato and coconut chutney, this was quite a wholesome dish indeed!
Price | Rs 185
5. Rabri Faluda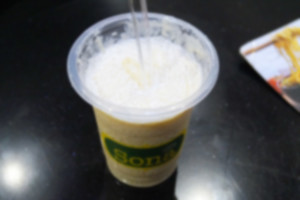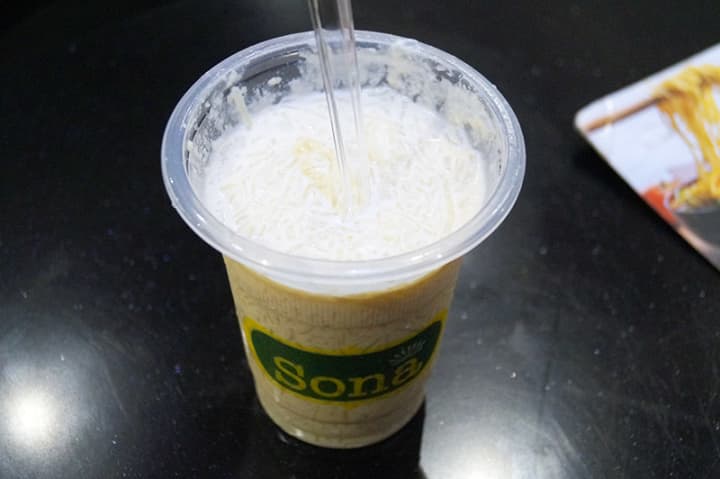 We went for the people's favourite dessert, the Sona's Rabri Faluda. Though the dessert was apt on sweetness and the consistency was also thick owing to the use of condensed milk, the taste could not spread its magic entirely on our taste buds. We were quite hopeful and loved the dessert from its prima facie look but it somehow was not able to live up to our expectations to the fullest.
Price | Rs 89
All in all, this place gives you value for money, satisfying meals that are undeniably delicious. The only downside we found was the lack of variety. Apart from Aloo and Paneer, they have just one more variant - Gobhi Parantha which is a seasonal one. We've already bookmarked this place for our future parantha endeavours, don't be surprised to see there munching away on the calories. Happy binging!
Location | Sona Sweets - G-3, Saraswati House, Nehru Place