Masala Chai Muffin, Cinnabons & More: Why Cinnabon Is Your Forever Sweet Mecca!
If you're a frequent visitor at DLF Place, Saket, chances are that you're already acquainted with this cutesy place called Cinnabon. If you've tried it, you would know how delicious their world-class Cinnabons are and if you haven't, then you're missing out on some pure yumminess folks - such is the craze of Cinnabon!
While taking a stroll in the mall, we were lured in by the delicious smell of Cinnabons in the making and got tempted enough to head on for a sweet feast. Read on, as we unravel our delish Cinnabon experience!
The Cinnabons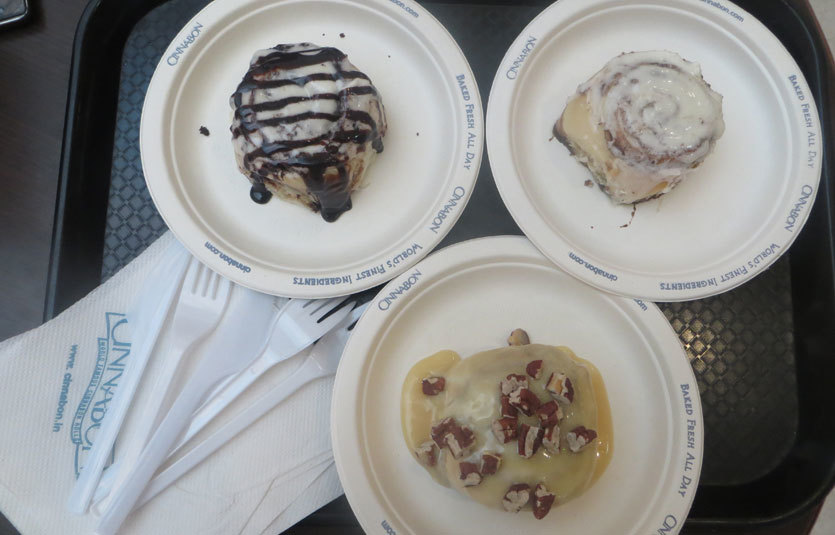 How can we head to Cinnabon and not feast on their delectable Cinnabons? We decided to have all of them (yeah, not even guilty!); The Classic Cinnabon, The Chocobon and The Caramel PecanBon. We started off with the Classic Cinnabon which is our forever favourite, for the love of cinnamon. Next up was The Chocobon, which turned out to be the perfect combination of chocolate and cinnamon - pure indulgence! The last one, The Caramel PecanBon was topped with delicious caramel sauce and even more delicious pecan nuts. Yum! 
Whoopie Pies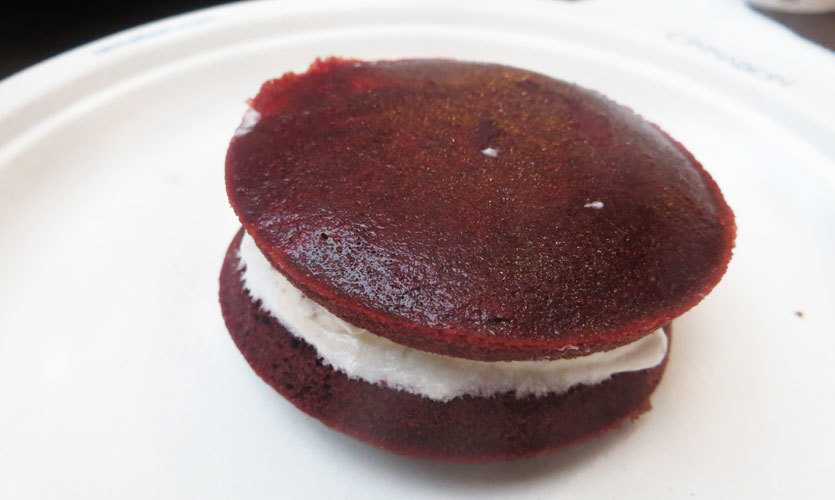 Next up we tried a sweet delicacy from their new and limited menu - Whoopie Pies! We tried both of the variants; the Red Velvet Whoopie Pie and the Cookies & Cream Whoopie Pie. Think of macarons, replace the upper and lower part with thin layers of cake and that's what a Whoopie Pie looks like! Being chocolate lovers, we loved the Cookies & Cream variant but if you're a red velvet person, we bet you'll love that too, 'cause it's got that yummy cream cheese in it. 
Cupcakes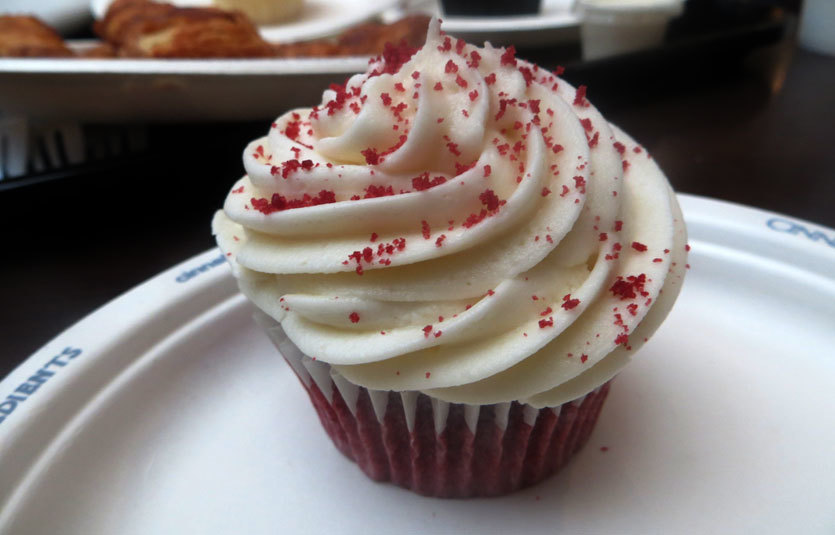 Ain't no sweet splurge ever complete without devouring a couple of cutie-pie cupcakes and so we ordered these too! We tried the Vanilla, Chocolate and Red Velvet variants only to discover that each was special in their own way. But the thing that stood out in all of these was that each one of them were super moist and the icings were mind-blowingly delicious. You guys should literally try them out right now! 
Mochalatta Chill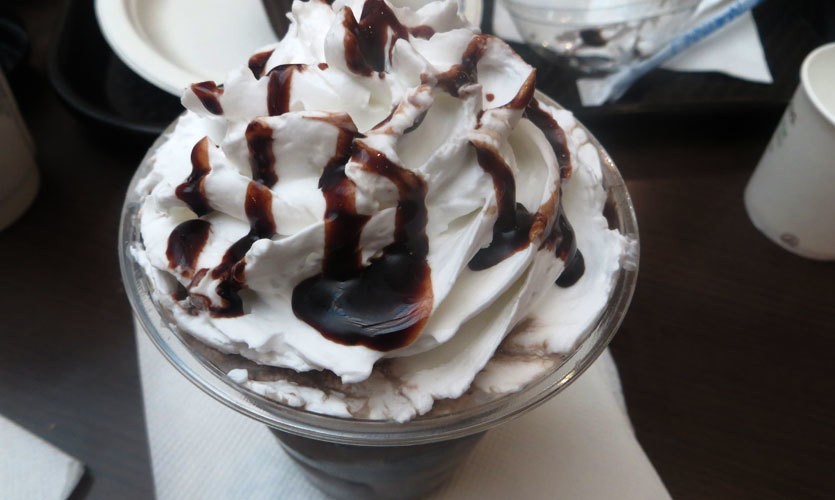 Imagine sipping your hot chocolate in the most unconventional, yet delicious way. We're talking about this chilled, refreshing and super indulgent drink called the Mochalatta Chill! Fraught with hot chocolate and coffee, a sip of this cold drink is absolutely perfect to pump you up in the morning, quench your craving for hot chocolate while letting you escape the heat of the summer. 
Pecan Fudge Brownie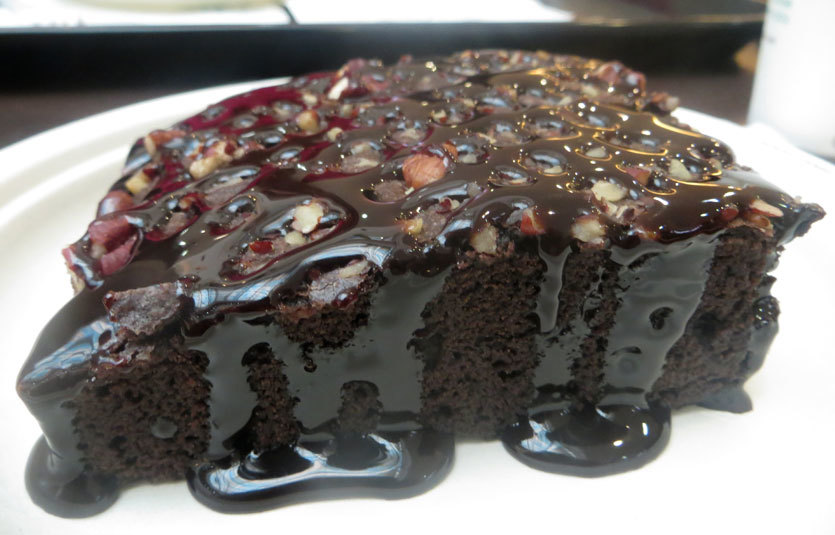 Okay, so this is the best brownie any chocolate lover can ever try. No really! Gooey, super chocolatey, topped with pecan nuts and chocolate sauce, it was like a dream come true for all the choco fanatics out there. Go over, sink you teeth into it and you'll know what we're talking about *nods sagely*! 
The Chocolate Muffin & Masala Chai Muffin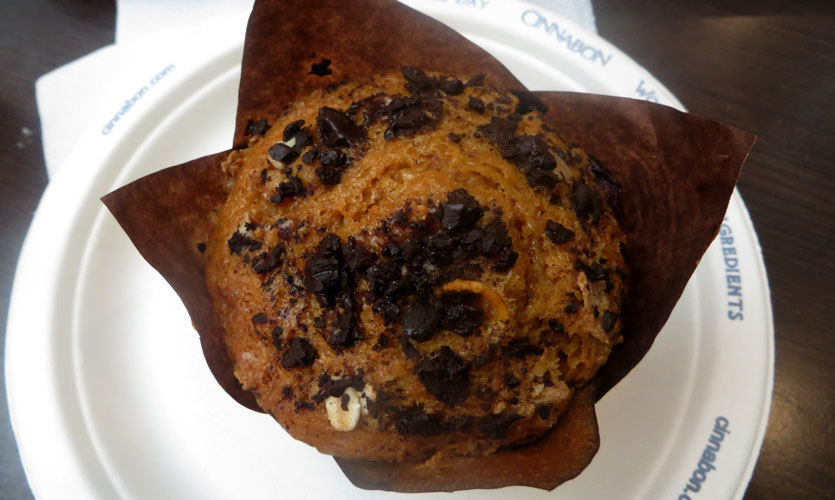 When you need something sumptuous to accompany your tea or coffee, you need to pick up their muffins. The chocolate muffin is topped with milk chocolate and roasted oats, and is super soft- perfect to go with your coffee. The Masala Chai Muffin, the nomenclature of this enticed us enough to try it and oh boy, we loved it! Crunchy, soft, not too sweet - this is the perfect tea cake you can ever try. 
If there was ever a reason to head out to the mall this evening, we've just given you several! Cinnabon must be your stop on your next visit to DLF Place - you know you want to!
Meal For Two | Rs 400
Location | DLF Place, Saket