Mango Lassi, Chhole Bhature & Tons More | A Street Food Trail Of Beloved Sarojini Nagar
Though Sarojini is known for its wide range of export surplus, there's no doubt that it has a crazy range of delectable street food (that too at dirt cheap prices) at its disposal that is absolutely drool worthy! We recently went over and devoured a cornucopia of street food that not only fed us good, but also kept us on the go. Read on!
Mango Lassi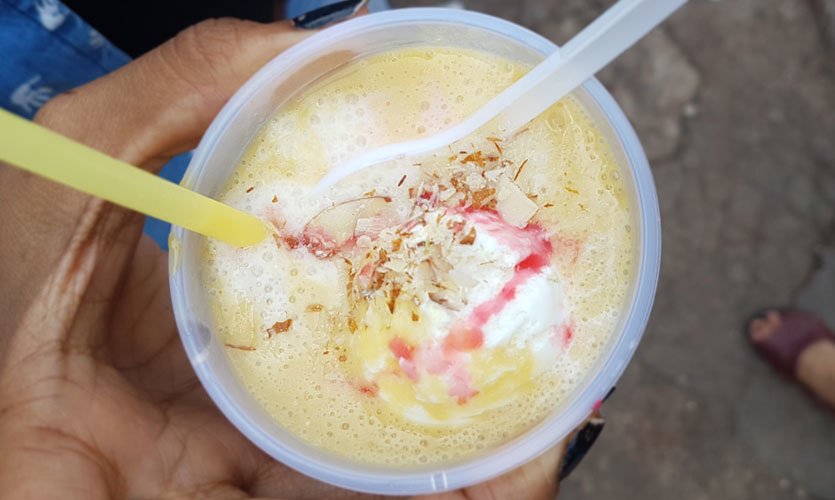 To kickstart our shopping spree with a boatload of energy, we got ourselves a glass of Mango Lassi. This refreshing drink was really fresh and delightfully cold! Vanilla ice cream was perfectly blended with the mango flavouring, and topped with almond shavings. Absolutely delicious is the word that perfectly describes this concoction! 
Price | Rs 40
Where | Sethi Juice Center
Corn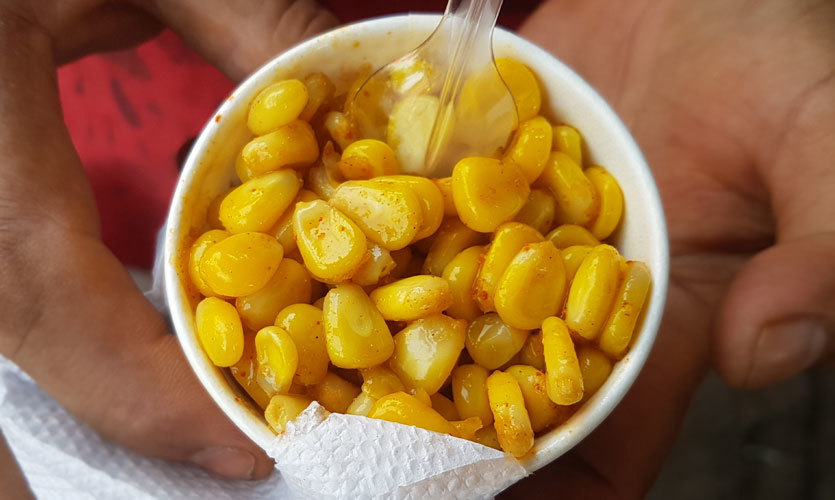 Next up was one of the healthiest, yet yummiest street food dishes that the place has to offer i.e. a cupful of corn! Being total spice addicts, we chose the Masala Corn variant. The maize was super moist, well cooked and smothered with oregano, red chilli powder, butter and just a hint of lemon juice. Yum yum! 
Price | Rs 40
Where | Health Corner
Chicken Momos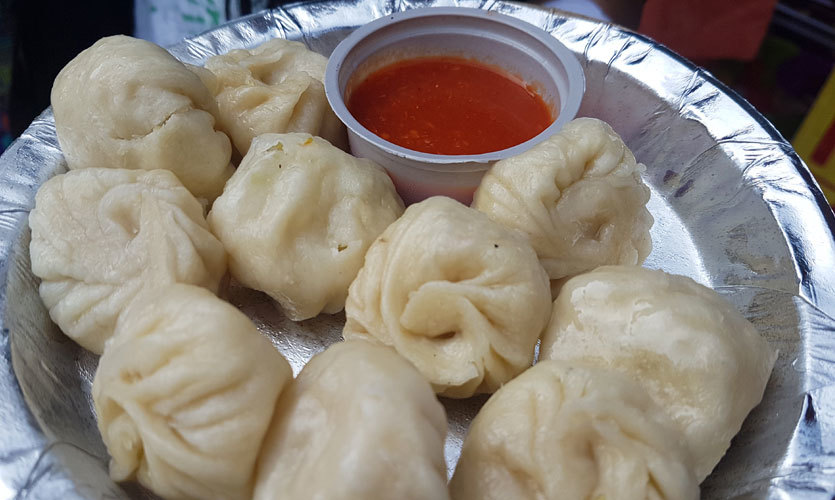 Momos are bae and no street food is ever complete without momos *nodding sagely*. So we went to buy ourselves a plateful of delish chicken momos. The soft and juicy chunks of chicken were perfectly encapsulated in the fine dough. To add to the deliciousness was the lip smacking tomato-garlic chutney. Needless to say, we polished off every last morsel!
Price | Rs 50
Where | Outside Shyam & Juice Corner
Chhole Bhature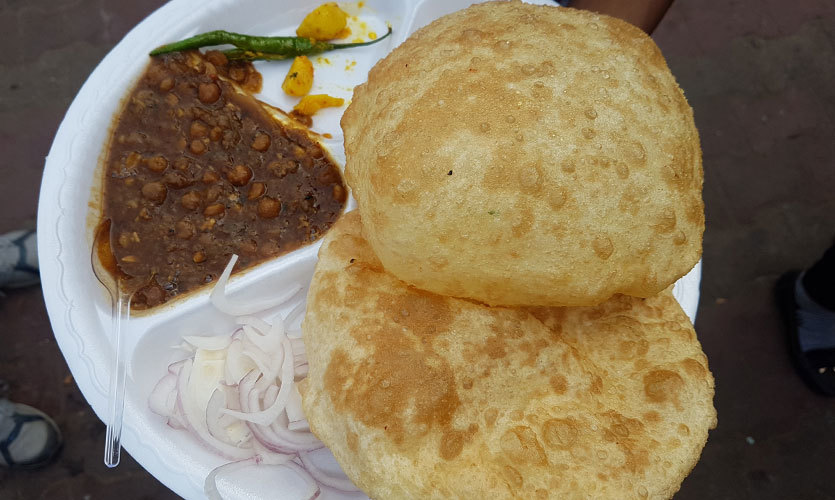 We'd had enough nibbles, and were longing for a real meal and so we got ourselves a plate of chhole bhature! Served with fresh onions and chillies, the whole concoction was really satisfying and energizing. We highly recommend a plate of this to all you shopaholics, for it has everything that you need to refuel in the midst of splurging! 
Price | Rs 80
Where | Outside Sethi Juice Center
Kachori Aloo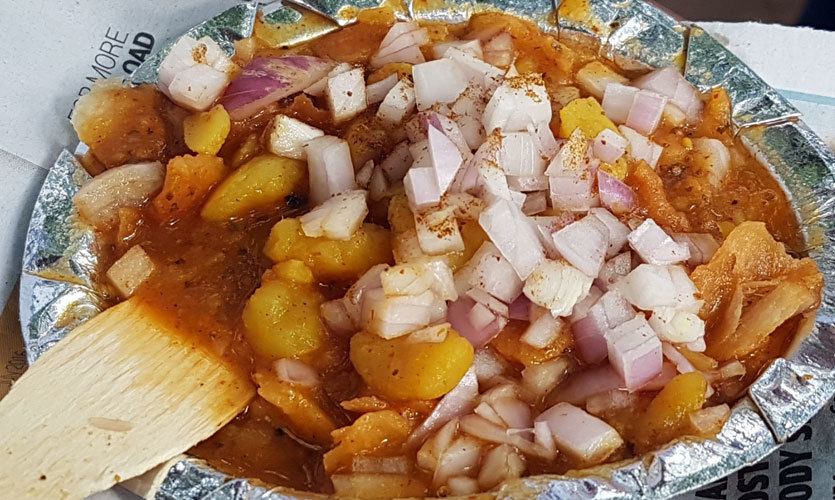 Okay, so in the middle of our shopping binge, we came across this little kiosk that was offering mouthwatering kachori aloo, and so we paused our shopping sesh just to devour these! The kachori was crunchy and filled with a scrumptious jeera filling. Sprinkled with fresh onions, the aloo gravy was spicy and satisfying. Thumbs up!
Price | Rs 50 
Where | Near Shop 26
Banta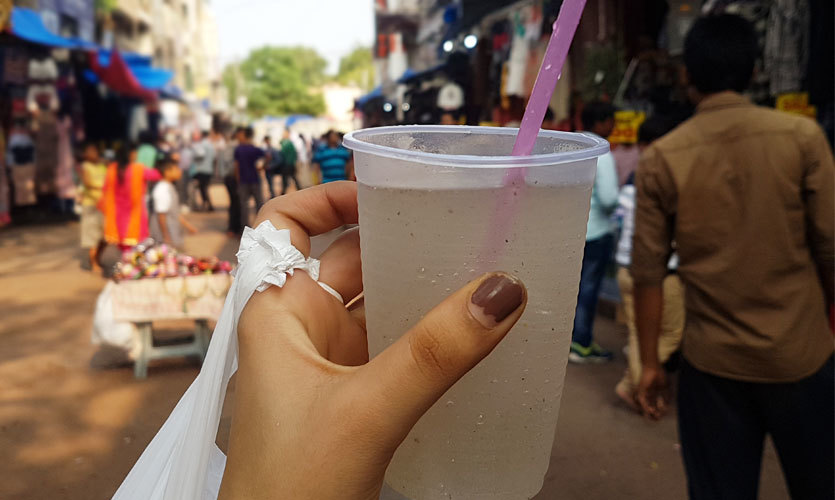 What's the best energising drink while shopping? Fresh, sparkling banta of course! The lime, the soda, the ice - everything makes it a really rejuvenating and delicious drink that one needs while strolling about in the blazing sun. And so, in the middle of our extravaganza, we got ourselves one and needless to say, it fueled us in a jiffy and kept us on the go! 
Price | Rs 30
Where | Near Shop No. 136
Have we tempted you enough already? We thought so! So whenever you're in S Nagar next, shopping up a storm, these are the places to stop by for fuel.