Did you ever cry for hours or in a fit of a tantrum lie down on the floor when your parents refused to buy you toys? On the other side of the spectrum, there are children who don't have access to basic education, support and care. Then there are people who work for a brighter future for these kids and believe they can make bring about a change. Make A Difference (MAD) is one such organization! 
Make A Difference's mission is to improve quality of life and outcomes for children in shelters and to ensure that every child is able to fulfill their potential irrespective of his or her circumstances. Make A Difference is in 23 cities in India, spread across 74 shelters impacting more than 4,500 children. We got the opportunity to connect with one of the City Team Leads of MAD Delhi, Mr. Rupesh Khera, who was able to give us the insight about MAD, its philosophy and what it is like to work there!

How did you realize that this was the choice you wanted to make for yourself? What drove you towards it?
I have always believed in the theory of expansion (Big Bang). I believe that the smallest efforts / work/actions lead to big changes at the cost of just one thing - time! MAD has given me the space to put in my smallest efforts that lead to big changes. I started my MAD journey in 2014, and used to teach 12th standard kids. I realized that apart from all the academic support that I could provide, I had to give them proper guidance which I received from my parents and friends, and with just a simple change in my approach, 5 out of the 6 kids I taught got into great DU colleges. In 2015, the kid I worked with wasn't good in academics but did exceptionally well in co-curricular activities. A little realization on his end and he topped his school. It's not just me with these stories, you talk to any MADster in the country, he'll make your day with his kids' successes. The platform of CTL gives me the opportunity to enable these impact creators from our society.
Can you tell us a bit about MAD, its work and its philosophy?
The vision, mission, work culture and MAD values are the pillars which strengthen my connection to the cause and the organization. I'd like the readers to know a little bit about the same - Make a Difference mobilizes young leaders to ensure equitable outcomes for children in shelters across India and it plans to do this by mobilizing the community, enabling the sector, empowering the child and changing the ecosystem.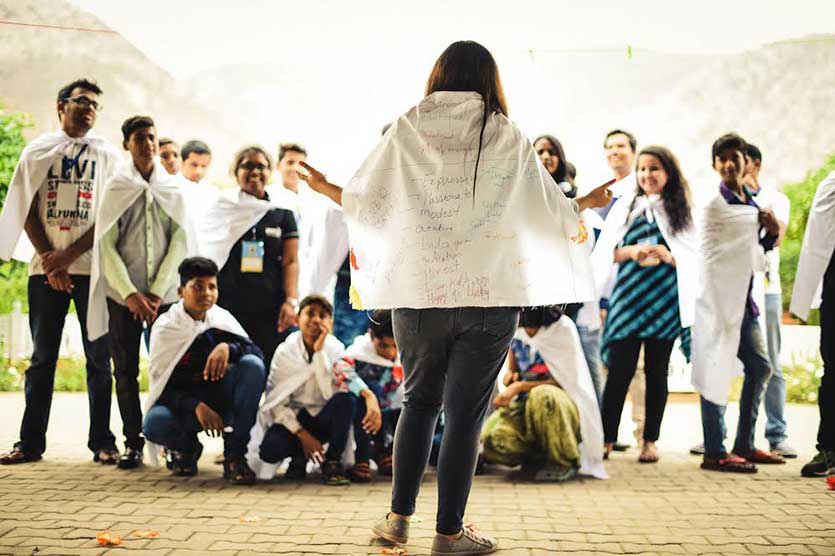 These are the programmes at MAD that help us in achieving our vision -
Ed Support: This program caters to the academic needs of kids of classes from 5 - 10th. We do this by making classes interactive by using collaterals and teaching them practical applications which they don't get to experience in school classrooms. We teach kids English, Mathematics and Science.
Propel: Remember the time when you just got over with your 10th standard exams, and think of all the support your parents provided you. This project helps children in building their career paths in sync with their interests and preparing them for sustainable life outside the shelter home. It's for children in classes 11 and 12th.
Apart from the social projects, we've fundraising team which holds awareness campaigns and events to raise funds for the smooth functioning of our social projects. To support all the teams we also have Public Relations, Human Capital and Finance team. We also plan a 3-day outbound camp for the kids, which is the perfect mixture of experience, exposure and learning. It's called the 'Dream Camp'.
You've had firsthand knowledge about the adverse conditions that children often face in our city.  What do you think are the primary issues behind this?
In 2012, UNICEF reported there were 31 million orphans in India. Many of these end up in shelters, which are often overloaded and focused more on basic needs than childcare or long-term progression. The result is that both quality of life and adult outcomes for children in this demographic are very poor, resulting in long term cycles of poverty and abandonment. With inadequate educational qualifications, life skills, financial or emotional support to cope outside the orphanage, children who have grown up in shelters often take up menial jobs, or get trapped in alcoholism, violence, drug abuse, marriage scams, prostitution or trafficking.

What measures could the people take to improve this situation?
There are a lot of reasons due to which India has reached a position where there are 176 million vulnerable children who are in need of care and protection. Society can improve this just by caring more about what's happening around them. Do your bit if you come across a child who's in need of protection. Teach your helper's kid, talk to them about their problems. It's not always the case where you have to give them a solution; just listening to them may take half the stress off their plates.
This should be the first step to make a difference; if people start caring more they'll come up with methods that could improve this situation. Neglecting things won't create any difference.
As the CTL, how has Delhi responded to your organisation? Are people getting more aware and involved?
People of Delhi have been proactively participating in the awareness campaigns and fundraising events that we have had. The response that a MADster gets when he talks about his work is overwhelming. I have had wonderful experiences when I get to interact with people in campaigns. Yes, people are getting involved. They have realized there's a need to act now.

Lastly, according to you, what makes Delhi 'So Delhi'?
I think the spirit of Delhi is what makes it 'So Delhi', the mere fact that people are ready to get up even on a Sunday morning to make that difference or bring about that change they want to see in this world is heartening. And I'm just not saying all of this for the heck of it but Make A Difference has proper numbers to show that it boasts of the highest volunteer turnout belonging to not only the college-going age group, but also the working class who in spite of their busy schedules are willing to be part of the solution, the change they want to bring in for the brighter future of the world.
Make A Difference has been doing a lot for the welfare of children, and now it's time we joined hands with them, to give them all the support they need from us, to ensure a better future. They are currently recruiting and those who wish to apply can go to their website, www.makeadiff.in/join.