Its that time of the year again. Yes! Navratras are back. If like us, you too don't mind the awesome spread that comes with the nine days of fasting then head ASAP to Sattvik's awesome Navratra Fest! Their extensive Thaali definitely blurs the line between fasting and feasting.
You can get far away from the maddening crowd and sit down for a lavish vegetarian spread in a calm and picture-perfect ambience. They've managed to incorporate traditional Indian elements in everything - from their menu to the décor, et all. For their ongoing Navratri fest, we sampled their exceptional Thaali which has been specially curated for the Navratras. Here's everything we gorged on!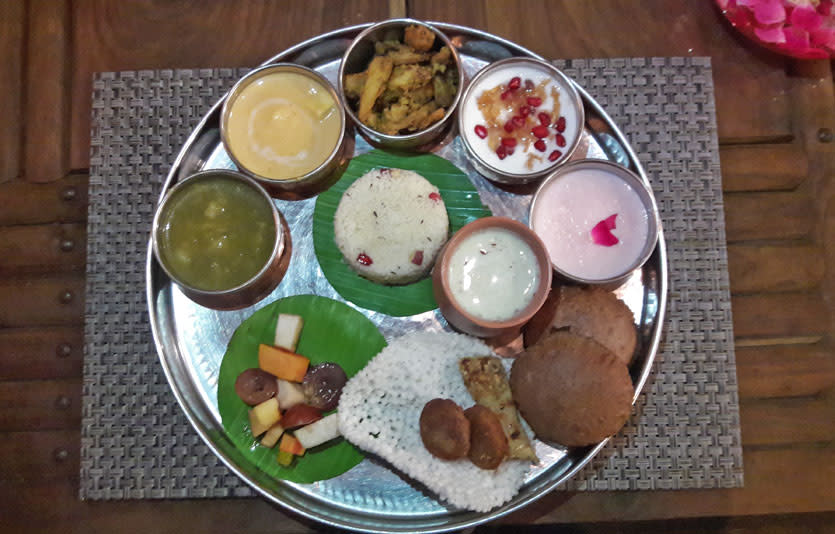 Beverage & Starters
The Navratra thaali included everything you could possibly imagine! It started with a refreshing Masaledaar Chaaj and the starters included some melt-in-the-mouth Jimi Kand Ki Tikki and Sakarkandi Ki Seekh. We happily polished these off, and turned our hungry forks towards the mains!
The Main Course
The main course started off with some delish Apple Aur Anaar Ka Raita, accompanied by a refreshing fresh fruit salad and crispy Sabudaane Ka Papad. Digging in further, we enjoyed the Arbi Ki Sabji and Pudina Waala Aloo with the Navratri staple Kuttu and Singara Puri. We couldn't have enough of the Makhmali Paneer and the Fresh Fruits Pulao from the main course and happily gobbled up every last morsel!
Dessert
After recuperating from the food coma induced by the lavish Thaali, we had the awesome Gur Makhana and Gulabi Samak Ki Kheer for dessert. The pretty-in-pink Kheer tasted so good, with just the right amount of sweetness and was the perfect ending to the never-ending thaali! 
Apart from the ongoing Navratri Food Fest, Sattvik has some delicious options to choose from when it comes to vegetarian food, and here are some we sampled!
Rasas
We next slurped on two yummy drinks called Disha and Nirvana. Served beautifully in hollowed-out fruit shells, Nirvana was a fresh concoction of pineapple, blueberry and orange juice while Disha combined the delish tastes of banana, melon and pineapple juice and both were amazingly refreshing!
Avocado And Aloo Chaat Tarts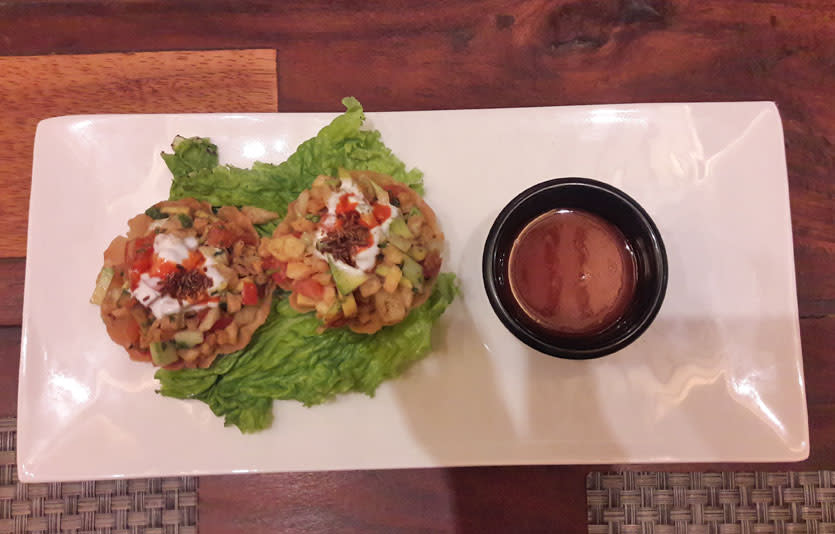 With avocado reigning supreme all over the internet, we couldn't help but wonder how it'll work with our good ol' aloo chat. And boy we were impressed! Served in crispy tart shells, the zingy Aloo Chaat was beautifully complemented by the avocado pieces. Yum yum!
Rose Petal Ki Kulfi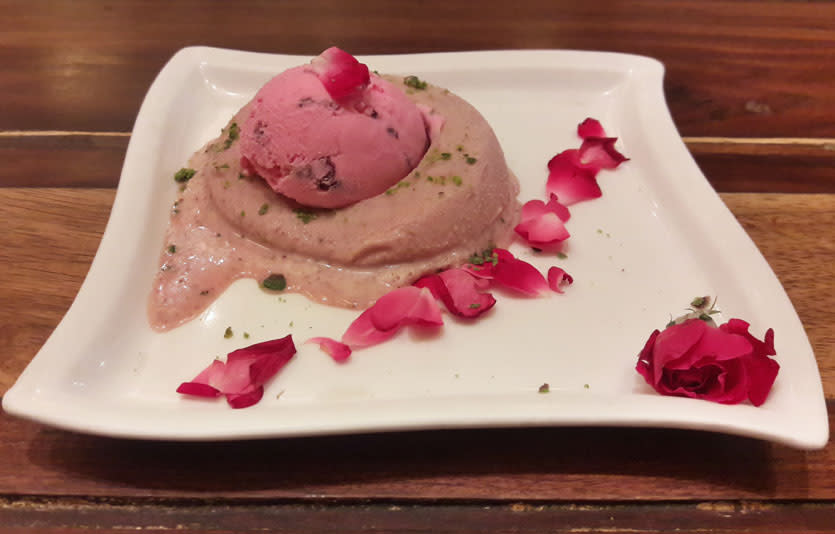 What's better than one dessert? Another dessert, of course! Another one of Sattvik's crowd favorites, we next ordered the Rose Petal Ki Kulfi. The first bite was enough to send us to dessert heaven! The perfect taste of the rose in the kulfi accompanied by the delish rabri was what sweet dreams are made of!
Who said Navratri fasting can't be fun? Every Indian festival warrants some lavish feasting. So head to Sattvik ASAP and enjoy the delectable spread!  
Location | Sattvik - Select CITYWALK, Saket
Meal For Two | Rs 1,700
Here's Their FB Page | https://www.facebook.com/satvikrestaurant