We're eagerly looking forward to the long weekend that's been tantalising us all this while and now that it's just around the corner, we simply couldn't keep calm! While we were browsing through places to head to while the weekend full of promises arrives at our door, we thought we'd help you with your choices as well. 
So take a look at these 10 handpicked and curated exotic places near Delhi where you can quickly head over to during that weekend for a quick sojourn with family or friends. Happy travelling!
1. Tree Of Life Resort & Spa, Jaipur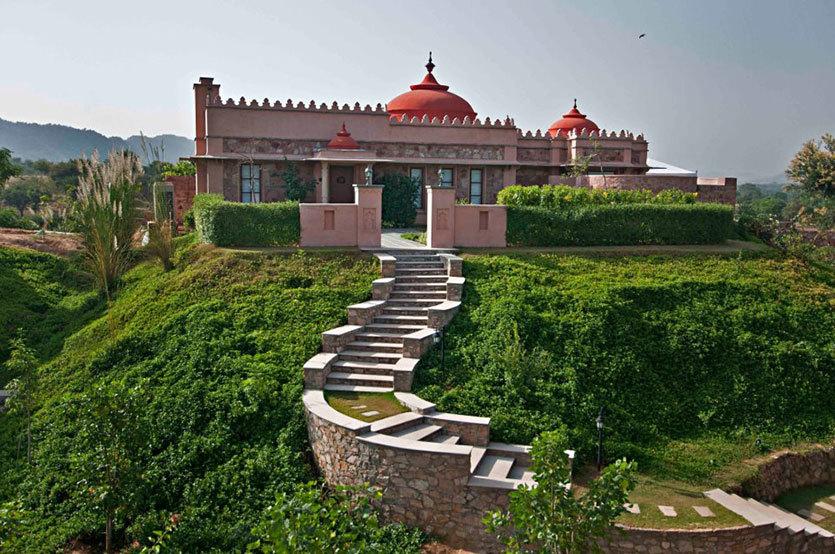 Situated far far away from the hustle and bustle of the city, the Tree of Life Resort & Spa in Jaipur looks stunning, overlooking the lush green Aravalli hills. The resort houses 13 luxurious villas and offers unmatched pampering services - you can opt for a luxury pool and spa villa or a two bedroom luxury garden, terrace and spa villa! *Naice*
Tariff | Rs 11,856 Onwards
Where | Kacherawala, Kukas, Jaipur, Rajasthan
Book Your Stay Online Here | http://www.treeofliferesorts.com/
2. Two Chimneys, Nainital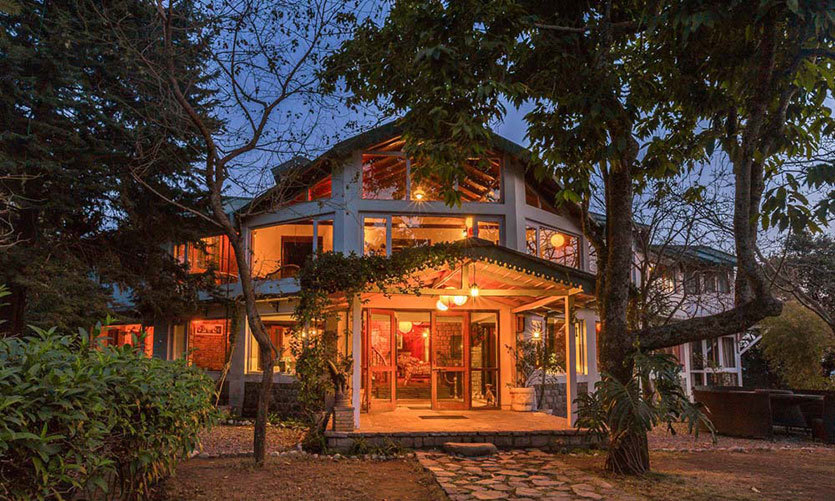 A unique boutique lodge tucked away in a quiet village called Gethia in Uttarakhand, Two Chimneys is a magical hideout! It's the perfect destination when looking for a romantic interlude with bae (and earn some brownie points while you're at it!). Head over!
Where | Gethia, Nainital, Uttarakhand 
Book Your Stay Online Here | https://goo.gl/si8ESW 
3. Neemrana Fort-Palace, Rajasthan
At this Fort, you can experience a magical weekend coupled with feasts and celebrations. Seven palace wings built over 12 layers tiered into a hill across 6 acres of the garden-palace with hanging gardens, two pools, an Ayurvedic spa and India's first zip-line is what the world comes to experience here. It's about 130 kms away from Delhi so not too much travelling either!
Tariff | Rs 4,500 Onwards 
Where | Neemrana Fort- Palace, Delhi-Jaipur Highway, District Alwar, Rajasthan
Book Your Stay Online Here | http://www.neemranahotels.com/fort-palace-neemrana/ 
4. The Lalit, Mangar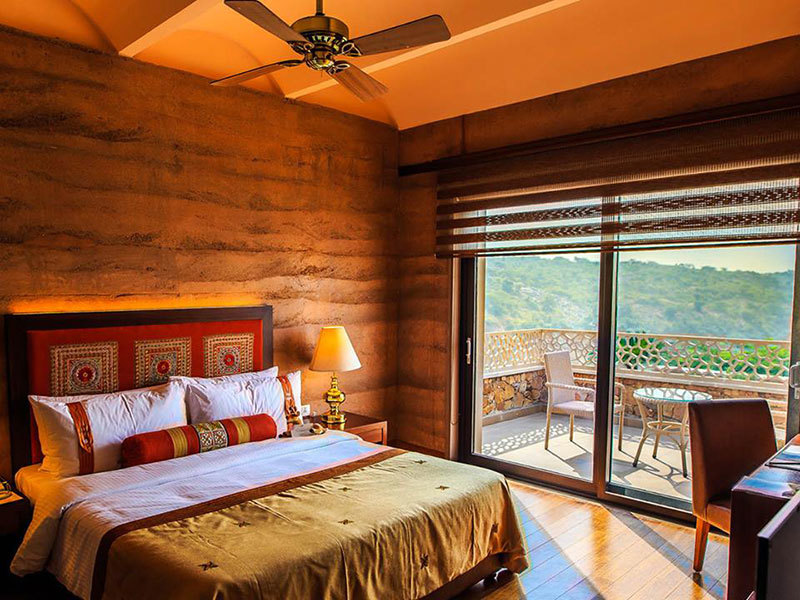 The Lalit Mangar stands amidst the abundant greens of the pristine Mangar Bani Valley. A beautiful structure made of rammed earth, it offers 35 luxurious suites with a breathtaking view of Mangar Bani and is a welcome treat of distinctive luxury and comfort. Palatial yet equipped with all contemporary amenities and services, your stay here would be every bit relaxing and rejuvenating!
Tariff | Rs 10,000 Onwards
Where | Camp Wild Road Near Mangar Police Chowki, Faridabad, Haryana
Book Your Stay Online Here | http://www.thelalit.com/the-lalit-mangar/ 
5. Seclude Mussoorie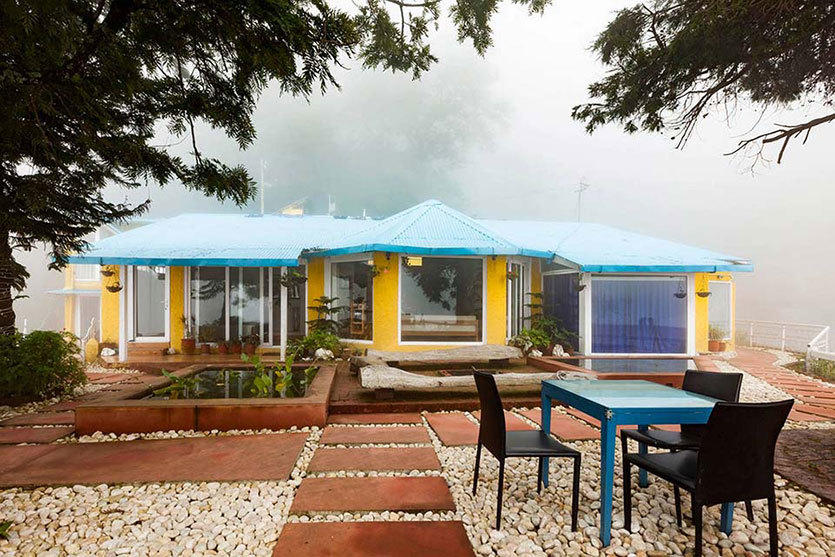 Sitting chained to your desk and daydreaming about that much needed hilly getaway? Seclude Mussoorie has got super colourful and cozy rooms with bay windows that open up to a beautiful view of the hills. Their common room area has a huge glass window on one side from where you can enjoy the beauty of the hills like never before! Head here with a bunch of people or just by yourself, meditate, have fun or read a nice book, this place suits all kinda people! 
Tariff | Rs 6,000 Onwards
Where | Westonal Cottage, Picture Palace Road, Mussoorie, Uttarakhand 
Book Your Stay Online Here | https://goo.gl/HfQ8uU
6. Taara House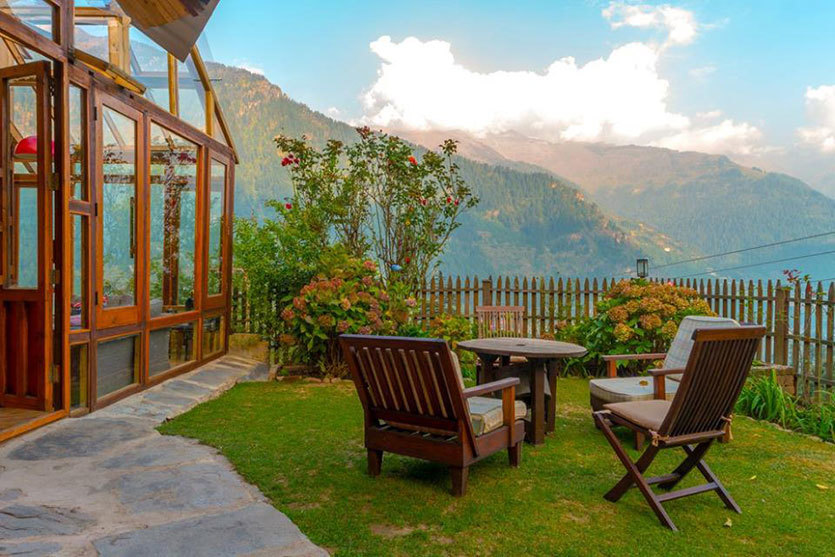 With a pine forest as the background and the spectacular Himalayas as foreground, Taara House is a cottage made with love and care that you can clearly make out from the precision that's gone into making it. Wooden window panes with glass windows, guarding such precious views of the Himalayas that you'll simply be mesmerized just seeing the breathtaking view!
This two bedroom cottage is made in classic and mid-modern style with recycled wood! *OOH*
Tariff | Rs 16,000 Onwards
Where | Hadimba Temple Road, Manali, Himachal Pradesh
Book Your Stay Online Here | https://www.taarahouse.com
7. Himalaica, Nainital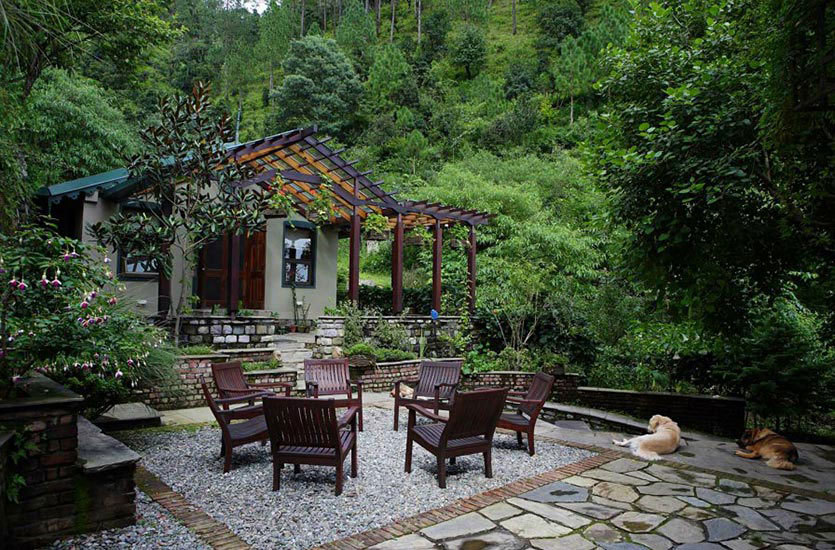 Located in Nainital, Himalaica is a fully-functional place, with full-time staff, all basic amenities and pets (yes pets!!). Unwind over numerous activities here such as forest walks and treks, bird-watching, exploring the garden, watch movies, meditation at the temple, reading a book from their library – or even just doing nothing! Guests can also enjoy the on-site restaurant, come on by!
Tariff | Rs 10,000 Onwards
Where | Bhowali-Ramgarh Road, Nainital District, Kumaon Hills, Uttarakhand
Book Your Stay Online Here | http://himalaica.com/
8. Mary Budden Estate, Kumaon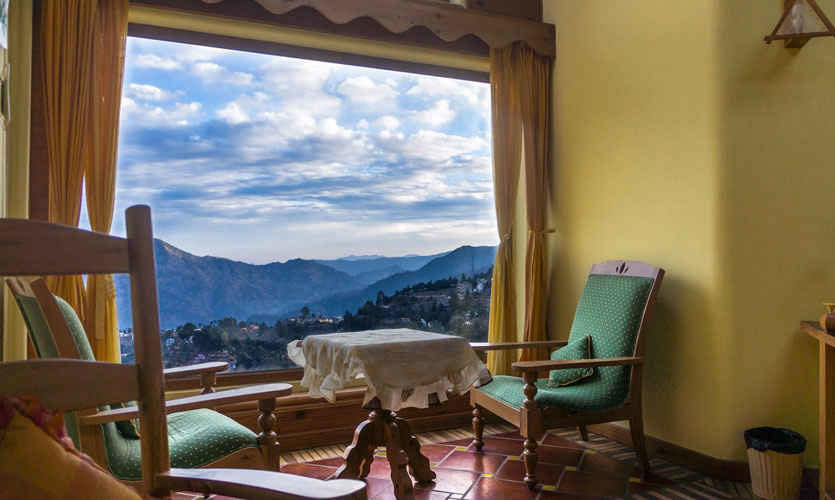 Named after its last inhabitant in the 19th century, the Mary Budden Estate is now regarded as one of the most high profile estates in the country! The place still houses the enamel jugs, Mary's books, a rustic armchair and many more relics of the past. Overlooking really amazing views and vistas and carrying so many memories, this estate is certainly a must visit to earn some travel bragging rights!
Tariff | Rs 22,900 Onwards
Where | Binsar Wildlife Sanctuary, Kumaon
Book Your Stay Online Here | http://www.marybuddenestate.in/
9. Neeralaya, Kullu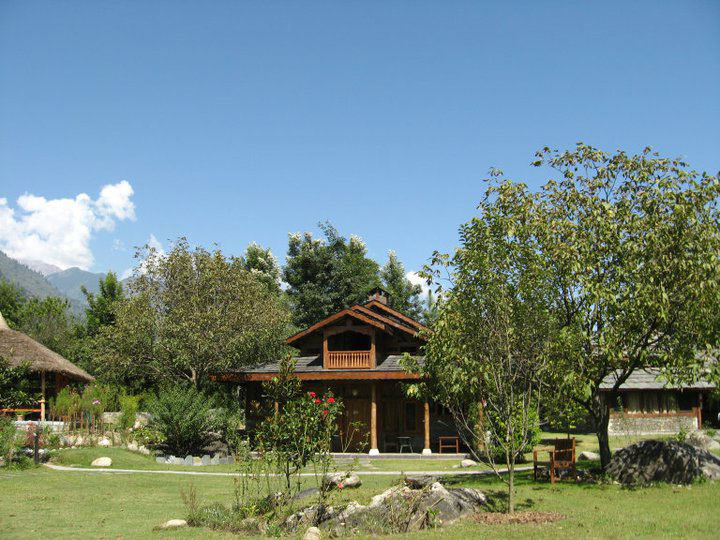 Located on the banks of River Beas near the towns of Kullu-Manali, Neeralaya will serve as the quintessential little secret house just by the river. Surrounded by trees bearing fruit and beautiful scenic views, the serenity here would soothe you if you're the meditating type. You can hear the sound of the birds chirping - no city chaos at all! With quaint cottages made of wood and terracotta, they're so old fashioned that you're going to fall in love with them!
Tariff | Rs 8,500 Onwards
Where | VPO Raison, Kullu, Himachal Pradesh
Book Your Stay Online Here | http://www.neeralaya.com/tariff.html
10. Paatlidun Safari Lodge, Nainital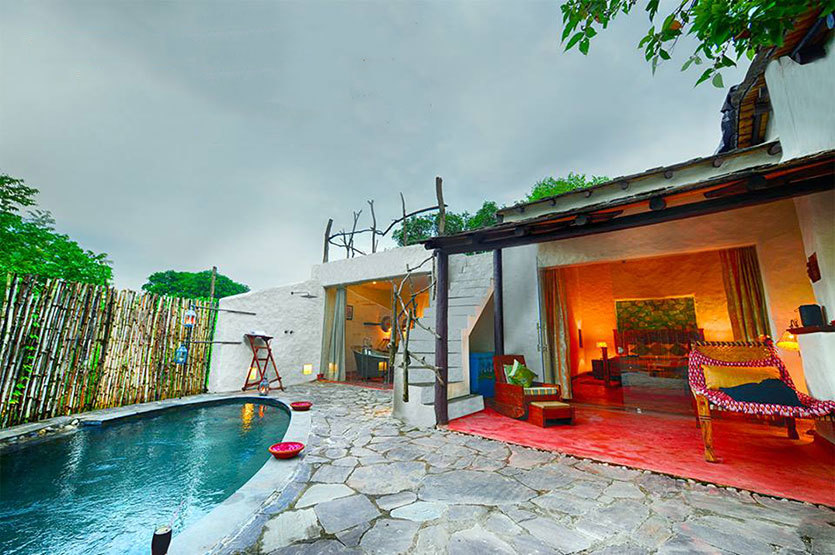 Paatlidun is a luxury resort in Jim Corbett National Park that effortlessly combines the wild with elegant comfort and hospitality. Their luxury cottages feature a private pool, a backyard with trickling sunlight and gorgeous wooden interiors. You will get all the privacy you need here so that you can enjoy nature in peaceful solitude. Also, the staff is extremely accommodating and non-interfering, so defo book your stay! 
Tariff | Rs 19,500
Where | Jim Corbett National Park, Mohan, Nainital
Book Your Stay Online Here | http://patlidun.com/
Well then, head to one these gorgeous places with packed bags and lots of laughter awaiting you!