Are you a South Indian food lover but the usual classic, plain, masala, paper, butter, rava, onion (we can go on like those classic waiters in South Indian restaurants!) dosas have bored you to death? Well same - we're all on the same boat! But fret not, here we are bearing a platter full of the most hatke, quirky dosas at these 6 awesome places!
1. Pizza Dosa @ Imly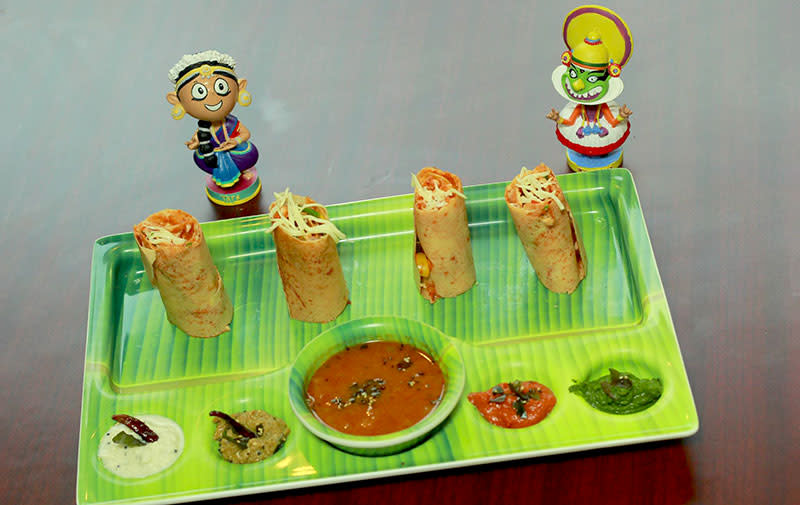 A combination of pizza and dosa, we'll let you decide if the combo was a stroke of genius or otherwise but it's definitely worth a try! Our thirst for quirky combinations doesn't stop there, especially when they add our fave cheese burst to their dosa menu. This rad dosa at Imly simply needs to be sampled to be believed, so come on by!
Price Per Dosa | Rs 189
Locations | Rajendra Place, Rajouri Garden, Sector 18, Noida & Other Outlets 
Check Out Their FB Page | https://www.facebook.com/pg/imlyxpress
2. Pav Bhaji Dosa @ Dosa Express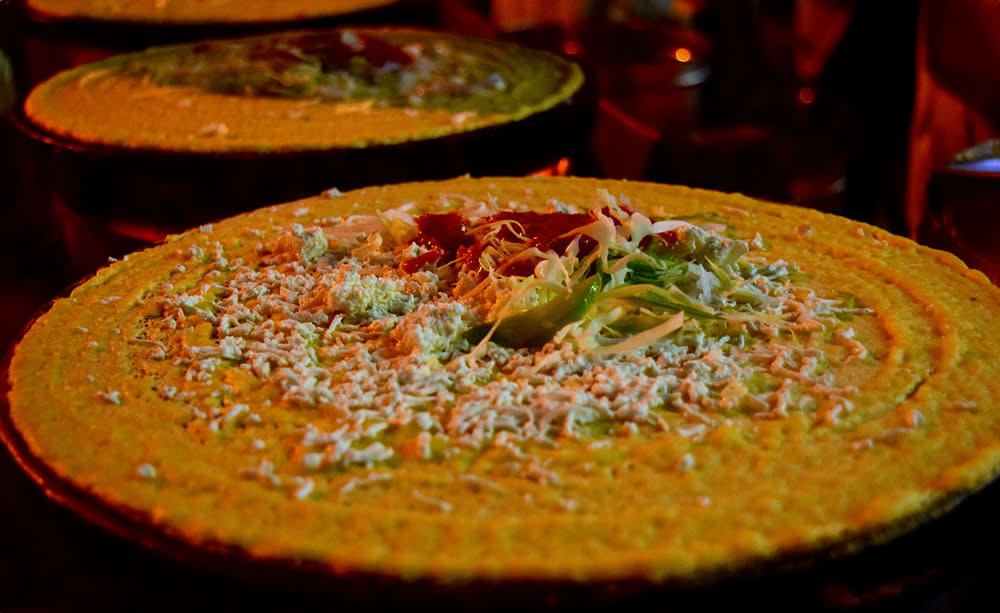 If you haven't heard of this place, we welcome you back to civilization! This food stall offers about 131 types of dosas *nope, no typo error!*. They have Pav Bhaji Dosa, Cham Cham Dosa, Sweet Corn Dosa, Chopsuey Dosa, Salsa Noodle Dosa, Spring Roll Dosa - we can go on and on! Try and trust us - you won't be disappointed!
Price Per Dosa | Rs 100
Location | 5667, Gali 78, Regar Pura, Karol Bagh
3. Maggi Dosa @ InstaDozza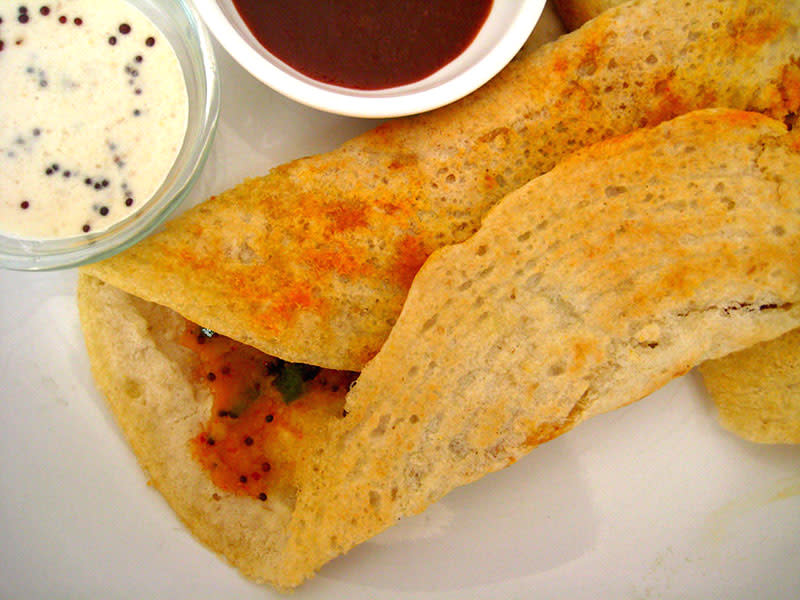 Delhi loves different cuisines and also mixing 'em up! From mixing Italian and Mexican to adding the Mumbaiya and Amritsari flavours to your dosas (14 in all), InstaDozza has a wide variety of mixed and matched dosa variants. Maggi Dosa, Schezwan Dosa, Jam Spread Dosa (no, really), Nutella Dosa, *yes! they even serve dosas for dessert!* and tons more. Maggi Dosa people, just head here already!
Price Per Dosa | Rs 130
Location | Inside DLF Phase III Rapid Metro Station, DLF Phase III, Gurgaon
Check Out Their FB Page | https://www.facebook.com/Instadozza
4. Mutton Keema Dosa @ Moets Coco Palm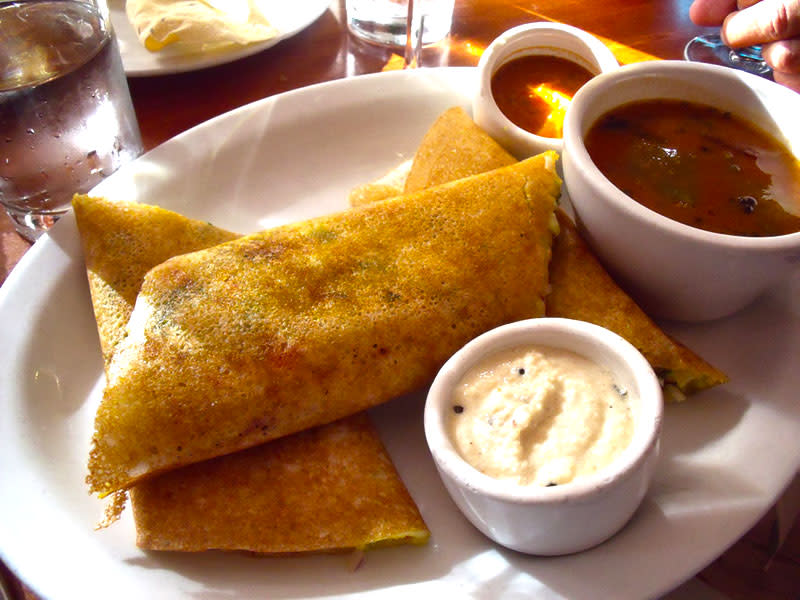 This is the best place for dosa lovers who also can't let go of their abiding love for meat! Moets Coco Palm, tucked away in GGN have a long list of yummy dosas to offer, but we're spotlighting their nummy Chicken Dosa, Mutton Dosa and Egg Dosa here! Scamper on by, try 'em out and tell us what you think!
Price Per Dosa | Rs 250
Location | DT City Center Mall, MG Road, Gurgaon
Check Out Their FB Page | https://www.facebook.com/moets.currypot
5. Chinese Dosa @ Junglee Billi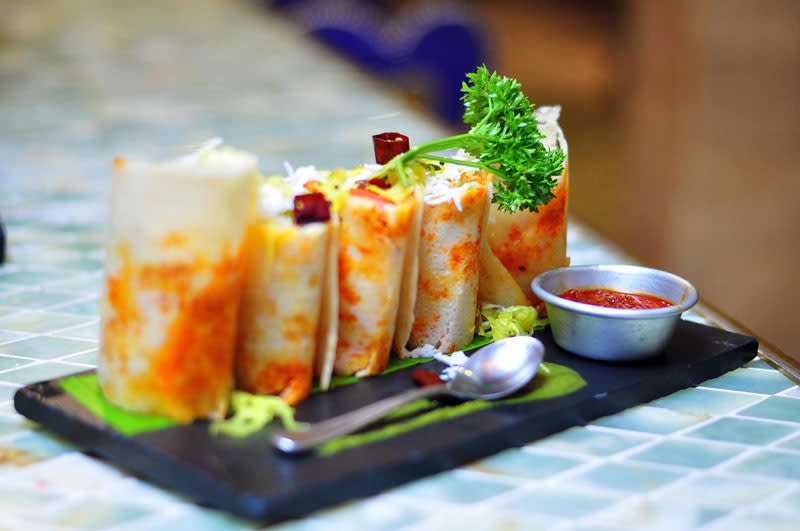 The menu over at Junglee Billi is full of quirky variations, but this particular dosa just grabbed all our attention! Mumbai-special szechuan sauce *this stuff can literally make anything better* mixed with cheese and stuffed in your dosa *take a moment and wipe that drool off!* - their Chinese Dosa sounds just divine!
Price Per Dosa | Rs 260
Location | M - 24, M Block Market, GK I
Check Out Their FB Page | https://www.facebook.com/JungleeBilleeDelhi/
6. American Chopsuey Dosa @ The Dosa King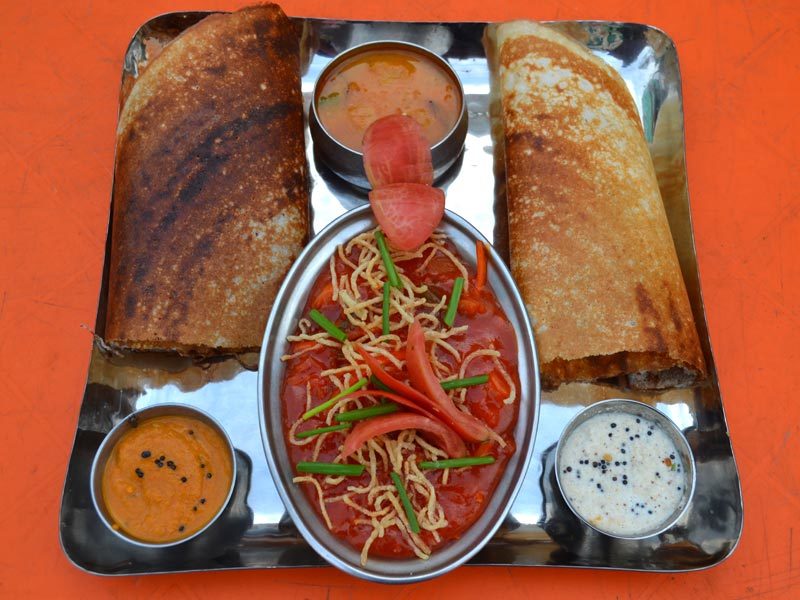 The Dosa King indeed lives up to its legend! What it offers? 26 dosas at their quirky best! We mean, they've even Punjabi-fied their dosas people, and they're so worth a try. Bottom line, you HAVE to try their American Chopsuey, Cheese Paprika, Manchurian, Chilli mushroom,  Pizza and Pav Bhaji Dosa! 
Price Per Dosa | Rs 160
Location | Shop 4, B Block, Main Market, Opposite Vivek Vihar, Surya Nagar, Ghaziabad
Check Out Their FB Page | https://www.facebook.com/The-Dosa-King-1644441809164012/
There you go - your fave South Indian dish wrapped up a little bit of quirkiness! How many are you ticking off your list this weekend?!