Our Fave Comics-Themed Cafe Just Popped Open A New Outlet In GK II & We're Totally Lovin' It!
Remember when you were a lil kid and would dream about saving the world with your little underwear over your pants? The days where the cape and tights-wearing characters were your real heroes and you even mimicked them? Those were the days, #nostalgia! But that part still lingers somewhere, right?! We still get excited when someone talks about Batman, Superman, the X-Men, G.I Joe or Mario or the million other characters that made our childhoods so memorable. 
We might be divided by DC and Marvel now, but the comic nerd in us is gonna live forever. And since we're on the same topic, we have some really ah-mazing news for y'all! Our fave people, who understand our eternal love for comics - What A Comic Show have popped open a new outlet in GK II and we can't keep calm! This place has forever been a haven for comic lovers - the ambience, the food, the drinks, everything here is just ah-mazing! So scroll on to know why we're gushing 'bout the place:
Get The DC & Marvel Feels In GK II
This place looks like it's been bitten by the comic bug! This outlet is a lot bigger than the SDA one and these guys have surely outdone themselves here! The furniture, the walls, the interiors, everything is adorned by comic characters of all kinds and sizes. You name it and they'll have it! There's a corner with piles of comics and novels that you can happily read while hogging on the stellar grub! 
But that's not all, this place isn't just a geek paradise, it's also a perfect place for romantic dinners with bae or a coffee date with your bestie! They have a beautiful rooftop, open green space with wide French windows and a patio that's perfect for long, leisurely and intimate conversations. 
They also regularly host live acoustic musical nights, screenings of superb blockbusters in different genres, theme-based costume parties and so much more that you'd be left in awe! What we love most about this place is that they flaunt their love for comics in full gusto while still letting their cafe be much more than that! 
Delish Grub To Pig Out On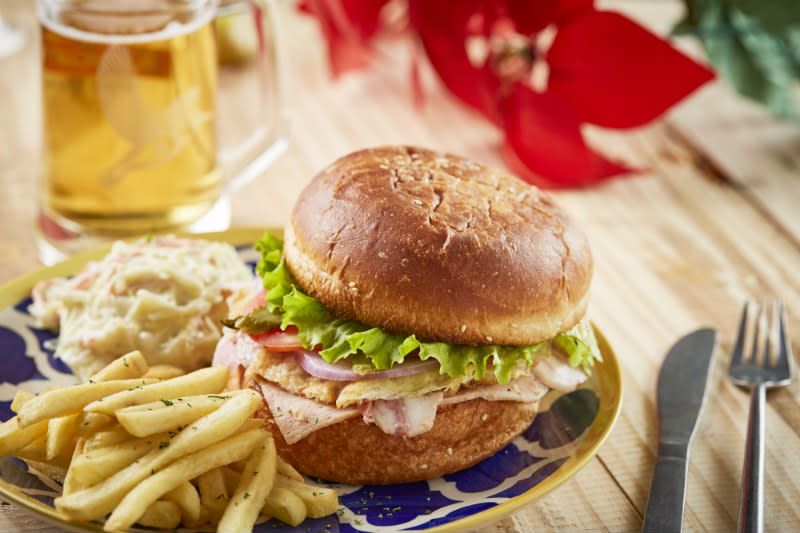 Now all superheroes need to satiate and satisfy their tummies and this place has all you'd need to do that! Their menu is a mix of Continental, American and Oriental delicacies and we beg you to try out their Schezwan Mushroom Dumplings and Old Chicken Pizza - they taste heavenly.
Coming to the drinks section of the menu - this place is stocked up with everything you can imagine! Unlike its sister outlet in SDA that serves just beer and wine, this newly opened cafe has everything from wine to whisky to vodka to rum! They also have some really amazing wine and beer based cocktails and trust us peeps, they pack quite the punch! 
Their cocktails & mocktails are cutely named after the characters of your fave comic books like - Veronica's Tea Beer, Maleficent Margarita, Phantom Punch, Hammer of Thor and so many more! You can also enjoy your food in their pretty and spacious balcony and terrace - just perf for chilly winter evenings!
Your Cool Workplace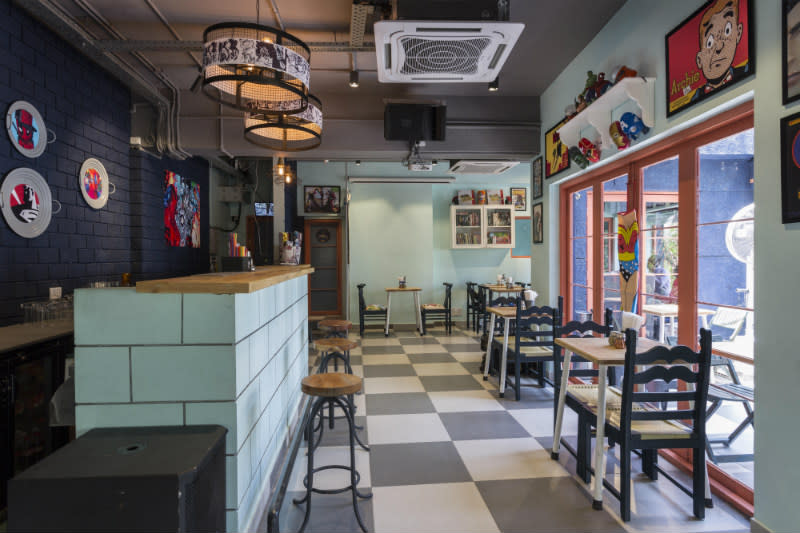 This is definitely a place you can head to because like all superheroes, these guys double up as a pretty cool workplace too. It's funky, peaceful and most importantly, they have full-speed WiFi too *happy grins*! So head out and wrap up your work while munching on their yummy food and enjoying your fave characters in the background!   
So unleash the nerd inside you at this cool, chic cafe and devour some yummy food while you're at it! 
Where | What A Comic Show - M-1, First Floor, M Block Market, GK II & C-21, 2nd Floor, SDA Market 
Meal For Two | Rs 1,200
Check Out Their FB Page | https://www.facebook.com/whatacomicshow/