The other day while we sat at our desks waiting to break for lunch, there came a blessing in disguise ringing the doorbell and flooding our workspace with aromas so indomitable, it wouldn't cease until it awakened the ravenously hungry troll (much like Quirrell's troll in Harry Potter) snuggled cozily in our tummy. Well, hyperbolic analogies aside, we can't wait to tell you what made our mid week lunch ten times more exciting!
Nobody teaches you how to appreciate and devour freshly prepared goodies that not only taste drool-some but look awesome too! So when we laid our eyes on all the goodies sprawled across the table, we did what any sensible human would do when greeted by such a sight! We pounced on it, of course!
We gobbled up everything that came our way (barring the bland colleagues, duh!) and after a bit of a struggle, we've picked out our top must-haves for you to try!
Baghdadi Chicken Tikka Platter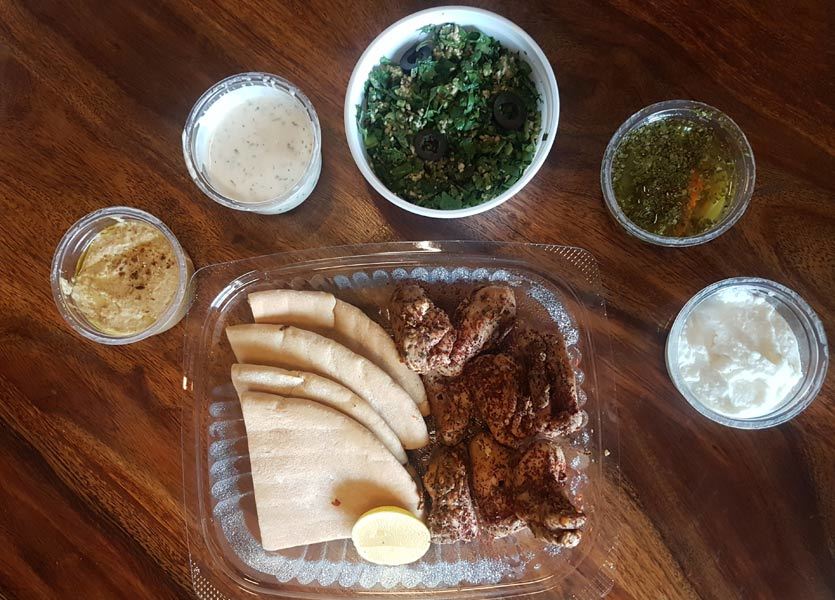 That's the first thing we tried. Whole wheat pita and Arabic style chicken tikka with hummus, thoom, tahina, tabbouleh and turshi on the side. The pita was fresh and went well with the flavourful, well cooked chicken tikkas with dry spice rub! We absolutely loved their take on hummus and thoom & simply couldn't get enough of it!
Tangy Chicken Salad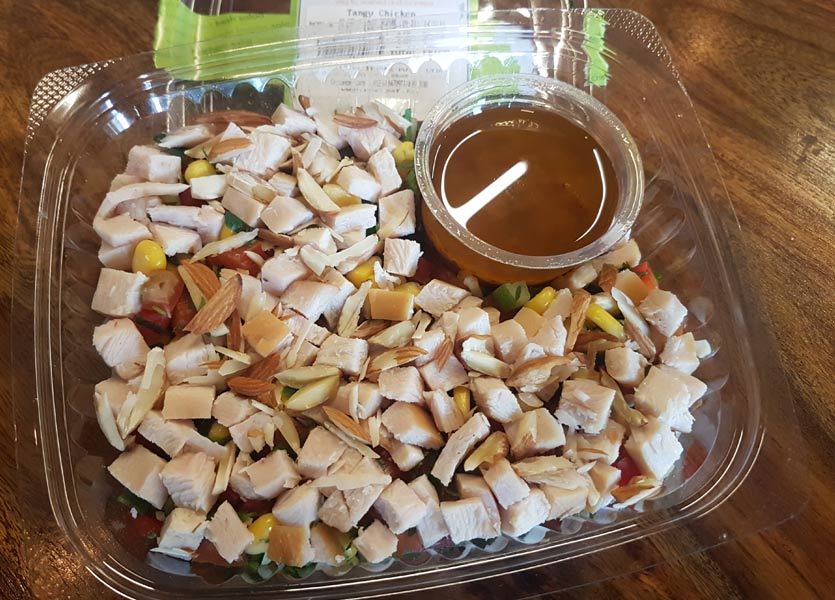 Next up is this beauty that tops the chart for us. It came with smoked chicken, rocket leaves, cucumber, tomatoes, red capsicum, corn, parsley, spring onions, garlic and almond shavings topped with THE most tangy lemon-sesame dressing - simply writing about it is making us salivate yet again. It was delicious and we couldn't stop eating - a MUST TRY!
BBQ Chicken Burrito Bowl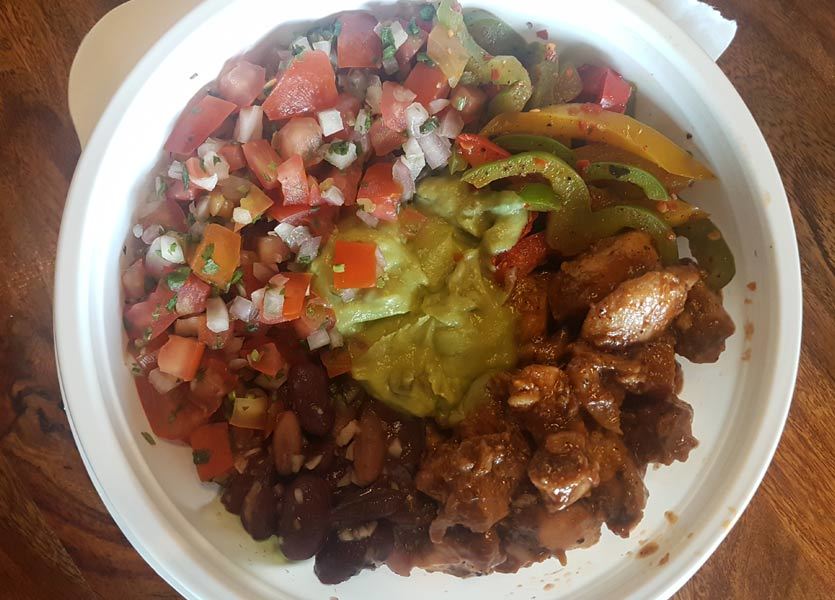 Tasting a burrito out of a bowl is something we'd wanna take a round two on now. With various components of a bulky burrito placed beautifully in a bowl, it came with lemon cilantro brown rice topped with BBQ chicken, red kidney beans, fajita peppers, guacamole and salsa. Though we prefer our guacamole with extra zing, this one helped balance everything pretty well!
Chicken Shawarma Wrap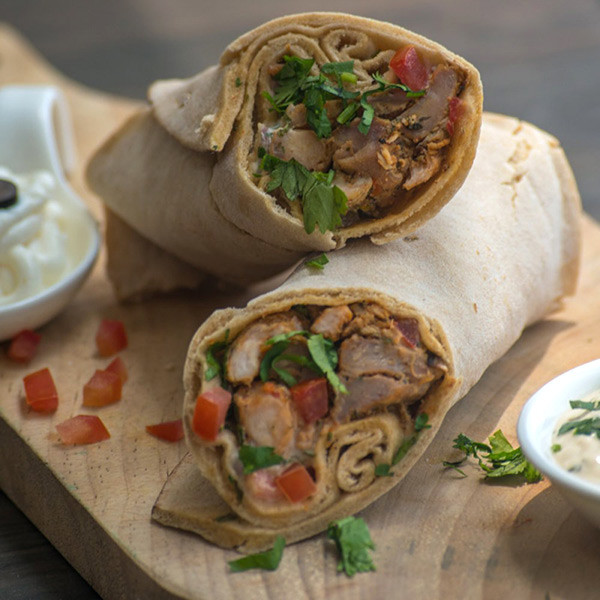 Of course we had to talk about the shawarma! That's one thing most of us have come to love about Lebanese cuisine. It was a whole wheat wrap that came stuffed with shredded chicken, onions, tomatoes and coriander dressed in thoom & tahina. A mouthful of this with some turshi makes for the ultimate combo that you can only love more 'n' more!
Mixed Veggie Pockets
Did you notice? Something veg at long last, eh? With two whole wheat pita pockets filled with herbed peppers, spring onions, lettuce and mushroom mixed in with hummus, it was truly refreshing with the aroma of oregano really coming through! Accompanied with kimchi, it tasted all the more delish!
Cold Pressed Juices & Smoothies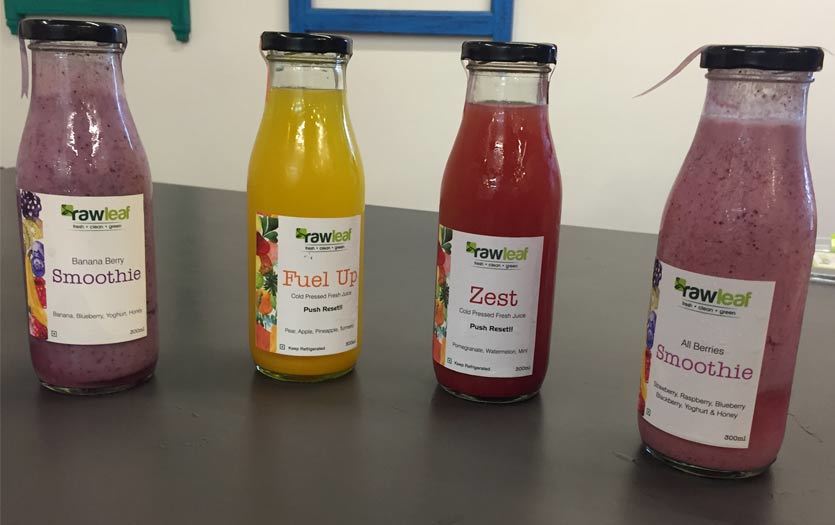 The verdict first - go order NOW! If you haven't tried their cold pressed juices and smoothies yet, well don't think about it any longer, just go and get your fill! We especially loved the Pomegranate, Watermelon & Mint Juice which was super fresh & sweet. Apart from this, the Banana & Blueberry Smoothie is the other thing we recommend you try fo' sure! What's the best part is that these are all free of preservatives and artificial sugar! *We Love*
Apart from these smashing dishes, we also loved the taste of their Quinoa Salad, Fresh Garden Wrap, Smoked Chicken Wrap and Refogado Tofu Burrito Bowl! They're super healthy and fresh, taste amazing and give you real Lebanese feels. Go try for yourself!
Order Online Here | http://www.rawleaf.in/
Here's Their FB Page | https://www.facebook.com/RawLeaf.Healthyeating/
Ring Ring |+91 8588 824 597