Dating Back To The 13th Century - Enjoy An Exploration Sesh At Lal Gumbad In Malviya Nagar
Delhi is an ancient city that has been inhabited continuously by different dynasties over the centuries. As a result, the present day Delhi has an interesting mix of big & small historical monuments spread all over the city, giving it an unique character.
One such quaint but important monument is the Lal Gumbad (Red Dome), located in the neighbourhood of Malviya Nagar of South Delhi. It is believed to be one of the oldest monuments in Delhi, constructed in the late 13th century. 
The Tomb of a Sufi Saint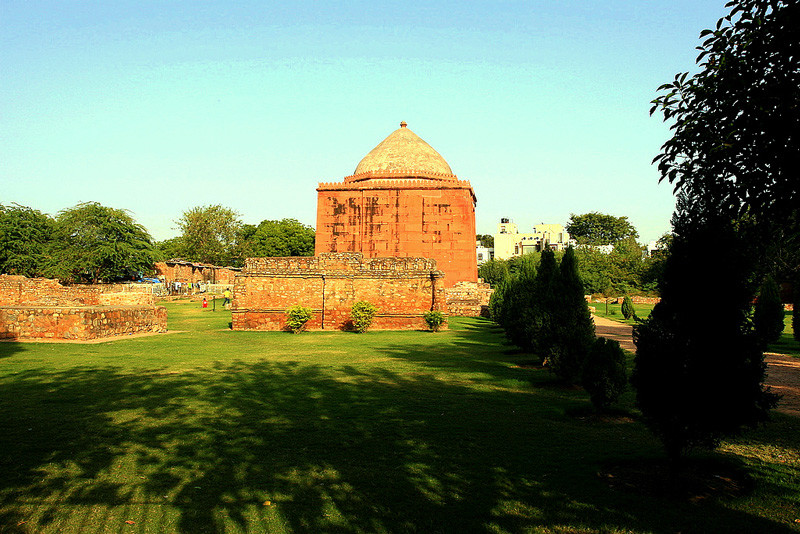 The monument is a tomb, which contains the mortal remains of Shaikh Kabir–ud-Din-Auliya, a Sufi Saint who was buried here in the year of 1397.  Not much is known about the origins or the history of Shaikh kabir–ud-Din-Auliya except that he might have been the disciple of Sufi Saint Roshan Chirag Dilli of the Chisti order, who himself was the spiritual heir of the renowned Sufi Saint Nizamuddin Auliya. 
This obscure saint lived in the reign of the Tughlaq Dynasty, under the rule of the Tughlaq Emperor Mohammed-bin-Tughlaq & the tomb reflects the architectural style of that era. In fact, some historians point out that the tomb resembles the tomb of Ghiyath-al-ud-Tughlaq, the first emperor of the dynasty. 
The Lal Gumbad is named so, because of the bright red colour of the monument. In fact, almost the whole structure, including the walls & façade has been made out of red sandstone. The shape of the main tomb is in the form of a square, topped with a plastered dome & presently has frayed walls.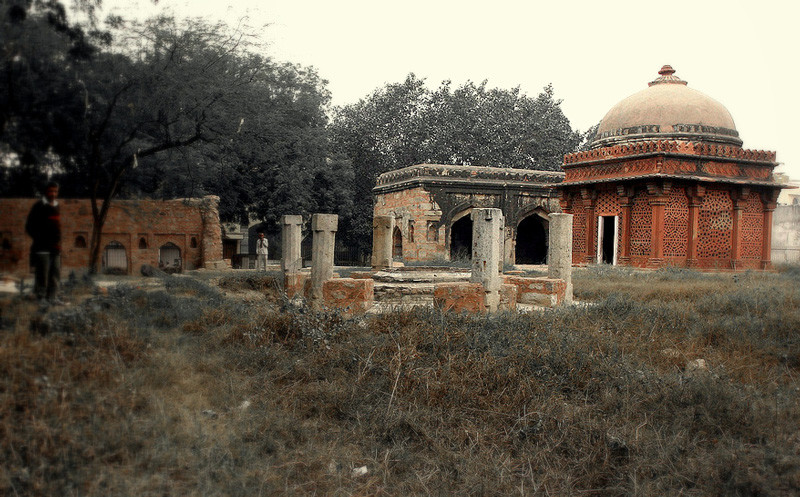 Inside the tomb, there are nine tombstones, the main one being of the sufi saint, which has a nameplate on it.
More than Meets the Eye
The alternate name of this tomb (Rakabwala Gumbad), came about due to the golden finial it was said to be once ornamented with, many years ago, but which was later stolen by thieves. In fact, there are iron rings on the western wall of the tomb, which are believed to be set up by the thieves, to steal the gold.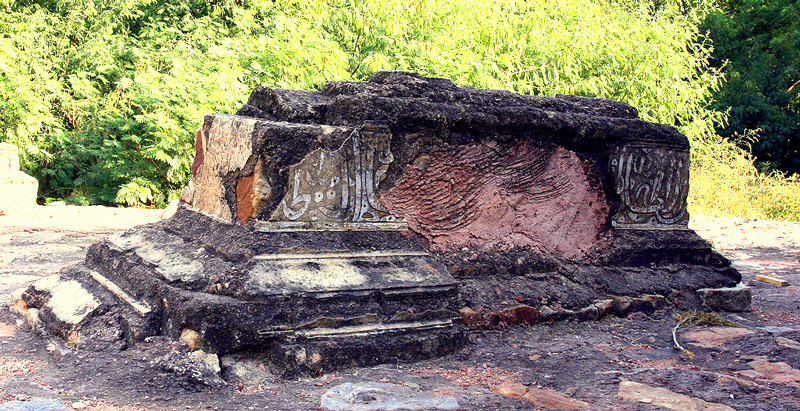 At present, the Lal Gumbad is a protected monument under the Archeological Survey of India (ASI) & is open to visitors every day from 9 AM-5 PM. The main tomb & some other structures are enclosed within a lawn compound, which has been landscaped beautifully. 
A visit to this quaint tomb compound makes for a serene experience. The entry to the tomb is from the eastern side of the compound. The main tomb gate remains locked at all times, however there is a guard on duty, who opens the gate for visitors on request. 
Teeming with so many monuments and heritage, Delhi is a wonderland for all the history enthusiasts!