Known for Tandoori Momos & Malai Soya Chaap, Here's Our Experience of Hunger Strike in Amar Colony
We all have our hands-down favourites when it comes to that perfect plate of tandoori momos, don't we? So did we and upon learning about this unassuming joint, which apparently sold the best tandoori momos in town, we laced up our boots and put on our sunscreens to check out this potential threat to our beloved joints.
Situated right opposite Sagar Ratna in Amar Colony's main market, Hunger Strike is divided into two sections- Tandoori Momos and Kathi Roll Point; while the latter deals exclusively in rolls, the former serves everything else on the menu - momos, chaap, shawarma, noodles, fried rice, etc. We reached right in the middle of the blistering afternoon and were surprised to see quite a crowd there despite the heat. The place was certainly popular and the kitchen was churning out orders (which it never seemed to run out of till the time we were there) faster than you could say momo.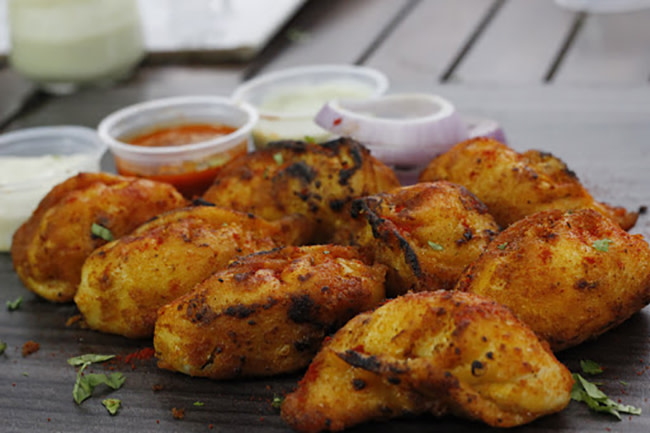 Going straight for the kill, we ordered a plate of Chicken Tandoori Momos along with Malai Soya Chaap and a Chilli Chicken Roll, which turned out to be a substantial amount of food for two people. The service was sharp and we got our complete order within 10 minutes. First things first, the Momos and Chaap were a sight to behold (ignoring the fact that both the plates looked very similar); drenched in a malai based gravy with the orange coating of masala, specks of black from the grilling and topped with green coriander, they looked absolutely drool-worthy! Half the battle won. We started warming up to the outlet.
Here's the low-down on the food:
Chicken Tandoori Momos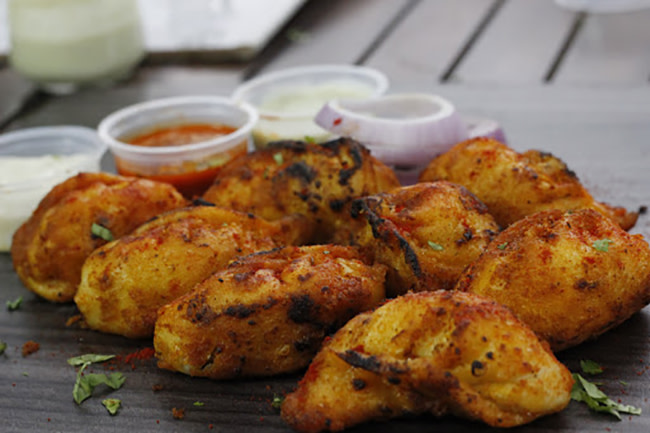 The gravy ladled generously on top of the eight pieces was an appetizing style of presentation that we hadn't seen before, so full marks for that. The plate was served with a raw onion, yoghurt based mint chutney and chilli garlic chutney with red chilli seeds, both proved to be great accompaniments. The Momos were crisp and perfectly chargrilled however the chicken could have been more juicy and flavoursome. 
Malai Soya Chaap

In our opinion, this dish upstaged Hunger Strike's claim to fame by a large margin, a sure-shot winner. The creamy gravy and that smoky flavor that characterizes the tandoor blended perfectly, the Chaap was tender and succulent with a tantalizing sour kick lent by the yoghurt in the gravy. The mint chutney that was served as a side was the ideal dip. We were tempted to order a second helping, which disappeared within minutes! We probably would've licked the plate clean had we been at home. *insert list of culinary superlatives here*
Chilli Chicken Kathi Roll

This was pretty run of the mill stuff, decent, but nothing to write home about. The flaky Kolkata style parantha was stuffed with huge chunks of chilli chicken, onions and capsicum. We could taste the sweet and sour sauce but the chicken lacked flavor; a good attempt at authentic (desi) Chinese that Delhi is a hub of. On the plus side, there was hardly any oil and the roll was packed nicely, no fillings on our hands. We had the eggless version, although you can get yours made with eggs as well.
All in all, a good meal but the Chaap was definitely the star of the show and the Momos could not de-throne our go-to joints, so we're happy. We'll probably be back to give this one another chance. You should definitely try it out once though; the Malai Chaap is totally worth it.
Address | C-9, Amar Colony Market, Lajpat Nagar 4
Approximate Meal For Two | Rs. 400