Just Stumbled Across This Cutesy, Niche Cosmetics Store in SPJ Called Deliciious Me
No matter where in the world you are, having an Alice in Wonderland experience still aces most adventures and I had mine when I was least expecting it, and at a store where I was least expecting it! 
As I  walked down Dada Jungi lane in Shahpur Jat, the Mecca of all things bespoke and inimitable, eating my probiotic ice-cream, I came across a huge signboard that says 'Deliciious Me' in a burst of colours so surreal, I thought it was the 60's all over again! I peeped through a big window right underneath the sign which exhibited a well lit space done up in earthy tones with little wrapped things shining like gems. I thought I struck gold and it was another yet-to-be discovered confectionery shop, what with the smell of cinnamon and apples wafting up the door.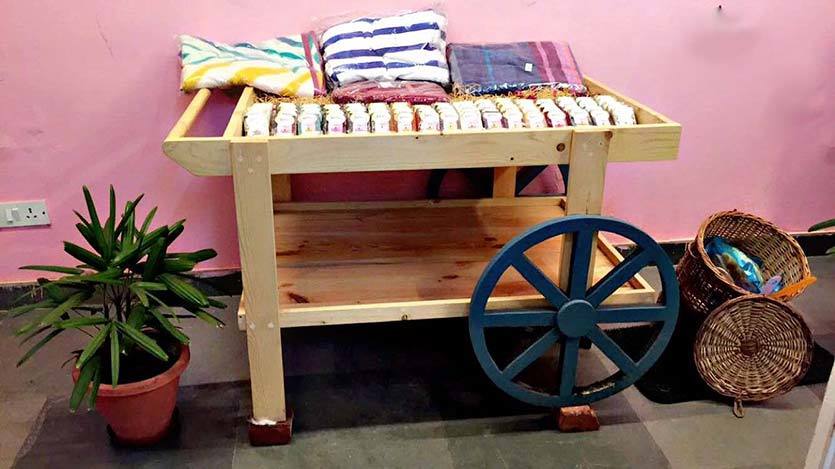 I decided to play Alice and just topple down into that delicious-looking rabbit hole. And just as it happens in the original adventure, things are not what they seem and I'am confronted with the sublime fragrances of peaches and avocado, chocolate and walnuts but all of them crafted specially for the skin, not the stomach! Talk about mixed feelings!
When I did step in, I was greeted with by a young 'in- her- early- 20's girl' who happened to be both the beauty and the brains behind the products. Megha was more than happy to share her beliefs - "I understand that the skin is the largest organ in the human body and almost 60% of what we put on our skin gets absorbed into the bloodstream, and then out of childlike curiosity, I began to look at everyday skincare products and was alarmed that almost all of them contained harmful chemicals that were slowly poisoning me on the inside. That's where the idea to do all-natural, handmade and paraben-free skincare products came to me. The fact that we are strictly against animal testing only helps the cause." Mentally I was thinking "And the attribute that all the products make the shop smell like a bakery located in a fresh herb garden is the bonus that you're overlooking, sister"! *Wink wink*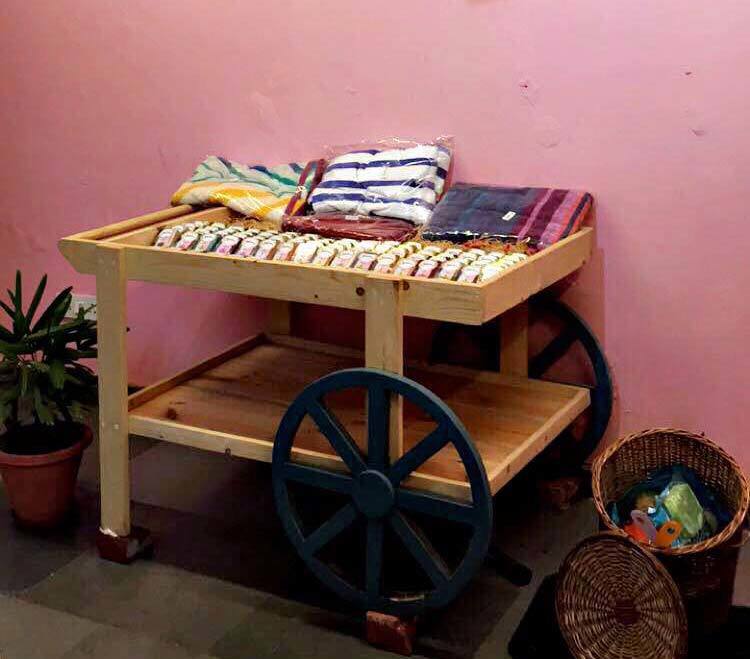 After the promise of skincare products that would actually take care of my skin without slowly adding toxic chemicals to my bloodstream, I was even more curious to dive into the fascinating world of soaps and lotions and shower gels that were singing to me by now. Megha was happy to offer me abundant samples to try, and try I did.
I started with the soap bars, replete with 20 different fragrances, from Olive and Almond to Red Apple and Cinnamon, there was also Goat's Milk soap bar for the uber-sensitive skin type; each soap infused with the goodness of Manuka honey, they looked good enough to eat. I did, however, choose the carbon activated soap with the Arabic smell of Oudh and I'm happy to announce that it's my absolute current favourite! Generally carbon activated soaps leave the skin dry, but this one is as hydrating as it gets, so two thumbs up.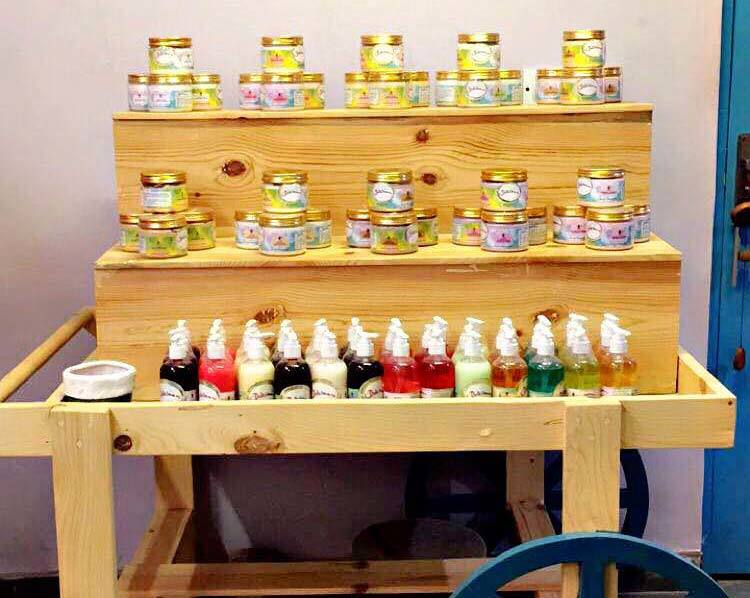 Moving on in the buffet of all things yummilicious for the skin, next in line were the body washes which also came in 15 fragrances, or flavours, I'm still confused about what to call them. These were luxurious and gentle body washes that were designed to retain the natural skin oils in fragrances ranging from Lemon Mojito, Strawberry, Green Tea, Rose and every other fragrance that one could possibly associate with the words 'Happiness, sunshine, yummy and love'.
But the piece-de-resistance, especially if you're a moisturising lotion junkie, are the body butters! The body butters are handcrafted to deliver moisture of the most luxurious variety that instantly turn the skin into a soft and dewy version of itself; I was so inspired that I wanted to take a dip in a pot full of body butter and then I recalled that this wasn't really Alice in Wonderland. Each emollient butter smelled more intoxicating than the other - there was Blueberry, Jojoba, Peach, Walnut, Chocolate and six other variants that I could all bring home, except it was neither Diwali yet nor my birthday, so I had to settle for one and Walnut is what I chose and my previously dry, thirsty skin thanks me for it!
This is a store you need to put on your 'must-visit' list because going organic is not just good for your skin but it's also the autumn/winter 2016 trend to tap into!
Location | 1st Shop in Dada Jungi Lane, Shahpur Jat