Juicing It Up In Style: We Got Our Dose Of Healthy Grub @ Crudo Juicery & You're Up Next!
Almost a month left for 2017 to kick in and it's time to shed those extra kilos that we'd gained in the name of festivities in the past couple of months. While exercise is important in that journey, we can't be eating all sort of junk and expect spectacular results, but we've found just the right partner to help us along on this journey, Crudo Juicery! 'Crudo' literally means 'raw' in Italian, and is a concept juicery that serves raw fruits and vegetable-based treats.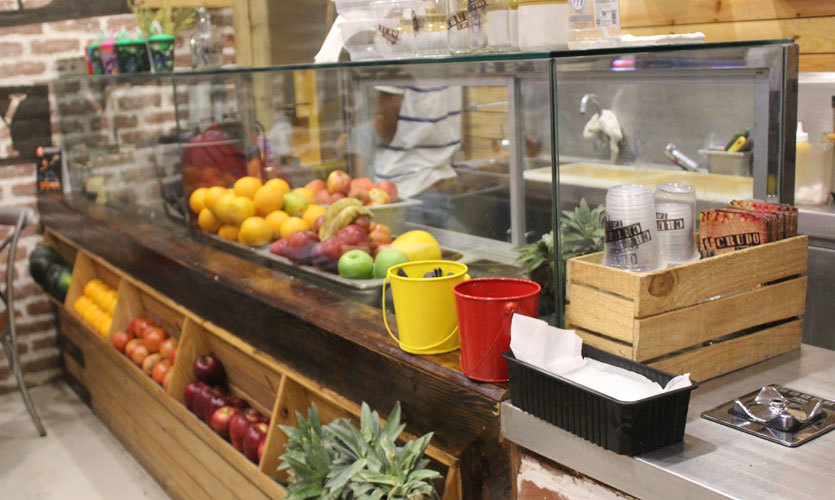 While some might argue that the local 'juice-wala' is just as good, we beg to differ. A place serving cold-pressed juices, salads, smoothies and yogurts, where every recipe is conceptualized, tested and analysed by nutritionists and sensory experts, and created using state-of-the-art technology to combine the best of health and taste is something an unaware juice-wala simply can't hope to match. While many restaurants, coffee shops, and cafés may offer fresh juices or smoothies, a juice bar that focuses on using only organic ingredients always has an edge over other similar businesses. Here's what we tried on our recent visit:
Pombule Smoothie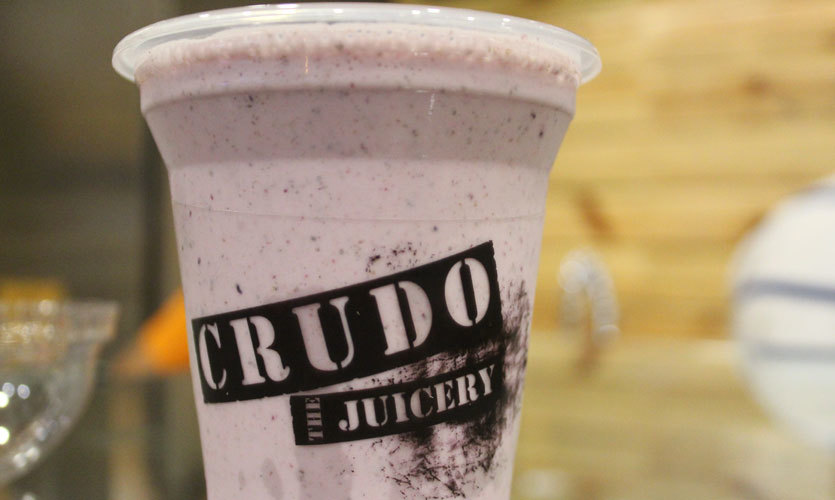 Smoothies have always been a hit with us, as they can be a great option for breakfast, lunch or dinner. We opted for the pretty blue Pombule Smoothie which was dominated by pomegranate and blueberry, with lots of chia seeds. Now we won't get into the nutritional benefits as that's best left to the experts, but the taste, however, was a sweet melody owing to the combos of fruit used!
Muesli Crunch Yogurt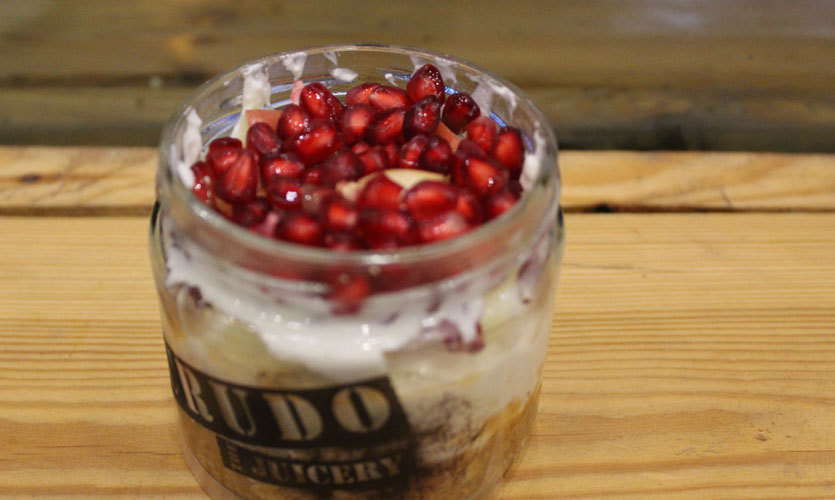 Muesli is a versatile cereal that can be eaten in any form, and at any time. Mixed in yogurt, it makes for the perfect whole grain, high protein snack on-the-go; great for quick breakfasts or at your office for a quick lunch. Yogurt was served in a mason jar with a bright top layer of pomegranate seeds and a bottom layer of generous amounts of muesli. A healthier version of parfait, it's a complete meal in itself and the bonus point is that it's totally Instagram worthy!
Rose Berried Treasure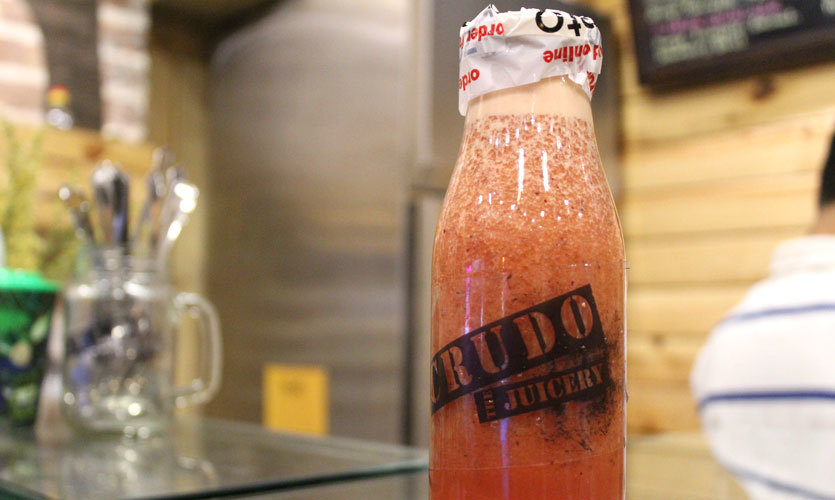 A true treasure from their cold pressed juice section, high on taste and everything is blended together using high pressure processing technology with rosewater and no added sugar, so you're gulping down nothing but purity. Also, we think this juice is the perfect way to start your juice journey, as it has all the natural sweetness and nothing bitter to put you off! 
Tutty Fruity Poppy Seed Salad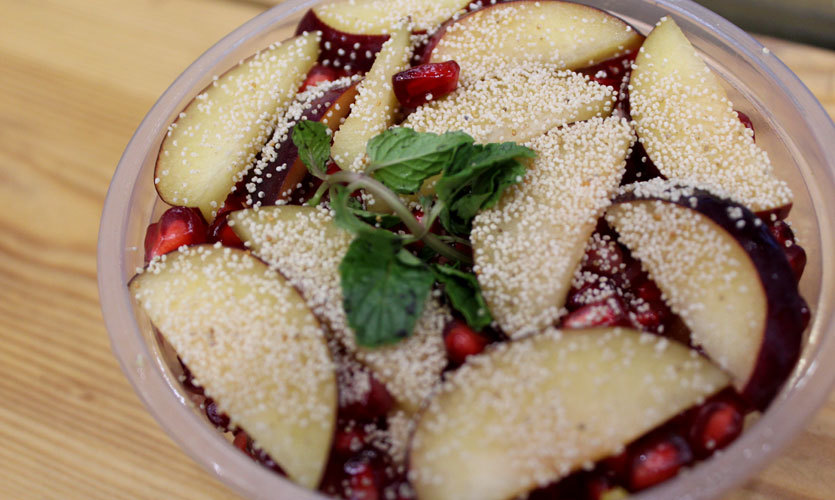 We took a little change from all the regular leafy salads, and opted for this bright bowl of fruit salad. Orange, pineapple, pomegranate and plum sprinkled with lots of poppy seeds, as beautiful as it looked, these fresh fruit were equally a delight to munch on! We'd tried this fruit bowl during the summers as well, where the plum was exchanged for juicy mangoes back then.
Banana Choc Strawberry Shake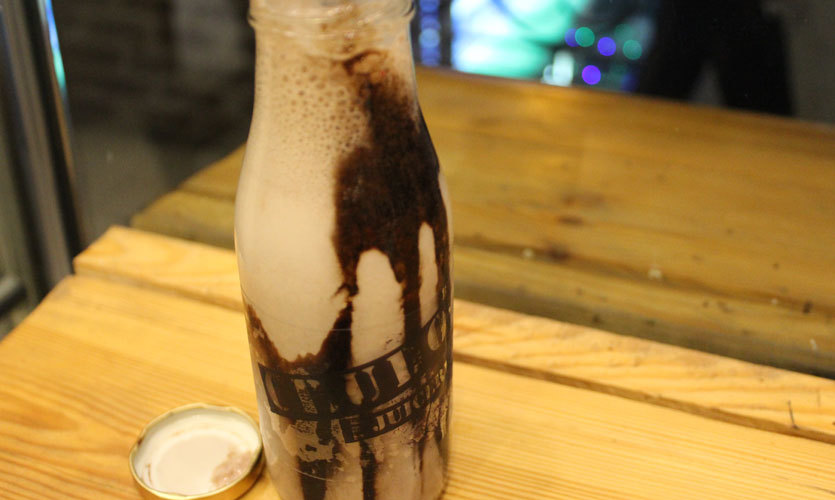 A chocolate shake is all that's needed to lift our mood, and we sort of felt guilty for ordering a shake at a juice bar, but that's just the thing - this place has something for everyone. Also, this shake is apt for anyone who's trying to put on some weight in a healthy manner. The sugar and chocolate syrup were added in appropriate amounts, and the chocolate and strawberry combo is a taste unmatched! 
Apart from all the dishes mentioned above, you can make your own juices and can customise the recipes as per your preferences. They also have a salad and drinks subscription plan, so if you're up for it, Crudo can help you stay fit in the yummiest way possible! Come on by. 
Meal For Two | Rs 500
Location | SF-85, Galleria Market, DLF Phase IV, Sector 28, Gurgaon