Join us on Our Hearty Tete-a-Tete with Neetu Chawla, Fitness Trainer Extraordinaire
Meet Neetu Chawla, a health enthusiast, zumba and aerobics trainer, famous for her stint with Raahgiri and a mother of two. She has changed the way people look at daily exercise routines and has made everything fun! Here's what happened when we engaged in a tête-à-tête with her.
What started you off on the path to becoming an expert fitness trainer?
My journey to becoming a fitness trainer started at the age of sixteen when I'd met with a serious accident resulting in multiple fractures on my right leg. The doctor almost gave up hope that I'd be able to walk in life. But I was determined to prove him wrong and hence started exercising, and after 2 years I started walking without any support. I was in seventh grade then, studying in New Era Public School. My classmates and teachers helped me through my tough times. My parents couldn't afford my physiotherapy sessions so my mother and teachers used to help me walk and I did all my exercises that my doctor advised me to do. I do not remember a single day when I missed it.
When/how did you realise that body fitness was your passion?
I joined gym for the first time when I was very young and there I made some great friends and we started working out together and eventually started doing aerobics. That was when the owner saw us and he asked me to take a class and thus I started taking aerobics classes. After taking classes for almost 6 years, the owner of the gym advised me to do a professional certification in fitness which would help me get a better opportunity in future, so I did my Reebok Group Fitness Trainer Certification and the rest, as they say, is history! When I saw the kind of smile I used to bring to people's faces and help them feel confident with their bodies, I knew that this was what I wanted to do!
What are some of the personal challenges you've faced? Has your family always been supportive?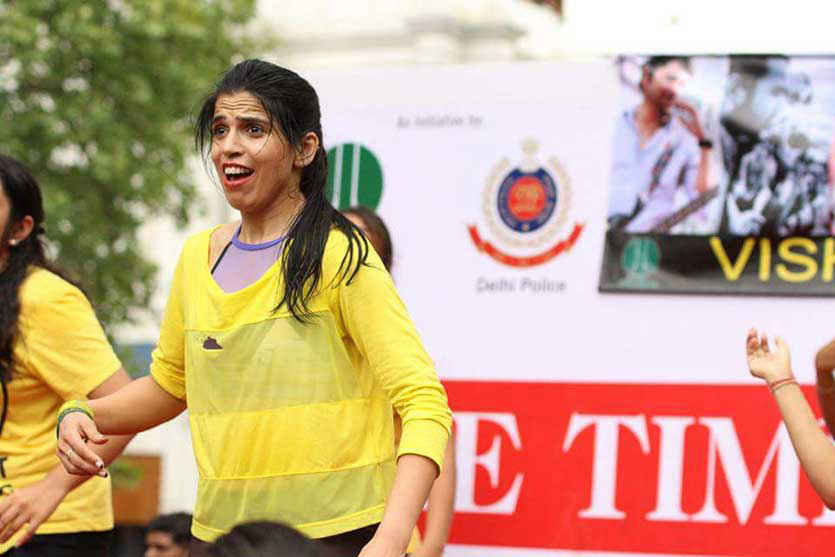 When I finished my schooling, my parents were under the society's pressure that because of my accident there would be an issue in terms of my marriage. So when they were approached by my husband's family, they immediately said yes and I got married just after my schooling. I was 18, can you believe it? But I continued my education, did my graduation from Ramjas College, DU - all thanks to my family. My in-laws adore me and they stood by my side through thick and thin. I've always given my family priority and carried out all my responsibilities. My in-laws helped me as they used to look after my home and kids while I was busy studying and taking classes.
You've transformed zumba from a boring exercise routine to a 'cool thing'. How did you achieve that?
I was initially an aerobics teacher; when I came to know of zumba, I found it an interesting program. So I completed its certification course. It's a two-day training program on dance fitness. It was not difficult for me to catch up as I was already into aerobics and was aware about the music and rhythm. So I realised that since I enjoy it so much, people should enjoy it too. It's always fun to make your exercise routine dance-based. Not just gym, we've taken zumba out from the gym to some really happening places. Our latest venture was at famous 3 Pegs Down, I'm already loaded with requests to host it again. We dance, we do zumba and we party. It's crazy!
Do you think people in Delhi take fitness seriously?
One of my clients recommended that I teach aerobics at a vocational course of Delhi University and I was called for a trial and an interview, and got selected and now I've taught 3 batches of around 100 students. A lot of people started approaching me for trainer requirements as I was training students at a prestigious university. In this way, I was helping my students with placements and getting a name for myself when my trained students were doing well. So from all this I could tell that people these days have become aware regarding the importance of being fit, which is clear when we see so many enrolments in gyms.
How do you find the crowd of Delhi when you go for fitness events like 'Raahgiri'?
Delhi University wanted me to represent their fitness training course at Raahgiri and this is how Raahgiri happened. I earned a lot of fame there, people loved me and travelled from far-off places to attend my session. Plenty of times I was mentioned in the newspapers, where people related that they enjoyed my session the most. So their enjoyment made me work even harder and now I want to be a part of almost every gym in Delhi and make people fit.
What according to you makes Delhi, 'So Delhi'?
I feel people enjoy dance fitness programs the most as they are engaging and make for better cardio than aimless running on the treadmill. I've had clients who say that they have never danced in their lives and they now say that I have changed their lives. It's the people of Delhi who have motivated and supported me and made me what I am today. The smile on their faces motivates me to do more good and deliver my best, which I believe, is yet to come!
Neetu Chawla's story is truly heartening and the commendable way she overcame all her personal hurdles is an inspiration to us all!