Chandni Chowk is a world of its own, while the rest of Delhi is spurring up with new cafes and bars, the age-old restaurants and modest stalls/kiosks found at Chandni Chowk are just as precious! We took a spin of some of the most famous and least explored places in that part of town and here's what we found!
Dahi Bhalle @ Natraj Dahi Bhalla Corner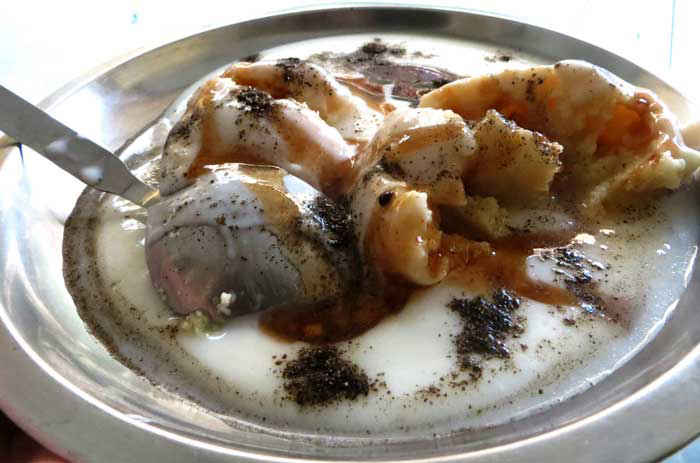 Natraj's bhallas are so soft that they break apart in your mouth in the first bite and are accompanied by oodles of dahi and saunth adding sweetness and freshness to it. With only two items in its menu, Dahi Bhalle and Aloo Tikki, the Natraj Café (as the locals call it), continues to conquer the Chaat domain of the capital.
 
Where It Is | 1396, Chandni Chowk Road, Next to Central Bank of India
Cost | Rs 50 per Plate
Khoya Gacchak @ Meerut Wale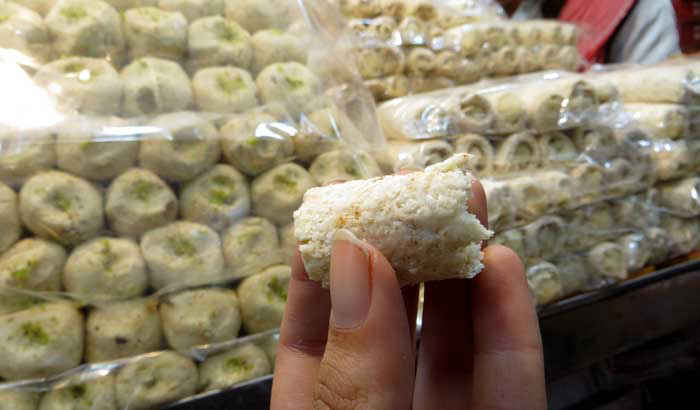 Nestled among the many lace shops in Kinari Bazaar is Meerut Wale, where the magic of Khoya Gacchak unfolds in three steps. First, the crispy outer layer cracks open; second, the khoya within bursts inside the mouth and the after-effect is nothing more than increased lust for the same! This is why people get mounds of it packed in kilos for their loved ones!
 
Where It Is | 2171, Meerut Wale
Cost | Rs 150 per Kg
Matra Kulcha @ Ayush Bhaiyas Stall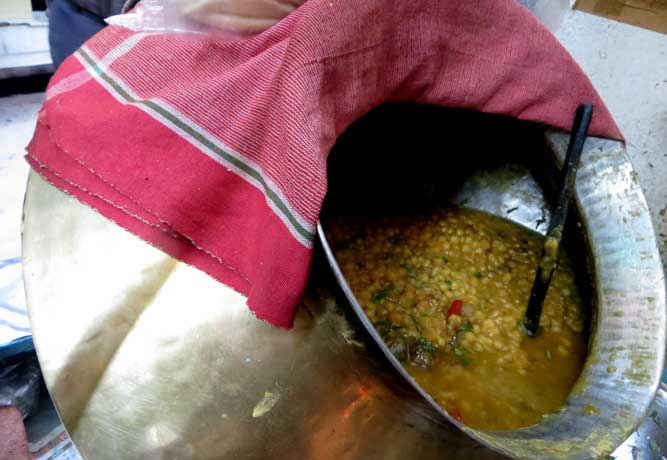 Located right beside the famed Paranthe Wali Gali is Ayush Bhaiya's stall who is known for making the spiciest Matra Kulcha ever with a cornucopia of the freshest ingredients. For customers who yearn for some added spice, you could ask bhaiya to be generous with those freshly chopped green chillies.
 
Where It Is | Next to Paranthe wali Gali
Cost | Rs 40 per Plate
Kachori Aloo @ Jung Bahadur Kachori Wala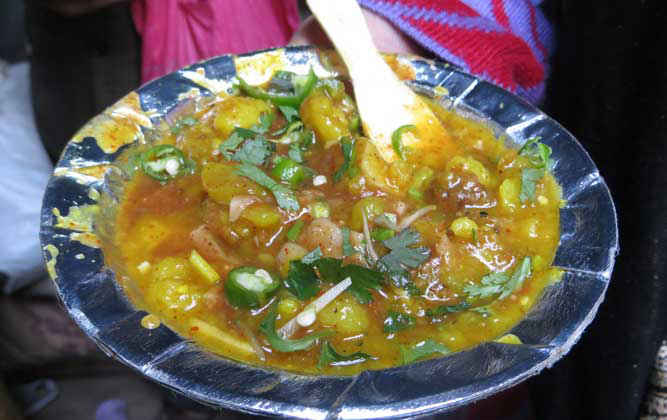 An all-time favourite snack, we're ever ready to lap up kachoris anytime of the day. Hands down the best kachori aloo you'll ever have, vsit Jung Bahadur in Delhi 6. Two rounded kachoris are served with a thick spicy aloo gravy. Devour this goodness and thank us later! 
 
Where It Is | 1104, Maliwara, Jogiwara
Cost | Rs 20 per Plate
Naan and Sabzi  @ Sharma Bhojnalaya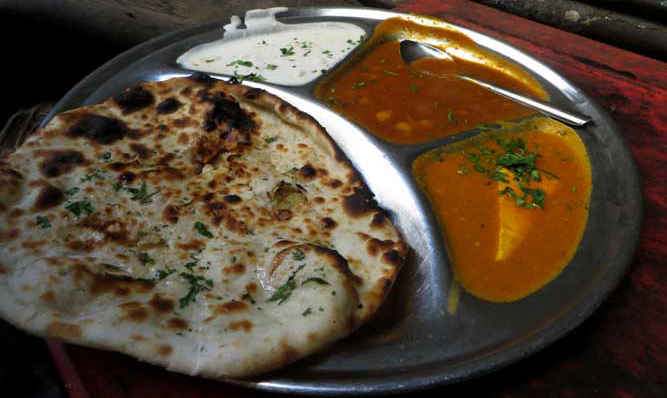 Proudly, yet shyly located at the end of the narrow lane, in front of the Paranthe Wali Gali lies Sharma Bhojnalya - the perfect place to take a break from shopping and to energize yourselves with their refreshing meal - they serve the best butter Naans and Sabzis from Dal Makhani to Matar Paneer!
 
Where It Is | Shop No. 1979, Gali Paranthe Wali
Cost | Rs 100 per Plate
Nankhatai Found on the Streets of Old Delhi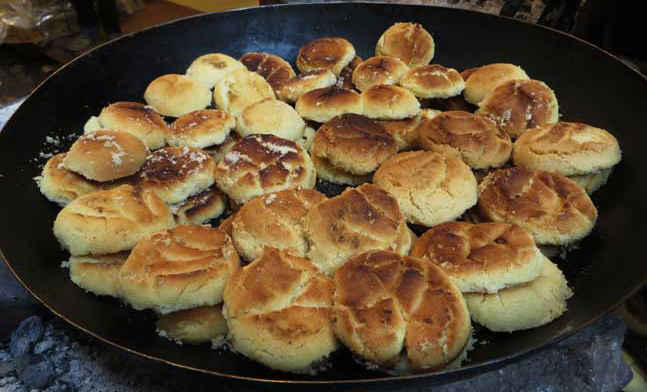 Kinari Bazaar is dotted with nankhatai vendors and this delicacy can be found pretty much all over the walled city. Made in desi ghee, this Indian style biscuit is soft and a little powdery. You really can't ignore these open bakeries while exploring the galis. Stacked in heaps, nankhatai is truly one of a kind!
 
Cost | Rs 70 per Kg
Kiwis and Strawberries Found on the Streets of Old Delhi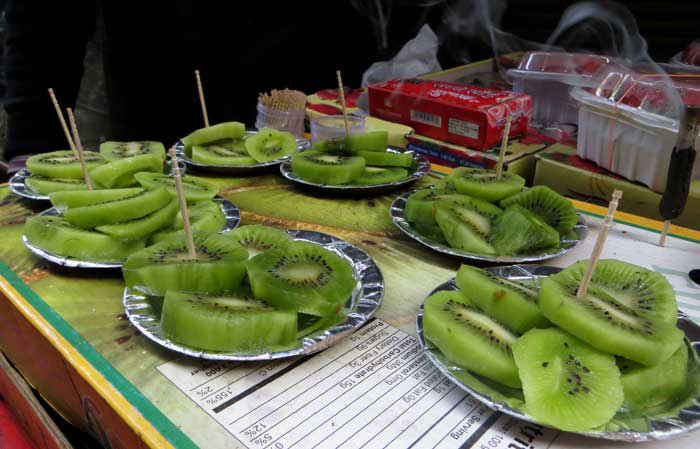 In Old Delhi, it's amazing to find people from all walks of life - rich, poor, wanderers, locals and travellers alike and it's even more amazing to see the same criteria in the food availability here. Selling fresh Kiwis and Strawberries in little kiosks are lined up in the gallis of Old Delhi and that too at seriously low prices!
Rabri Jalebi @ Old Famous Jalebi Wala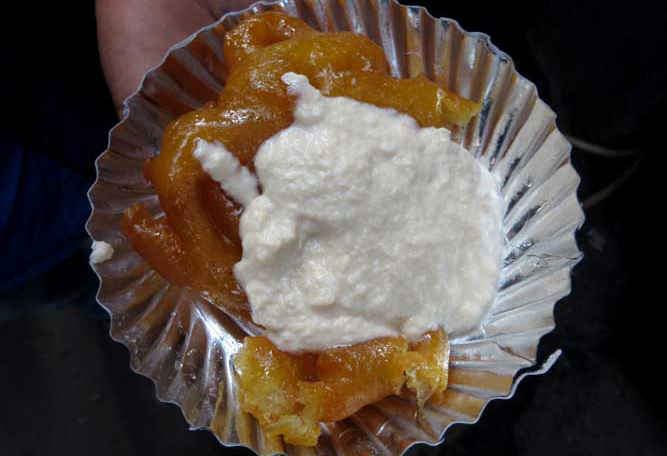 With the closure of Ghantewala Confectioners in 2015, the already famous jalebiwala has become all the more famous. Serving only one item, since more than 100 years, this place is a work of generations. The whole experience is worth a visit with the hot and crisp jalebis being prepared right in front of you! The thick juicy sugar loops served with rich rabri is a must-eat!
 
Where It Is | 1797, Dariba Corner
Cost | Rs 50 per Plate
Khurchan @ Hazari Lal Khurchan Wale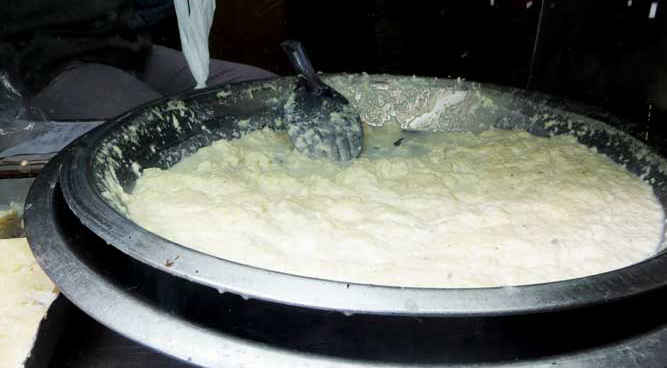 Khurchan, in Hindi, means leftovers or what is scraped off from the bottom. This gem of a shop is dedicated only to serving Khurchan, which is made up with the reduction of boiled sweetened milk. This precious gooey and sticky dessert cannot be missed, especially as it's not easily available in other parts of Delhi!
 
Where It Is | 2225, Khurchan Wala, Kinari Bazaar
Cost | Rs 30 per Plate
Chole Bhature Opposite Natraj Dahi Bhalla Corner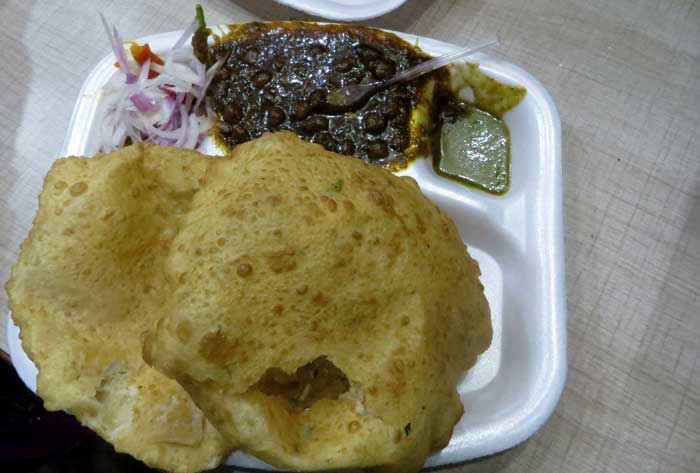 One of the best Chole Bhature you can have lies opposite Natraj Dahi Bhalla Corner. This stall is always buzzing with locals and tourists. What we love most about the Chole Bhature found here is that the Bhaturas are quite filling and soft served with spicy chickpea gravy and is enough to keep you satiated all day long!
 
Where It Is | Opposite Natraj Dahi Bhalla Corner
Cost | Rs 50 per Plate