Delhi
JD Nutella & Old Monk Waffles: 8 Stalls We're Dying To Try At The *Mini Waffle Fest* @ HOP!
Picture Credits: Delhi Cravings
Delhi's first and most loved food truck festival is honking its way back into town, and it's bigger and better than ever! This all new edition of Pepsi Presents Horn OK Please brings to you a curated line up of the most delicious grub in town, with 40+ food trucks serving you foodgasms in all cuisines and flavours! 
And if even that wasn't enough, there's gonna be a drool-worthy line up of cutesy AF and laden-with-goodies dessert carts, a whopping 60-foot-long BBQ trailer - all present with their best and most special servings for all you hungry bhukkads! And since no fest is complete without good music and beer, they haven't forgotten to pop in a huge ass entertainment stage with non-stop music, tons of games and activities, and a Bira 91 Exclusive Bar - and you don't have to worry about overspending with their fab deals, offering prices as low as Rs 100 a drink!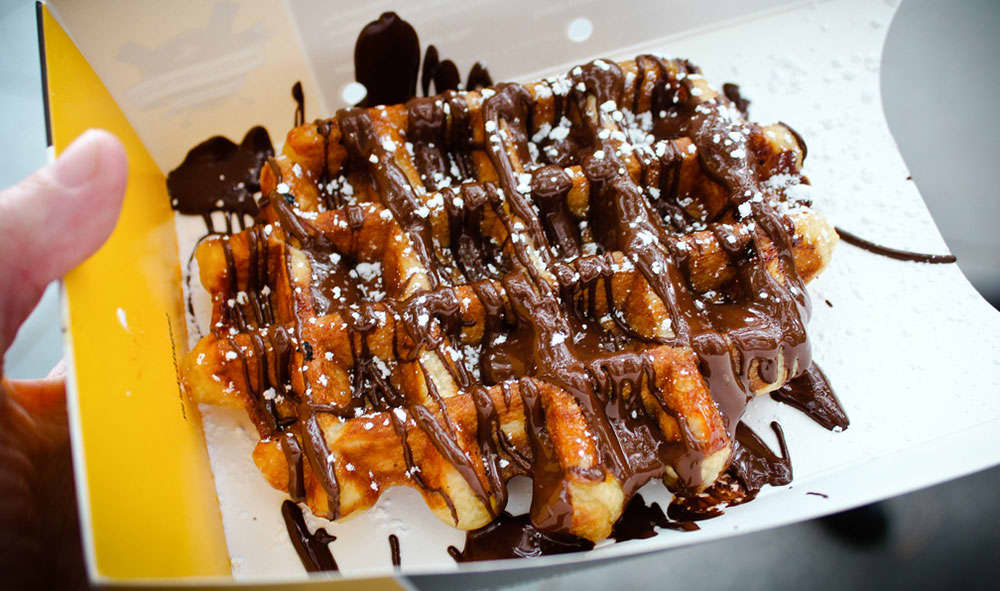 But that's not even half of the surprise - the fest also boasts of a full-blown Waffle Mart, to sort all sweet tooth cravings, whipping up more than 50 varieties of waffles - all of them to-die-for! Check out our list of the yummiest waffle stalls for you to enjoy, and if you think this sounds too good to be true, go check 'em out on D-Day! 
1. The Waffee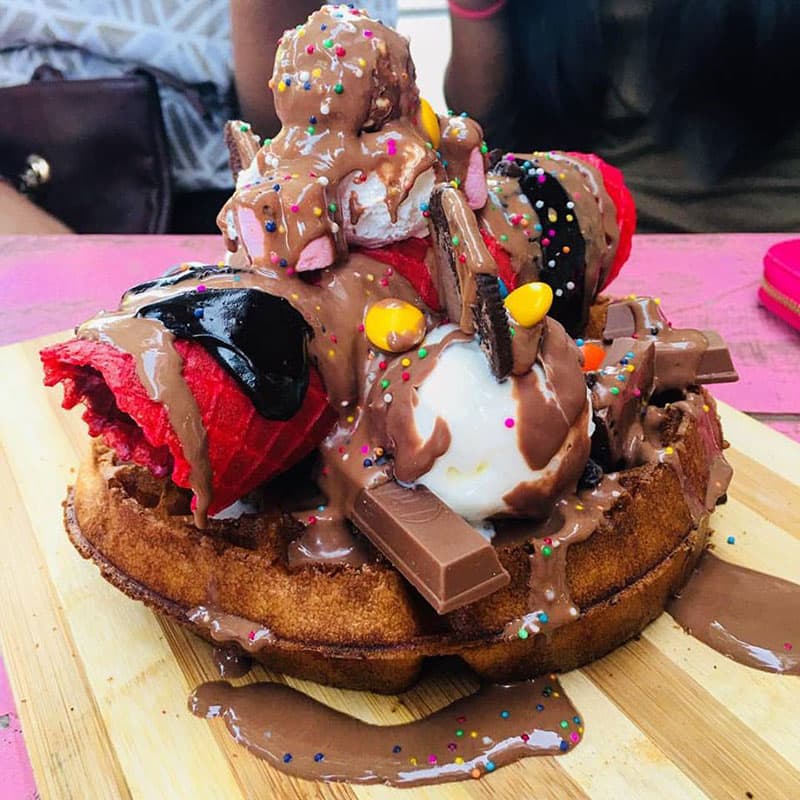 Picture Credits: Delhi Cravings
Known for their monstrous waffles and creative combinations, Waffee deserves all the attention it gets, not least because it's heading over with the most sinful combo ever - Old Monk Waffles people!! Yep, they'll be pouring in dashes of our all-time fave rum straight onto yummy waffles - now that's as sinful as it gets. Besides this, there will be Grey Goose waffles, Blueberry cheesecake waffles, Red Wine Waffles and so much more!
2. Waffle Chowk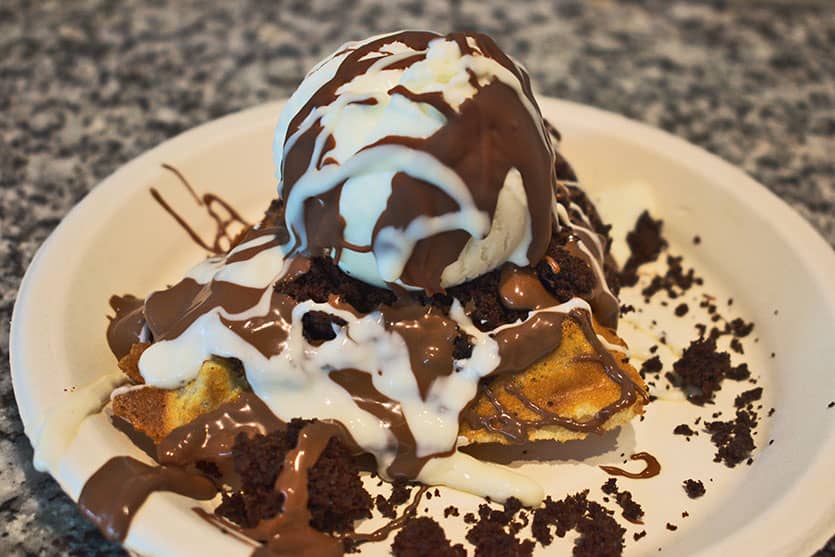 Take a left from dessert bae lane, go straight towards 'you can't buy happiness but you can buy waffles' marg, and take the third exit towards Waffle Chowk. If you get lost, follow the aroma of amazingly baked waffles, and you'll have arrived at your destination! This cutesy little truck will have a bigger menu than you can possibly try, but you'll still want to eat it all up. But defo don't miss their Nutella Brownie Waffle and amazing waffle sandwiches, if you want to leave without regrets! 
Check Out Their FB Page | https://www.facebook.com/wafflechowk/ 
3. Waffle Factory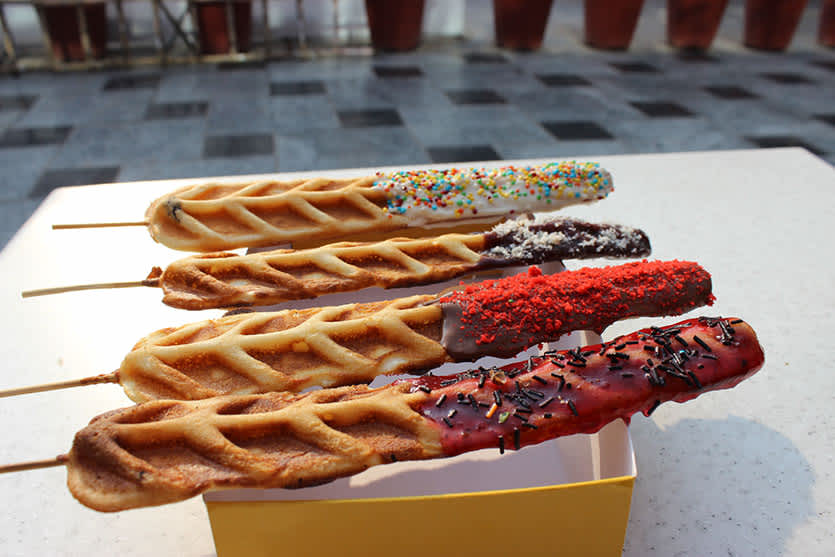 Waffle Factory will be scampering over to the fest, whipping up some amazing waffles in their mini factory tucked inside a delightful waffle stall! This particular factory will satisfy your sweet tooth, and  keep you coming back for more, as they churn out bits of heaven and serve them to you in the form of waffles *wide, happy grins*! 
Check Out Their FB Page | https://www.facebook.com/wafflefactoryind/
4. Me Waffle And More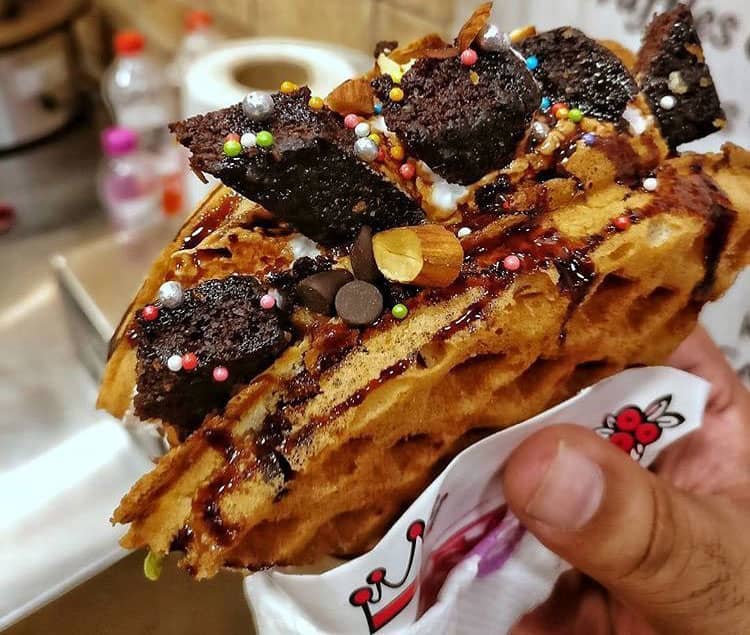 Picture Credits: dillifoodies
Try their scrumptious waffles, and the host of sweet and savoury treats they have to offer, and you'll never want to leave their stall! Their easy-to-eat waffles, and particularly their waffle sandwiches would make for the perfect on-the-go snack, as you munch on them and enjoy the energy and atmosphere of HOP! Do NOT miss their sweet Waffle Pakora & Brownie Fantasy Waff-wich, for a perfectly crispy, gooey and sinful dessert binge!  
Check Out Their FB Page | https://www.facebook.com/mewafflenmore/ 
5. Maka Maka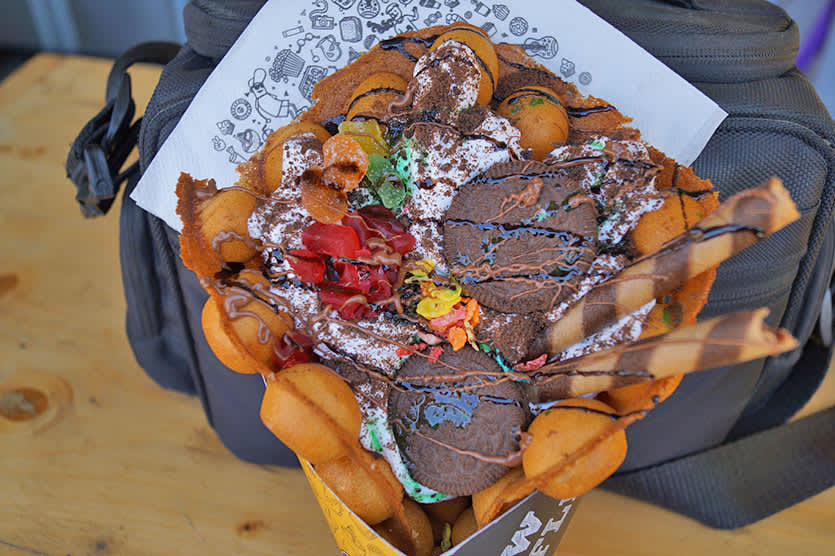 This tiny kiosk in Rohini is now headed to Pepsi Presents Pepsi Presents Horn OK Please, Delhi's Original Food Truck Festival as an adorable stall, serving freshly-whipped-up waffles prepared in the most carefully sanitized environment. Their unique bubble waffles have the perfect mushiness and crispiness, filled with astounding toppings and generous garnishes! We only have one word for their Oreo Wow Waffles - simply WOW!
Check Out Their FB Page | https://www.facebook.com/makamakaindia/ 
6. Wafflesome
 
Delhi's cutest and most popular waffle joint, Wafflesome offers customized waffles, letting you choose syrups and ice cream according to your taste, and the result is completely drool-worthy and amazingly delicious! Check out their cute stall at HOP's Waffle Mart, where they'll be serving a huge variety of waffles for all you waffle freaks - seeya there, hungry forks in hand!
Check Out Their FB Page | https://www.facebook.com/wafflesome/ 
7. Chocolate Desire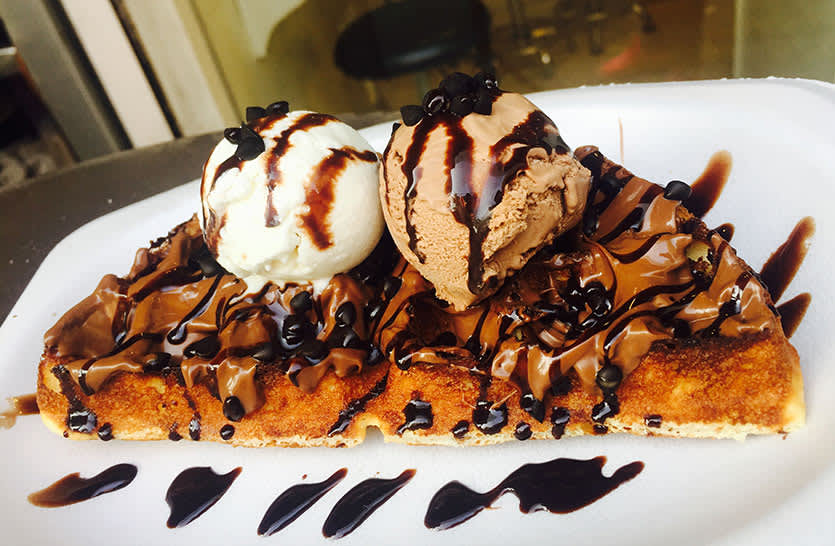 For a drool worthy experience, head to Chocolate Desire, where they'll be happy to combine your two most ardent loves - Jack Daniel's whiskey and Nutella, all infused in a perfectly-baked, crisp waffle! WOAH. In addition, you can choose your own base and toppings, and get creative with your choices. Booze and waffles - what could POSSIBLY go wrong with that *grinning ear to ear*?!
Check Out Their FB Page | https://www.facebook.com/thechocolatedesire/ 
8. The Waffle House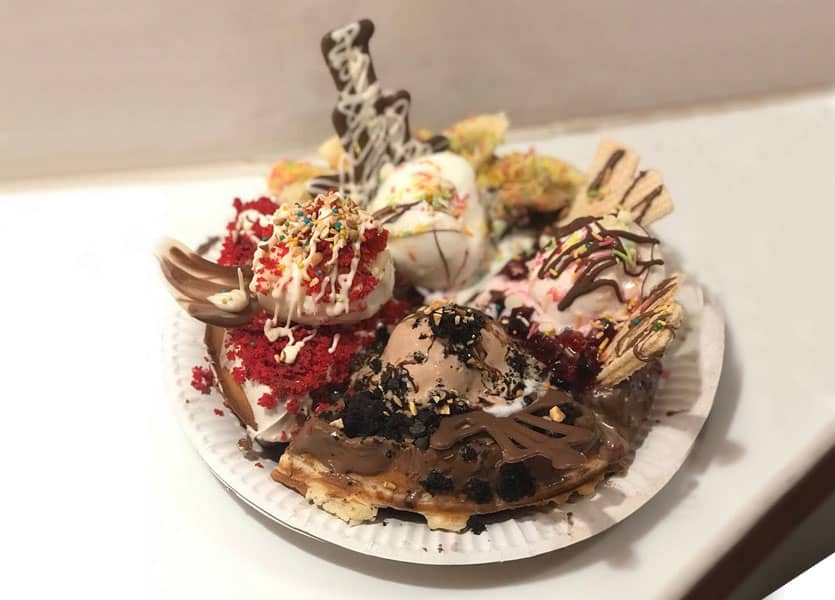 Among all these #AwesomeSauce waffle stalls at the mart, here's another one added to the list that we're totally loving! The Waffle House has crazy freak waffles and so much more that you can gobble up at Horn OK Please. Red Velvet Waffles, Chocolate and Banana Waffle and Nutella Waffle - 'nuff said, we're gorging on these for sure! 
Check Out Their FB Page | https://www.facebook.com/thewafflehouse109/
Whatever you do, do NOT miss the Mini Waffle Fest happening at the Waffle Mart at Horn OK Please, because this is gonna be one sinful experience. Good food, good music, good vibes and divine WAFFLES. Need we say more?!