There's just something about fabrics, you know. These free flowing weaves in psychedelic colours and textures that can make you feel like a Greek goddess one moment and a woman out on business the other, they can surely create magic!
If you can visualise what you want and know where to look; fabrics can metamorphose into exotic articles of clothing which can fetch you a gazillion compliments! We found our fave, most convenient and efficient way of fabric shopping with Fabriclore - the online fabric store aiming to revive earthy fabrics through a variety of patterns & styles they offer! It's basically virtual and hassle-free access to a curated fabric collection that we can't help but fawn over.
We recently got our hands on some fabrics from their stunning collection and here's what you should know!
Ikat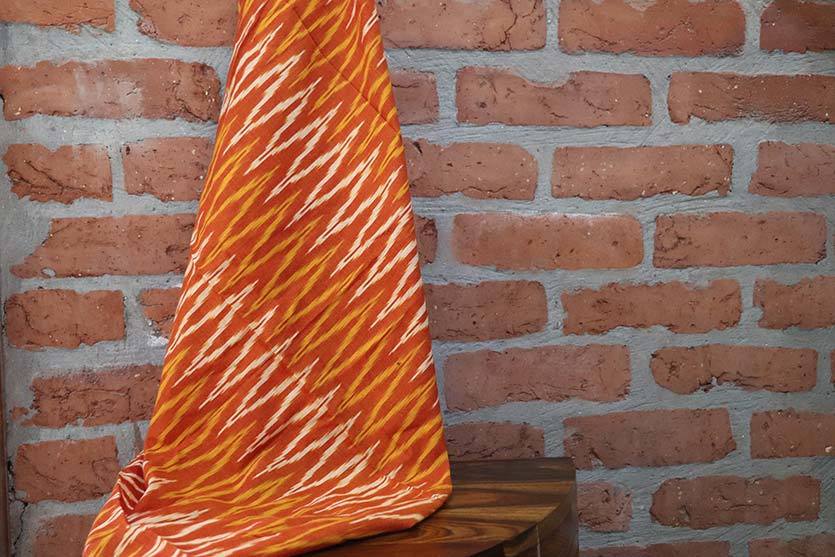 The most trending fabric this season, it has stolen our hearts all the way! Created through resist dyeing technique and complex weaving process, it bears striking blurry patterns that makes these fabrics so versatile! We've thoroughly fallen for this rust orange beauty - pattern, texture and all! It's such an earthy colour to wear this season, don't you think?
Price | Rs 299 Onwards
Get Yours Here | https://www.fabriclore.com/collections/weaved-ikat-printed-fabric-online 
Chanderi Silk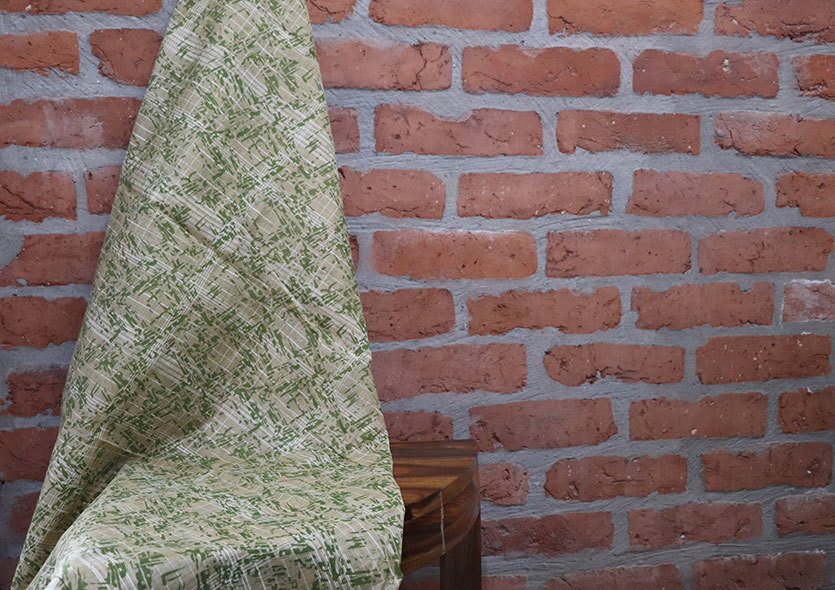 Chanderi is one such fabric that looks stunning across the colour palette, in solids or prints! It's light, airy and its sheer texture makes it an ideal pick for Delhi summers! This beige fabric with olive green abstract prints and geometric accents is the perfect choice for those breezy designs you have in mind! 
Price | Rs 260 Onwards
Get Yours Here | https://www.fabriclore.com/collections/chanderi-fabric-online 
Mughal Prints Cotton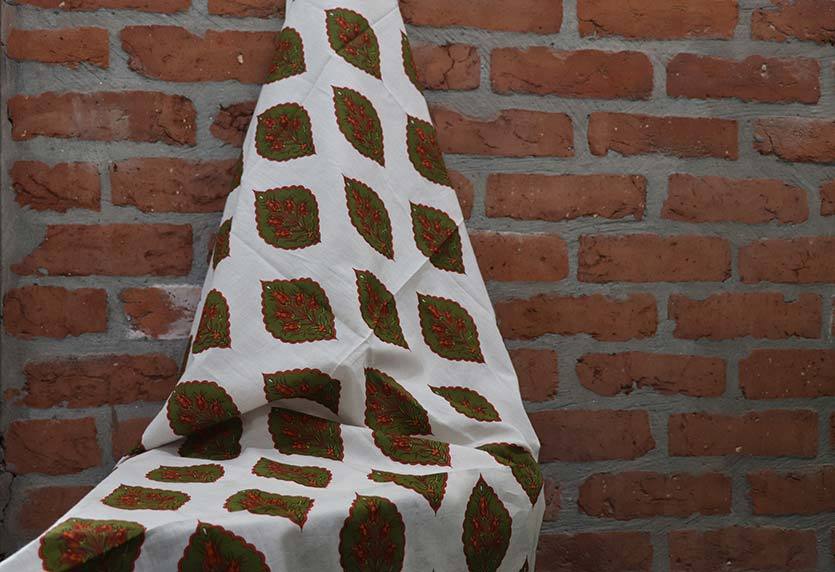 Mughal prints have been a major hit of late and we tried to get in on the trend. What perfect way to do it than this pretty white cotton fabric dotted with Mughal leaf motifs all over? The orange and green of the print add just the right pop of colour to the fabric. These pure cotton Mughal print fabrics would be a fave for every Delhi girl!
Price | Rs 229 Onwards
Get Yours Here | https://www.fabriclore.com/collections/mughal
Shibori On Kota Doria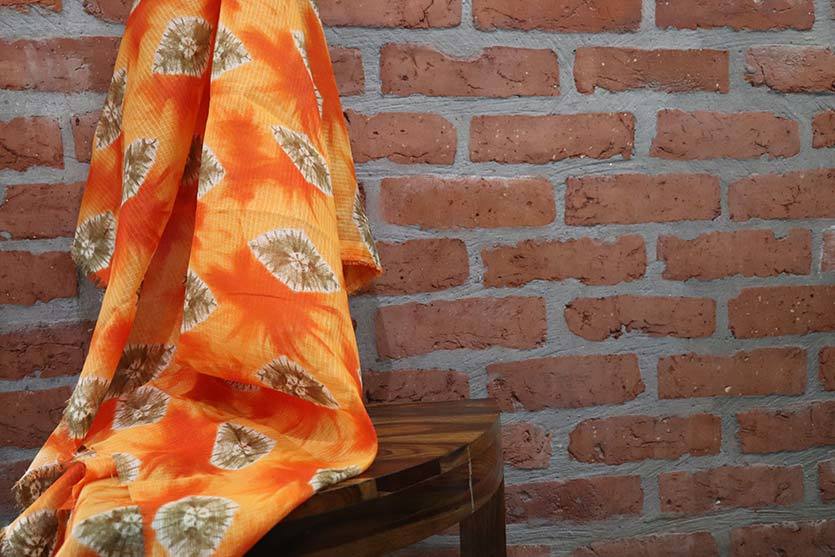 How very pretty is this one?! Such a stunner, right?! We added this to the wish list as soon as we laid eyes on it! Crafted with a blend of cotton and lustrous silk, this one's an age old textile produce from Kota, Rajasthan. Its lightweight and sheer texture makes it a perfect pick for blazing summers in town and we particularly liked this orange beauty for its versatility quotient!
Price | Rs 202 Onwards
Get Yours Here | https://www.fabriclore.com/collections/kota-doria-prints-online 
Ajrak On Modal Silk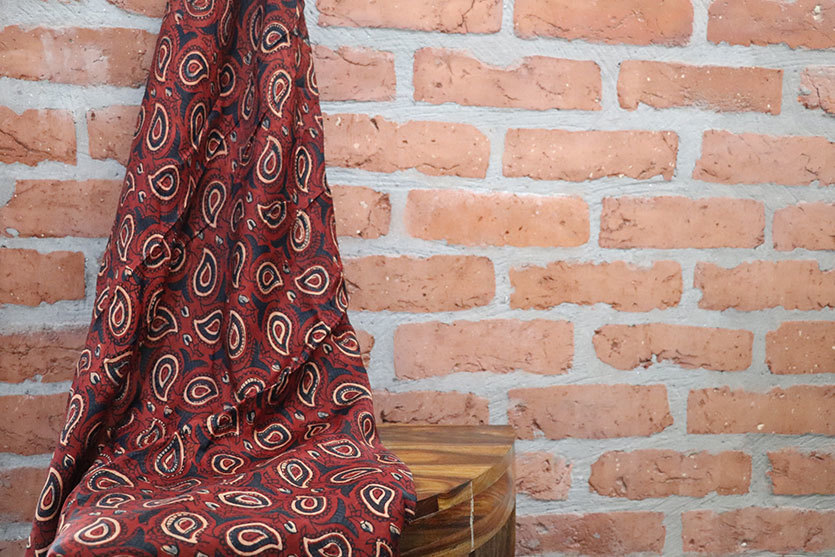 A blended knitted fabric, this one's a soft, shiny and highly lustrous fabric. Known for its strong knit, the silk yarns makes this glowy fabric last over time. Its super flowy texture offers great scope for playing with the frills and flares and this one with Ajrak print on it is just the prettiest print that's been trending in town!
Price | Rs 630 Onwards
Get Yours Here | https://www.fabriclore.com/collections/modal-silk 
There, that's what we're loving from Fabriclore, and trust us they've found super happy customers in us! Give 'em a try and you'll know exactly what we're talking about.
Shop Online Here | www.fabriclore.com
Check Out Their FB Page | www.facebook.com/fabriclore