And just when we thought Delhi couldn't get any prettier, St+art Foundation's 2016 edition sneaked in and turned the tables like a boss. By choosing Lodhi Colony as their prime project this year with over 20 acclaimed street artists from India and around the world, they certainly have changed the landscape of Delhi! Every graffiti in the locale has an interesting story to tell, and because we're always all eyes & ears to beautiful tales, we took a stroll and transported ourselves into the world of stories and colours!
1. Amma by Blaise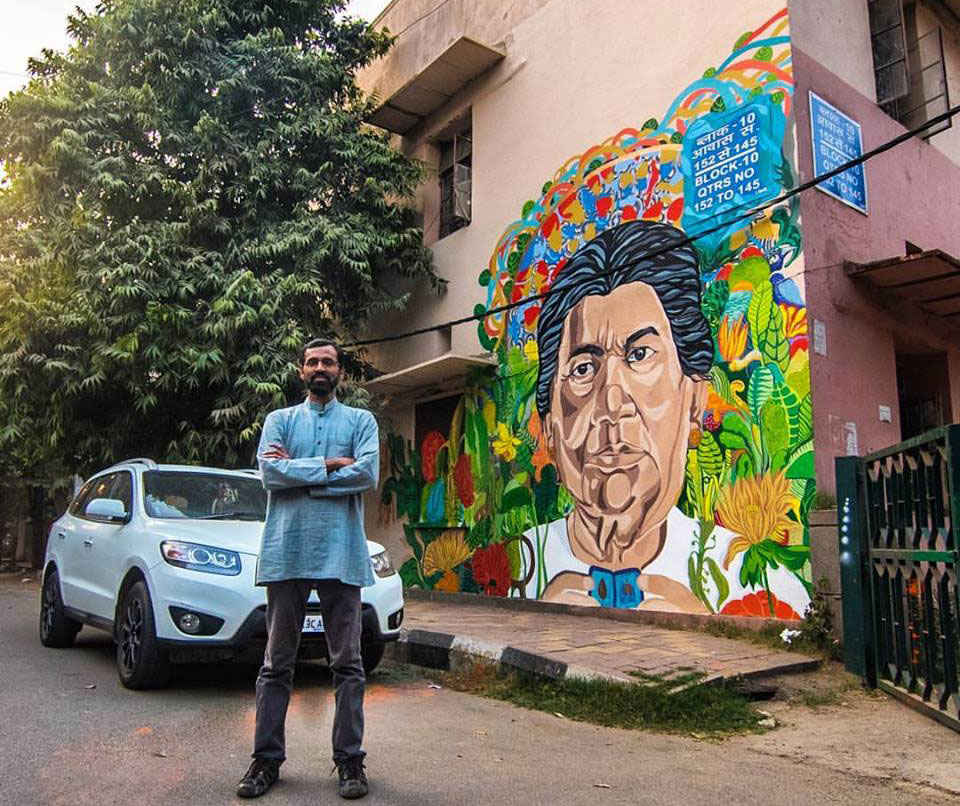 Picture Courtesy: Akshat Nauriyal
Portraying a mother like figure on the wall, Blaise has tried and succeeded in creating that nostalgia we all have with our mothers. The lady in the mural (depicting Blaise's own mother who resides in Kerala) seems to carry memories from lost lands which reminds all the migrants of their own mother and the mother nature that they've left behind for this concrete jungle. With such depth, Blaise undoubtedly touched our hearts. 
Artist | Blaise, India
2. Calligraffiti  by Niels Shoe Meulman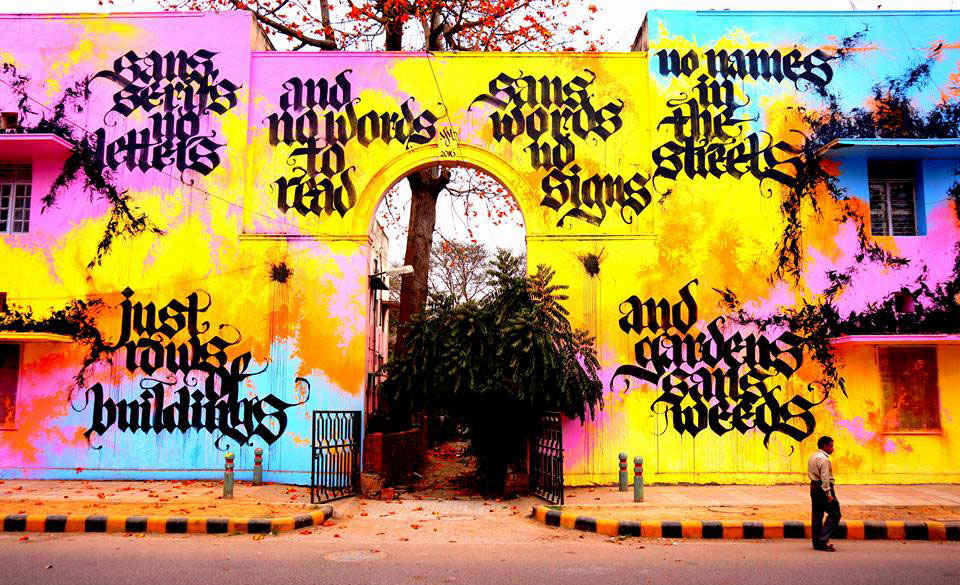 The founder of the Calligraffiti Movement and a much renowned graffiti artist from Netherlands, Niels Shoe Meulman has played with bright colors, brooms and poetry. Channeling all his writing and calligraphy skills the first time on a wall, he has certainly made Delhi feel lucky. 
Artist | Niels Shoe Meulman, Amsterdam
3. Lava Tree by Anpu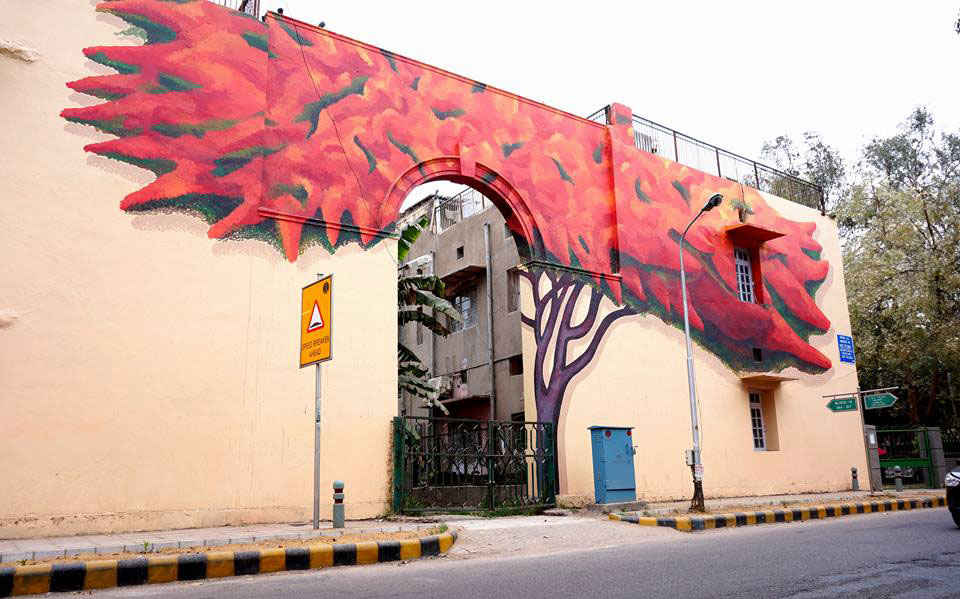 This one looks like a normal tree at first but if you look closely, instead of leaves, there is lava coming out of the tree trunk. Anpu has beautifully created a Lava Tree to show movement on the wall - sheer brilliance! We really liked the interplay of objects to depict motion.
Artist | Anpu, India
4. Unseen by Shilo Shiv Suleman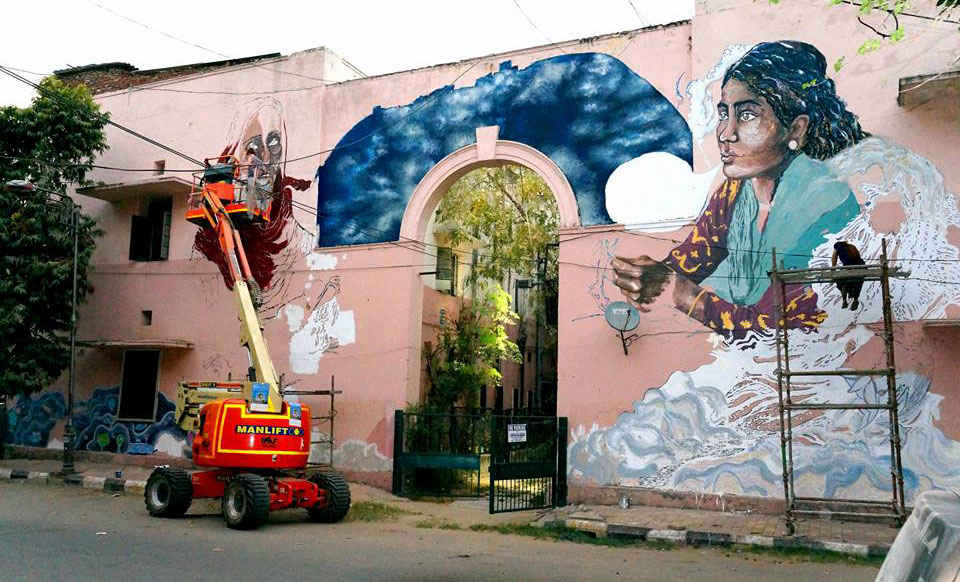 The idea behind this beautiful mural by Shilo which is still work in progress won us over. An art representing a sexworker and her daughter, it makes us think about these concealed people in the world. The fog works as an important element as it helps in making them more hidden and anonymous. Kudos to Shilo for bringing up stories of such unsung women.
Artist | Shilo Shiv Suleman, India
5. Fusion Art by Rakesh Kumar Memrot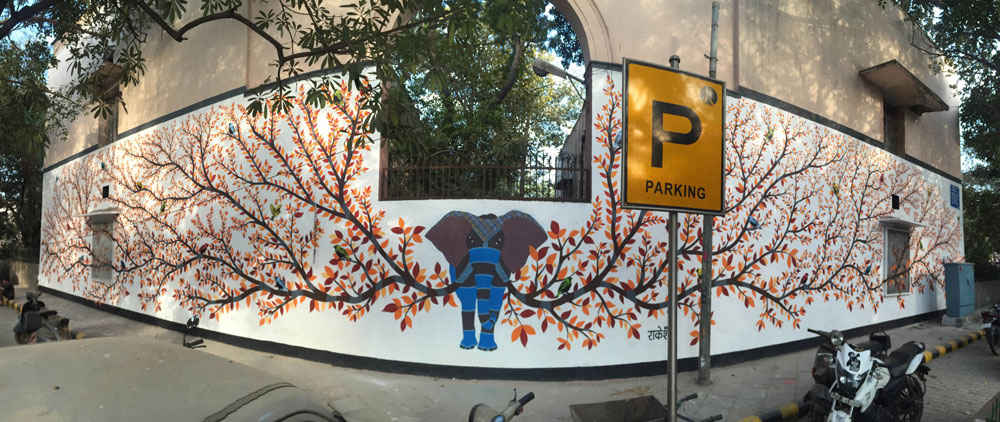 Picture Courtesy: Akshat Nauriyal
Bringing forth one of the most traditional Indian art forms by the name of the 'Gond Art' is Rakesh Kumar. The hero of the art, the elephant is very carefully crafted and the intricacy of the art just left is in awe of it.  And to remind us of the almost-extinct sparrows in the capital, he has beautifully punctuated his art with them. 
Artist | Rakesh Kumar Memrot, India
6. Padma by Chifumi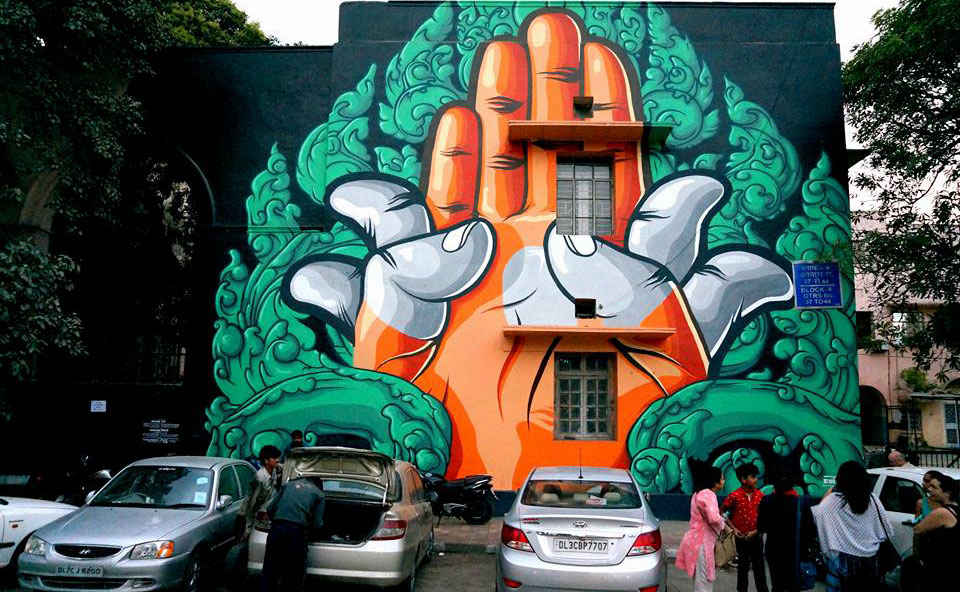 What may seem like a political symbol, this mural is inspired by Padma Mudra- a symbolic Indian hand gesture mixed with a quintessential pattern from Cambodia where the artist currently resides. His usage of colors from the Indian flag makes it all the more interactive and attractive to the passersby.
Artist | Chifumi, France
7. Original Aboriginal by Reko Rennie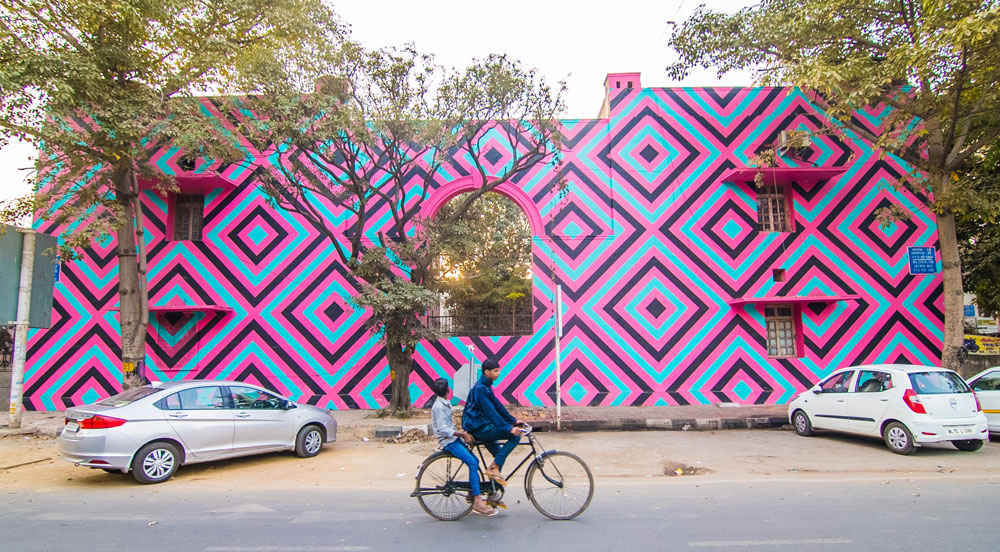 Picture Courtesy: Akshat Nauriyal
Using geometric patterns that represent his community, Kamilaroi, this mural stands out from the rest due to its vibrant colours and patterns. The color combination and the pattern kept us glued for a pretty long time drawing us in further! Go check it out for yourselves.
Artist | Reko Rennie, Australia
8. The Lotus by Suiko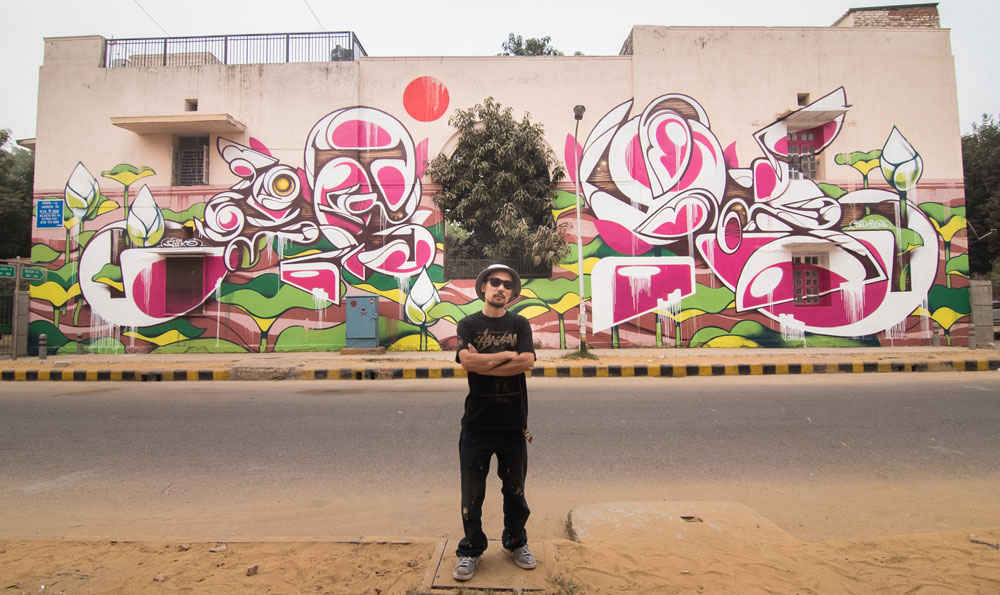 Picture Courtesy: Akshat Nauriyal
In this mural, Suiko takes the national flower of India the lotus and re-imagines it with his signature curved lines and Japanese characters. By using the colours of the neighborhood, he has left a wonderful gift behind for the people of Lodhi Colony.
Artist | Suiko, Japan
9. Dead Dahilas by Amitabh Kumar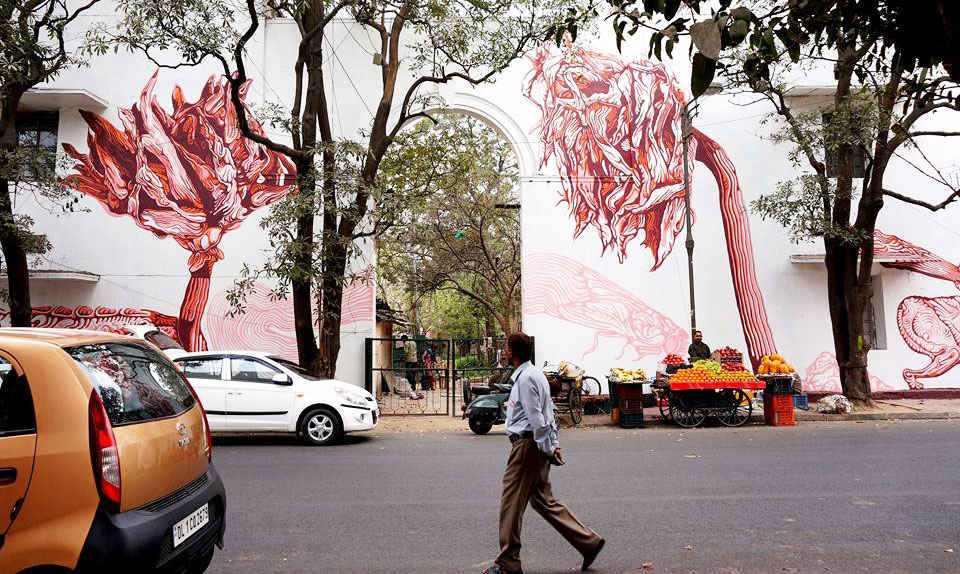 Now this seemingly simplistic art piece has a real story to tell! It takes us on the journey of how the Pandavas after losing the game of dice were exiled to Khandavaprastha, the city of ruins and Krishna turned it into Indraprastha, the city of gods. Hence he believes that Delhi is made of magic but is slowly crumbling apart. 
 Artist | Amitabh Kumar, India
10. Don't Let This Symbolism Kill Your Heart by Nafir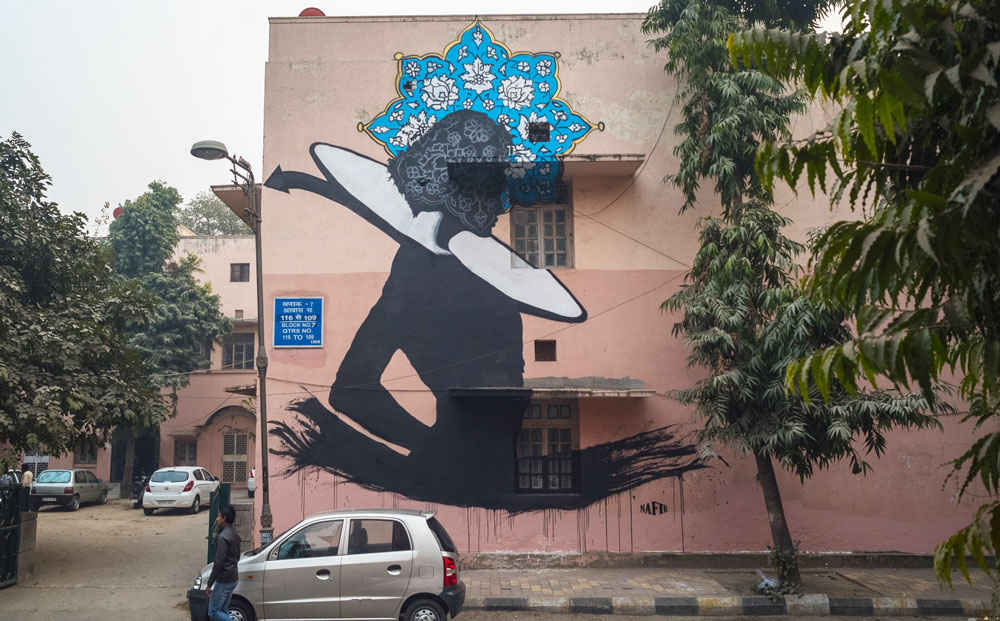 Picture Courtesy: Naman Saraiya
Now this one's a gem. The name itself says a lot! This mural raises questions about women's rights and equality. The women looking left is signalling her rebellion against the "right" things we women are supposed to do. Go see this one and feel empowered.
Artist | Nafir, Iran
11. Swacch Bharat Mural by Painter Kafeel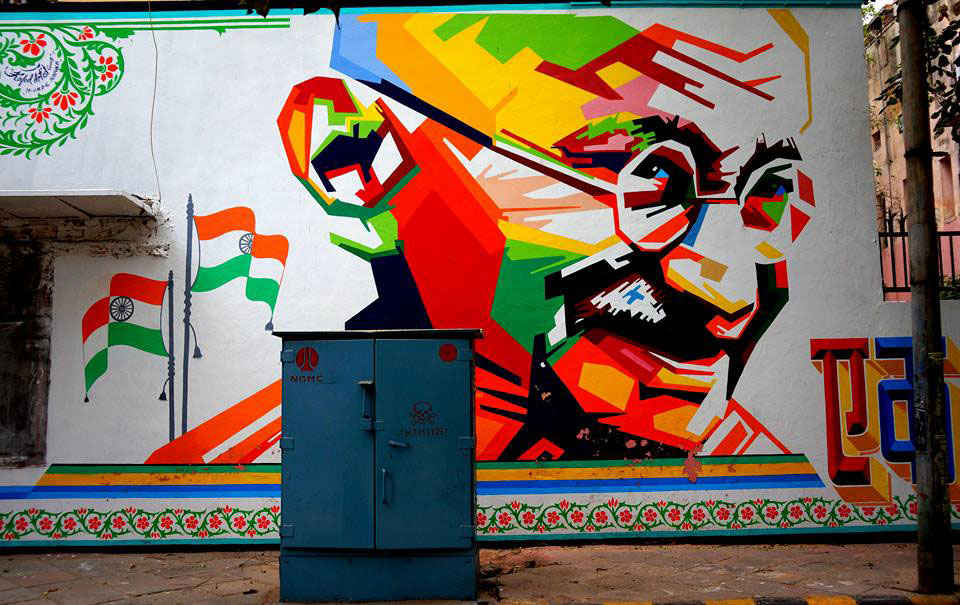 Modi's Campaign has got enshrined on a wall in the locality and for good reason! With sign languages and a big portrait of Gandhiji, it serves as a reminder to everyone of the Swacch Bharat Abhiyaan campaign and how important it is to keep your city clean.
Artist | Painter Kafeel
12. We Love Dilli by Lek & Sowat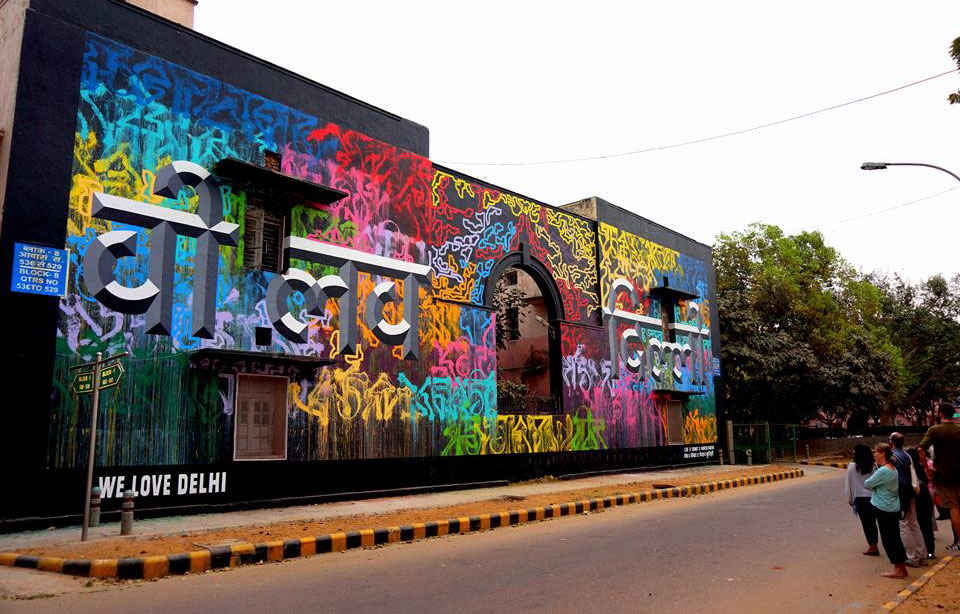 Our personal favourite due to our undying love for Delhi, this art by Lekilibrist and Sowat in collaboration with Hanif Kureshi is a masterpiece. The very first glance of this colourful wall with 'We Love Dilli' written out in Hindi truly nudged our love for the city to resurface!  
Artist | Lekilibrist, Sowat, Hanif Kureshi
13. The Origin Of The World by Borondo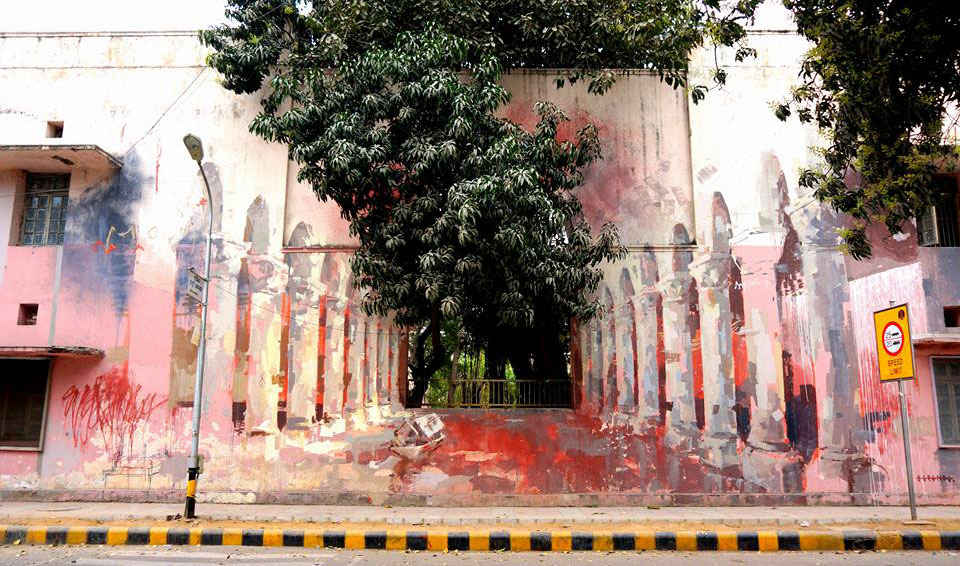 Located in front of a maternity hospital, this abstract mural interprets the concept of life and birth. Borondo has played beautifully with the architecture where the open arch in the middle of this wall is a metaphor for the origin - the source of life, while a river flows through the arches into infinity with a boat on it which reflects the journey of life. Really, art never ceases to surprise us, does it?
Artist | Borondo, Spain
14. Astronaut by Nevercrew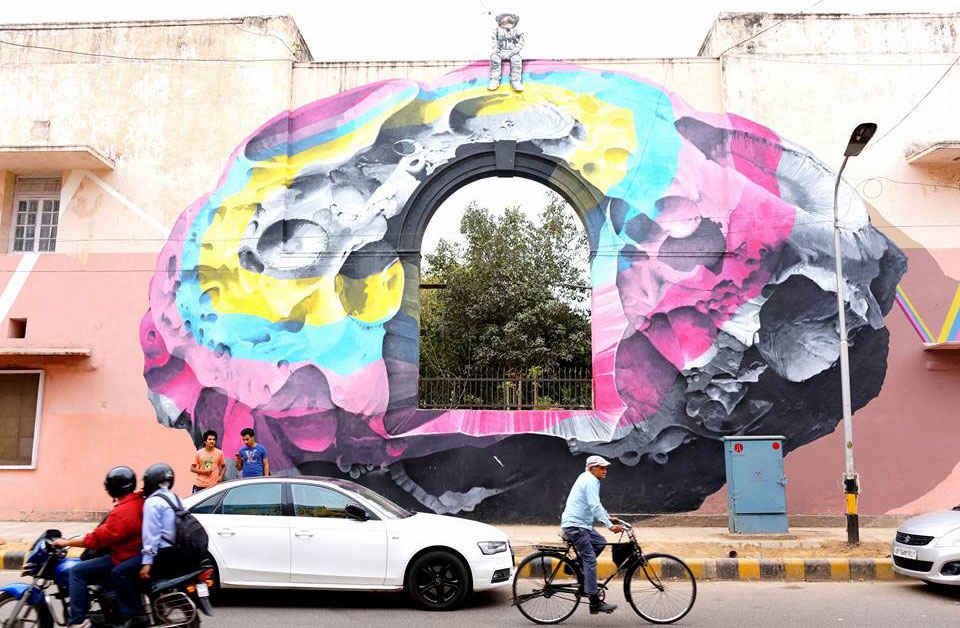 In this, the Swiss duo has made a colourful meteorite with an astronaut sitting on top of the wall. The astronaut is a metaphor for someone who can see things from a different perspective. So beware for the astronaut is constantly watching you.
Artist | Nevercrew, Switzerland
15. Pink by Dwa Zeta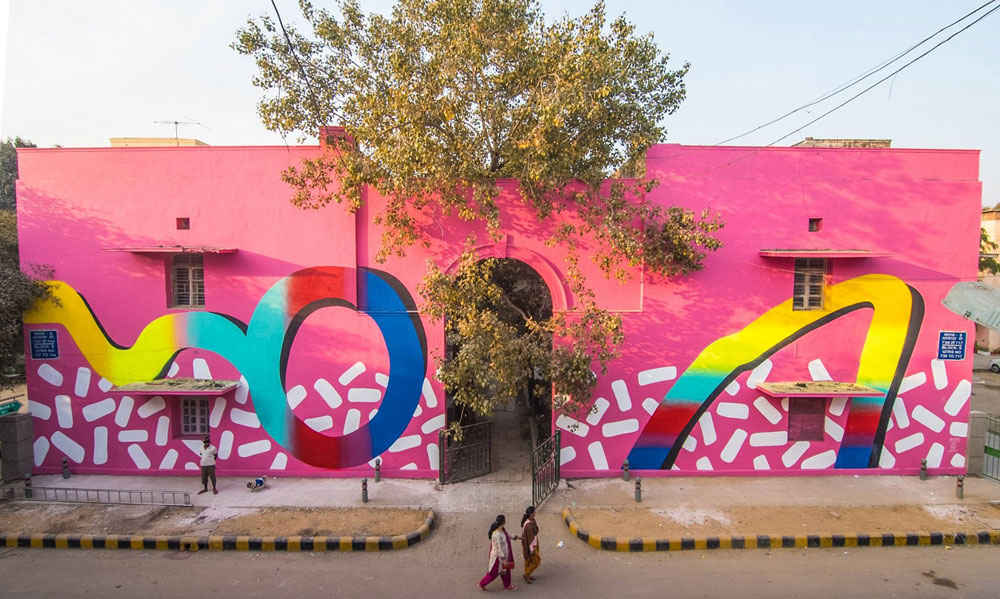 Picture Courtesy: Akshat Nauriyal
Dwa Zeta has immortalised the current Delhi scenario through his mural. The white objects on the graffiti represents us, the bacteria of the city and the circular objects represents the buildings and the settlements. And to raise the issue of women safety, he has painted the wall pink. This work of art is a really powerful one indeed!
Artist | Dwa Zeta, Poland
16. Order in Chaos by DALeast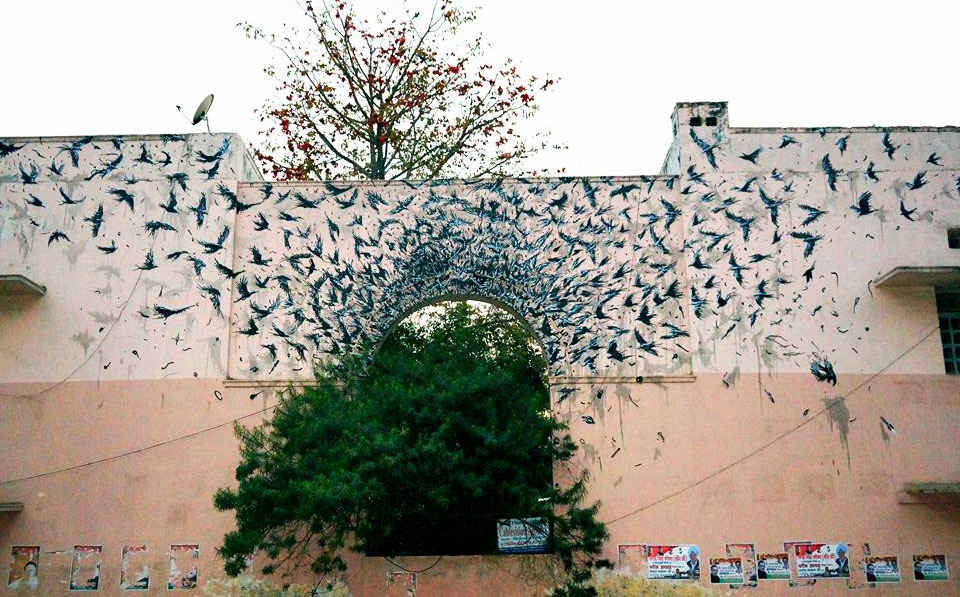 This mural portrays Delhi as we all know it. It represents how fast and chaotic our life has become and yet how everything still manages to work out in the end. Seems like you feel us, DALeast!
Artist | DALeast, China
17. Shekhawati Painting by Mahendar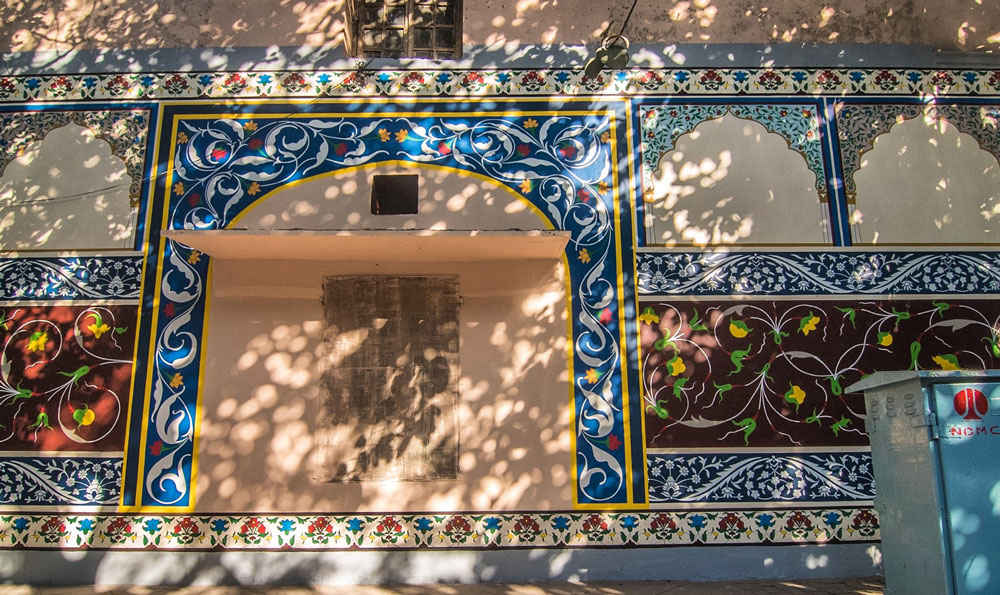 Picture Courtesy: Akshat Nauriyal
This mural takes you back to the bygone era. Mahendar and his team from Rajasthan has painted his wall with a kind of pattern you see in the royal Indian palaces. And if you're wondering if he's used stencils for the same, you're highly mistaken. It's all free hand! Go witness it for yourselves. 
Artist | Mahendar, India
18. Vishvaroopa by Inkbrushnme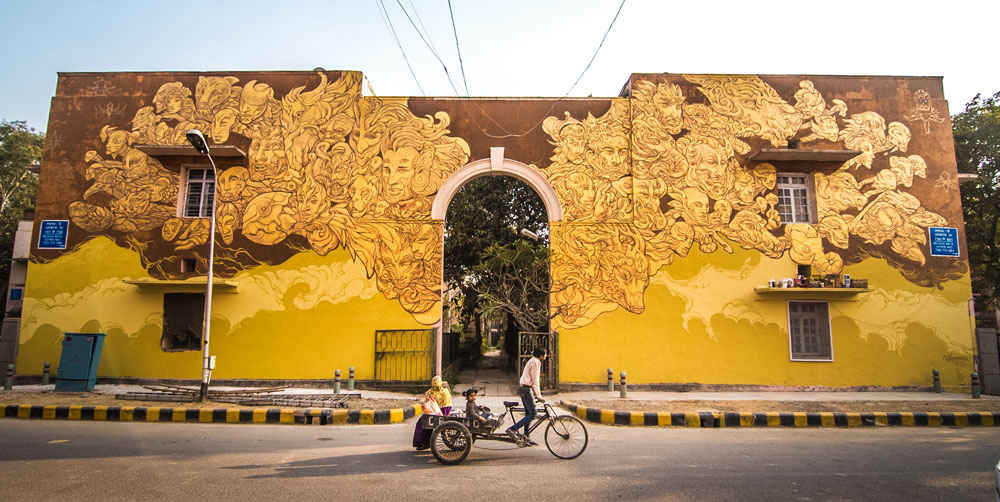 Picture Courtesy: Akshat Nauriyal
Like his other murals, even this one is inspired from Indian Mythology. Vishvaroopa is an all encompassing omni form of Vishnu and marks the beginning of 18 day battle of Mahabharata. It's intriguing to see the gist of a holy bible on a wall.
Artist | Inkbrushnme, India
19. Colours Of The Soul by Senkoe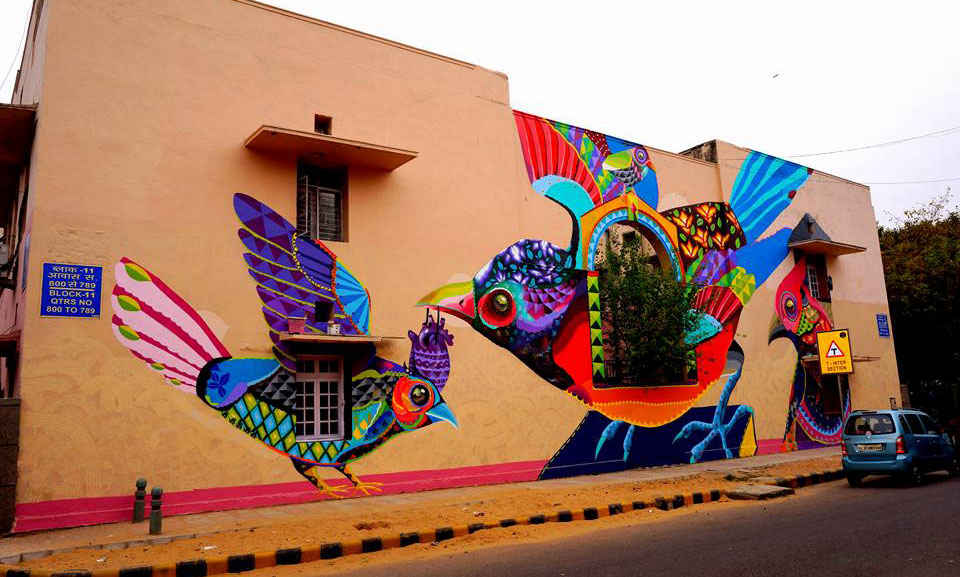 Senkoe loves birds; he believes that they are a symbol of diversity, identity and freedom. Through this he represents the colourful diversity of people living in Delhi and to encourage them to communicate with each other just like the birds would. We believe the beauty of the birds mingled with such bright colours will certainly bring these people close to each other.
Artist | Senkoe, Mexico
20. Hands Underwater by Gaia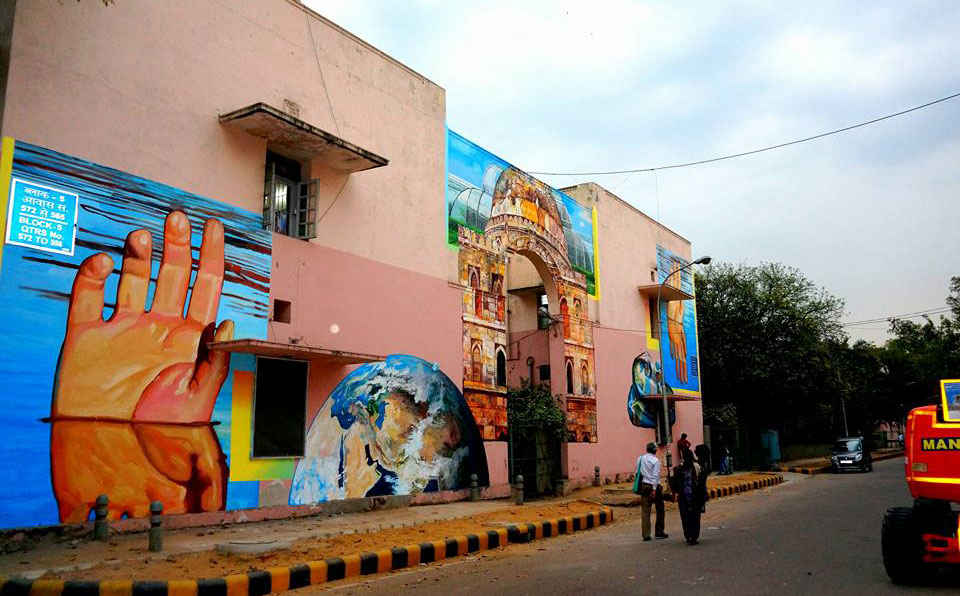 This graffiti raises one of the most pressing issues, global warming. Very intelligently he has portrayed an inflated earth on one side, and a deflated earth on the other. To maintain the essence of Delhi, the Shisha Gumbad (glass dome) with the free house in the background from Gaia's Mural is a beauty! 
So what are you waiting for! It's time to grab your cameras and go exploring these amazing pieces of artwork!
Take the curated tour hosted by St+art which will take place on every weekend all through March.
Cost of the Tour | Rs. 1500 per person to be made on the spot (Includes customized St+art bag + Booklet). 
Timings | Saturday and Sunday, 4 PM - 6 PM
Meeting Point | Cafe Coffee Day, Mehar Chand Market
Contact Number | +91 9971 375474 (Arunima)