It's no secret that Goa is now flush with beautiful places to stay; its lovely palm-fringed beaches are no longer the low-key destinations they used to be, and tourism – both domestic and international – has increased massively in the last decade.
But Goa's rise as India's holiday capital has left many dreaming of a little more peace and quiet than the state's buzzing beaches now provide. Thankfully tourism, and tourists, have evolved to some extent, and these days the beaches are not the sole draw. Venturing inland reveals a lovely countryside, gorgeous colonial/Portuguese architecture and boutique hotels to make your heart skip a beat - none more so than the wonderfully named Birdsong Villa in the peaceful village of Moira.
The Location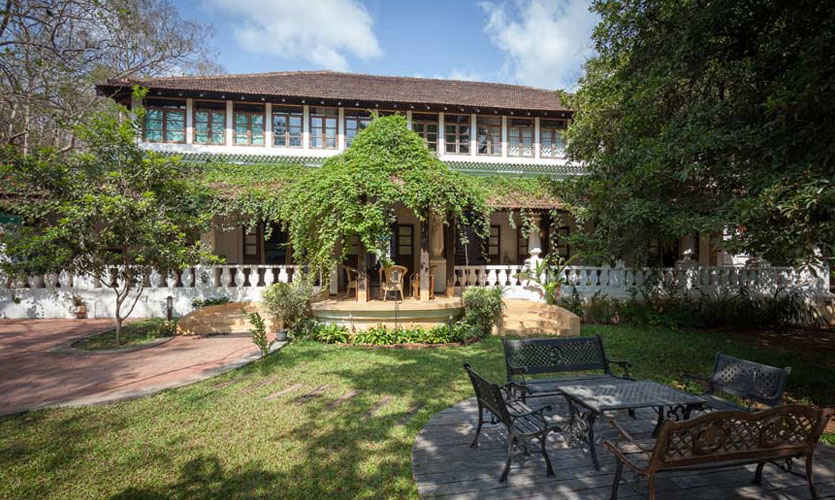 The small village of Moira is just east of the market town of Mapusa (one of Goa's main hubs), and is supposedly famed for its bananas. Whilst small and sleepy, it is still accessible so don't let the size of it put you off, after all, you can easily rent a scooter from the hotel to get around. Birdsong is a big property but small in hotel terms, so don't expect many other guests - the ideal situation if you're after a tranquil haven.
The Property
Birdsong is a stunning 6-bedroom Portuguese villa complete with a pool and lush gardens. Ideal for a small getaway but also for larger groups wanting to rent a whole property, it provides the perfect base from which to explore the many wonders of Goa.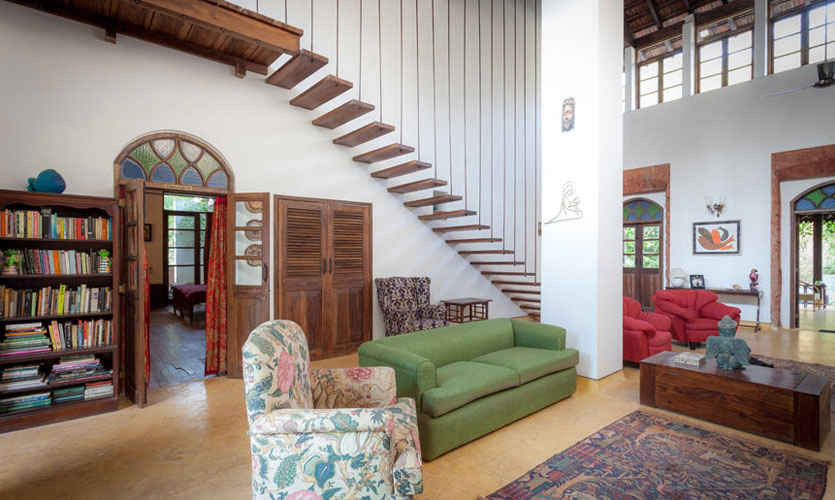 The peaceful and rustic location is perfect for people who want to stay at a place a touch quieter but still just 20 minutes away from the famous Goan coast. For those who just want to rest up, Birdsong is the ideal location: there's a tranquil outdoor pool to laze away the days, plus the villa also boasts a bar-lounge outhouse with a massage and steam room to guarantee maximum relaxation.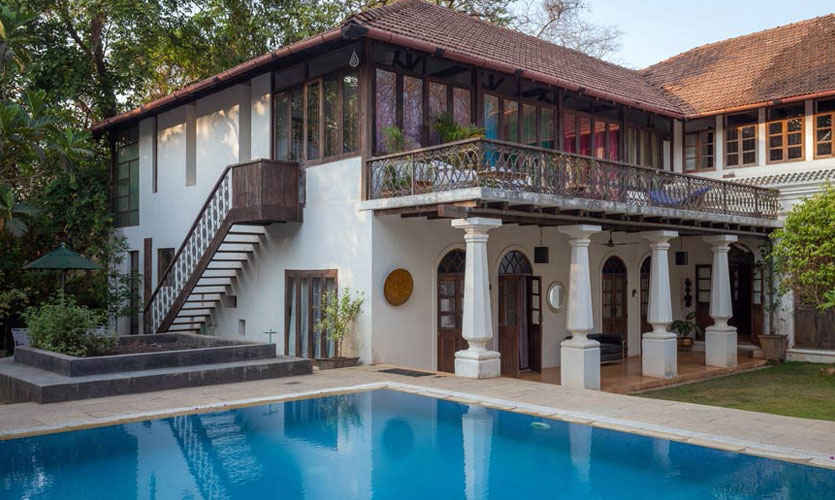 If you're coming with family, then again, this is the ideal place, with a selection of kids' TV and films to choose from on the large projector screen, and a chef who is more than happy to prepare child-friendly meals.
The Rooms
The 6 rooms at Birdsong are split into Family Duplex and Super Deluxe. The two Family Duplex rooms can comfortably accomodate 4 adults, and considering the steep staircases are best suited to families with slightly older children. Each Duplex room is decked out with a writing table, satellite TV and comfortable furnishings, and the view from the windows of both is quite something to wake up to.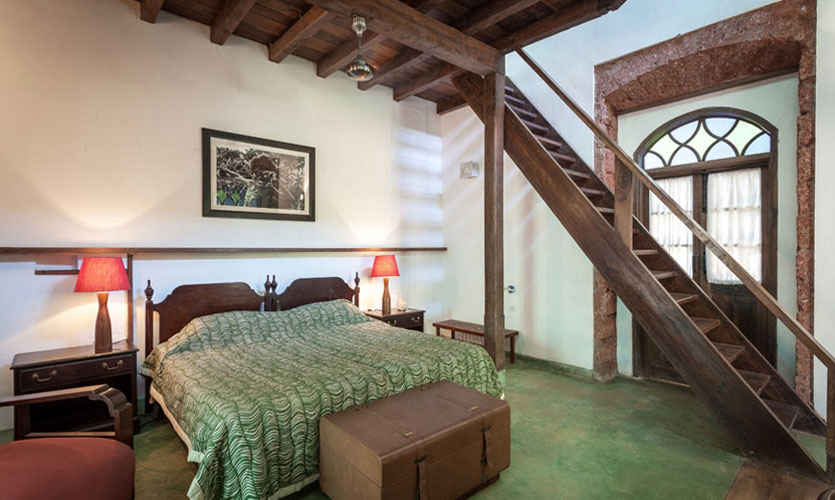 The 4 Super Duplexes are all completely unique, offering something different in every case. Cinammon (all the rooms are named after spices) is in the main house and boasts a private courtyard leading into a small side garden, as well as a bunk bed to sleep a younger child.
Pepper is ideal if you're after a little more privacy, tucked away from the main house and complete with an additional seating area to relax in peace away from the other guests.
The last two rooms, Nutmeg and Clove, are at the back of the house and are the closest to the pool, so are ideal for those who want to make it out early for a dip.
All the rooms are different but all are simply and beautifully fitted out with unique Goan style that complements the Portuguese architecture. The bathrooms are all beautiful, water pressure is good and the towels super soft!
The Food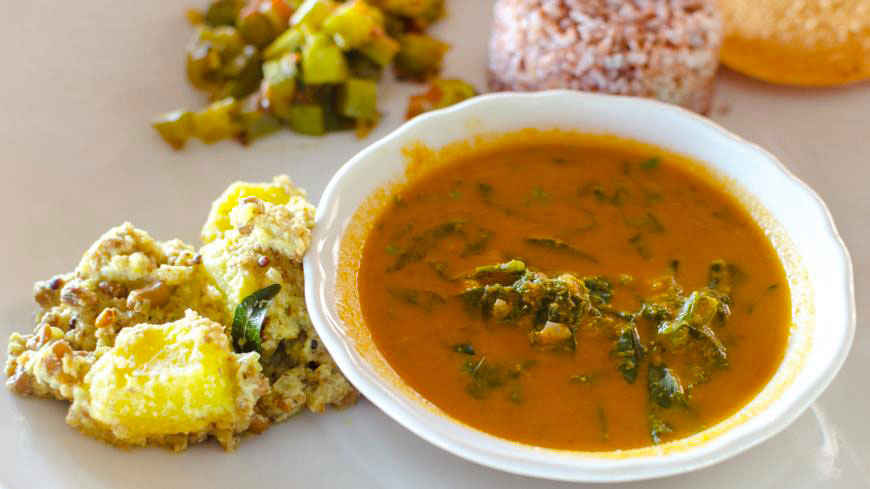 An on-site cook can rustle up meals to keep you sustained, so be sure to speak to him each morning to work out what you fancy that day. The local Goan cuisine is something special, so be sure to embrace that, but it's also easy to venture onto new things - just ask.
There is no alcohol on-site, but you're very welcome to bring your own, so stock up beforehand if you're planning on slipping into your swimsuit and lazing by the pool for a whole week with a beer in hand. The caretaker can also help pick up extras, so all is not lost if you forget to buy that extra bottle of beer on the way over.
The Rates
Birdsong starts at Rs 7,500 per night for a double room, including breakfast. Hire of the whole villa is from Rs 52,000 per night, dependent of course, on the time of year; split that between a group of 16 friends and you have a ridiculously cheap deal at just over 3,000 rupees each per night including breakfast. Already reaching for your wallet, we thought so!
Birdsong was happily introduced to us by Tripzuki.com, a fabulous portal where you can explore and book the most niche, boutique hotels in the country!
Book Online Here | https://www.tripzuki.com/hotels/birdsong-north-goa/