5 Places Serving The Best *Freak* Waffles That Come Topped With Oreos, Ice Cream & More
There is not an ounce of doubt in the fact that waffles are BAE! No, really! These round, fluffy delicacies are indulgence personified. But, there's another thing that surpasses the awesomeness that is waffles. Wondering what? Well, it's waffles 2.0 - that is - freak waffles! For the ones living under a rock (or on a diet), this means overloaded waffles. So, without making you wait any further, here's a list of the five best freak waffle places in the city. Check 'em out!
1. Waffle King 

'Death By Waffle' a dish that will literally satiate your eyes and palate by the look and the awesome ingredients that go into it is up for devouring at the recently launched Waffle King in Pitampura. This tower of two waffles stacked one on top of the other, drizzled with delicious chocolate sauce, topped with a dollop of ice cream, Oreo cookies, chocolates and some fruit is simply scrumptious!
Where | Waffle King - Pitampura & Rohini 
Price | Rs 240
Timings | 12:30 PM - 12 Midnight 
Call Them | +91 7011 992 569
Check Out Their FB Page | https://www.facebook.com/Thewafking/
2. Wood Box Cafe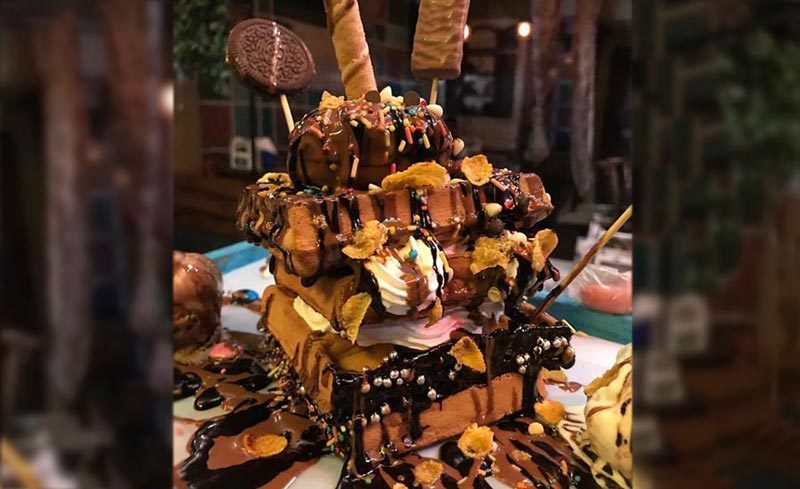 This place tops this list because well, it has hands down the bestest freak waffles to offer in the city (and also the first ones to do so, just FYI). Topped with a chocolate donut, chocolate sauce, wafer sticks, sprinklers, Oreos, a Snickers bar and ice cream, this is what a real chocolate treat looks like. And just imagine, if it looks like THIS, just how appetizing will it actually taste *drools*?!
Where | Woodbox Cafe - Satya Niketan & 2521, Hudson Lane
Timings | 11 AM - 11 PM 
Call Them | +91 9350 507 004
Check Out Their FB Page | https://www.facebook.com/woodboxcafe
3. Maestro A Restro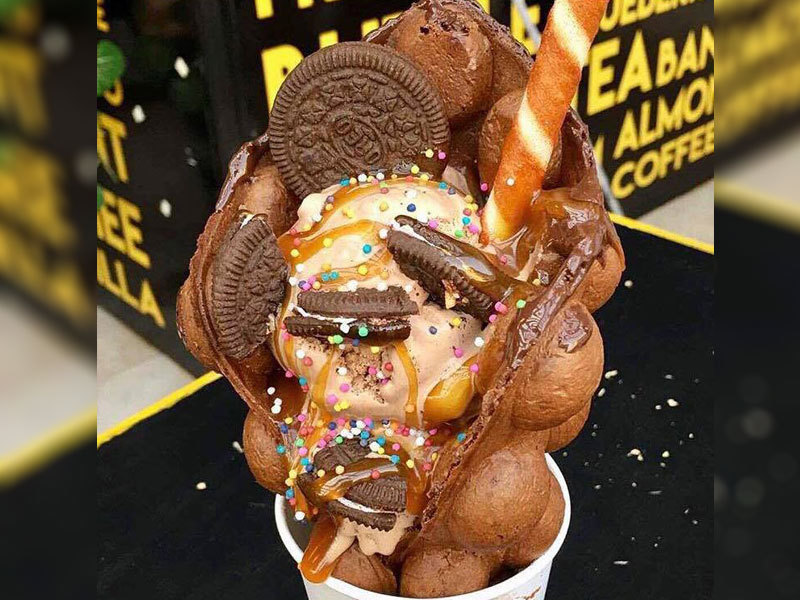 Maestro is a comfy and totally chilled out place when it comes to lounging with your friends! Not only this, the one thing that we're going there for is their waffles! They've got bubble Belgian waffles with a variety of toppings to offer like Nutella, White Chocolate, Banana Caramel, Red Velvet, Cadbury Gems, Oreo Crunch and so many more! 
Where | Maestro A Restro - B-14, Deep Cinema Complex, Ashok Vihar Phase 1
Price | Rs 160 Onwards
Timings | 10:30 AM - 11 PM 
Call Them | +91 9811 624 971, +91 9811 624 972
Check Out Their FB Page | https://www.facebook.com/Maestrorestrocafe
4. Waffle 901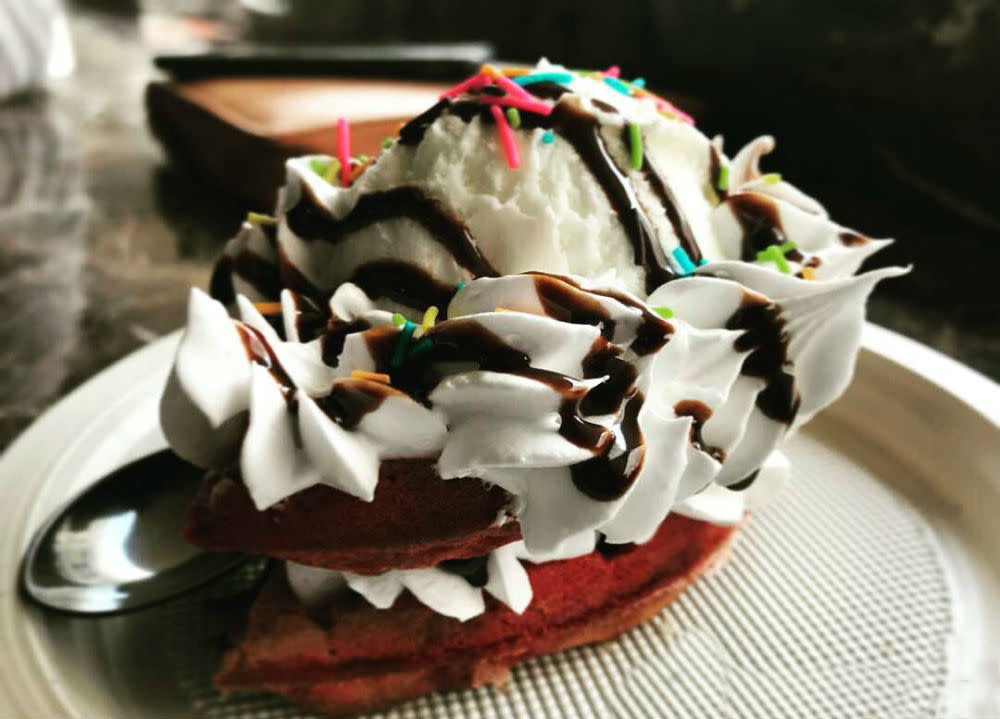 Picture Credits: potenzaindia
Waffle 901 has one freaking waffle called the Laal Batti Waffle which is more of a red velvet waffle sandwich. It's a monstrous delicacy which has two red velvet waffles enveloping whipped cream and ice cream, topped with some more whipped cream and sprinkles. Throw the diet chart outta the window and gorge on this!
Where | Waffle 901 - SD-137, Jaipuria Sunrise Plaza, Behind Jaipuria Mall, Indirapuram, Ghaziabad
Price | Rs 80 
Timings | 11:30 AM - 11 PM 
Call Them | +91 8585 996 535
Check Out Their FB Page | https://www.facebook.com/waffle.901 
5. The Waffee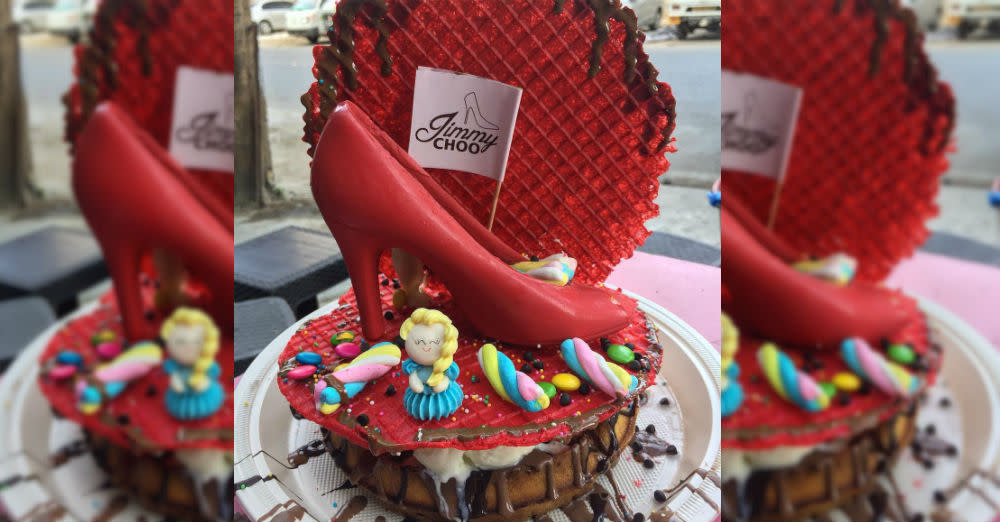 Picture Credits: feasting_whiz
This Jimmy Choo monstrous waffle has become our obsession and it will become yours as well the moment you dig your forks into this delicacy! The pretty pumps made out of chocolate are extremely relish-worthy. This PERF concoction of chocolate, ice cream, marshmallows and Gems is enough to give us that ultimate #foodgasm! So, scamper over and attack! 
Where | The Waffee - C 206, Pocket A, Bhagat Singh Marg, Phase II, Vivek Vihar
Price | Rs 800 
Timings | 12 Noon - 12 Midnight
Call Them | +91 9999 020 783
Check Out Their FB Page | https://www.facebook.com/The-waffee-165550780717933
So now that you have a list, what are you waiting for? Head out to these awesome places and satiate that sweet craving!!!