Huts For Tables, Maggi Kebabs & Garlic Chicken Pizza: 6 Dishes To Try @ The Circle
There are times when we want a break from this daily routine of ours and for some time cut ourselves away from the cobwebs of the city life we're stuck in. A few moments of peace and serenity is all that we crave for. Ever imagined how it feels to have a meal with your loved ones in utter calmness and lush greenery of nature all around? Tranquil! And guess what? We've discovered just that place for ya!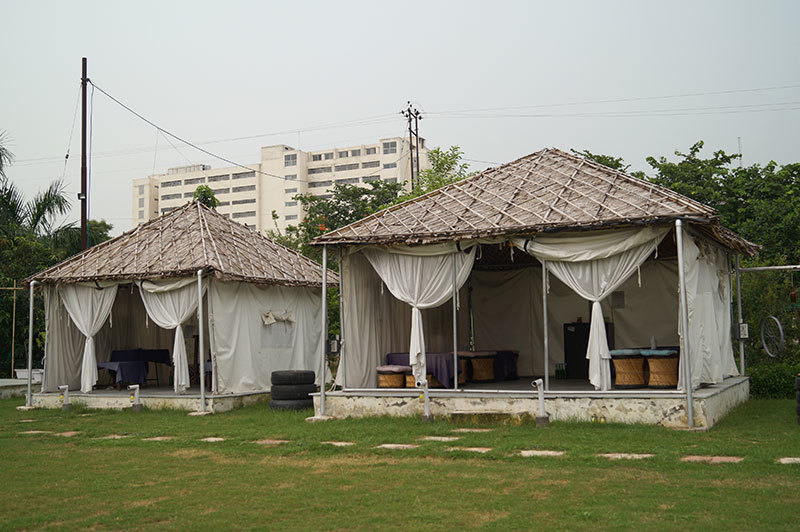 Going by the name of The Circle, this café has a unique concept wherein two sisters decided to convert their farmhouse into a cutesy café with hut like structures which are charming and alluring in every way. As you enter the property, on the left they have the main entrance embracing customers with a small pavement leading towards the lawn. On the right, they have a small uplifted area dedicated to screenings of movies and sitcoms held here from time to time. Alongside, there are three big tents that happily accommodate approx. 20-25 hungry souls per tent. What we loved the most was the availability of a shelf of books, board games and also a guitar encouraging patrons to come here and relax or have a jam session!
Don't Miss Their 99 Menu Y'All
Also, don't forget to try out their 99 Menu 'cause it features everything from food, drinks and even desserts. From pizza, burritos, kebabs and more to shakes & smoothies as well as pudding & brownie, the menu has it all! *NICE* 
Lost in the ambience of this place, we diverted ourselves towards the food and here's what we gorged upon:
1. Chilli Corns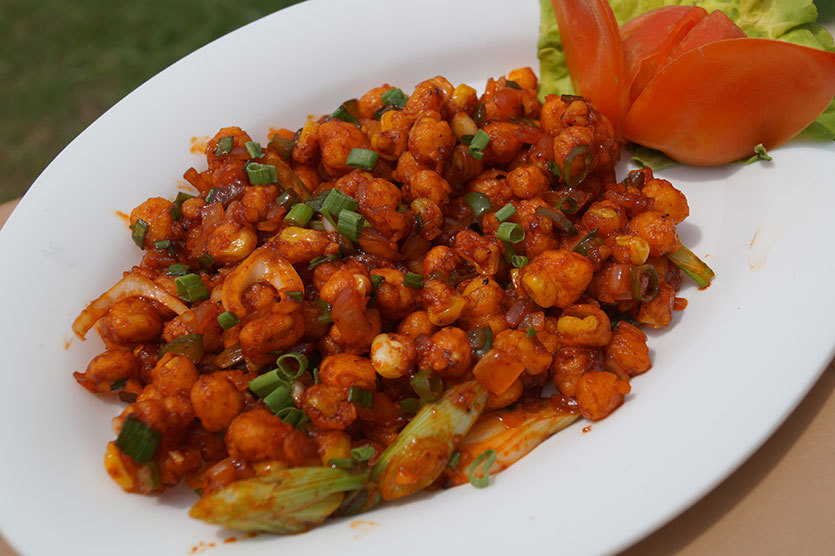 Being a corn fanatic, any experiment done with corns is always appreciated! Sweet corn deep fried and stirred beautifully in a spicy arrabiata sauce along with diced onions and garnished with spring onions had a perfect crunch with the oomph of spices lingering on after every bite. Just a heads up, try to polish them off when they're hot and fresh!
2. Pepper Garlic Chicken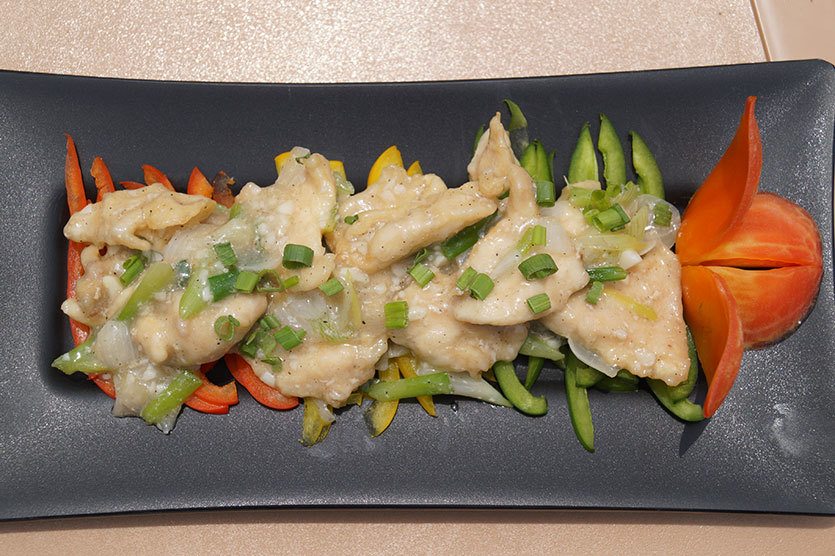 We were awed by the presentation of this dish. Succulent pieces of chicken evenly marinated in garlic and ginger paste and stirred in white sauce were presented on a bed of red and yellow bell peppers and garnished with spring onions. The chicken was pleasantly soft and tender with the essence of garlic along with the dominance of salt and pepper being easily felt. Nom nom!
3. Garden Salad Sandwich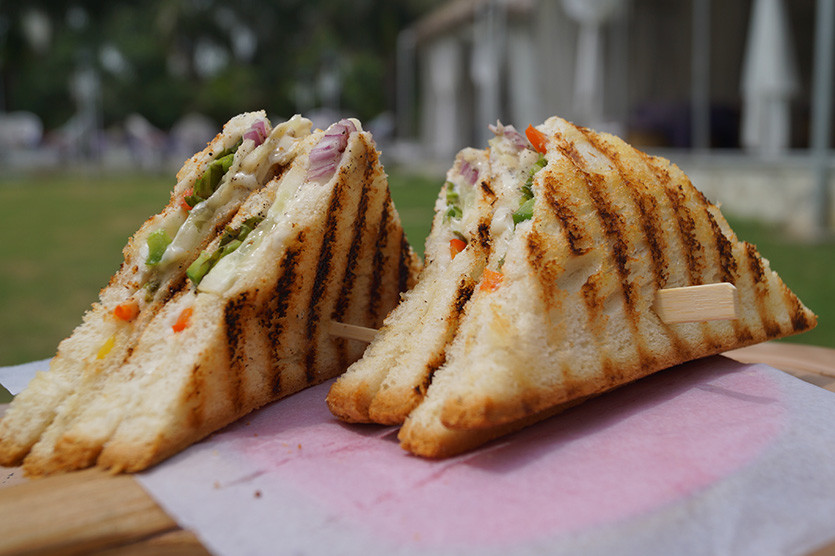 Now this is their most sought after item. The presentation was a notch higher in this one, where the sandwiches were presented to us on a table tennis racket! The sandwiches had a filling of cheese mixed with diced capsicums, onions and red bell peppers and lettuce with salt and pepper playing their respective roles. They were grilled to perfection and tasted marvellous with all the ingredients supporting each other to intensify the taste altogether. Served with a portion of French fries and ketchup, we loved 'em!
4. Garlic Chicken Pizza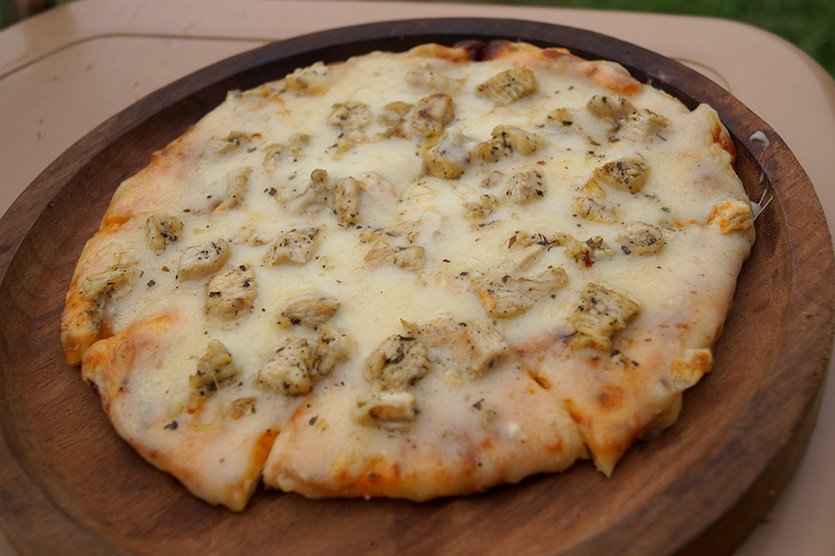 We were so mesmerized by their Garlic Chicken that we opted to try out the same in the form of a pizza. We were presented with a 9'' pizza loaded with chicken chunks marinated in garlic paste along with oodles of mozzarella cheese with its base having a nice crunch. The flavour of garlic chicken was the highlight of this dish with cheese along with oregano acting as a catalyst in enhancing the taste!
5. Spicy Maggi Kebabs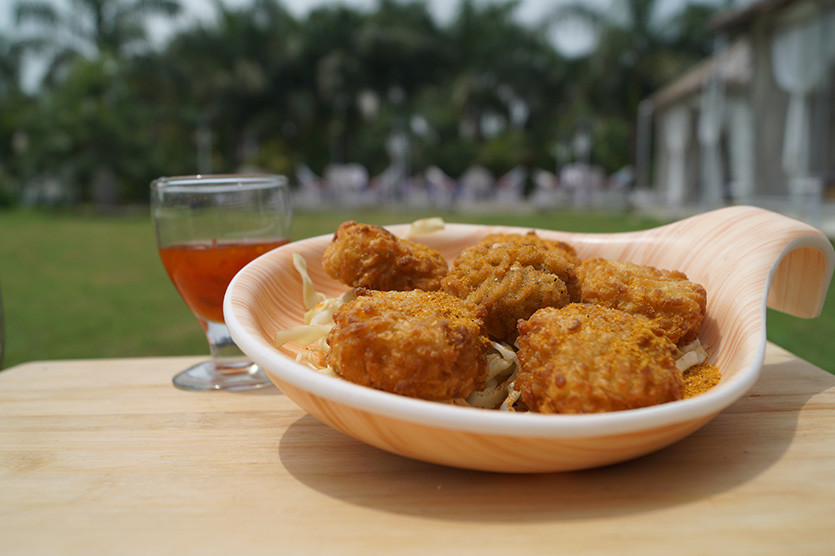 Everyone loves Maggi and we're no different. Six kebabs were presented to us with a sweet and spicy sauce in a miniature wine glass. The kebabs had a generous filling of Maggi and were rolled in corn flour before being deep fried and presented to us. They were amazingly crispy on the outside with a soft and squishy filling of scrumptious Maggi on the inside. Despite being deep fried, they hardly left any traces of oil. Needless to say, this was our favourite!
6. Cheesy Tender Chicken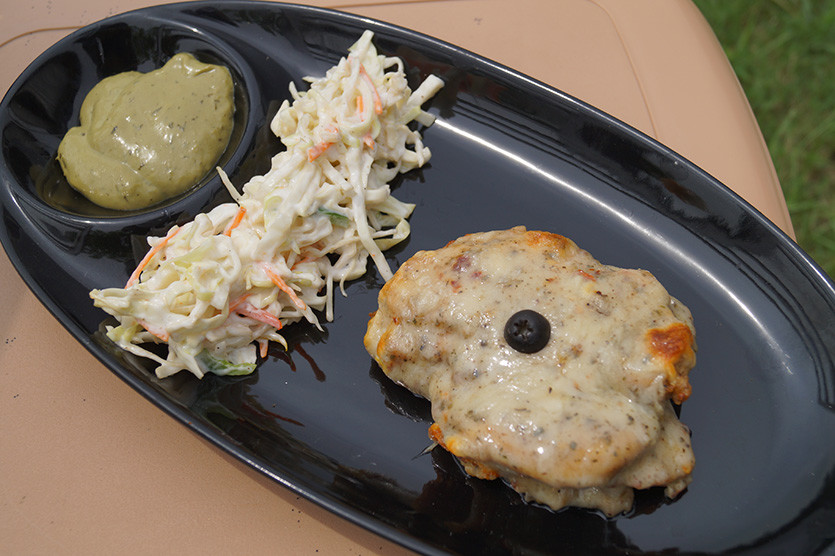 We loved how the chicken was sautéed and baked to perfection with ample mozzarella cheese oozing out profusely while biting into it. As the name suggests, the chicken was tender and the essence of spices was clearly felt while munching. Served with hummus and mint mayonnaise, it would be a sin to miss out on this one, so defo try this!
All in all, the place is heavenly and exquisite and with a camp-like structure, we sure have found a place near our homes for a short getaway. The ambience is worth visiting, the food is scrumptious and the hospitality offered is supremely gracious. Also, don't forget to try out their 99 Menu 'cause it features everything from food, drinks and even desserts. From pizza, burritos, kebabs and more to shakes & smoothies as well as pudding & brownie, the menu has it all! *NICE* See you there?!
Meal For Two | Rs 700
Location |Vibha Farm (Near RCI Vidya Vihar), Knowledge Park III, Greater Noida