Hotel Review | 24 Hours of Unhurried Luxury Experienced at ITC Grand Bharat in Gurgaon
Let's just say this out loud and clear, we're big believers of staycations; not only do you end up saving loads of money by avoiding flight bookings, you get to evade those snaking queues at the airports, and so many hidden miscellaneous costs but more importantly it's way less stressful than a full blown out vacation...a vacation involving all that never ending planning and research, by the end of which, you need to plan another holiday, just so you can truly relax and unwind!
And so, breaking away from the everyday monotony that rules our lives, we decided to head to the much heard of luxurious retreat, ITC Grand Bharat located in Gurgaon. Set amidst the ancient Aravali hills, it's located 45 kms from New Delhi and is for the most part of it, smooth-sailing as far as the journey is concerned!
As soon as you enter the gates, you can't help but experience an overwhelming feeling of awe which the opulent architecture and interiors of the hotel evokes in you, showcasing the grandeur of India, its rich culture & heritage. Think towering domes & frescoes, stone work with intricate carvings, regal pavilions and gentle fountains, reflection pools and verdant gardens; you can't help but be transported to another time and era. 
The Lobby
For architecture enthusiasts, this hotel is a treasure trove of inspiration and taking a tour of the entire property is a must, which is what we got around to doing first! 
The all-suites hotel consists of 100 luxury suites and 4 presidential villas inspired from India's glorious dynasties, a stand-out 27-hole Jack Nicklaus Signature Golf Course including The Club House, an expansive spa spread over the entire second floor, a mesmerising swimming pool, besides an array of recreational activities such as Segway tours, ATV's, Zorbing, trekking & nature walks, tennis, badminton, squash, billiards (phew!) keeping you well occupied to say the least!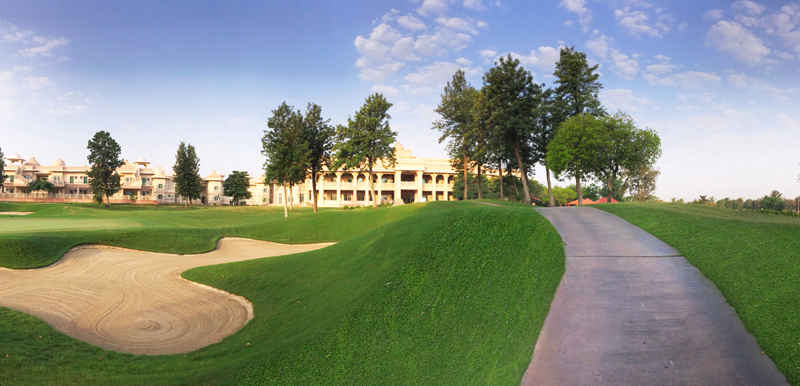 The Valley Course, Classic Golf & Country Club
Famished, we then headed to the Aravali Pavilion for lunch, a charming bistro with beautiful murals adorning the walls and rustic cork floors. The menu here features unique culinary concepts such as 'Swasthya' cuisine which entails eating for health and taste, 'Modern India Mosaics' featuring Modern Indian food, 'The Express Wok' which showcases Chinese delicacies and 'Local Love' offering farm to fork delicacies.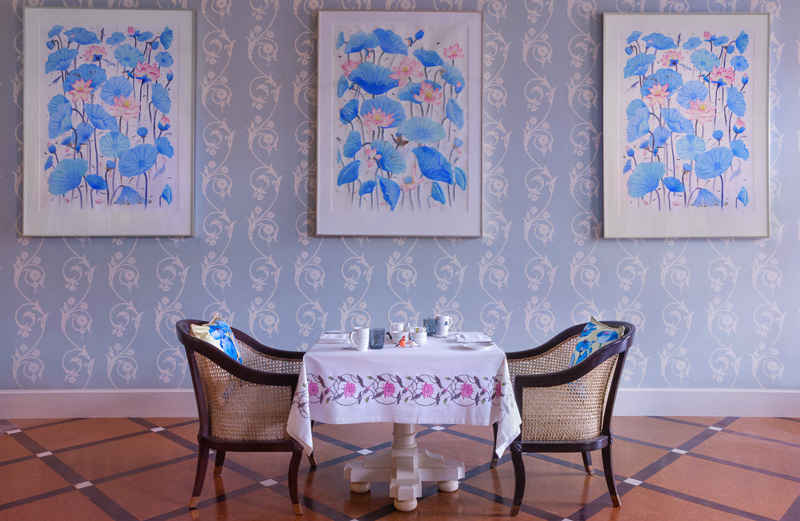 Aravali Pavilion
We started out with a round of Hoegaardens which we thoroughly enjoyed and a refreshing Mojito which was the perfect cure for the searing temperatures outside.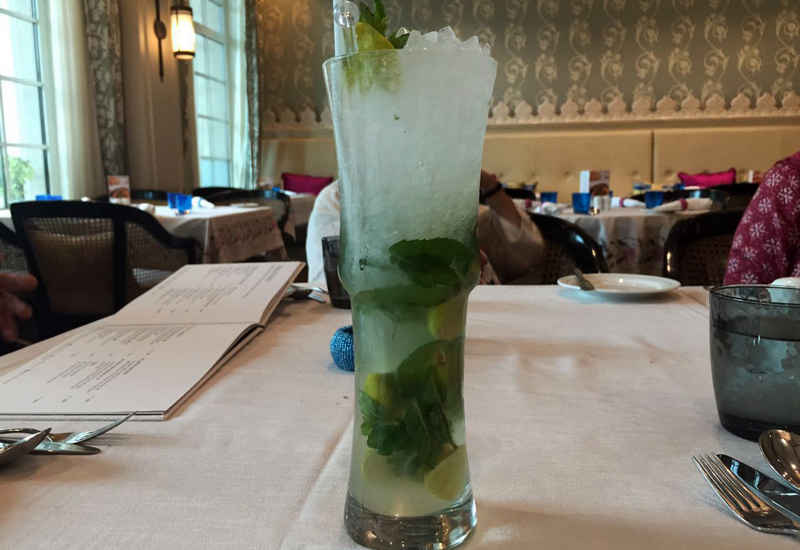 Mojito
The Chicken Kathi Rolls were a hearty helping of kathis wrapped in flavoursome methi paranthas and stuffed with an achari mix of shredded chicken. 
Next up were the Lamb Chops served on a bed of mashed potatoes with bell peppers and broccoli. Soft, juicy and succulent is how we'd describe this dish best.
The Gucchi Pulao was a rather luxurious dish consisting mainly of wild mushrooms from the Himalayas. Each grain of rice was absorbed with its earthy flavour, fragrant spices, crispy vegetables and was perfectly complemented with garlic raita. A must try!
For dessert, we tried the Phirni which was extremely creamy, with a velvety texture to it and the perfect amount of sweetness, coupled with nuts and served in the quintessential earthen pot.
Phirni 
We then made our way back to our beautiful premier suite replete with a cozy lounge area, an expansive bedroom, a walk in, a well-thought out bathroom with different sections and a semi-private adjoining lap pool which we thoroughly enjoyed!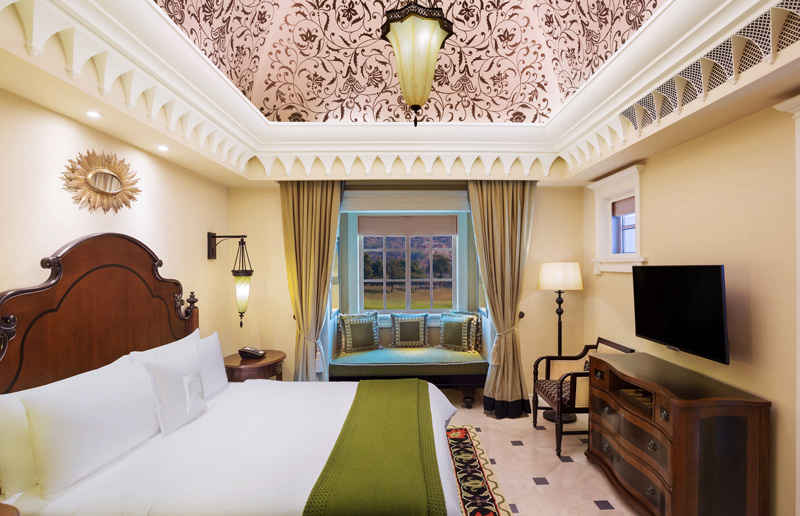 Deluxe Suite
We can't talk about the hotel without mentioning the spa in the same breath. The Spa at ITC Grand Bharat called Kaya Kalp is set in the verdant 1.2 sq. km estate of the retreat, housed on a dedicated floor of the main palace and houses 9 treatment suites, including a couples' suite. It is all about unhurried pampering, offering traditional indigenous therapies, ancient Ayurvedic practices and international healing forms of well-being. You can indulge in a pre-treatment Ayurvedic consultation or have a session with the in-house yoga instructor.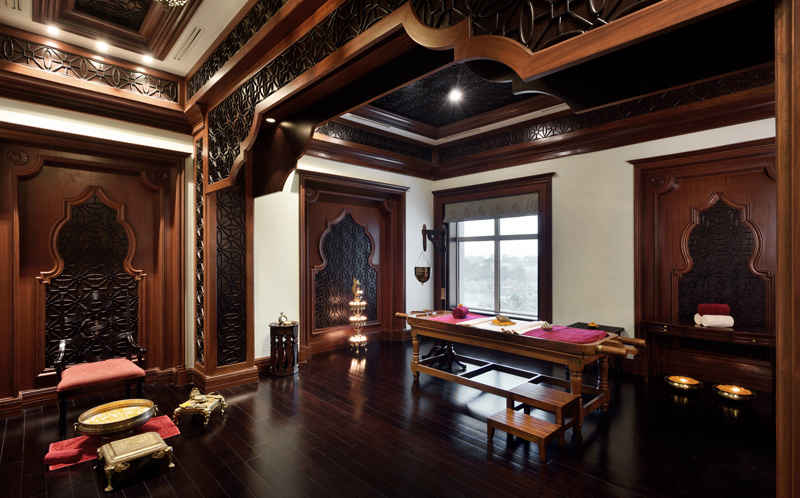 Ayurveda Suite, Kaya Kalp
The Vitality Pool which overlooks the spacious outdoor space of the spa, offers abundant natural light streaming in during the day with picturesque views of the Aravali. The Salon di Wills is ITC Hotels' signature salon equipped to cater to both men and women and lastly they have The Spa Cafe featuring an assortment of fresh juices, health blends, herbal teas, healthy sandwiches and salads that complete the wellness experience at the spa. 
You could easily spend a day, unwinding at the spa itself but greedy to experience all aspects of the hotel, we opted for a half an hour foot reflexology session which was just the need of the hour; tending to all the right pressure points, we wished it would go on forever!
Refreshed and re-energised, we attended the daily Arti which takes place at 7 PM at The Yamuna at ITC Grand Bharat, a short ritual marked by worship, lighting of eco-friendly diyas, and lots of positive vibes.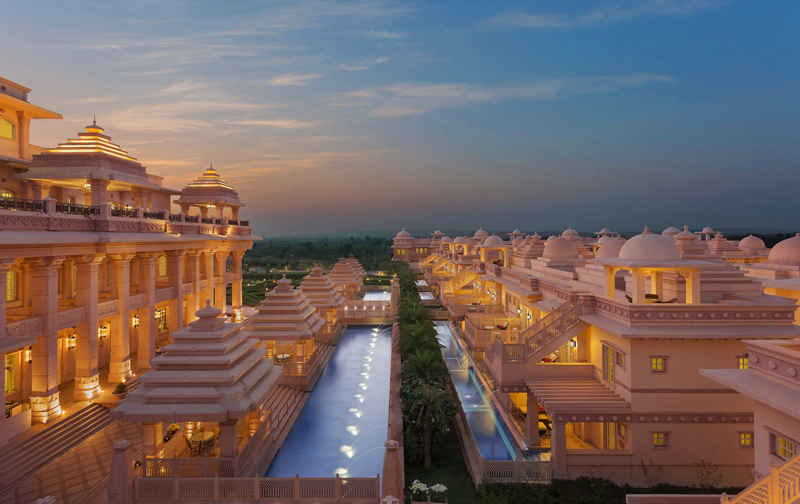 The Yamuna
Deciding where to head to for dinner was a rather difficult decision as they have their showstopper fine dining restaurant by the name of The India Room serving Creative European Classics, albeit in modern renderings, in a setting which resonates with the pomp and pageantry of that era. The plush interiors done in hues of royal blue and gold feature magnificent chandeliers set against silk and French windows. This place is best reserved for celebrating special occasions, those that you'll cherish for years to come!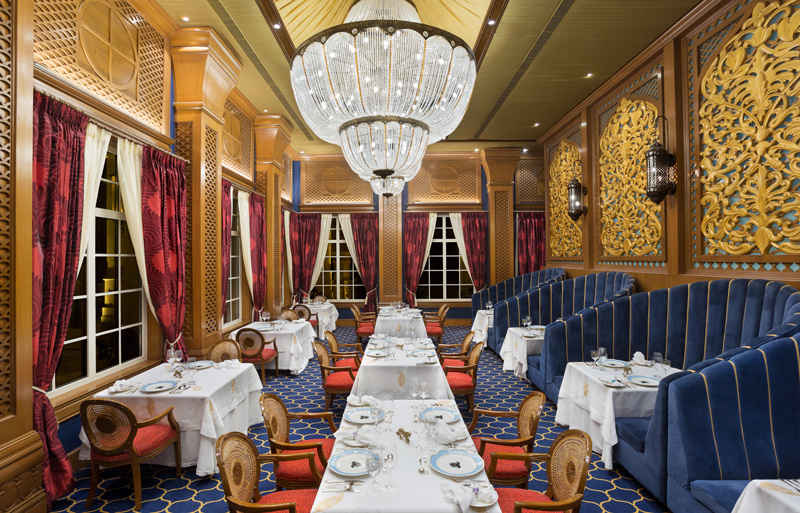 The India Room
Looking for something more local, we decided to make our way to Apas Promenade instead, a serai style semi-outdoor restaurant overlooking the main pool featuring a tent like setting with chandeliers and minimal lighting. It epitomises the unhurried luxury philosophy of the retreat and is a celebration of the Terra Madre community's 'Slow Food Movement' (clean, good & fair). The restaurant showcases local Mewati barbeques, which forms part of the 'Food of the Aravalis'.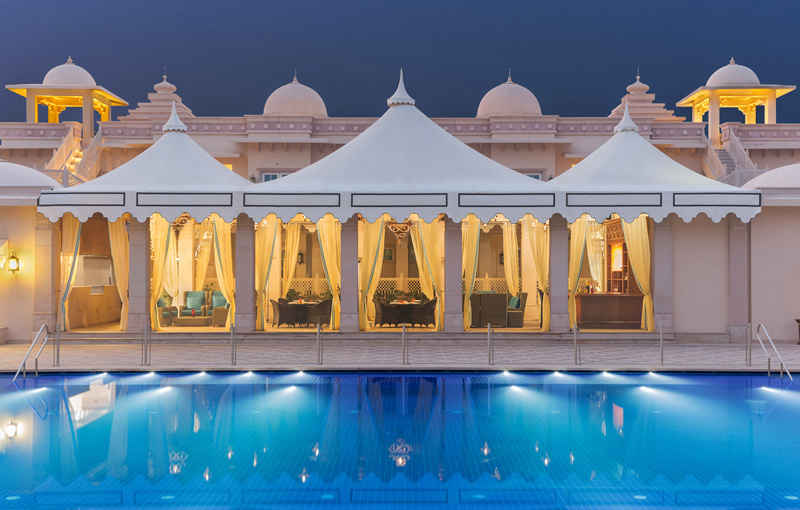 Apas Promenade
We were absolutely blown away by the feast that we had here. A few dishes that really stood out for us was the Dhaniya Chicken, The Matar Mushroom, The Dhuli Moong Dal, all served with the choicest of naans. 
And lastly, anyone visiting ITC Grand Bharat cannot leave without trying the Junglee Maas, a fiery red hued Rajasthani dish where the reigning ingredient is the degi mirch used to form the salan. Minimalistic with just 5 ingredients - meat, ghee, garlic, degi mirch and salt - this beautiful dish stole our hearts to say the least.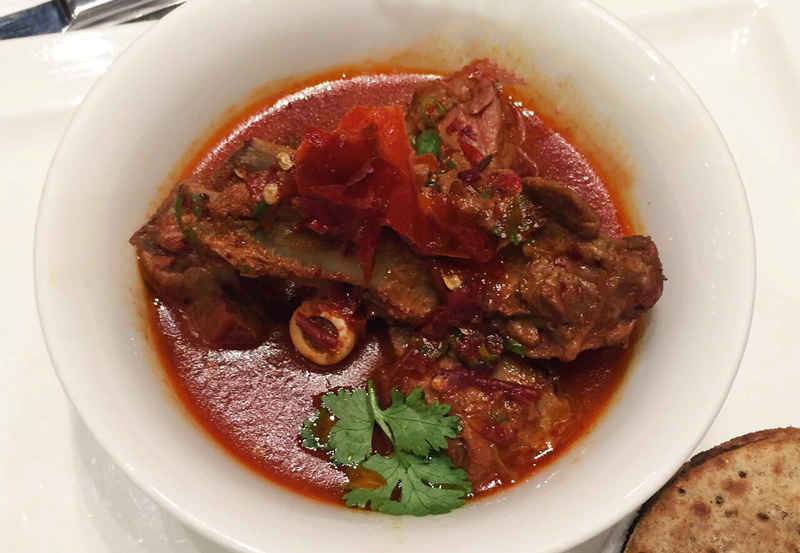 Junglee Maas
Breakfast, in itself was truly a meal for champions and should not be missed on any accounts. They had both a vast buffet and an a la carte menu with a fresh juice counter (we loved the wheatgrass and cucumber combo), fruits, salads, yoghurts, a bakery and the works. The highlight of the morning was the Mango Dosa, made using fresh mango pulp - who knew such a combination would work so well! This was served with 3 different kind of delicious chutneys. We equally loved the Puri Aloos and Paranthas.
A word of thanks to Chef M Shreyas Bhat who went out of his way to tend to our every gastronomical whim and fancy with such skill, ease and efficiency. 
We also came to know that you can also participate in a unique certification-based programme wherein resident guests can interact with ITC's team of master chefs and learn the finer culinary nuances which is something we'd love to take up next time round!
ITC Grand Bharat truly lives and breathes the ethos of unhurried luxury be it in lifestyle, wellness, recreation or cuisine. We surely weren't in any hurry to leave this stunning spectacle at its lushest with the murmuring rain, but alas, we've found many reasons to return and relive it all! 
Location | P.O Hasanpur, Tauru, Mewat, Gurgaon
Winning Deals | http://www.itchotels.in/itcgrandbharat/offers/wellness/
Browse Through More Pictures