Our love for sushi knows no bounds, and so we headed over to the cute and quirky Japanese gastro bar in town - the Fatty Bao! Their new sushi menu had everything a sushi lover would love to try, explore and crave for again and again. 
There really isn't a thing we didn't like about their ambience. A spacious space punctuated with all things cute and idiosyncratic - we loved the pretty lamps, the amazing flowers and the beautiful, chirpy murals on the walls. Peppered with all things bright, vibrant and pastel hues, this seemed like a cosy little place for the perfect day out. 
Here's what we tried, loved and can't stop raving about.
Fiery Shrimp Roll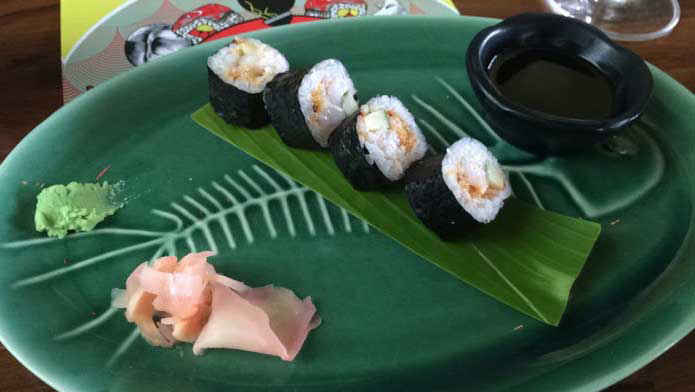 Our first sushi was their Fiery Shrimp Roll. With fresh nori wrap on the outside, and rice inside, this Hosomaki was tender and delicious. Stuffed with soft poached shrimp, tenkasu, fresh cucumber and tossed with the spicy motoyaki sauce, this roll had an unforgettably pungent flavor to it.
Tempura Fried Oyster
A Hosomaki sushi, their Tempura Fried Oyster was covered with nori and held sticky rice noodles on the inside. The oyster meat was well-cooked and added that strong and unique flavour to the sushi. The rice noodles were soft and made the dish an intensely yummy one. A plate of this delicacy is bound to woo your taste buds and render your tummy happy.
Crispy Bacon & Cheese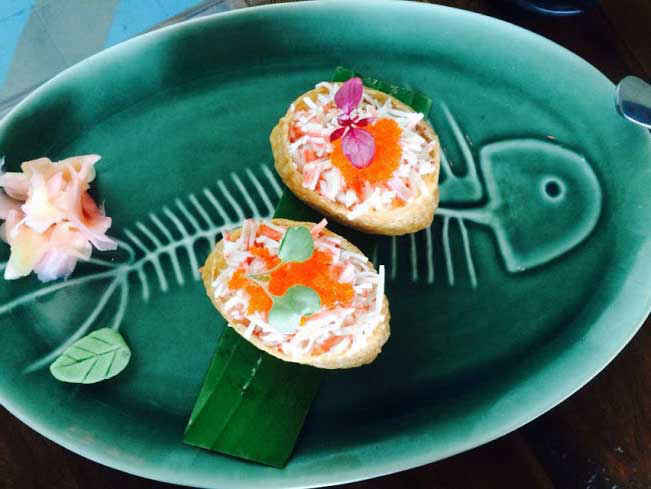 A Gunkan sushi, this one was a boat shaped Japanese haven. We tried the one stuffed with crispy bacon and gooey cheese. Giving the traditional sushi a twist that we adored, this variant was an amazing facelift for the Japanese staple. Stuffed with generous amounts of mouth melting cheese, this is one sushi we would love to try again and again.
Seafood ChirashiZushi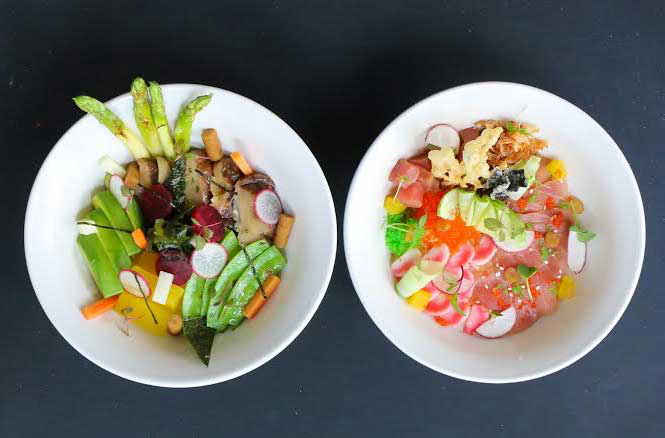 We really wanted to try sushi in a bowl, and so couldn't resist trying their ChirashiZushi. We opted for their seafood variant. This was a colorful bowl of sushi rice topped with yuzu and soy-marinated tuna, tempura-fried enoki, crispy nori, tobiko, onions and kamaboko. Punctuated with an array of authentic Japanese spices and vegetables, this dish took our tastebuds on a rollercoaster ride!
Inarizushi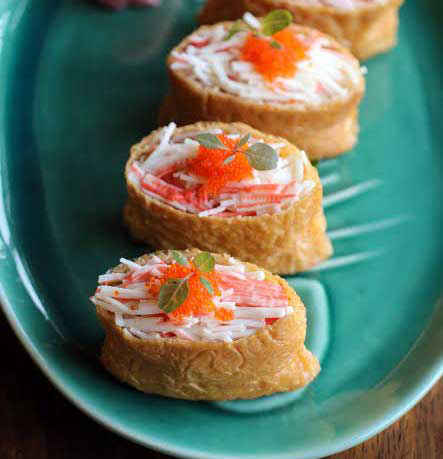 How does a sushi stuffed into tofu pouches sound? Yes, we tried the Inarizushi! Stuffed in tofu pouches, not only does this look cute, but tastes absolutely wonderful. We tried the crab meat and Tokibo Inari - soft tofu pouches generously full of raw crab meat, this sushi plate was super satiating.
Oshizushi
Then we tried the pressed-sushi or Oshizushi, as it's called. From amongst the various options, we chose to sink our teeth into their Salmon Sushi, which was perfectly concocted with pickle radish. Stuffed with copious amounts of soft and raw salmon, this delicacy left us with an amazing, indelible aftertaste.
Smoked Salmon Temaki Sushi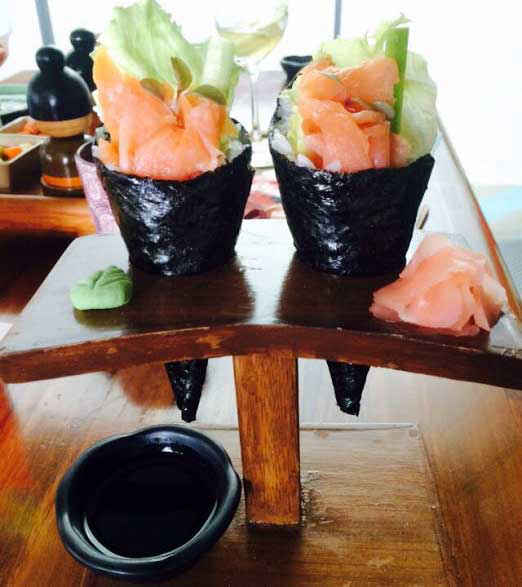 A cone-shaped sushi, Temaki is sushi rice stuffed up carefully in a cone with other raw vegetables. We devoured their seafood variant which was stuffed with capers, avocado and drizzled perfectly with horseradish sauce. Eaten like a cornetto, this sushi mingled with just the right amount of Wasabi is bound to render you super-happy. 
With an array of wonderful sushi dishes galore and a bright ambience, we were absolutely bowled over by Fatty Bao (as usual!). 
Meal For Two | Rs 2,500
Location | Sangam Courtyard, R K Puram