Hitting The Goan Waves Here In Apni Dilli: #FoodReviewing Lady Baga Beached In CP
We made our way to glittery, bustling CP to find comfort in a little slice of Goa we'd been promised resided there. Yep, you guessed it - we were headed to the much-talked-about and fawned-over, relative newbie place, sassily called Lady Baga. Lady Baga is a place dedicated to feed all your Goan fantasies - both in terms of food and might we add - the environs.
The restaurant is tucked into a small, blink-and-you-miss-it spot in CP's Connaught Circus, and from the moment we got an eyeful of the groovy pink sign out front, we knew we were in for a treat! The compact, intimate area is neatly bifurcated into two awesome halves by one big-ass pillar spewing tinkling water surrounded by cutesy little fountains. One end was adorned by a whole massive wall built entirely out of screens that perpetually showed crashing waves - all strewn with actual sand! The other end had beautiful, funky walls, pretty curtained windows and rustic wooden tables. As you can probably imagine, we were totally in beach heaven - especially with the funky music blaring! 
Coming to the food (and booze of course), here's exactly what we tried!
We Like big Coconuts & We Cannot Lie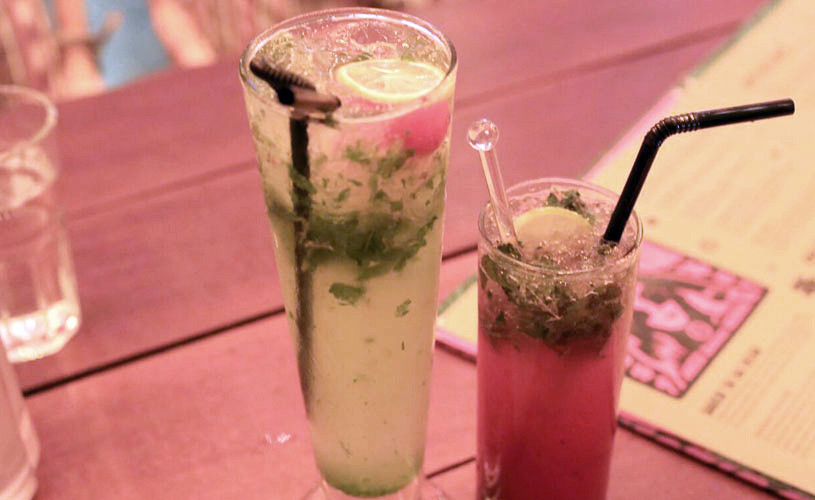 Yeah no really, this was the name of this drink, people. They rapped it out - literally *wink*! And what's more - they certainly did not lie and they do indeed like big coconuts. With a big, fat cherry floating in this big, tall glass, this drink had oodles of fresh coconut water, litchi, lime juice and the kicker - vodka! Thoroughly refreshing, it'll make you forget all about that godawful deadline at work.
The Freak Incident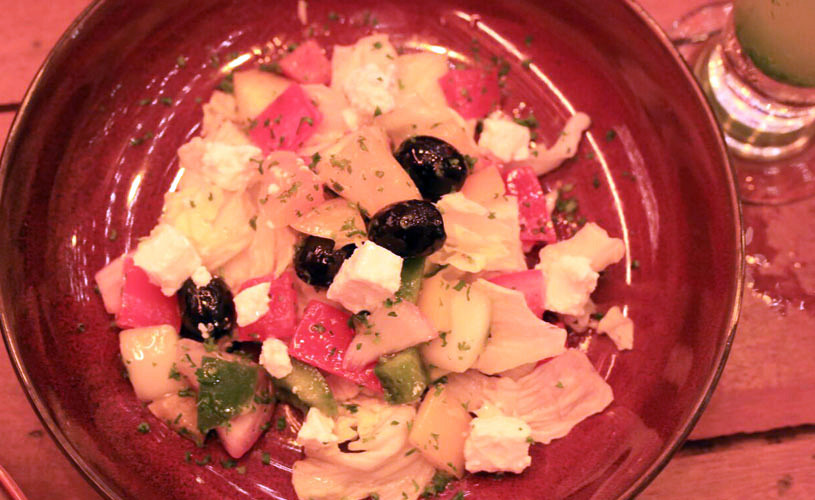 Thick, plump black olives scooped with crunchy iceberg lettuce, juicy chopped tomatoes and oh, mounds and hunks of the freshest feta cheese - boy, did we have a riot of a salad on our hands! Doused with lemon vinaigrette dressing, we relished our bowlful of greens with no complaints at all *cheeky grins*.
Platter De Friar (Father Of All Platters)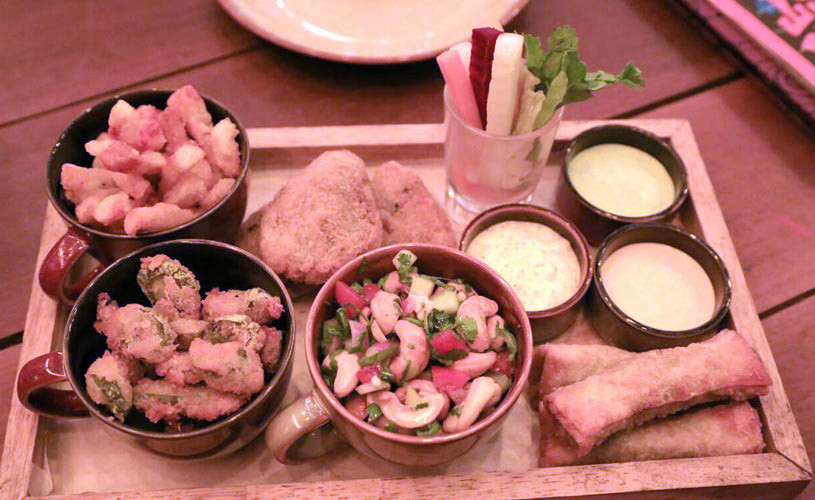 Literally translating to 'The Father (or baap, if you will) of All Platters', this heaping platter came with all the fixings! Comprising a cup-ful of Jalapeno Chips (batter-fried spicy, fat jalapenos); Magic Mushrooms - thick wedges of mushroom cutlets that'll make you crave more, Yellow Submarine (nicely salted, intensely crispy fries cutely named), You Gotta Roll Baby Roll - seasonal veggies wrapped in a crepe and then deep-fried - all of these yummies were served with a nice variety of dips - nom nom!
Keema Pav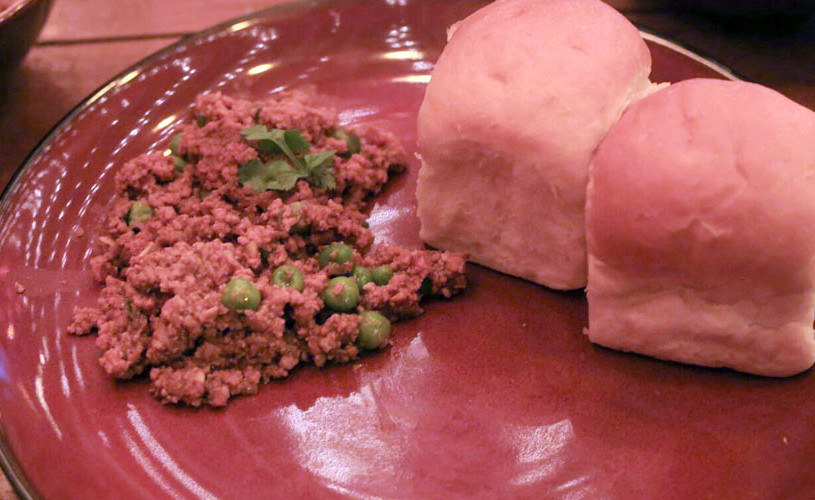 Mounds of minced lamb keema studded with peas were presented to us in a decently-sized bowl, accompanied by fat, tender pavs. The keema was flavourful and thankfully not chock-full of extravagant spices as is found at other establishments, and we happily mopped up the keema with the pavs!
Prawns Curry With Rice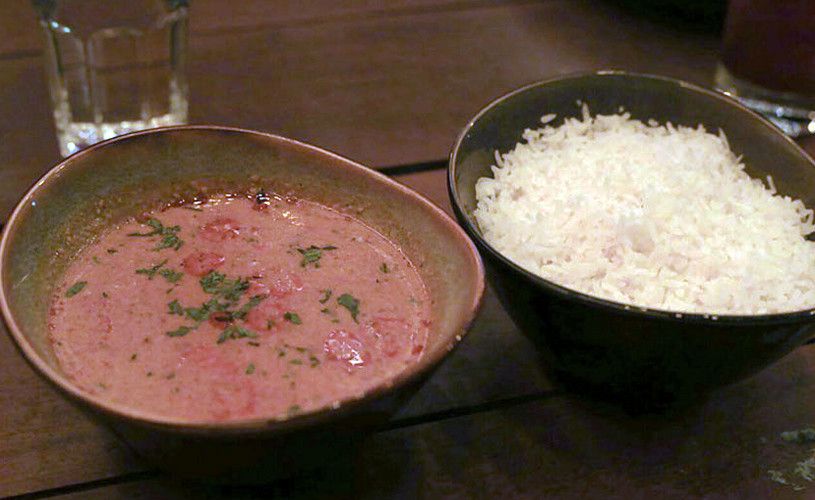 Served with a steaming bowl of rice, their Prawns Curry was replete with zesty, coastal flavours that gladdened our taste buds to glory! Whipped up using fresh coconut (of course!), a whole Kashmiri chilli and coconut milk, you have to try this over at Lady Baga - for the sake of your hungry belly!
Baga Bebinca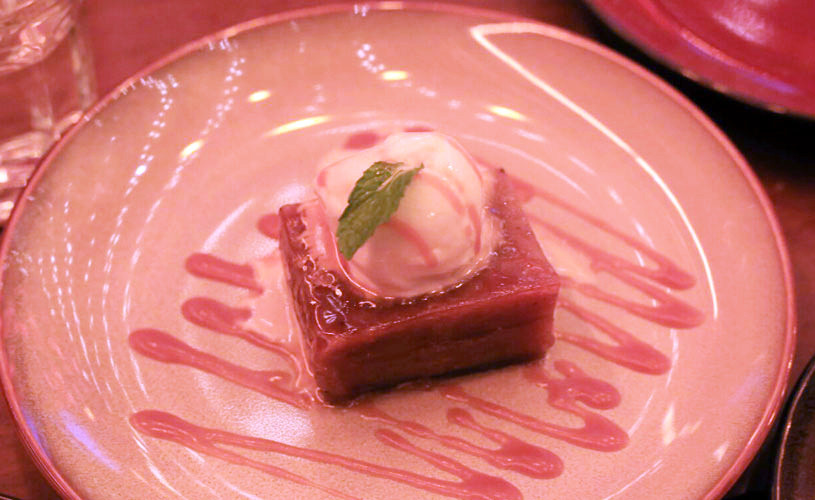 Armed with a recipe that's been in the chef's family for five (omg) generations, a warm, luscious and multi-layered Bebinca lay poised before us, topped with a creamy scoop of vanilla ice cream. Slicing through the layers with our forks, we devoured this delicious cube whole!
Cocoa Cabana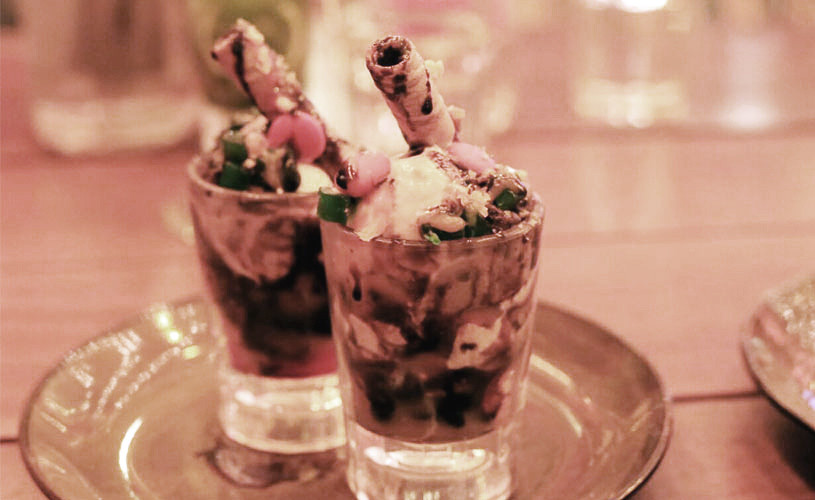 Presented to us in thick shot glasses, a delicious chocolate brownie mingled with two scoops of ice cream, lots of crunchy Cadbury Gems (omg omg) and get this - rice crisps! We polished this one off in a jiffy and sat back and patted our thoroughly satisfied tummies.
Fisherman's Tonic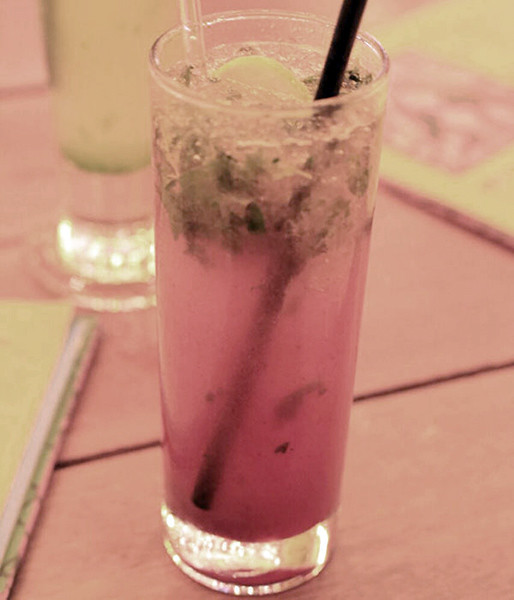 Thrillingly tangy and lip-smackingly pungent - one big gulp of this and you'll promptly start day-dreaming of palm trees and hula skirts *dreamy sighs*! Slapped together using Kokum shrub, gin (lots of it), lime, some curried leaves and frothy soda, it was definitely one hell of a punchy drink.
Great music, delicious food and a thoroughly whacky, beachy vibe smothered over it all - Lady Baga is one rocking Goan hotspot in town that you just gotta visit with your crew! Come on by, folks.
Meal For Two | Rs 1,200
Location | P-3/90, Connaught Circus, Connaught Place