Treehouses have featured in every child's dreams - those lucky enough to be living far from the city to have the space, and a parent willing enough to build it for them, know the feel and smell of a treehouse. But worry not, adults - we've curated for you a list of treehouse escapes in India that are not just thrilling, but also romantic and can make you go weak in the knees!
1. Tree House Hideaway, Bandhavgarh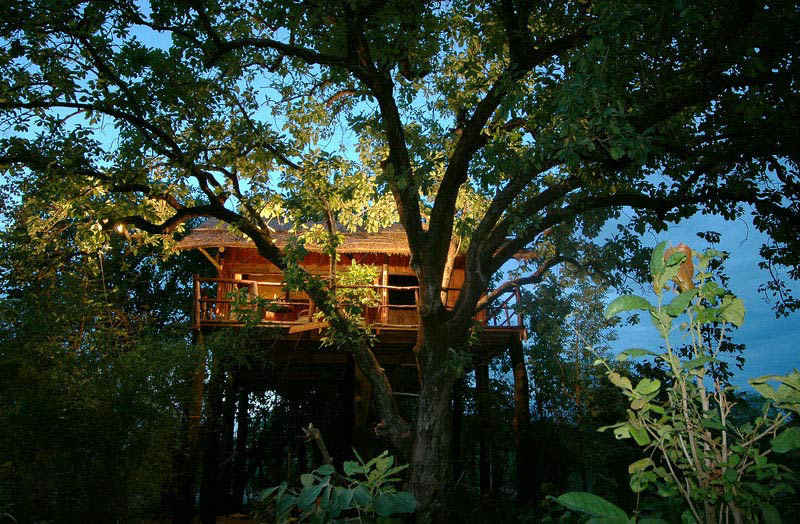 Bandhavgarh boasts of not only one of the most popular national parks in the country, it also offers this gorgeous treehouse getaway which will effectively prevent you from stepping out. It's in the dense forest area of the tiger reserve of the national park and hits all the right forest-y notes as you're totally surrounded by trees atop this beautiful wooden embankment. There are safaris organizes to explore the tiger reserve as well, so do plan your trip accordingly!
Distance from Delhi | 880 km
Check Out Their Website | www.treehousehideaway.com
2. The Tree House Resort, Jaipur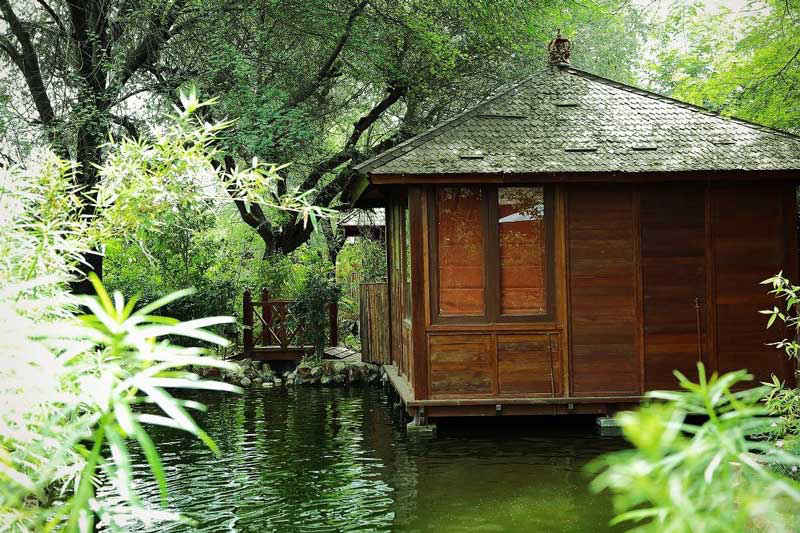 This one's in Delhi's favorite Rajasthani getaway - Jaipur. Nestled on top of 'keekar' trees, this treehouse resort is one of its kind as it even has several live tree branches running through the rooms. The rooms are all luxurious, and you even have the option of taking up 2, 4 or even 5-roomed treehouses. Jungle safaris, archery and badminton courts, nature gym and outdoor movie viewing experiences are just some of the experiences that this resort offers.
Distance from Delhi | 270 km
Check Out Their Website | www.treehouseresort.in
3. Treehouse Cottages, Manali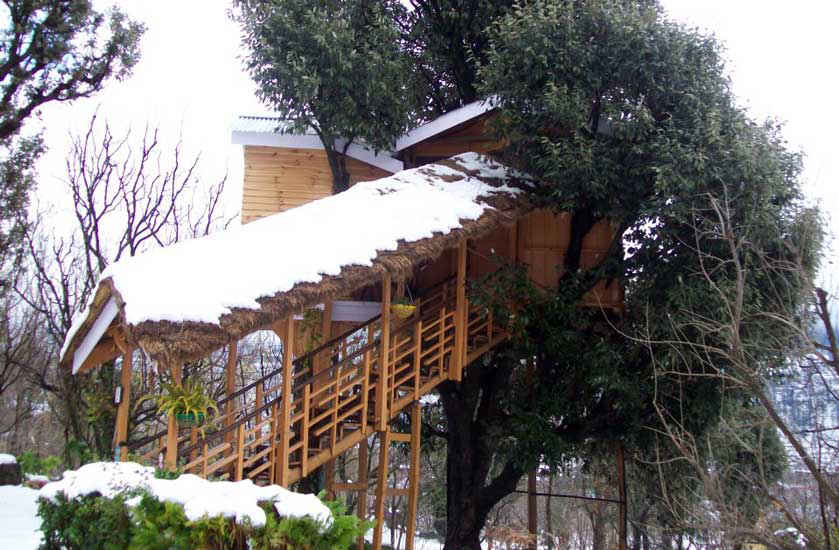 A treehouse cottage in one of India's most beautiful hilly destinations? Dream come true! This wooden edifice sitting atop a tree offers breathtaking views of the Kullu valley, and is located on the Kullu-Manali highway, and thus can make for a pretty  good stopover on your drive to Manali. It claims to be the only treehouse cottage in the whole of Himachal Pradesh and offers a cozy and romantic living area. There are lots of monasteries and temples for sightseeing nearby.
Distance from Delhi | 533 kms
Check Out Their Website | www.manalitreehousecottages.com
4. Chunnambar Beach and Backwater Resort, Pondicherry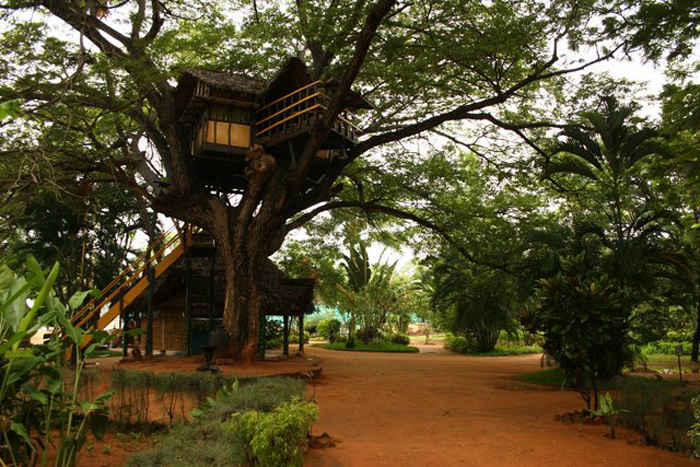 This beautiful little coastal town also houses one of the cutest treehouse resorts, situated just around 8 kms from the main town. The resort is a PTDC enterprise and the Paradise Beach there makes the whole place all the more beautiful. The treehouse resort is located on the flanks of the backwater and offers exciting activities such as boating, backwater tours, picnics, trekking, and even personal boat rentals.
Distance from Delhi | Around 2,000 kms
Check Out Their Website | http://pudhucherry.info/chunnambar.asp
5. The Machan Resort, Lonavla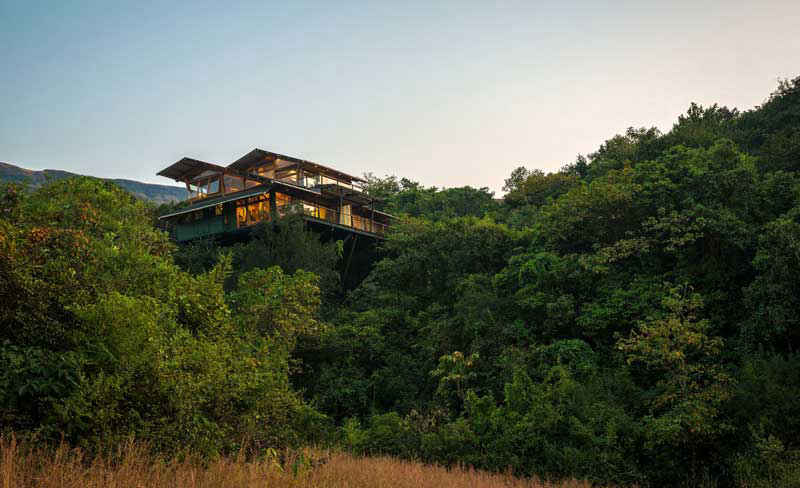 The Machan is again one of the most popular treehouse resorts but is a much quicker getaway from Mumbai as opposed to Delhi. A two and a half hour drive from Mumbai, The Machan has also been declared one of the world's 25 biological hotspots and is located in Maharashtra's favorite destination, Lonavla. It's an eco-resort whose treehouses rise up till 45 feet and offer gorgeous sweeping views! Head on over - the treehouses are calling!
Distance from Delhi | 1,500 kms
Check Out Their Website | www.themachan.com
So pack up that rucksack and head for this earthy luxury- not only do you get that perfect fix for the hectic city life, but you also end up in the lap of luxury!
This article is written by Srishti. A graduate of literature from Lady Shri Ram College, Srishti's interests vary from writing on film, travel, politics and society. She takes life lessons every day, and her favorite subject to write on are people, as she believes that the world is going one way, and the people another!