#HiddenGem - Juicy Tikkas, Kebabs & Rolls: What To Devour @ Sardarji's Thela In GGN
Hola street foodies! We got you a new spot which is tucked away and hidden in the lanes of Gurgaon's Sector 47 and is a known corner for curing late night munchies by gorging on hearty street eats. Famously called Sardarji's Thela, it's your calling when you feel like noshing up some kebabs and tikkas - desi style. This petite stall serves the best of non-veg snacks and rolls but has limited vegetarian dishes. Here's what we liked the most at Sardarji's Thela!
Chicken Tikka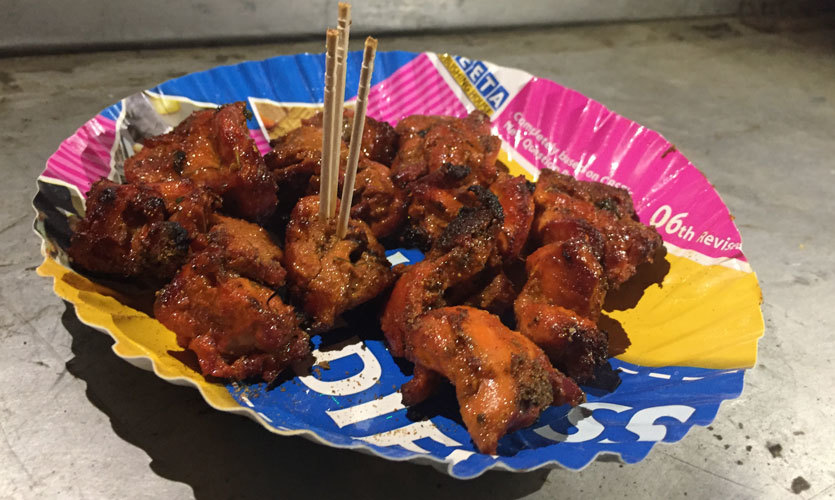 The all time fav dish ever - their Chicken Tikka is a must-have snack for every non-veg belly. They serve ten juicy tikkas in a plate with yummy hari chutney and onions. Known to be the main attraction for all the night owls and also a popular stop for late night commuters - this dish is ekdum paisa vasool! It's got a little parking space, so get it packed or have it in the car - treat your tummies the old school way. 
Chicken Seekh Kabab Roll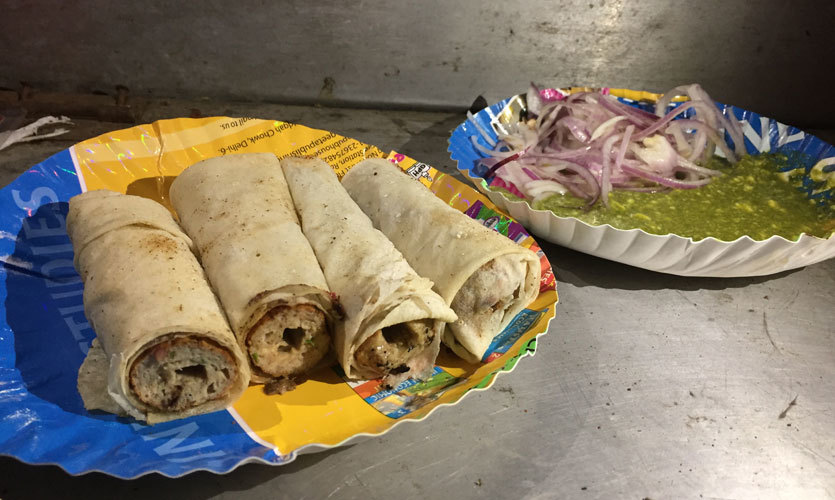 The next snack we tried was the Chicken Seekh Kebab Roll and it was served quickly, in ample quantity. It had four little rolls with large pieces of succulent chicken wrapped in a roomali roti and served with chutney. We were quite impressed by the quantity and the wide variety of other snacks served - like Tandoori Chicken, Chicken Momos etc., but for these, the quality seemed pretty average. 
Paneer Tikka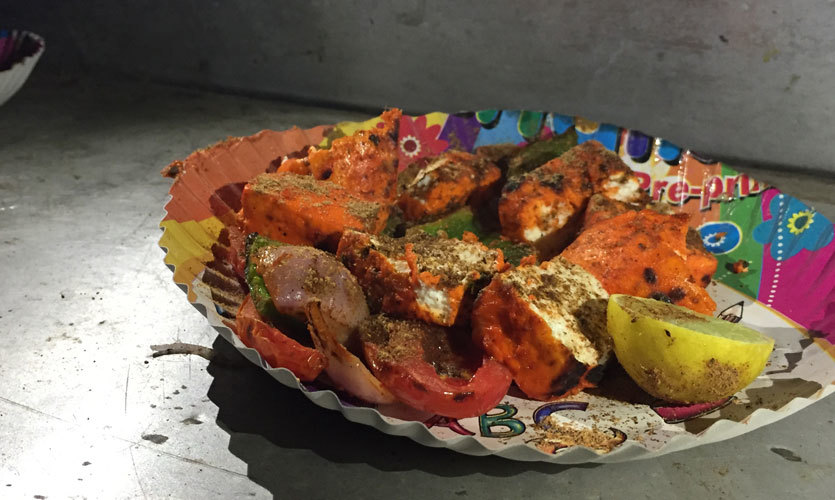 All the veggies in the house - this one's for you! One of the few vegetarian dishes they have other than Veg Momos is Paneer Tikka. The tikkas are soft and flavoursome accompanied by their forever snack buddy - the green chutney. With the tang of masalas, tomatoes and pieces of capsicum to treat your taste buds, it's time to hit this thela up soon and tick off other items as well from their menu list. 
Roomali Roti
We also treated ourselves by gobbling up Roomali Roti like happy kids and it was thin, soft and delicious, which we enjoyed thoroughly with the other tandoori dishes. You'll love mopping up the zesty grub here with these yummies!
So we found you a typical Old Delhi kinda street food joint and a solution to all your midnight cravings when it comes to desi Punjabi snacks-vacks. So next time you're in GTown with empty bellies yearning for chicken tikkas - you know the place to be! 
Meal For Two | Rs 300
Location | Sector 47, Near The Petrol Pump, Gurgaon
Timings | 6-10 PM (On All Days Except Tuesdays)