Here's Your Guide For Sasti Shopping In Khan Market Starting @ Rs 100 & Yes, That's Possible!
Khan Market is notorious for being one of the costliest retail spaces not only in the country, but across the globe (it was ranked 28th worldwide in a recent study). An upscale market, don't be surprised if you head out to shop at branded stores and fancy boutiques that the market houses and end up splurging waaaaaaay more than you'd decided! 
So to save you the MASSIVE shock you'd get looking at your wallet at the end of a Khan Market shopping spree, we walked through the entire area and found a few gems in the name of street shops. From trendy clothes and chic footwear to swoon-worthy jewellery, we've got you covered!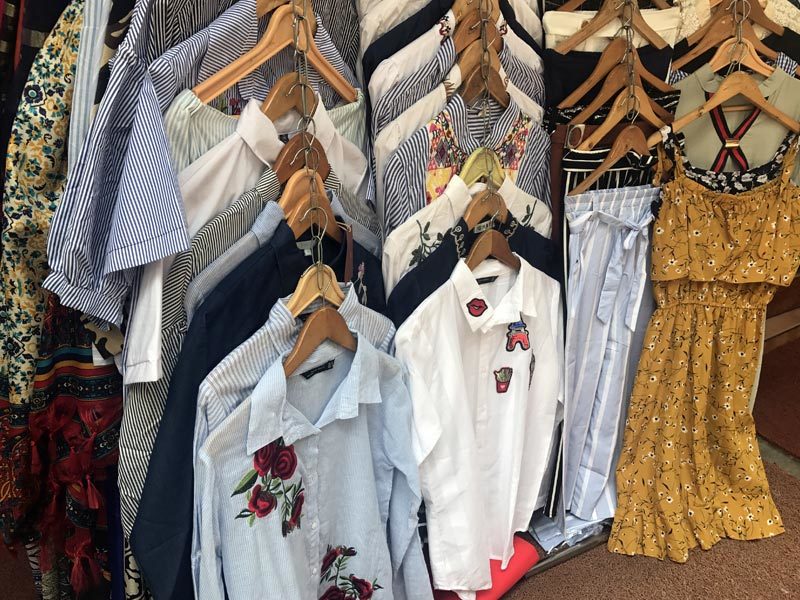 All the stalls mentioned lie along the middle lane of the market (for reference, this is the same lane of which the ever-popular Smoke House Deli is a part), so it's quite literally a perfect one-stop shopper's paradise! Here's a stall-by-stall guide through the lane:
Footwear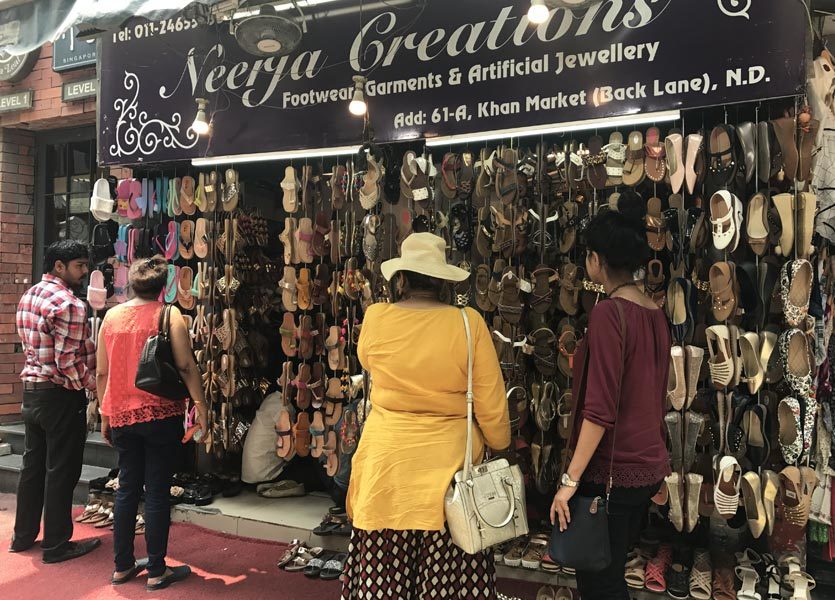 Our first stop was Neerja Creations, a large shoe stall stocking a HUGE variety; be it either Western or ethnic footwear, basic or blingy, you can find pretty much any kind here. We also discovered a few unique finds (read: cute and colourful pom-pom straps!), so be sure to scan the rows with an attentive eye from left to right! 
Starting Price | Rs 300
Clothing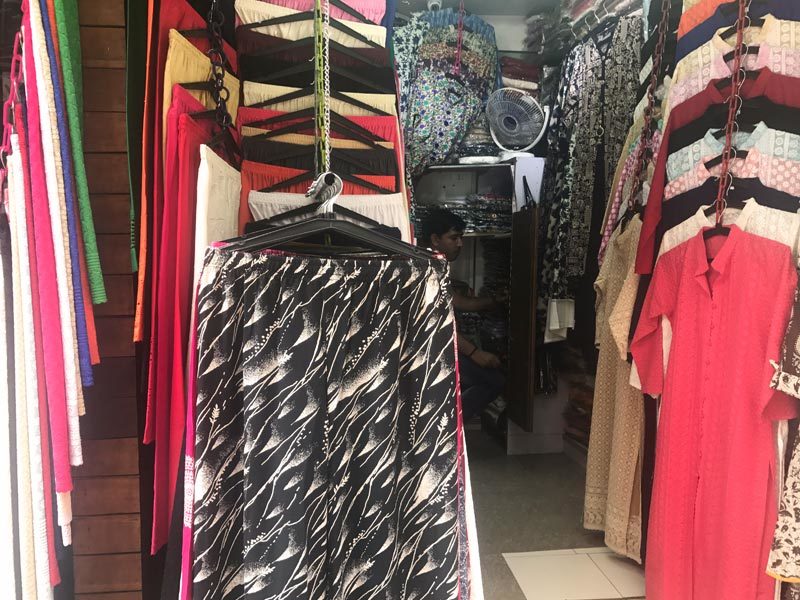 Just a few steps ahead of Neerja Creations' footwear stall, to the left, is their small clothing store. And if you choose to walk on straight without taking the turn, you'll find another tiny (but definitely gorgeous) stall. Both these have for sale the trendiest clothing items and summer trends, be it off-shoulder tops, shirt dresses, stripey wear, or the like. 
In fact, we couldn't help but notice how similar some of the designs looked to the latest collections at high-street brands like Zara and Forever 21, but these were at, of course, a much more affordable price (praise the Lord!).
Keep walking down the lane and towards the end you'll come across another tiny shop with a very pleasing collection of ethnic wear and prints, including a bunch of absolutely lovely embroidered palazzos and long kurtas in a myriad of fresh colours, priced reasonably from Rs 500 onwards. Perfect for the upcoming festive season! 
Starting Price | Rs 400 (Tops) & Rs 600 (Dresses)
Accessories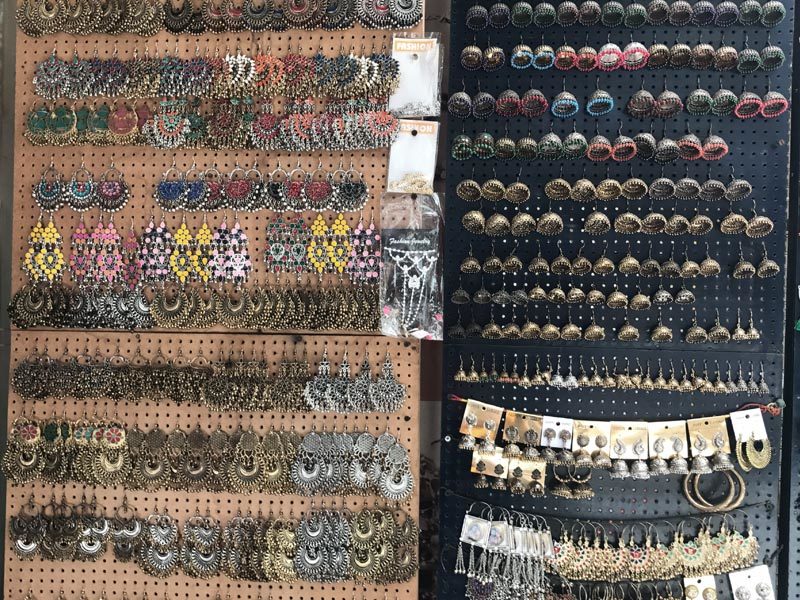 Our favourite stop, however, was an (read: the only) accessories stall in the lane with large displays of stunning earrings on the outside. In every shape, size and colour, these started at as low as Rs 100! On walking inside the shop, we found a cornucopia of more junk jewellery.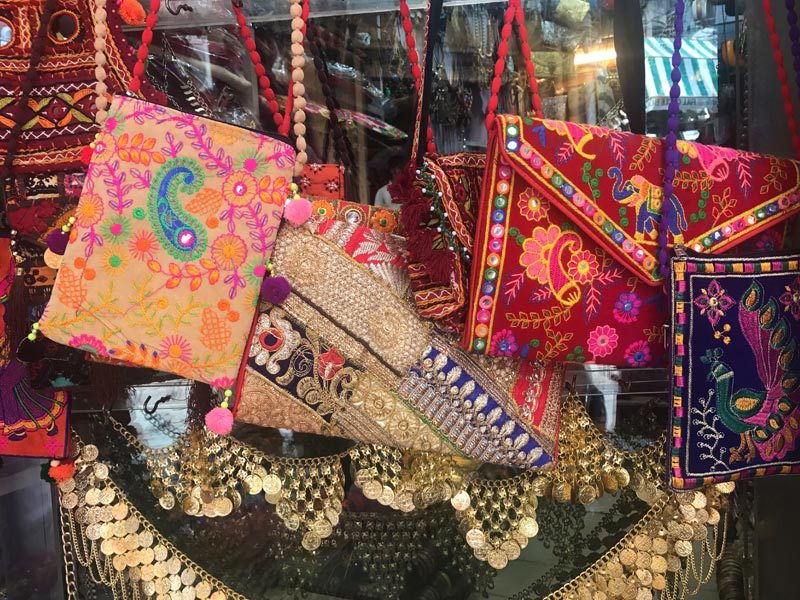 What especially caught our eye were the grand, antique necklaces, which would fit seamlessly on the sets of Bajirao Mastani or ensure that any ordinary outfit appears eye-catching. These begin at a price of approximately Rs 300 and go up till about five times the price, depending on the design and size of the product. There was also a collection of colourful clutches and embroidered, quirky bags in a range of sizes, great for adding a pop of colour to your wardrobe!
Starting Price | Rs 100 (Earrings) & Rs 300 (Bags)
Since these are street stalls, none of them adhere to a fixed price and often times, you may feel that the prices are being quoted at random, so don't shy away from using your bargaining skills like a true Dilli girl. So what are you waiting for? Go ahead and discover the treasures of Khan Market!