Here's What to Gorge On at the CAARA Cafe in British Council
The much loved British Council Library has given everybody another reason to visit them. CAARA Cafe, their in-house restaurant is hardly a month old but has won hearts of people visiting the library already.
Started as a high end catering brand, CAARA, also ventured into restaurant consultancy and chef recruitment both in India and abroad. This is their first attempt in opening a cafe and in no time it has already been successful. Their high credentials and service are reasons big enough for you to sit assured that everything that they serve will be of the finest quality.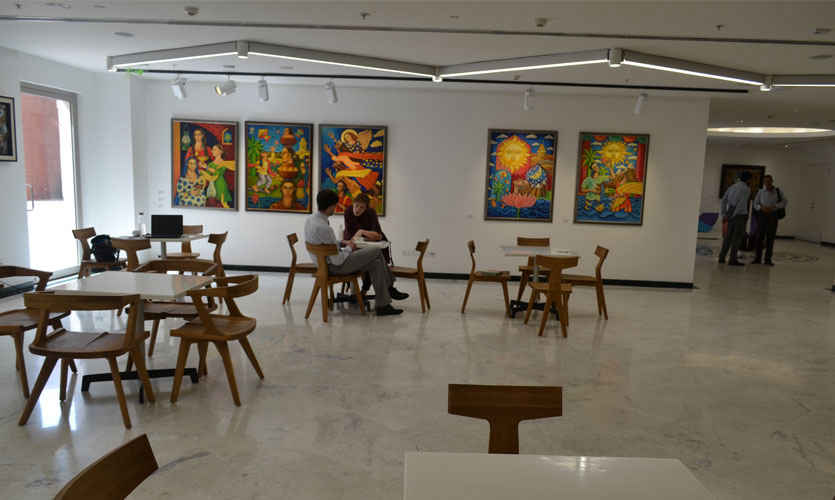 The moment you walk into the cafe, you will know that you have made a wise choice. Unlike its counterparts, this restaurant isn't cramped. This cafe happens to be one of the most unpretentious places that the city has to offer, the goodwill of the cafe lies in its hospitality and the positive vibes that it throws and it surely has the ability to uplift one's mood.
The USP of the cafe is that most of their ingredients come from its sister company, Farmlove who are known in the industry for growing only chemical free produce. Their food in general is healthy and smells fresh. Their urban contemporary yet basic decor accompanied with staggeringly pretty colour coding sets the perfect ambiance for one to relax and spend quality time either alone or with family or friends.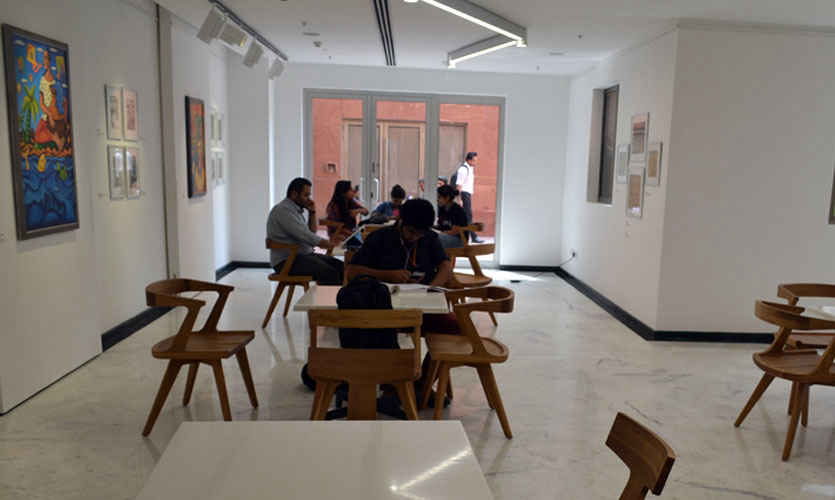 They menu as of now is limited but nonetheless, every bite here is priceless.  We ordered a couple of dishes and everything was next to perfect.
To start with, we ordered their Chilli Paneer Sandwich. The sandwich was grilled perfectly with cheese and their Paneer was soft as ever. However, it wasn't really spicy as the name suggested. The classic juicy sandwich holds up well and one can surely pick it up for a quickie.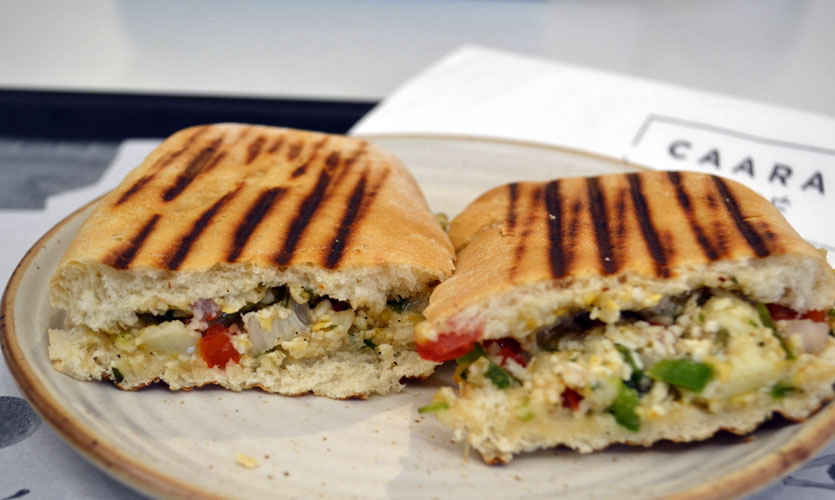 We also ordered a vegetarian Falafel Wrap which consisted of mixed seasonal salad and Tzatziki. Red lettuce and the perfect salad dressing, it needed no other condiment as it was perfect on its own.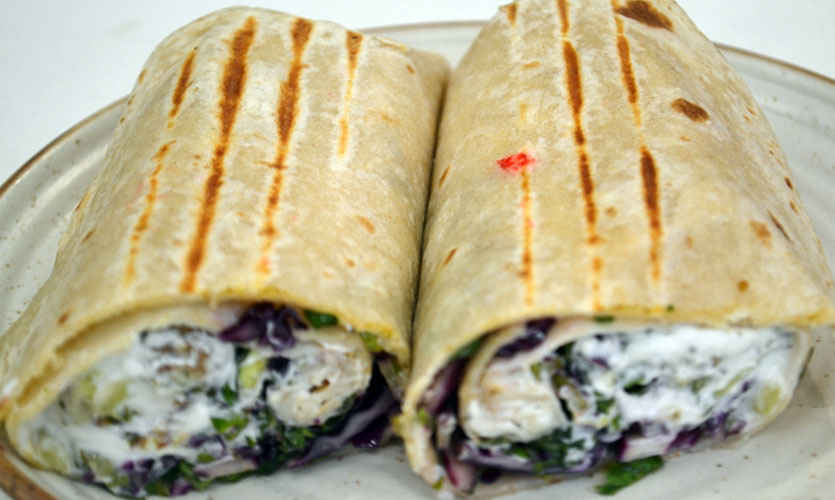 And we didn't miss out on their salad and neither should you. Their Superfood Vegetarian Salad tastes as good as it looks. It consists of Broccoli, Pumpkin, Beetroot, Green Beans, Pomegranate, Feta, Almonds and French Vinaigrette. It has everything in it to keep you hale and hearty.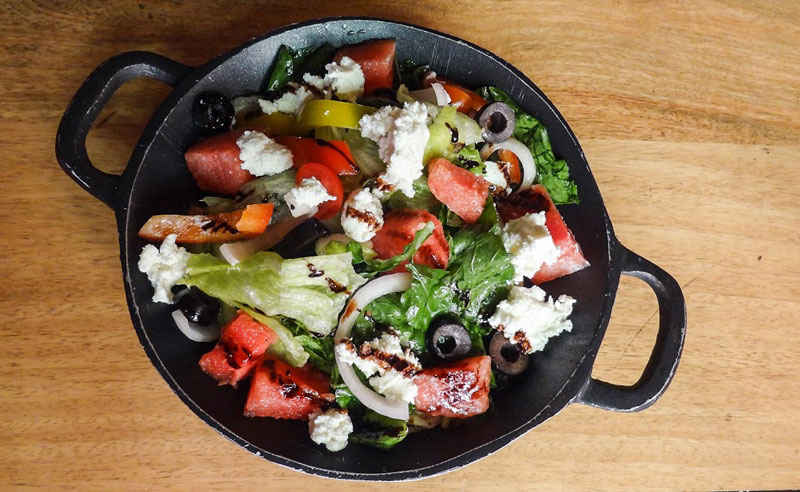 CAARA also serves cold pressed juices in packed bottles which have no added preservatives and have a short shelf life of just 3 days. The juices are available in various flavours including Orange, Apple, Pineapple, Aloe Vera, Mint, Lemongrass and Coconut.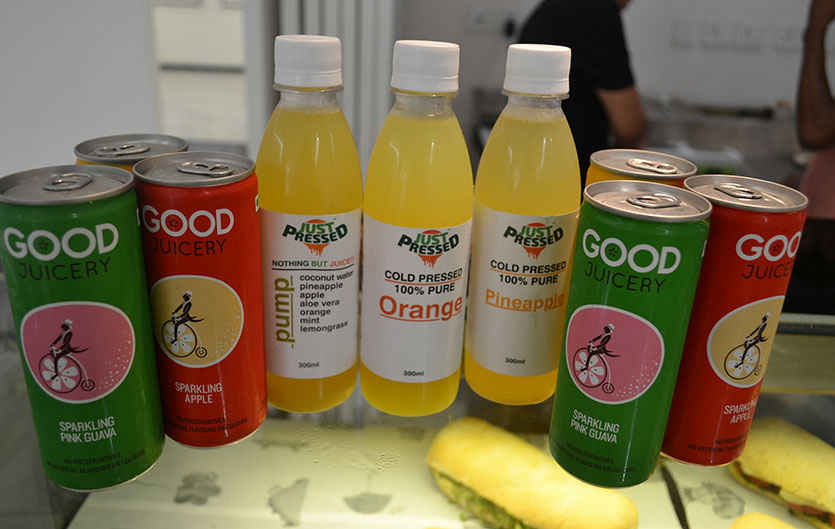 Lastly, our taste buds relished the Brownie Square which had added salted caramel and was the perfect blend of chocolate and sugar.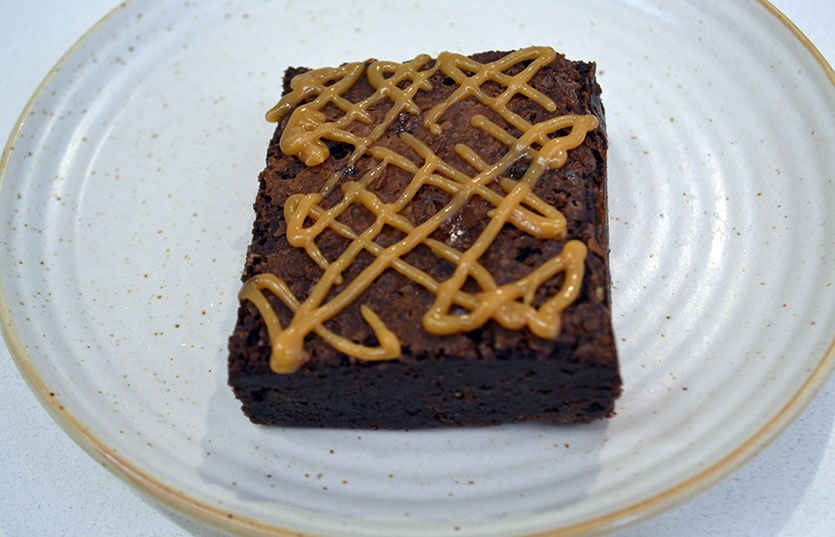 Don't miss out on their Carrot Cake with Mascarpone Frosting which happens to be their best seller. We couldn't resist this slice of moist, spongy decorative piece of cake and we are absolutely going to judge everybody who can.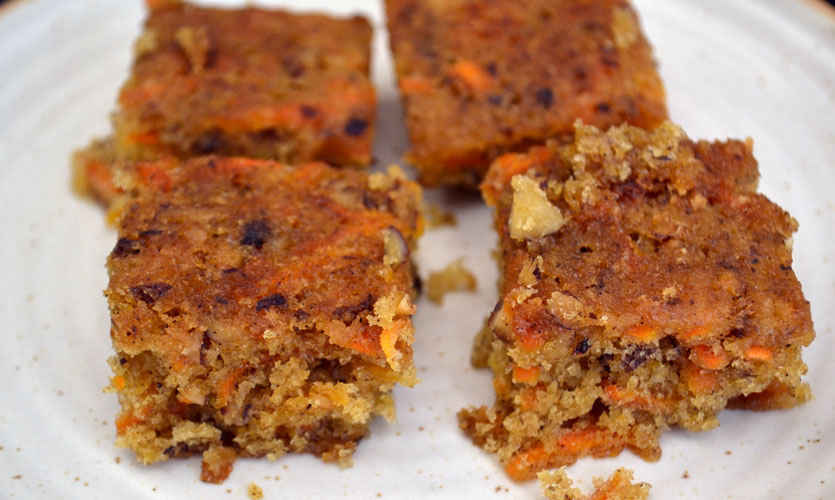 All in all, this European cum Continental cafe is a place everybody should visit. Not only is the food commendable and their service friendly and extraordinary but also the ambience of the cafe is soothing and invigorating. Presently they accommodate only 34 people at once but with the option of outdoor seating, the numbers are surely going to increase. They are open from 8 AM until 8 PM except for Sundays when they are close by 6 PM.
So, the next time you are in Connaught Place and are looking for a new place to  grab a bite and enjoy a good conversation, you know the place to head to. You can thank us later for it.
Location | 17, Kasturba Gandhi Marg, British Council, Janpath
Meal for Two | Rs 600