The capital is one place where life is faster than we can grasp, and everyone is looking for a blessed escape. Tucked away in one of HKV's many tiny lanes, The Hippie Trail is Delhi's new backpacker café, and is soon catching up with the crowds. We decided to sneak in here and see if the name and feel of the place complement each other. And they did! Mattresses, low tables, beautiful artwork on the walls, dreamcatchers, fairy lights, prayer flags and chill tunes make up this cosy space. There are tons of board games to keep you entertained, in case you're not already carrying something that could do that job for you. We were lucky to be arrive here on a day when the rain gods were being generous – The Hippie Trail boasts of a beautiful view of the lake and lush greenery outside, which looked even better with the rain pouring down.
Their menu is simple and crisp and boasts of waffles, pizzas, pastas, sandwiches, burgers, snacks, desserts and lots of hot/cold drinks. The price for each item was not over the roof unlike most cafes in the area, and was well worth it given their serving size and quality of food. Take a look!
Masala Chai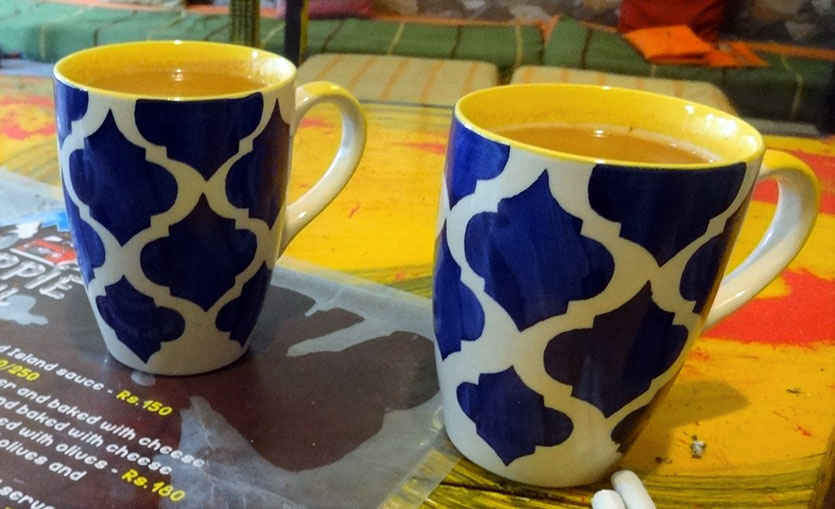 Costing a mere Rs. 50, do not expect a fancy little cup and saucer in front of you. To our surprise, we were served a big mug filled to the brim with their aromatic Masala Chai. Perfectly sweetened and not too heavy, it hit all the right notes. One is most likely to go for seconds with this one, if chilling here for a good while.
Chocolate Sandwich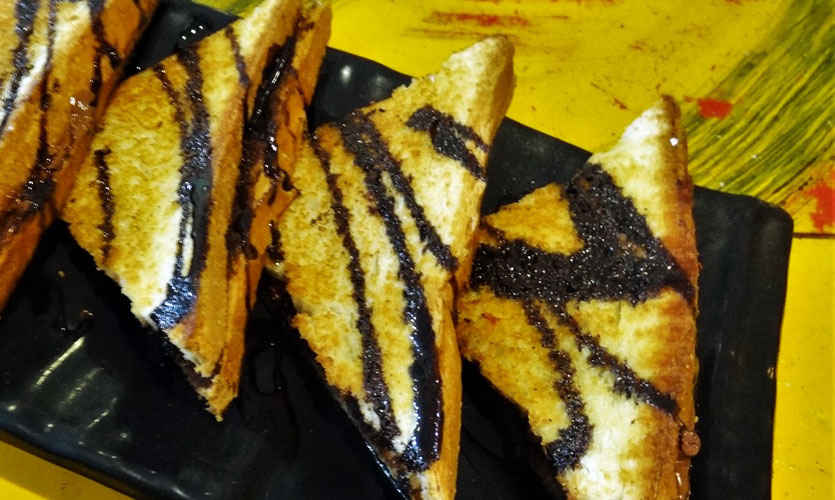 We're going to take a moment here to appreciate this divine creation! Words may fail us, but we will try. Buttered, toasted bread containing a generous Nutella filling is made into a sandwich and served hot with chocolate sauce slathered all over it. This beats everything we've tried so far! If you're heading here to try just one thing, this is what you're getting. You can thank us later.
Loaded Nachos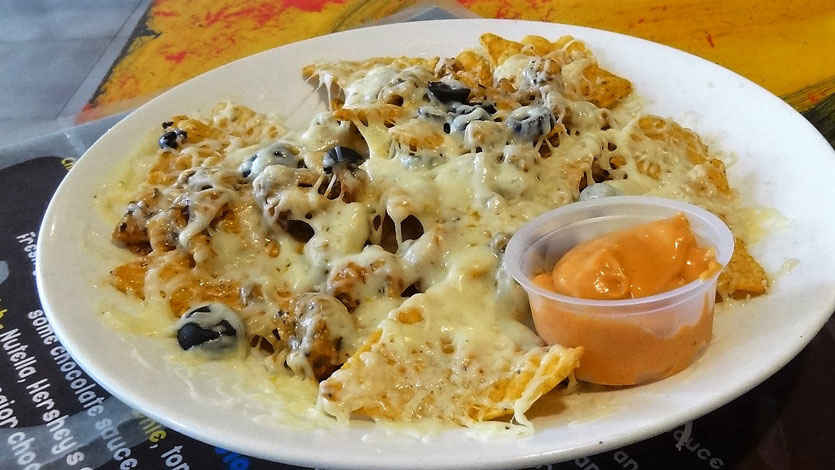 That 'loaded' in the name is not just for the sake of it! It describes the chicken chunks, hot melted cheese and olives on top that define the flavour of the nachos. It looked quite appetising (enough for those around us to order the same once they'd had a glimpse of it). Served with a sweet dip that helped balance the saltiness of olives and cheese, we were, however, not blown away. Could've been better!
Chicken Pizza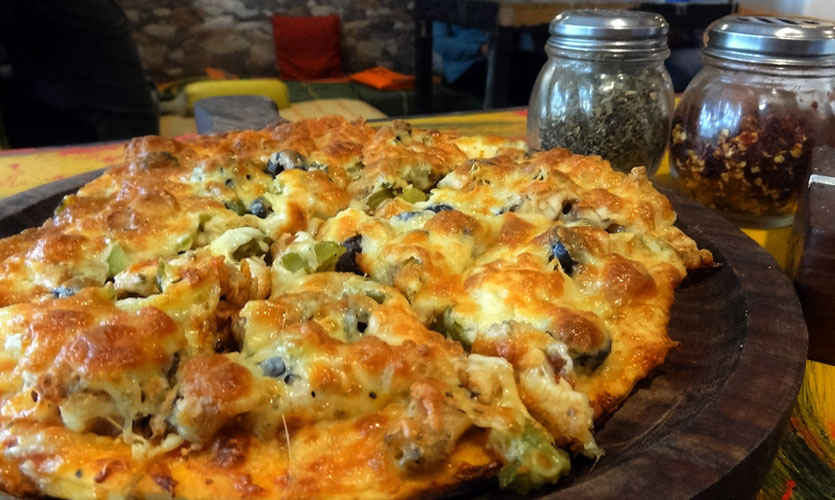 This was the second best item we tried on their menu. A thin-crust pizza, this, but the topping makes it a decadent one to bite into. Consisting of peppers, jalapenos, chicken chunks and topped with well-baked cheese, this was yummy! It was one of the simplest, yet most delicious pizza we've sampled lately.
Roasted Chicken, Pita & Hummus
The hummus carried a delicious garlic aroma, and a perfect balance of flavours with a splash of lemon juice giving it that much-needed kick. We absolutely loved the pita bread which they said they bake fresh – warm, soft and it surprisingly had a very slight sweet taste to it which worked rather well for our palette. The chicken though was on more of an oilier side, but tasted quite good being nicely cooked with lots of spices. We paired this with a glass of fresh Lemonade and had ourselves a delightful afternoon!
Having had such a memorable and deliciously satisfying lunch here, we recommend you guys do the same and happily head on over to The Hippie Trail! See you there.
Meal For Two | Rs 600
Location | Shop 13-A, Hauz Khas Village