Here's All About The Hits & Misses We Found @ Noida's Very Own Diwali Mela - Shilpotsav
Staying in Noida has its own perks! With Delhi flooded with never-ending and glitzy Diwali melas, we were excited to visit Noida's very own grand Diwali mela called Shilpotsav, but were definitely disappointed as it wasn't as good as last year's. 
Being held since 2009 and sponsored by UP Tourism, Shilpotsav is a 10-day extravaganza, starting from 18th October and ending on 27th October with SAARC countries also participating.
As and when we entered the mela, we were quite impressed by the decor and it being beautifully lit up gave us all the Diwali feels. Shilpotsav is known to showcase kiosks filled with clothes, jewellery, handicrafts, shoes & furniture.  
On strolling from aisle to aisle, we came across many kiosks and boutique stalls but they mostly sold stuff that are also easily available in the markets around town. There were many nurseries selling plants as well, but these too were a tad bit expensive.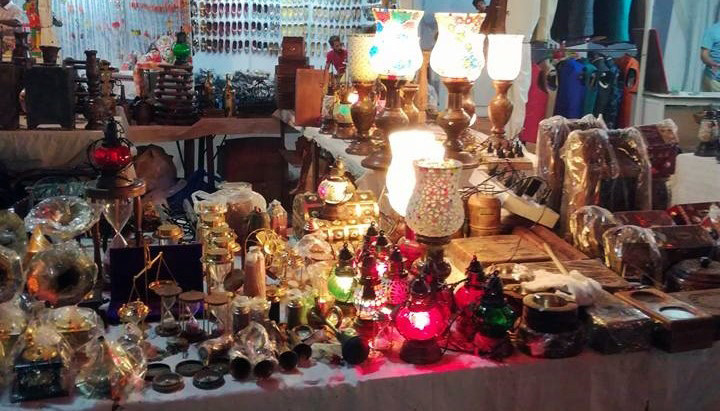 If you love your ethnic clothes, there were many stalls here where you can enjoy a good splurge and handicraft lovers would also be delighted by the finds to be had here. There was one particular person who had his wares laid out on the ground who stood out for us; his shop was filled with pots, show pieces, crockery, vases, and lots more interesting handicrafts!
What we liked most about the mela was the dedicated corner for children where they had put up rides for them, giving all the parents and tiny tots an incentive to stay! For entertainment, over the 10 day period, they had various live gigs lined up from rock bands to sufi bands performing, a stand up comedy gig as well as a range of cultural programmes. 
Famished, we then headed to the food court. The most interesting one was the Rajasthani stall which served amazing Onion Kachoris! Exploring further options, we were a little disheartened with the food court as it was a tad too highly priced and was also not all that hygienic with a lot of flies and not much variety overall.   
Our verdict? All in all, one can visit Shilpotsav if they just can't make it to all the melas happening in Delhi!