Here's 9 Legendary & Ages-Old Foodie Joints To Check Out For Desi Eats In Chandni Chowk
The twisted gallis and puzzling alleys of Chandni Chowk can be easily compared to a maze but when the reward at the end of the tunnel is lip-smacking food, there's nothing that can stop us! The only thing better than warm covers in winters are weekends spent with friends gorging on delicious food and exotic treats while feasting on the eternal beauty and timeless charm of Old Delhi and soaking up some sun!
For all the foodies out there, we've got a tried and tested Chandni Chowk food expedition that is the perfect way to spend the winter weekends with your squad that'll be SO worth getting out of bed, for sure!
1. Gorge On Bedmi Aloo & Nagori Halwa @ Shyam Sweets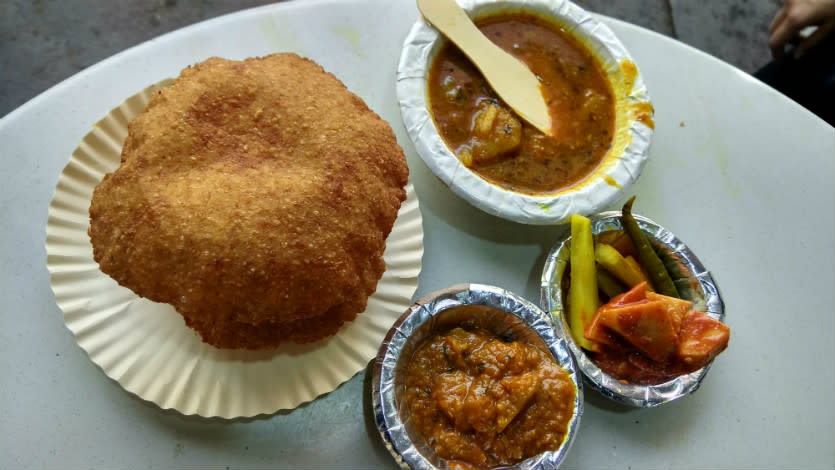 The first stop is the legendary Shyam Sweets, which is known for their breakfast treats and sweets since 1910 and we've come up with a killer combo that you must try. Get your hands on the breakfast-special Bedmi Aloo, Nagori Halwa and Cham Cham and jumpstart your taste buds and your foodie trail right! 
The piping-hot spicy aloo sabzi along with the bedmi, flavourful aachar and salad are a match made in heaven and perfected by Shyam Sweets. Combine that with the Nagori Halwa and Cham Cham here and we're sure you'll be able to hear the angels sing! As it's always swamped by people including foreign tourists, we suggest that you reach here early and avoid the crowds.
Price | Rs 210 
Location | Shop 112, Chawri Bazar
2. Sugar Rush With Rabri On Jalebi @ Old Famous Jalebi Wala!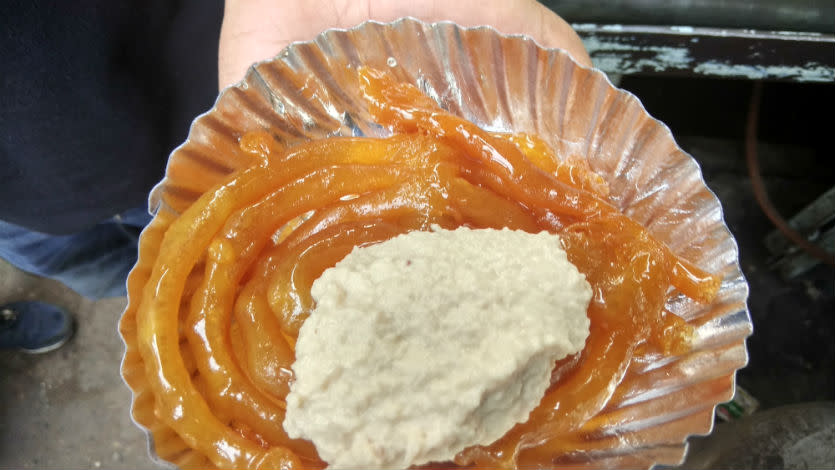 This age-old shop is where you get your sugar rush - Old-Delhi style! Grab hold of the sinfully-sweet and famous gigantic jalebis here at Old Famous Jalebi Wala and indulge your sweet-tooth to the core. The beautiful jalebis are perfectly balanced when it comes to taste, without being overly sweet and with the rabri on top - they are just to-die-for! A trip to Chandni Chowk without a taste of these jalebis is a trip wasted TBH!
Price | Rs 75
Location | 1795, Dariba Kalan Road, Dariba Corner, Opposite Central Baptist Church
3. Do Street Food Right With Chilla-Bread @ This Stall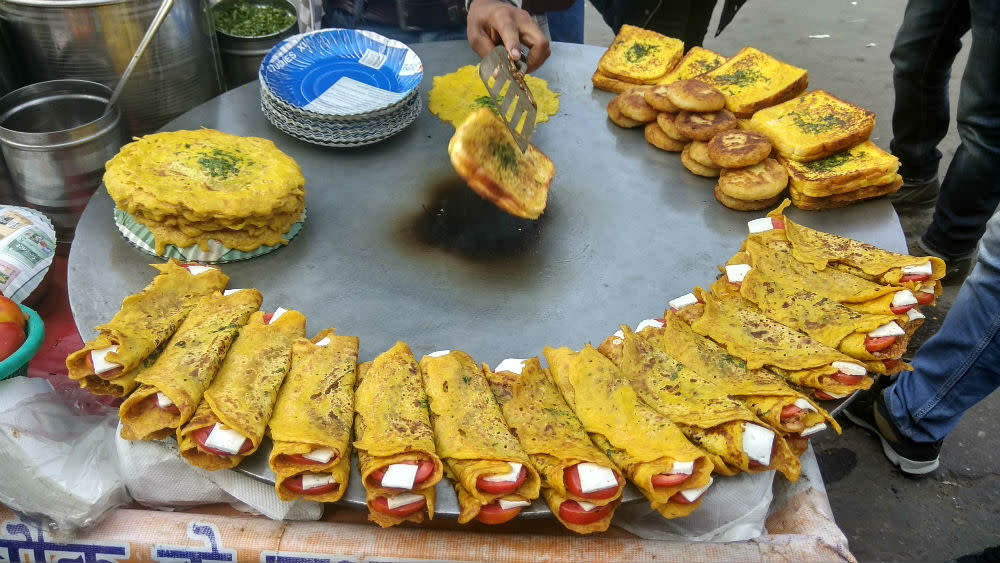 On the opposite road to Bank of Maharashtra stands a street-stall right on the main road serving Chandni Chowk's famous chilla-bread stuffed with aloo cutlets and chilla stuffed with paneer! Topped with teekhi hari and saunth chutney, this is one delectable street food that you should definitely try here. Served with a wholesome garnishing of carrot and radish shavings, it also get points for presentation and for satisfying our chattore taste buds!
Price | Rs 40
Location | Street Food Stall Opposite Bank Of Maharashtra & Near Old Famous Jalebi Wala 
4. Devour Platefuls Of Dahi Bhalle @ Natraj Dahi Bhalla Corner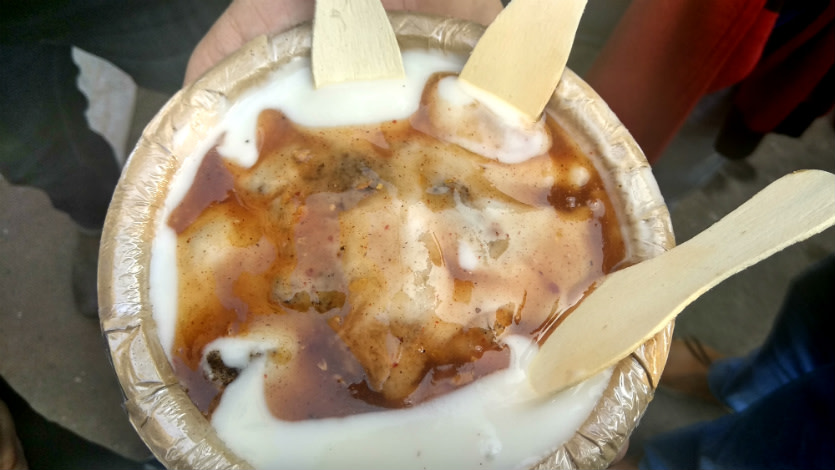 Dahi bhallas = Natraj Dahi Bhalla. Period. These dahi bhallas are popular for a reason - they're well-balanced in terms of taste with ample quantity and sufficient flavours, and we bet you'll end up devouring this within two minutes tops. Standing opposite the Old Famous Jalebi Wala, head here to get your fill of delectable Dahi Bhalle which will make you appreciate this typically desi treat so much more! 
Price | Rs 50
Location | 1396, Main Road Near Central Bank, Opposite Paranthe Wali Gali
5. Slurp Up The Masala Shikanji @ Vedprakash Lemon Wale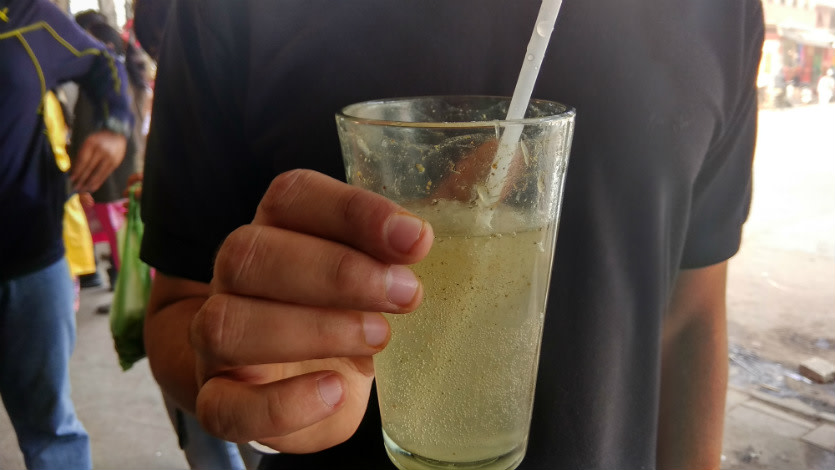 A little walk and a tall glass of shikanji will take you a long way in Chandni Chowk! Head towards Ghanta Ghar and get your hands on the best Masala Shikanji in Chandni Chowk at the age-old Vedprakash Lemon Wale! This little blue-coloured shop serves the most refreshing glass of Shikanji that'll help wash away all the spiciness and desi ghee you've just indulged in!
Price | Rs 15
Location | Shop No. 5466, Opposite Town Hall
6. Gobble Up Bigass Stuffed Naans & Dal Makhani @ Kake Di Hatti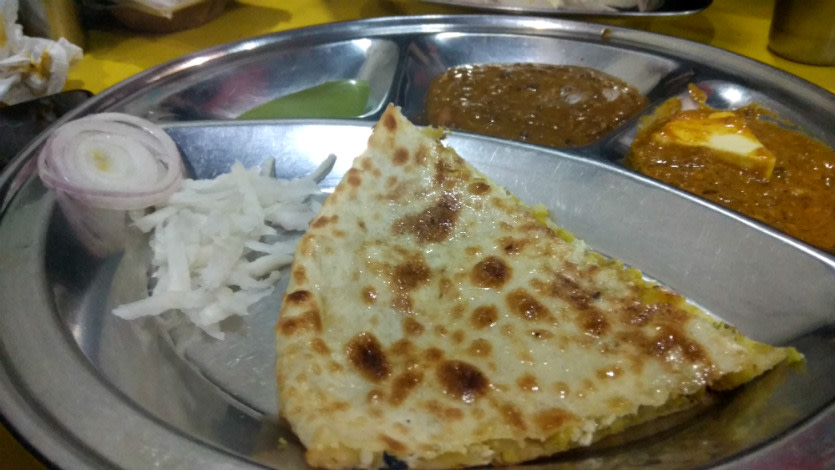 Head here for a hearty lunch with massive Stuffed Naans which will surely live up to their name! With their humongous naans, a scrumptious meal awaits you with their creamy Dal Makhni and Paneer Butter Masala in tow! You'll certainly leave this place with your belt a notch tighter and that gluttony, for once, satisfied. We also recommend the Fruit Beer here (or as printed in their menu, "Fruit Bear") which will go perfectly along with your order beautifully!
Price | Rs 625
Location | 654-666, Church Mission Road, Fatehpuri
7. Indulge In Some Rabri Faluda @ Giani's Di Hatti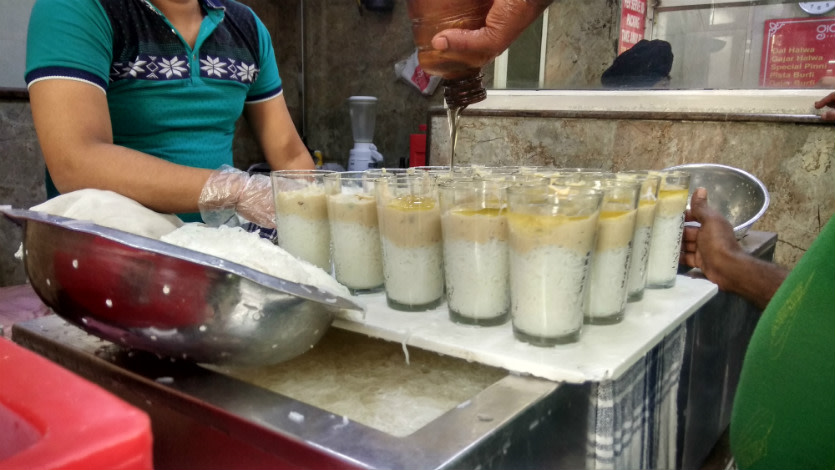 Sharing the same wall with Kake Di Hatti is Giani's Di Hatti which has been making waves thanks to their delish Rabri Faluda since 1956. After a wonderful meal at Kake's, we recommend that you end things on a sweet note with Giani's legendary Rabri Faluda! 
Loaded with dry fruits and an explosion of flavours, this sweet treat is rich in taste and with its perfect balance - it's a dish fit for royalty! A glassful of Rabri Faluda is always available here and after you get a taste of it, you'll keep coming back for more!
Price | Rs 80
Location | 651 - 652, Church Mission Road, Fatehpuri
8. Treat Your Taste Buds To Chicken Jahangiri @ Karim's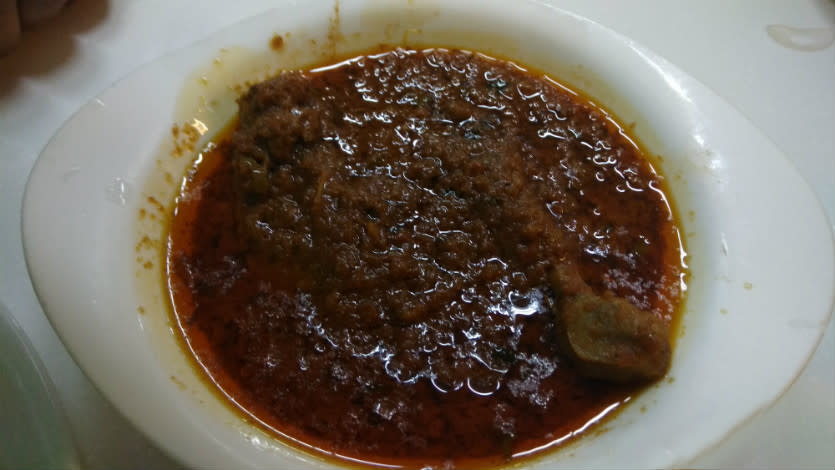 It's not an Old-Delhi food expedition without a visit to Karim's! So head here for dinner and order servings of yummy curries and succulent meat that'll have you licking your fingers! We recommend a serving of the amazing Chicken Jahangiri, Mutton Stew, Chicken Biryani along with Dal Makhni and Shahi Paneer for the vegetarian folks (yes, they've got veg delicacies too!). Combine that with the Tandoori and Roomali Roti and the exquisite Sheermal and Kheer and drop headlong into foodie heaven! 
Price | Rs 205
Location | 16, Gali Kababian, Jama Masjid
9. End Things With Stuffed Mango Kulfi @ Kuremal Mohan Lal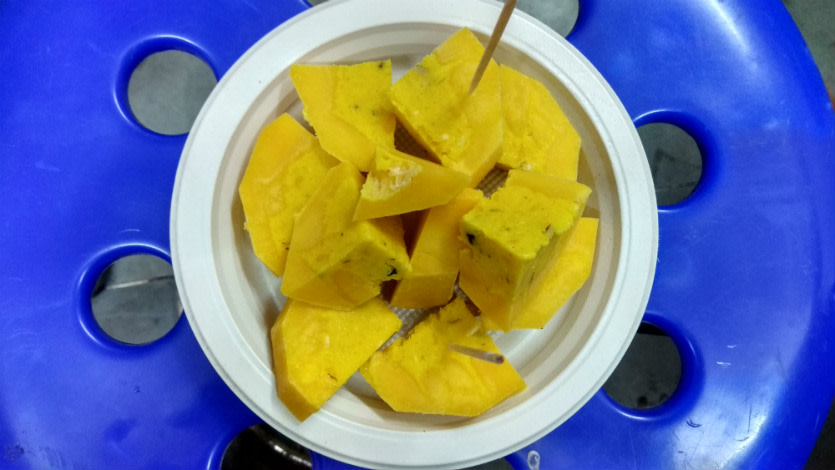 Although finding this one is quite the task but their kulfi makes it well worth the effort! Near Ashok Suit, this shop has stood the test of time and has been around for more than a century now, as it was established way back in 1906 *woah*! It's known for its Ice-Cream Rolls which sadly are available only on special order, but their kulfi is amazing too! Available in many styles and flavours, choose whatever catches your fancy whether that's the stuffed Mango Kulfi or the Sharifa Kulfi Julpeps!
Location | 1165 - 1166, Sunaron Ki Dharamshala, Kucha Pati Ram, Bazar Sita Ram
So, wear your running shoes this weekend and run around Chandni Chowk feasting away at these legendary places!