Here We Are Street Talking With Harsh Raman, Delhi's Funky Graffiti Artist
He has painted the town red, blue, yellow, green et al; he has painted his heart out across the walls of Delhi; he has painted in the sun, the rain, the cold; he has painted in a way that has changed the feel of the city forever. Harsh Raman is one of the most talented street artists in Delhi, and we chatted with this gifted illustrator to know the various shades of his life.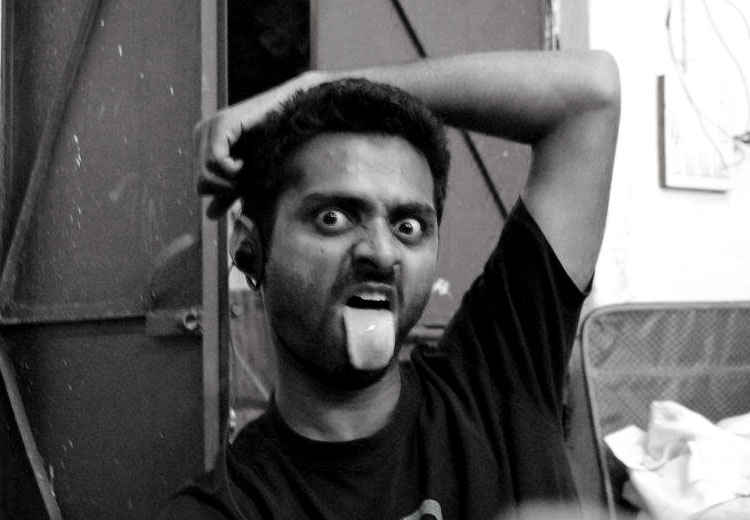 What is your main source of inspiration? Are there any particular cultures that you feel have influenced your aesthetic?
The thing that keeps me going is the thought to be better than what I was yesterday. I think Dadaism, Surrealism and Comic Books have had a strong impact on my style.
How would you describe your ideal work environment and your biggest challenge?
My ideal working environment would be where I can get paid to play with the things that interest me. As an Urban Artist, my biggest challenge is to be able to maintain a balance between my studio and street life.

Of all the projects you've done, which one's been the most satisfying?
It's impossible to pick one! The youngest kid is always the favourite. So with that in mind, the Sadhu that I painted recently for the Rishikesh Street Art Festival would be my favourite. I think for me the process is more important than the final outcome.
Do you think street art can be an effective agent of change? What do you see as the role of the 'street artist' in society? 
This is something I would like to find out as well. I do a lot of work with teens, in which we try to use art as a creative outlet which can help in healing and building focus. But how far this goes, is something only time will tell. As for the role of the street artist, I think he / she should be the provocateur who pushes people to think beyond the obvious. 
But honestly it's best to let the artists be free and do whatever they choose. After all, street art urges you to be who you are and not really conform to the boxed roles society tries to put you in.

A funny street story that you'd like to share with us?
Last year, I was in Mumbai and wanted to do a piece there which embodied the spirit of the city - the romance, the rains and the Bollywood magic. All throughout my stay in Mumbai it did not stop raining, so in the end I decided to just go ahead and paint in the rain. The fact that we were painting about the rain and had to paint in the damn rain as well, was humorous in an ironical way. We also had lots of cop trouble, to add some masala to the dish.
What according to you makes Delhi 'So Delhi'?
There is no other place like Delhi. It is the hot boiling pot where all the cultures, flavours, people and music come together. You can love it or hate it, but you can't replace Delhi.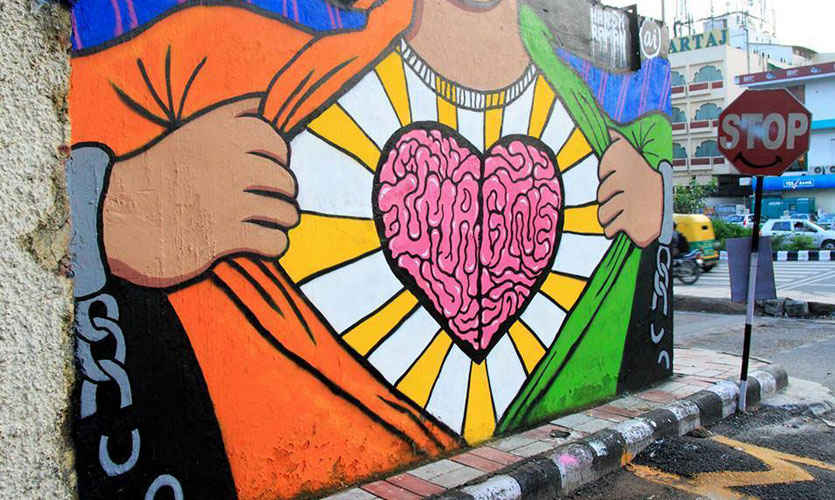 3 street food joints you love to eat at in Delhi? 
Desi Roots in Saket for fusion food and their innovative cocktails. 
Fork You in Hauz Khas Village for their burgers. 
Town Hall in Khan Market for their delicious sushi.
Which are your top 5 spots in Delhi to stretch and sketch? 
Agrasen ki Baoli on Hailey Road 
Lodhi Gardens on Lodhi Road
National Rail Museum in Chanakyapuri
The Potbelly Rooftop Cafe in Shahpur Jat and 
National Gallery of Modern Art in Jaipur House, Sher Shah Road
Harsh Raman is a prolific graffiti artist with a vast repertoire under his belt. We loved how he shared little bits of his life with us!