Head To Golden Fiesta In Lajpat Nagar For Your Fill Of *Chinjabi* Desi Chinese Food
As fancy-shmancy as all those international cuisines may be, we must admit that we best enjoy our food a bit chatpata, with just the right tinge of mirch-masala. We're true desis at heart which is why Desi Chinese (also termed as 'Chinjabi' cuisine) wins us over so easily. 
During (yet another) impulsive shopping trip to Lajpat Nagar's bustling central market, we discovered a small, busy-looking joint by the name of 'Golden Fiesta' and hopped right in, to devour some yummy, kadhai-tossed, dhaniya patta sprinkled Chinese food!
Apart from Chinese snacks, noodles, rice and a few main course dishes, they also offer stuffed and grilled kulchas, sandwiches, burgers and footlongs. We also spotted tiny McDonald's-y ice cream sundaes *yay*. And oh, we got free mini donuts with our order!
Mango Slushies For The Summer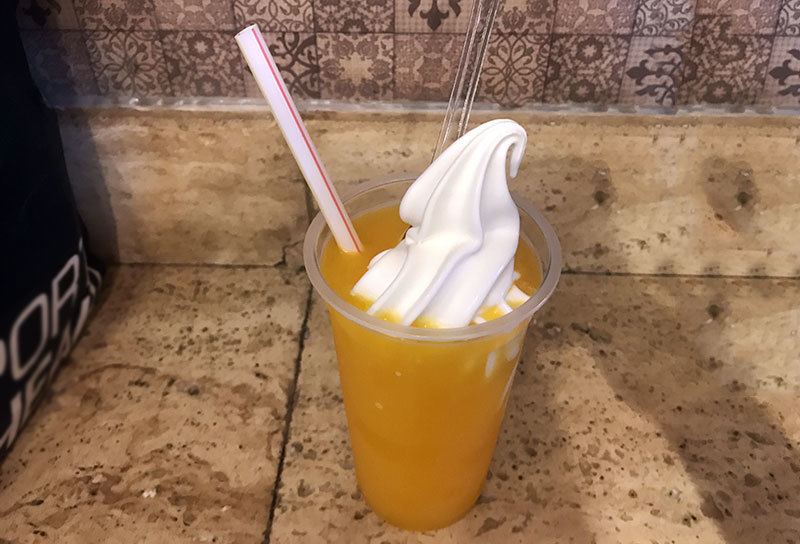 The sweltering Delhi heat and humidity had us sweating like anything, so the first thing that caught our eye were the many flavours of slushies (or 'frozen mocktails', as Golden Fiesta likes to call them). Mango, litchi and lemon were the flavours available the day we visited. Since no summer is complete without over-indulging in mangoes, that's what we decided to go ahead with. We chose the former among two variants - with or without ice cream. Though a bit too sweet for our liking, definitely a great way to refresh yourself!
Price Per Glass | Rs. 65
Keventer's, Beware - Strawberry Milkshake!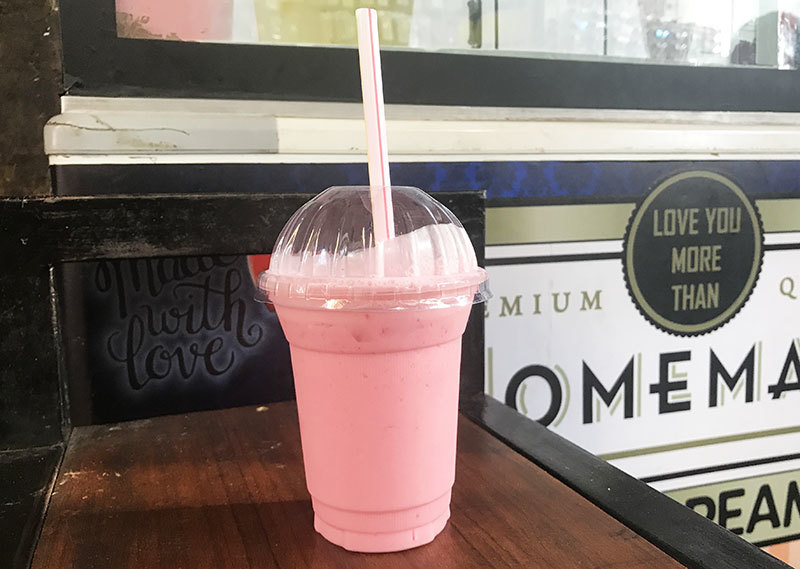 One thing we really loved were the milkshakes. We tasted the strawberry one, and it was so good! Absolutely ice-cool (just how we like it), light and refreshing, we were delighted, and drank up the entire glass in a split second! They also have other flavours including chocolate, butterscotch and vanilla. Their cold coffee is also worth trying! Oh, and the best part is, that if you order your milkshake in the large size, you get it in a cute glass bottle which you can take home with yourself - Keventer's style! (Yes, aiding that hippie Instagram aesthetic, too!)
Price Per Glass | Rs. 65 (small size) and Rs. 80 (large size)
Manchurian In A Burger? Okay!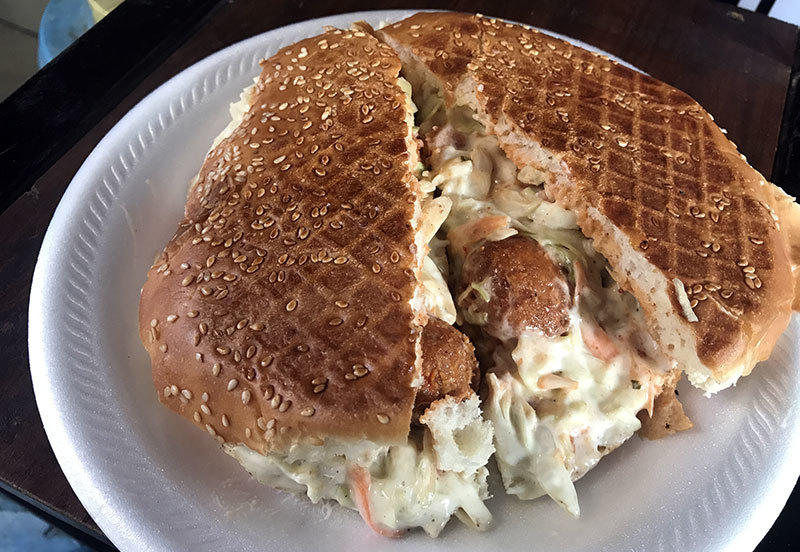 The most adventurous item off the menu we decided to try was the vegetarian 'manchurian burger.' Intrigued by the odd combination, we decided to be a bit experimental. A huge sized, homely burger arrived filled with a mayo dressing and manchurian balls - strange, and not even the most appetising to look at, but definitely not bad to taste! We couldn't believe we actually liked it, considering the seemingly random fusion of ingredients! This is probably twisted Chinese at it's most unique and you should try it if you're an adventurous eater!
Price Per Piece | Rs. 150
From Chandni Chowk To China - The Chinese Chaat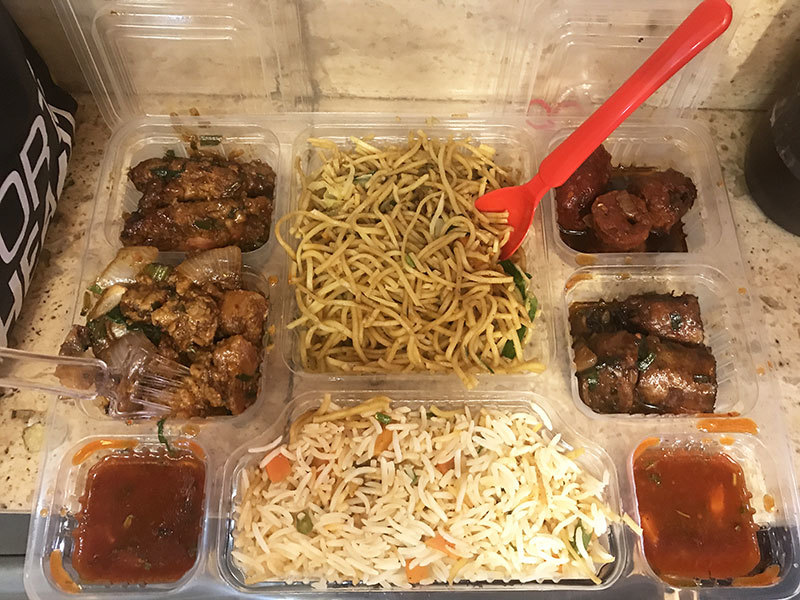 Now, for the star of the evening: the Chinese chaat! If you have a large appetite, or are two people sharing a dish, then this is just perfect! A large tray with generous portions of noodles and fried rice, along with four vegetarian or non-vegetarian Desi Chinese snacks, is what makes this Chinese chaat a perfect thing to order for someone who wants to taste a little bit of everything. 
We tried the non vegetarian variant and were quite impressed! The noodles and rice tasted decent, and the chilli chicken, chicken winglets, and what we would call 'Chinese Chicken and Mutton Kebabs', were also a hit with our desi tastebuds! In hindsight, though, we felt as if we should have gotten the vegetarian one - it has all the crowd pleasers, like Honey Chilli Potato and Spring Roll! But hey, nevermind, who said we wouldn't visit again!
Price Per Plate | Rs. 250 (non-vegetarian) and Rs. 200 (vegetarian)
Though there wasn't any seating area and the service was a bit slow, the place was busy serving multiple people at a time, which not only shows it's popularity among the locals who know about it, but also reassured us of the fact that they were continuously churning out fresh food. 
We definitely wouldn't mind dropping by another time and testing other things off their menu, and we suggest you do the same whenever you get hungry while shopping in the market!
Where | Golden Fiesta, Central Market, Lajpat Nagar (Next To The Chunmun Store)
Price For Two | Rs. 400 (approx.)