Having A Presence Pan India - We Reviewed Health Juice Centre With Its Very First Outlet In Delhi!
Having multiple locations in Mumbai, Bangalore, Hyderabad, Health Juice Centre is finally here in Delhi! This establishment which started in Mumbai nearly 20 years ago has grown into a huge & successful business.
And the first store in Delhi has opened up in the North Campus area in Vijay Nagar where students can have some healthy food instead of junk food all day!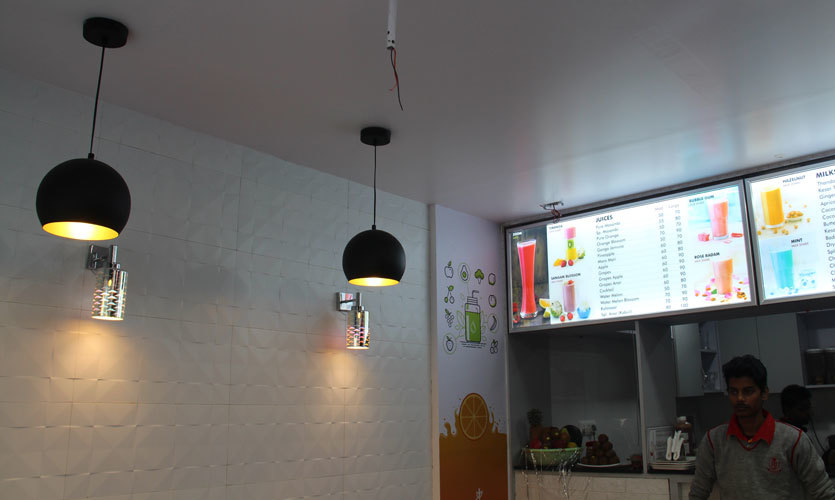 It's a small establishment with tall black lamps hanging from the ceiling and some fresh fruits displayed in a corner *super cute*. They have some of their menu displayed on boards with pictures of the drink which actually look the same in real life!
Their specialty is their quality. The juices and shakes are made with 100% fresh fruits and 0% water content is present. They showcase a wide variety of juices, approximately 150-200 and some are season specific like Boom which you can get only in the summers! They also sell sandwiches. Here's what we tried:
Strawberry Orange Blossom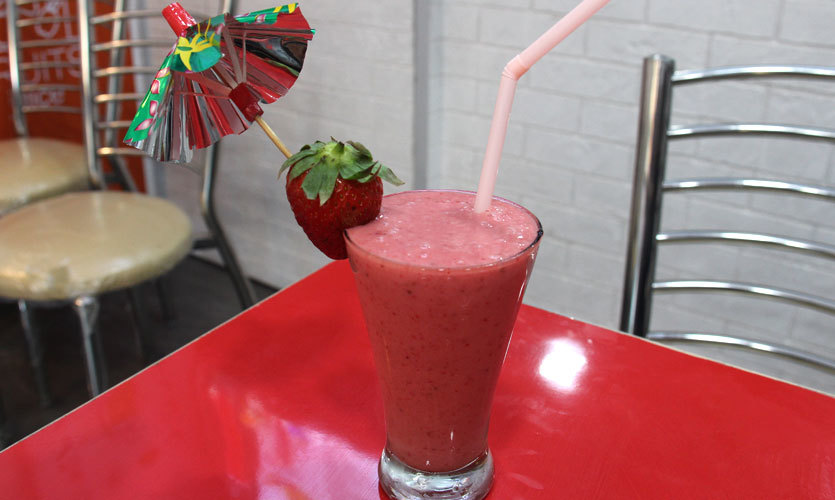 We love strawberries as it goes with everything: small slices in ice cream, dipped in Nutella and in general! This particular shake is made with strawberries, oranges and vanilla ice cream! Though the taste of strawberries was not very evitable, the tanginess and citrusy taste of oranges and the sweetness of vanilla ice cream blended in perfectly! The presentation too was absolutely adorable so extra brownie points for that!
Melody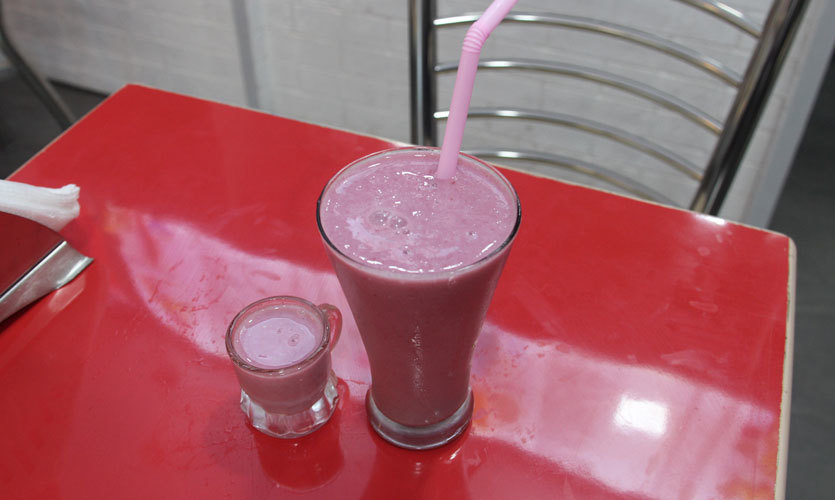 This melody is most definitely not chocolatey! The drink was purple in colour and consisted of pomegranates, oranges and vanilla ice cream. The taste of pomegranates was very strong and we loved it for its fruity taste! 
Bubble Gum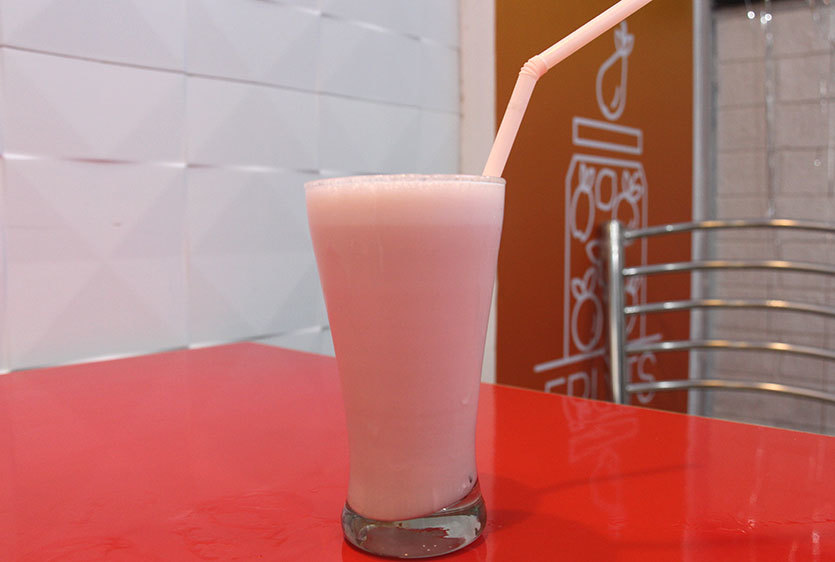 This was a crazy choice! No added sugar or anything but still it was super sweet and bumble gummy! We came to know that they have their own secret recipe to make the bubble gum not get sticky in the blender which is great. Give this a try if you're a fan of all things bubble gum!
Kiwi Green Grape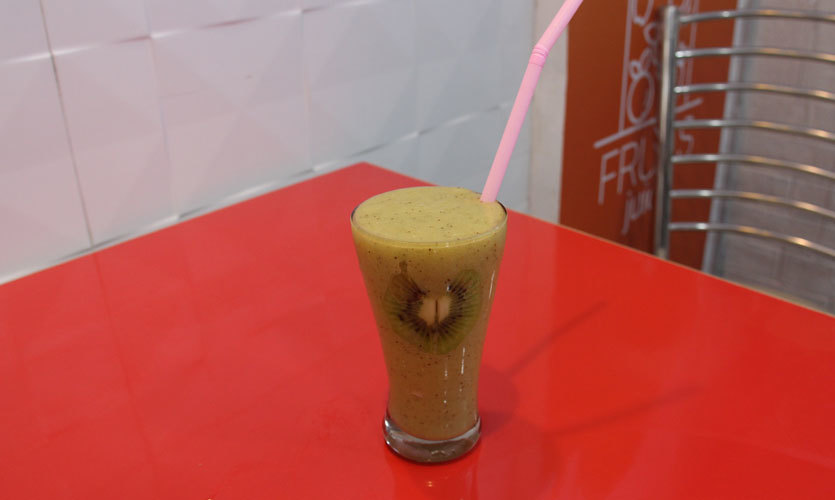 Now, this drink looks like a typical green coloured health juice. We're still a bit divided on this because they highly recommended us this but we didn't like it all that much. It tasted more like green grapes and the kiwi hit a spot in our throat. It had a very thick consistency so obviously, no water was added. If you like kiwi though, give it a try!
Blaster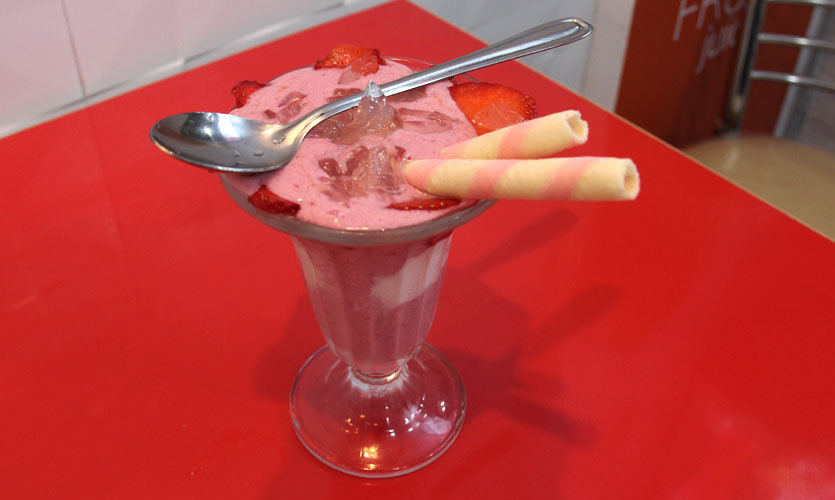 This drink was fabulous! It was served in a very cool looking glass like the ones found typically in American diners. It was basically a strawberry based drink with vanilla ice cream with 2 strawberry sticks in it. The drink was topped with jelly and some stuff which crackled in our mouths and made us go all *ooh* and *aah*! There were also some slices of strawberry on the sides which were juicy and fresh. You'll slurp this one right away!
The juices were no doubt great and healthy as they were solely made with fruits and the combinations worked too!. If healthy shakes and juices are your jam, give this place a slurp for their affordable prices and huge variety!
Location | D 1/3, Near HDFC Bank, Main Road, Vijay Nagar
Drinks for Two | Rs. 200