Looking For Some Serenity, Away From Delhi's Hustle & Bustle? Head To Gurudwara Nanak Piao
Gurudwara Nanak Piao located on the GT Road, Delhi, is dedicated to Guru Nanak, the first Guru of the Sikh community. According to Sikh history, Guru Nanak used to sit in a nearby garden, singing Bhajans and offering water & food to the needy; thus, the name Nanak Piao.
The Architecture & Structure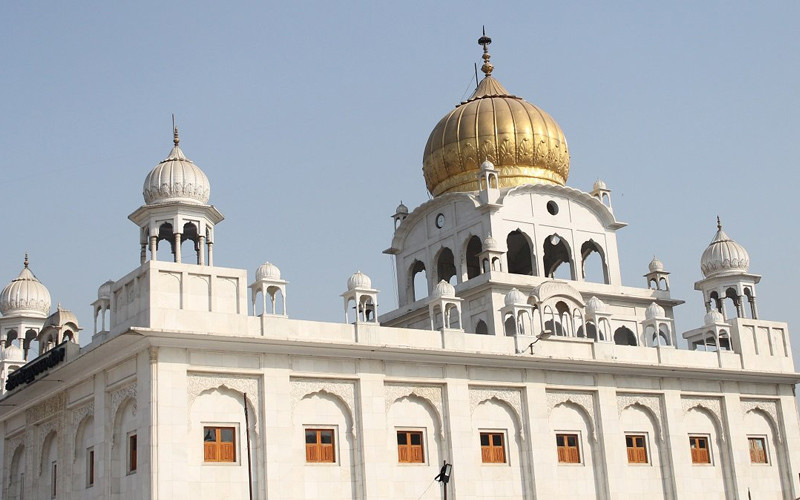 The Gurudwara is painted in the usual white colour & the Sikh architecture for religious places follows a square structure. On the top of the structure is an arched dome finished in gold polish with small dome lets in white & loudspeakers bulging out from either side.
The architecture does not include any balcony, for ventilation purposes in the sanctum; & four windows with a wooden panel have been strategically constructed on the front end of the Gurudwara.
Before entering the Gurudwara, you can stop over at a shop to buy some flowers for sacred offerings where the shopkeepers usually gives you flowers wrapped in a Patravali leaf. The path to the sanctum entrance is narrowly carpeted with railings on either side & a Sevadar usually sits on the floor with a basket full of bright handkerchiefs for the non-Sikhs to cover their heads.
Inside the Premises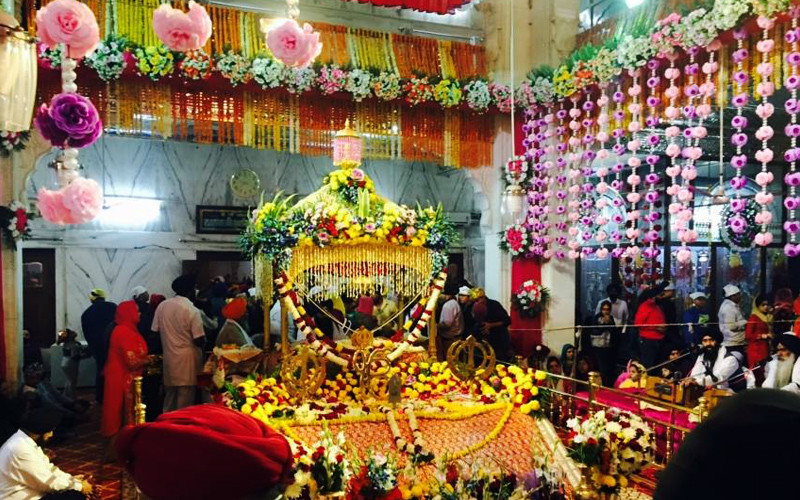 On entering the sanctum, the carpeted floors lead one straight to the Guru Granth Sahib. The Holy book is bordered with golden coloured rails & in the front there is a donation box finished in concrete. The religious book rests on a raised pedestal known as 'Manji Sahib'. A gold polished arched dome, known as 'Palki Sahib', serves as an enclosure.
Adjoining to the seating of the Guru Granth Sahib, there is a group of musicians seated on a small bed covered with a white bed sheet, who constantly sing the recitals from the pious book & other religious songs.
Outside the Premises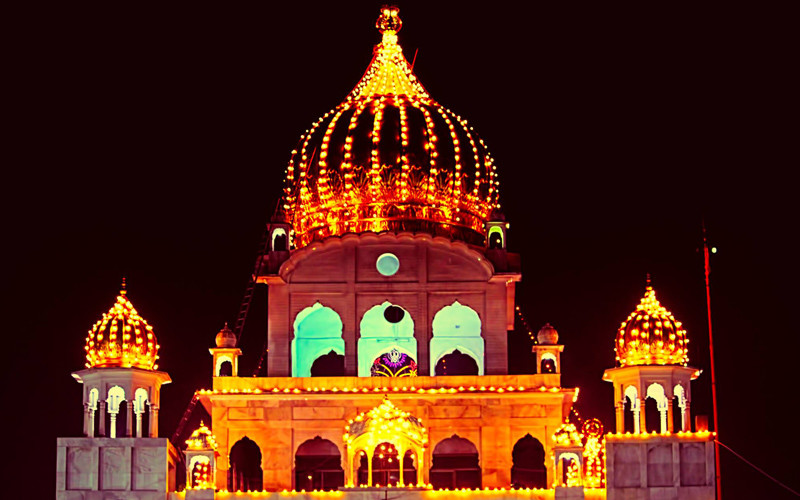 The exit from the sanctum leads to a small pond with fish swimming in it & a cemented path borders it on all four sides. Just across the small pond, the Nanak Piao branch of Guru Harkrishan Public School can be seen. With the soothing Punjabi Bhajans forming the backdrop, sitting near the pond & looking at the gold fish floating at the top is a soothing experience.
On exiting the Gurudwara, a hot cup of tea & bread pakoras served piping hot with some red chutney is a must have. The tea & snacks are served by the roadside food stalls located just outside the main entrance of the Gurudwara.
The place is reachable by bus, auto rickshaw, pre-paid & postpaid taxi service or by the Metro. The nearest metro station is Model Town located on the Ring Rd in Dhirpur. From the station, you can take a cycle rickshaw to reach the Gurudwara.
So if you're looking for some peace and quiet, head to this sacred Gurudwara!
Where | Grand Trunk Road, National Highway 1, New Rana Pratap Bagh